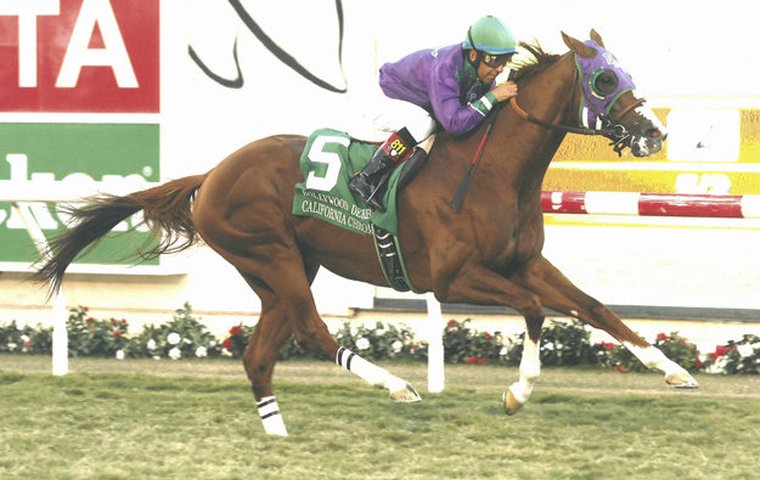 California Chrome's recent win in the Hollywood Derby was a meaningful stride back toward the form that dominated the 3-year-old division in the spring. Coupled with a third-place effort in the Breeders' Cup Classic that might have been the best race of his career, Chrome positioned himself squarely alongside his divisional peers that supposedly passed him over the summer; going into 2015, it would be fair to say that Chrome is at least on even footing with Bayern and Shared Belief, with Tonalist and Wicked Strong nipping at their hooves.

Has this latest triumph in his home state done anything for California Chrome's chances at an Eclipse Award in the ultra-competitive 3-Year-Old Male division? Certainly, that must have been one of Art Sherman's goals when he entered Chrome in the Hollywood Derby. But usurp an idle Breeders' Cup Classic winner who possesses the head-to-head advantage? That can't happen. Can it? Well, with Shared Belief also beefing up his CV with his own holiday-season G1 score out west, it seems that Chrome's connections weren't the only people who felt that the divisional championship (not to mention Horse of the Year) was still in question after the Breeders' Cup.
Since its inception in 1984, the Breeders' Cup has been the definitive last word for each season in U.S. racing. This was the principal objective for John Gaines when he cooked up the idea, and it was achieved almost immediately. In the 30 years since, the Breeders' Cup has decided virtually every divisional championship. In some instances, eventual champions missed the event for some reason (Charismatic, Holy Bull, Spend a Buck) and a defeat on U.S. racing's richest day doesn't necessarily disqualify a divisional champ, but the equation is pretty simple: marquee horse + Breeders' Cup win = Eclipse Award. For the majority of this era, the Breeders' Cup has marked the end of the season for racing's top horses. It is rare for a horse with Eclipse Award dreams to attempt to race between Breeders' Cup Day and New Year's Day, and when it does happen, it is even more rare for one to secure a divisional title with that race.
Indeed, there is not much in terms of precedent for California Chrome winning Champion 3-year-old Male or Horse of the Year while continuing his campaign beyond the Breeders' Cup. Just two 3-year-olds have won divisional honors while racing after the Breeders' Cup, and perhaps each could provide a glimmer of hope for Chrome. Will Take Charge ran down Game On Dude in the Clark Handicap at Churchill last year in late November. His late-season form was just enough to edge clear in a 3-year-old division that saw its major races split equitably among four to five contenders. The other 3-year-old to win an Eclipse after the Breeders' Cup was Snow Chief in 1986. Ironically, Snow Chief ended up losing in his post-Breeders' Cup start to his main competition for the award, Kentucky Derby winner Ferdinand, yet still won the Eclipse on the strength of his early-season dominance.
Excluding Champion Turf Female, a division that did not have a representative Breeders' Cup race until 1999, and discounting the 2-year-old divisions, which draw from a much smaller sample set of races, only 15 Eclipse winners in the last 30 years (out of 217 total, that's 7 percent) have raced in late November and December, and half that list are sprinters who already had their division sewn up. The only Horse of the Year to race after the Breeders' Cup was Kotashaan, who, in 1993, went halfway around the world to place in the Japan Cup, and he had probably sewed up his title a month earlier when he beat archrival Bien Bien in the Breeders' Cup Turf.
Perhaps the best example of a late-season awards push not involving a Miramax public relations team was W.T. Young's Surfside in 2000. Division-leading Jostle had dominated the spring and summer, taking the Black Eyed Susan, Coaching Club American Oaks, Alabama, and Cotillion, putting Surfside's early victories in a troika of California stakes in the rearview mirror. Both horses were defeated by longshot Spain in the Breeders' Cup Distaff, though Surfside was only beat a nose. Surfside, still trailing in the polls, was pointed toward the Clark Handicap by trainer D. Wayne Lukas. Against a fairly shallow field of males that included a pre-blinkers Aptitude, the artist formerly known as Vision and Verse, and not much else, Surfside wired the boys in a respectable time. Weak field aside, the victory in Kentucky gave Surfside the last rebuttal in the Champion 3-year-old Filly debate.
In a vacuum, California Chrome's résumé is probably the strongest in the 3-year-old division. In addition, given the justified skepticism that many in racing maintain regarding the stewards' verdict in Bayern's Breeders' Cup Classic victory, some fence-sitting voters could be swayed off that pesky little "what about the head-to-head record?" line of reasoning if Chrome could pad his stats a little bit.
Winning Horse of the Year would be slightly trickier, especially given the chance that the depth of the 3-year-old male division could dilute the support for Bayern and Chrome--there are probably a handful of people around the country who believe Shared Belief was robbed in the Classic, and would be the favorite for both Horse of the Year and Champion 3-year-old Male otherwise. That could open the door for Main Sequence, who came across the Atlantic and swept 4 different G1s (at 4 different tracks) on the turf, and has that all-important Breeders' Cup victory feather in his cap. Main Sequence, however, similarly has Eclipse history working against him, as only five times has a turf horse ever won Horse of the Year: the aforementioned Kotashaan, John Henry twice, and Wise Dan (who oh-by-the-way, was also four-for-four on the turf in 2014) the past two years.
The concept of a champion running races this late in the year is virtually unprecedented in the Breeders' Cup era, but given how light the schedules can be for the top horses these days, each G1 win has significantly more heft than it did 15-20 years ago; Shared Belief raced in only 5 stakes races this year, and in winning the Malibu on the day after Christmas, he gave himself more G1 wins in 2014 than Bayern. Chrome's victory in the Hollywood Derby gave him four G1s, and that's tops in the division and as many as anyone else had in the country across all divisions.
History is not on California Chrome's side; Eclipse Awards tend to go to Breeders' Cup winners. However, in this era of pitch-count racing, maybe taking the scenic route to an Eclipse will be a template for the future.
---
Brad Beitz has been a racetrack regular since infancy, and learned to walk in the Equestris dining room at Aqueduct. The architect of a digital film archive for NYRA, Brad previously worked in broadcasting. He lives in Manhattan with his wife and son.