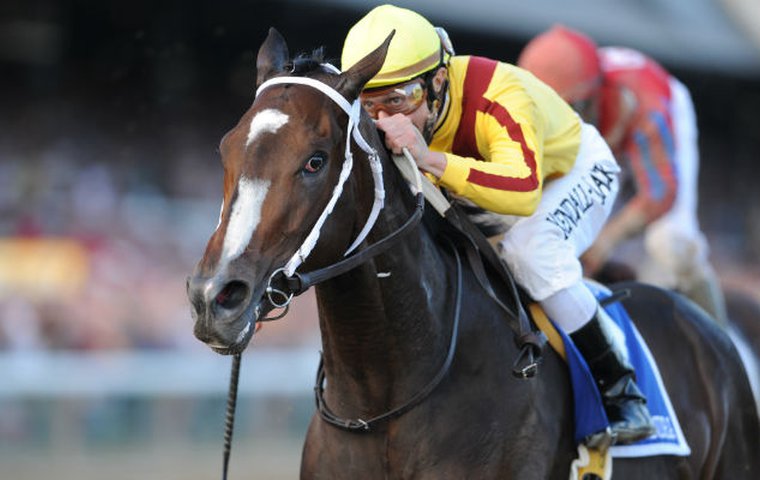 The adage "like mother, like daughter" is one heard sparingly around a racetrack.

"It's rare that you have a great champion filly and she produces a baby as good as she was," said Hall of Fame rider Angelo Cordero Jr., now the agent for jockey John Velazquez. "Through the years, I've seen Cicada, Politely, Winning Colors, Lady's Secret, Personal Ensign. None of them produced a horse anywhere close to herself in terms of talent."
In Saturday's $350,000 G1 Spinaway Stakes at Saratoga that just might change.
Among the expected starters in the 'Win and You're In" race for the Breeders' Cup Juvenile Fillies at Keeneland at the end of October is a filly who might be the betting choice but most assuredly will be a heavy sentimental choice.
Rachel's Valentina is the second foal from 2009 Horse of the Year and Preakness winner Rachel Alexandra and was sired by 2006 Preakness, Travers and Jockey Club Gold Cup winner Bernardini.
The bloodlines are impeccable and, in light of past history, her level of talent is surprisingly high. She surely faces a steep, uphill climb in order to match her illustrious mother's accomplishments, but at least she's taken a first step in the right direction.
In her Aug. 2 debut at Saratoga for owner Barbara Banke's Stonestreet Stables, the homebred filly closed strongly under Velazquez in the final furlong to record a two-length victory as a 6-5 favorite and earn a spot in the Spinaway.
"It was a very impressive debut and the way she finished the race tells us she should be fine with more distance," said trainer Todd Pletcher, who has already won the Spinaway on four occasions.
Velazquez was well aware of Rachel's Valentina's pedigree when he worked her prior to her career debut, and the Hall of Famer said there was a great satisfaction in seeing her living up to grand expectations on the racetrack.
"We knew she was very talented and we were hopeful she would show that talent in the afternoon and she did," Velazquez said. "She's not quick from the gate, but she gathers her momentum and gets rolling. It was a nice win. Anytime you can break your maiden at Saratoga there's going to be a great deal of promise attached to it, and it's enhanced by who her mother was."
Her mother will be remembered as one of the best fillies of her generation. Aside from her Preakness win, she beat males in the famed 2009 Woodward at Saratoga, and also won the Kentucky Oaks by a record 20 ¼ lengths and the Mother Goose by 19 ¼ lengths as a 1-20 favorite.
Her greatest rival, though, was one she never faced on a racetrack. The intense debate in racing chat rooms and message boards over the 2009 Horse of the Year award pitted Rachel Alexandra in a volatile contest with the undefeated Zenyatta and created huge followings for both horses.
Now that legacy is being passed on to their foals. Zenyatta's lone foal to race, Cosmic One, is winless in two starts.
For Rachel Alexandra, meanwhile, 2-year-old Rachel Valentina accounted for the first of two victories at the Spa by her offspring. On Aug. 24, the champion filly's first foal, the 3-year-old colt Jess's Dream, debuted at Saratoga - and he too was successful. A son of Curlin, the homebred had the blood of Stonestreet's two Horse of the Year champions raced by Banke's late husband, Jess Jackson, and he matched his younger sister by rallying from 18 ½ lengths behind at one point to post a breathtaking one-length victory for trainer Kiaran McLaughlin.
"It's great for racing," Martin Panza, the New York Racing Association's Senior Vice President for Racing Operations, said about the wins by the Stonestreet color-bearers. "Rachel Alexandra obviously had a big following and when her daughter can break her maiden first time out, that's great. The fans that followed her will now follow her offspring. Champions don't always produce good horses, so it's nice to see."
Sadly, Jess's Dream and Rachel's Valentina may prove to be the only offspring of Rachel Alexandra. A week after the win by Rachel's Valentina, Banke said she had no plans to breed the 2009 Horse of the Year again because of complications that arose during the birth of the first two babies.
"She's done enough for us and deserves a good life on the farm," Banke said about Rachel Alexandra.
So it is up to Jess's Dream and Rachel's Valentina to keep alive memories of their dam's greatness.
For Rachel's Valentina, a victory in the Spinaway would put her in select company along with past winners such as Ashado (2003), Flanders (1994), Meadow Starr (1990), Before Dawn (1981) and Ruffian (1974), who used the historic Saratoga stakes as a springboard to championship seasons or Hall of Fame careers.
"Rachel Alexandra winning the Woodward here was a huge moment for this track, and it gives her a strong history here," Panza said. "So to have her baby race and win here and then race in a great stakes like the Spinaway only adds to the mystique of the race."
And if she can win the Spinaway, you can start saying it: "Like mother, like daughter."