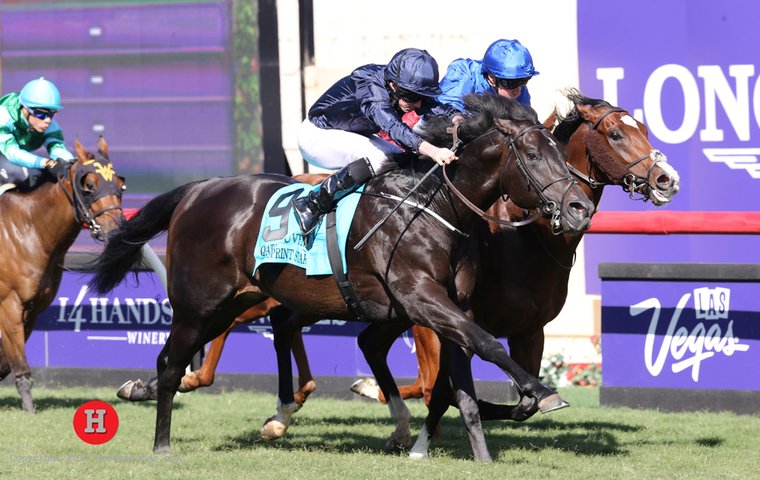 On the face of it, the new Breeders' Cup race looks like a benefit for the Europeans. It was announced on Monday that a Juvenile Turf Sprint will be added to the full BC program at the World Championships at Churchill Downs on November 2-3 and will carry a $1 million purse.

The race will be run at about 5.5 furlongs on the turf and will be open to all 2-year-olds.
In fact, it's a contest that has been hanging around just outside the Breeders' Cup weekend for five seasons now without ever getting a proper invite to the party itself. Known simply as the Juvenile Turf Sprint, it's been a $100,000 listed race since 2013 (although it wasn't run in 2015).
None of the first three runnings attracted any international runners, but then things stepped up dramatically at Del Mar last year. The prize fund doubled, the race became the Qatar Juvenile Turf Sprint, and the Euros were suddenly interested - so much so that they occupied the first four places, with a Ballydoyle colt (Declarationofpeace) beating one from Godolphin and a Qatar Racing-owned, Richard Hannon-trained filly in a blanket finish.
All the Europeans were experienced runners at Group level, the Americans far less so, which is hardly surprising considering the current huge difference between the U.S. and European 2-year-old programs.
Look at the two tables below for 2017.
JUVENILE GROUP RACES IN EUROPE UP TO SIX FURLONGS
JUVENILE GRADED RACES IN NORTH AMERICA UP TO SIX FURLONGS
Yes, there aren't any at all in North America. They don't do sprinting for 2-year-olds. In fact, the sum total of Graded races for 2-year-olds there is eight - and they're all run over a mile or more. And four of them are Breeders' Cup races.
As Dora Delgado, Breeders' Cup Senior Vice President of Racing and Nominations, said on Monday: "The upgrade of the Juvenile Turf Sprint is in response to the increasing popularity of turf racing in North America and will fill a need for international turf sprint sires.
"Each year, the Juvenile Turf and the Juvenile Fillies Turf are oversubscribed at the Championships. We feel that the Juvenile Turf Sprint will also be a popular draw among horsemen from North America and overseas stables and will generate interest among North American racetracks to card races in this division."
Indeed, the move may be the start of a significant change in American racing. Turf sprinters have been a largely neglected breed for many years with very few opportunities for them available before Breeders' Cup time each year. The new race, which will surely become a Grade 1 before too long, provides an important new opportunity, and should enable trainers to develop a new focus for some of their juveniles. Ultimately, that ought to give tracks the impetus to provide richer opportunities for these horses later in their careers.
Perhaps the most immediate need may be for more of a pathway for potential contenders leading up to new Juvenile Turf Sprint.
They'll need as much experience as possible if they're to hold their own against the inevitable European challenge.
It was also announced on Monday that the purse of the TwinSpires Breeders' Cup Sprint will be increased to $2 million, a $500,000 increase from last year's $1.5 million.
With the addition of the Juvenile Turf Sprint, there will now be 14 races in this year's World Championships plus an additional $1 million in undercard purses. Total purses and awards for the 2018 event will now exceed $30 million.