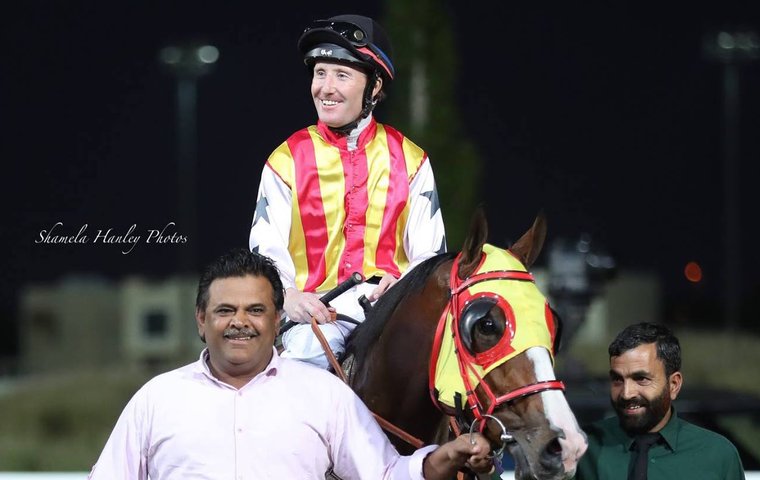 You could have got long odds against it three years ago, but Pat Cosgrave is back riding in the UAE, and he's thriving. The 34-year-old Northern Irishman's world was turned upside down in March 2014 when the Dubai stewards gave him a six-month ban (later reduced to four). But he's happy to be back now - and he reckons he's a better jockey because of that ban.

Indeed Cosgrave has returned in top form, as evidenced by his two winners at Meydan on Saturday (Pictograph and Pupil), which took his total since he began this new stint at the start of January to seven (including one at the World Cup Carnival, the other was South Korean-trained Main Stay in a US$125,000 dirt handicap on Jan. 19).
But coming back to the Emirates has been costly - literally. He was disqualified for improper riding on the Mike de Kock-trained Anaerobio in the 2014 G1 Al Fahidi Fort at Meydan, won by stablemate Vercingetorix (see YouTube video below).
Although the British Horseracing Authority decided not to reciprocate the ban, Cosgrave couldn't regain his UAE licence until he cleared a 200,000-dirham legal bill [US$54,458]. That isn't small change, even for a jockey who has been well past the 100-winner mark in each of the last two UK seasons.
Bitter pill
The decision took much deliberation. What helped was Cosgrave's successful association with British trainer William Haggas, with whom he has been based since the 2014 hiatus.
"I had a really good season [in Britain], and I spoke to William about whether he was going to bring horses back here, and he said he was probably going to bring a couple," Cosgrave said before three rides on a low-key meeting at Abu Dhabi Racecourse. "I had a long chat with him, and he said it would probably be best to look at getting the whole thing paid off and moving on.
"It was a bit of a bitter pill to swallow but, if I wanted to put it behind me, I had to do it. Luckily enough I spoke to the ERA [Emirates Racing Authority] and they were kind enough to give me a way of paying it off in two parts, so I think it was the right thing to do."
In addition to rides for Haggas, including on the smart filly Muffri'ha in last Thursday's G2 Cape Verdi at Meydan, Cosgrave, who is currently #180 on the TRC Global Rankings, has renewed his successful association with De Kock (world-ranked 108 in the trainers' standings), for whom he rides out each morning.
Mischievous persona
"Mike actually rang in the middle of the summer and asked if I was coming back, which he would never normally do, so I thought about it then," he continued. "As well as my winner for him, [Baroot] I've been lucky enough to get on some of the South Korean horses, and I've struck up a nice partnership with an owner, Fathi Egziama, and ridden three winners for him, so I'm glad I did it now."
Those who know Cosgrave might notice a slight difference in his demeanor, post-ban. The relaxed, somewhat mischievous, persona remains, but now there is a steely determination, too.
"Things happen for a reason and, maybe if I hadn't got banned, I wouldn't have started riding for William," said the jockey, who married longtime partner Amelia in October. "It was costly; I had to pay a lot of legal fees and then I didn't ride for two months. I don't really worry too much about things, but it's still in the back of your mind, 'Oh, I'm not working.'
"Looking back now, it's made me a better rider and a better person. Until the ban I was doing the job half right; I thought I was doing it properly, but I don't think I was. Then, the thought of not being able to ride nice horses again, it was a bit of a wake-up call.
"Maybe in the long run it did me no harm," he grins, keen to shrug off some painful memories. "I didn't think it at the time though!"
Impressive work rate
At first glance, Cosgrave and the more reserved Haggas (#34 in the global trainers' rankings) might seem an unlikely pairing, but the partnership is working well and they enjoyed a 26 per cent strike rate in 2016. The association, he admits, was a huge boost, even if they had far from a dream start.
"William gave me the favourite in the Lincoln and then I broke my leg the day after," he says with a wry smile. "That was on the 18th of March; the exact same day, a year previously, that I got my six-month ban. I'm staying in bed this year on the 18th of March."
Returning to the saddle five weeks later, his first success for his new boss was on the subsequent G2 winner Besharah.
"She was a good little filly; she won the Lowther that year but just didn't train on as a 3-year-old," he said, before expanding more on his relationship with Haggas, for whom he rode 60 winners in 2016. "You have to work hard; but he's a very straightforward man and he's a good trainer and he's still only young, in comparison to some.
"In the next ten years he wants to make it bigger and better, but he's quite realistic as well. I think we're both surprised at how well we work together and how well things have worked out."
Since arriving back in Dubai, Cosgrave's work rate has been impressive, and he's regularly to be seen riding Purebred Arabians at the UAE's less glamorous tracks.
Championship thoughts
"If my agent, Carl Hodgson, can get me a couple of nice horses, great, I'll come and ride them," he said. "Before I go racing, I'll go to the gym, so it keeps me fit, keeps my mind right and keeps my weight right. Plus, the prize money's not bad at these local meetings; the UK really needs to look at that. Even here [Abu Dhabi] and at Al Ain it's 80,000 dirhams [US$22,000] for local races, which is great."
The hunger, then, is clearly still there, and a fourth G1 win, to add to those on Borderlescott (2008 Nunthorpe Stakes, run that year at Newmarket), Markab (2010 Sprint Cup at Haydock) and Society Rock (2011 Golden Jubilee at Royal Ascot), would be welcomed, as would a stab at Britain's Stobart Jockeys' Championship, a subject that brings more refreshing honesty from the man from County Down, Northern Ireland.
"A lot of us jockeys, we all sort of play it down and say 'no, nah', but I think we all start off the season wanting to be champion jockey, but you need to get a good start because the whole season's a bit start-stop.
"I race every day anyway and I don't mind travelling around, but it's hard. I see the guys who win it - Paul Hanagan and Silvestre de Sousa - and they look tired. I'll ride as many winners as I can, and see where I am halfway through the season.
"It's not an impossibility, as I'm riding for William, who's got a lot of horses and I've started riding quite a bit for Godolphin over the last few months. When you're riding for people like that, it's not beyond the realms of possibility that you could be Champion Jockey somewhere down the line."
His handling of what would have been a difficult period for any jockey has given Cosgrave many new supporters. He'll need that support to achieve a championship, but few would deserve it more.