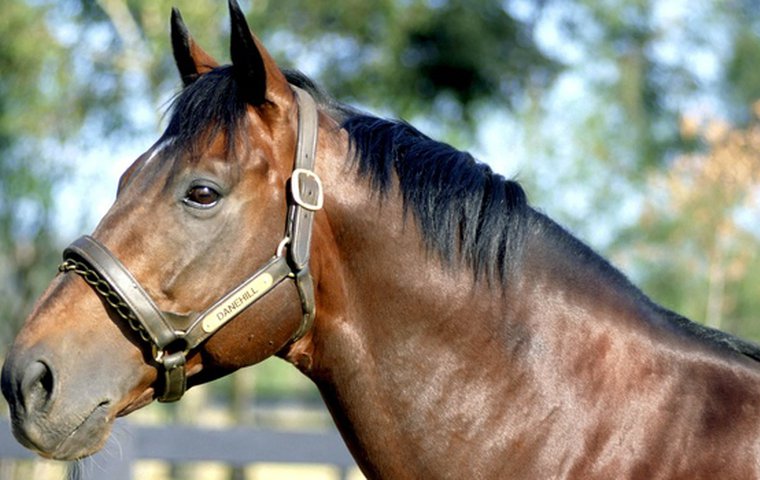 Racing analyst James Willoughby takes a two-part look at the current strength of mighty Irish breeding and racing operation going into the new flat season. Today, he concentrates on the breeding arm; tomorrow, the focus will be on the prospects for the year of Aidan O'Brien's team of Thoroughbred bluebloods.

Coolmore Stud is the gold standard of horserace breeding operations. Its international success is so extensive and its various offshoots so deeply ingrained within the sport that it is impossible to trace its entire reach.
As a result, any attempt to define its practices as occupying some discrete space between efficiency and profligacy is doomed to subjective result. Along this continuum, it is a sure bet that Coolmore is a lot nearer the first extreme than the other. The difficult question is exactly where?
Today and tomorrow, I mean to concentrate on two of the most measurable aspects of Coolmore's operation as we head deeper into the 2014 flat season in Europe – the constitution of the stallion roster that resides at its Tipperary base, and the success of the racing operation at Ballydoyle, headed by Aidan O'Brien in the same Irish county. By means of a quantitative analysis of the latter, and a qualitative look at the former, the attempt will be made to gauge the robustness of its present racing fortunes, irrespective of grander, more opaque themes such as the state of the Irish economy or the trajectory of the bloodstock market.
Moreover, no atomic search of nebulous ownership or breeding syndicates involving the main players at Coolmore or their associates is within the scope of this study, for all that this is known to be significant. Suffice to say, Coolmore is a bit like gravity: Even though you can't always feel its influence directly, you know it is there.
First to definitions, Coolmore is an entity of the type that Edward Ullman first referred to in urban development as a "multiple nuclei conurbation." That is, it is a fusion of several studs that alone would be highly successful, but together derive the benefits of economies of scale and agglomeration. If a stallion at Coolmore Ireland offers particular appeal to breeders in another part of the world, it can be shipped to Coolmore America at Ashford Stud in Kentucky, or to Coolmore Australia in New South Wales. Better still, it can shuttle between bases to take advantage of the seasonal nature of covering periods around the world.
If this flexibility implies diversity in Coolmore's stallion base, this is perhaps somewhat misleading. Despite the great success O'Brien has enjoyed with horses owned by the Coolmore associates of John Magnier – or perhaps because of it – Coolmore's stallions are rather homogeneous as far as their genetic background.
The 26 flat sires (racing over jumps is no part of the author's interest) listed on Coolmore's website as standing in Tipperary, break into the following subsets: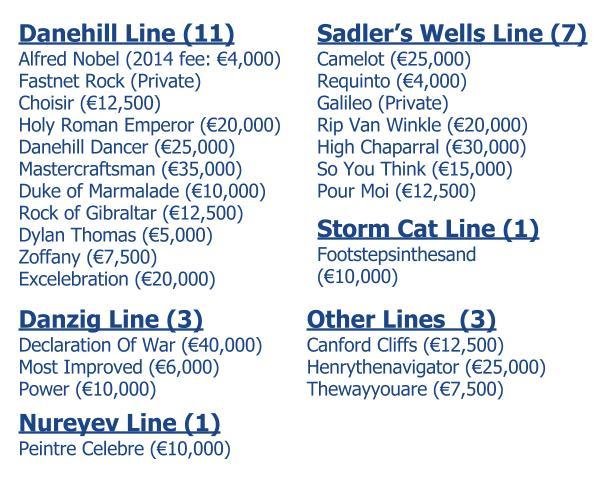 The astute reader will already have noticed an overlap between these groups. No less than 23 of the 26 stallions are from the Northern Dancer male line; of those, 14 are from the Danzig male line, of which, 11 are sons or descendants of Danehill. The subdivisions above were made with the intention of isolating the persistent effect of Danehill.
The Coolmore roster isn't quite the same as the range of colours offered by Henry Ford's motor company back in the day, but you get the point.
Still, you could argue that if it doesn't hurt a successful industrialist's fortunes, why should it harm a successful breeder's? Well, this question can be argued a few different ways, as several bloodstock writers have already postulated. Maybe you deny the utility of your product to the multitude of mares with Danehill or Sadler's Wells blood close up? Maybe you prevent yourself from waiting a few generations and breeding back to the same line? But we can be sure that these same questions have been pondered by powerful minds within Coolmore itself.
Still, the world has moved on since Danehill died in 2003, and nowadays, it is the Derby winner Galileo – a son of Coolmore great Sadler's Wells – that is the stud's prized asset.
His potency and that of the late Montjeu – or, more reasonably, the perception of it – can easily be seen from the tables listing the top lots at two of Europe's most important bloodstock auctions in 2013, Book 1 of Tatteralls October Yearling Sales in England and Goff's Orby Sale in Ireland (fillies are highlighted in lavender):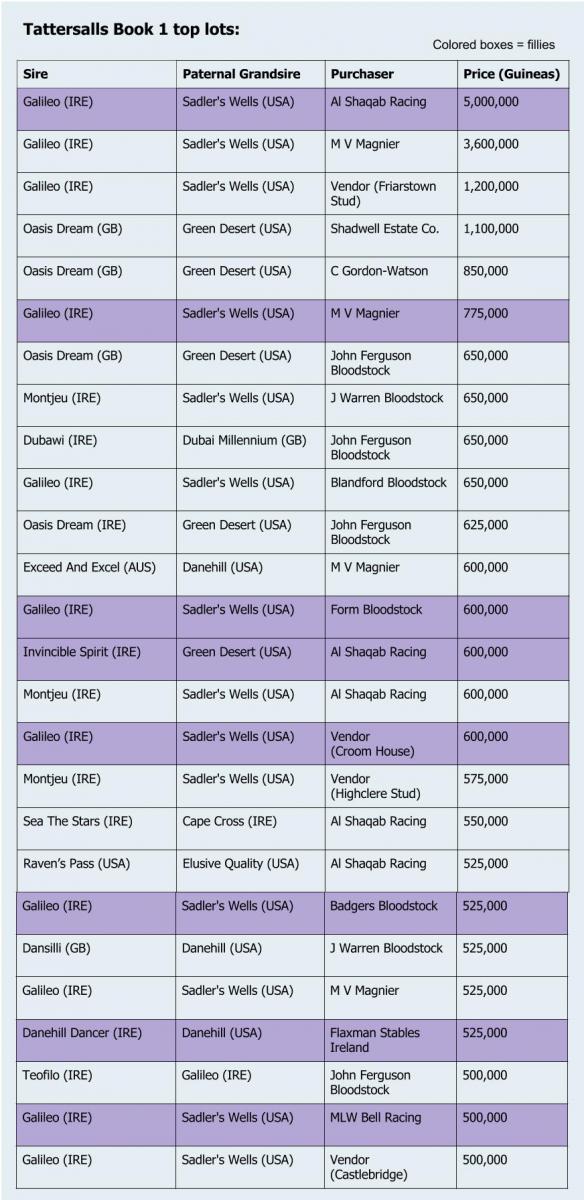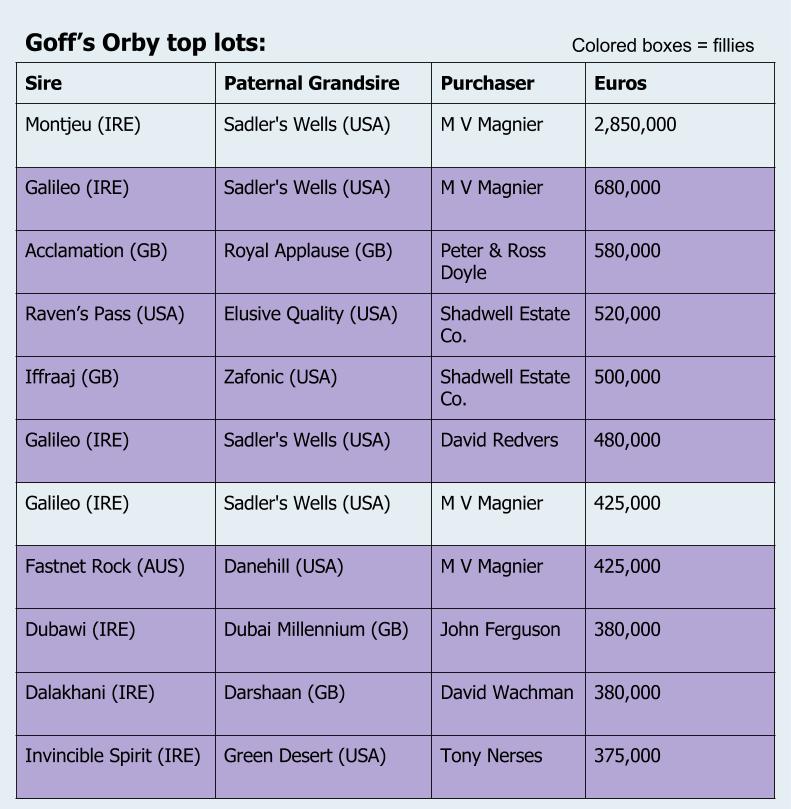 No fewer than 11 of the 26 lots sold at Tattersalls for at least 500,000 guineas are by the 16-year-old Galileo, including four of the top six. At Goffs, colts and fillies by the same sire sold for €680,000 ($1,128,000), €480,000 ($796,460), and €425,000 ($705,200). Note that the purchaser M V Magnier is John's son, Michael.
Montjeu, who died in 2012, accounts for three of the top lots at Tattersalls listed and the sales-topper at Goffs, so together with Galileo, their influence – and, by extension, that of their sire, Sadler's Wells, who died aged 30 in 2011 – is extraordinary.
It is an interesting that, as racehorses, Galileo and Montjeu were better at a mile and a half than shorter. This runs contrary to the assumed direction that valuable bloodstock was going during the 1990s, when there seemed to be a premium on speed in the markets.
Of course, anyone who studies sectionals knows that top-class, middle-distance horses run close to the average speed of sprinters, while being able to maintain it a lot longer. And with stamina presumably comes assured soundness, whether or not this has truly been uppermost in the sport's considerations.
Another illustration of the impact of Coolmore's influence across the distance spectrum is by considering the current ante-post (future book) odds for the Irish 2,000 Guineas and Irish Derby. At time of writing, only three of the top 20 in the Guineas betting are by Coolmore sires: favourite Australia (Galileo), plus Kingston Hill (Mastercraftsman), and Geoffrey Chaucer (Montjeu); but there are 12 of the first 20 in the Derby list by either Galileo (Australia, Indian Maharaja, Adelaide, Orchestra), Montjeu (Geoffrey Chaucer, Blue Hussar, Gallante, Rogue Agent), High Chaparral (Free Eagle, Johann Strauss), Mastercraftsman (Kingston Hill), or Thewayyouare (Toast Of New York).
Tomorrow, the record of Coolmore's racing arm at Ballydoyle will be considered. While O'Brien has resources that few trainers have enjoyed, his success rate will be shown to be impressive even in this context, but the challenge of repeating past success is considerable.