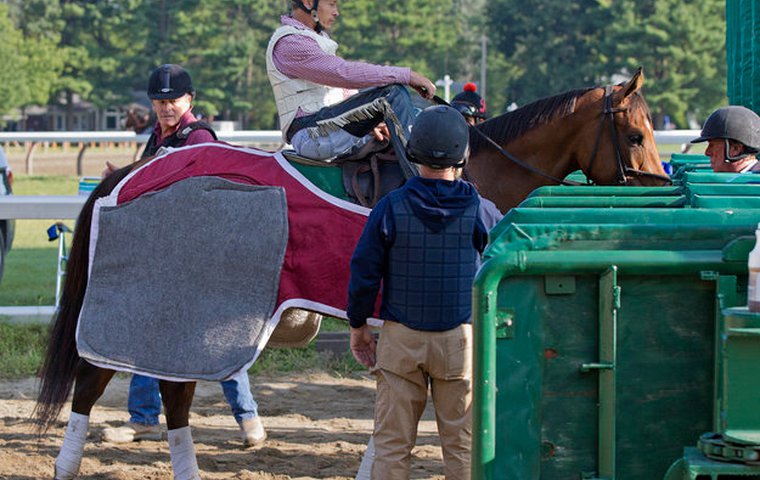 Since retiring as The New York Racing Association's head starter in 2004, Bob Duncan has remained a regular presence on the NYRA starting gate, but he works mornings now, not afternoons. Duncan, who pioneered a natural horsemanship approach to getting horses into the gate during his 11-year tenure as NYRA's head starter, still consults for the organization from April to November while Thoroughbreds train at Saratoga Race Course. Karen Johnson caught up with him during a recent gate-schooling session.

Two days before morning-line favorite I Spent It made his stakes debut in the G2 Saratoga Special on Aug. 10, the 2-year-old colt was brought to the starting gate on the Oklahoma Training Track at Saratoga Race Course for a schooling session.
It was more than a routine visit. I Spent It, who had won his career debut five weeks earlier at Belmont Park, was not yet comfortable in the starting gate, according to his trainer, Tony Dutrow.
"I Spent It needs to relax and gain confidence in the gate," Dutrow said as he intently watched his colt school that morning. "We have been working with him all summer long, and we feel we are making progress, and we are confident that he is such an intelligent horse that he will come around. But he does need extensive schooling at the gate; we take him to the gate most days."
There to meet I Spent It during his Saratoga schooling sessions is Bob Duncan, who worked on the starting gate crew for the New York Racing Association for more than 30 years, 11 of those years as the head starter.
Duncan, 66, now works as a consultant for NYRA, gate schooling horses during training hours at Saratoga from mid-April to mid-November.
There was no strong-arming from Duncan and his crew while working with I Spent It that morning. The powerfully built colt, who was riderless, was gently coaxed into the starting gate by Duncan crew member, Kenny Retzel, who held a shank attached to the bridle. Retzel's movements were slow and relaxed, even when I Spent It balked. A blanket was draped over I Spent It's hind-quarters because, as Duncan explained, some horses are sensitive to the touch of the starting gate.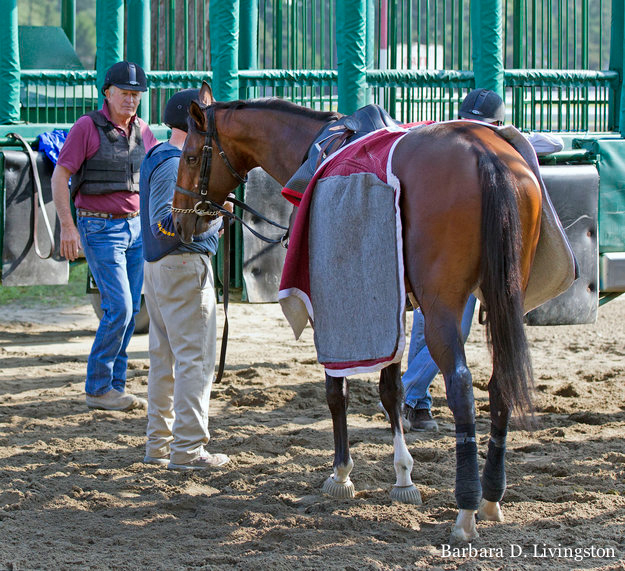 After about 15 minutes, I Spent It was returned to his barn, and a satisfied Dutrow explained why Duncan is so good at what he does.
"It's [Duncan's] patience," Dutrow said. "His horsemanship. And his hunger to be as good at this as he can be. Bobby is so gifted at recognizing what a horse needs. He will work with them and advise you how to reach your goal with those horses."
However, there was a time in his career when Duncan felt he wasn't doing the best he could.
"In the early '90s, I started realizing – although I was aware all along – that we were doing things the hard way," Duncan said. "There was a lot of fight involved. Quite often it was about fear and mental intimidation to get them into the gate. We were getting them into the gate, and feeling like heroes, but in the big picture, maybe that wasn't in the best interest of the horse in the long run. At that time, we tried to become more patient, and we had some success with that."
But practicing patience wasn't enough to satisfy Duncan, who began to develop an extreme curiosity about the methods of natural horsemanship.
"It involves looking at things from the horse's perspective," Duncan explained. "How horses interact with each other, and how a hierarchy is established. And how leadership is established.
"So we started applying those techniques here at the gate, behind the gate, even before we put the horse in the gate," he added. "And we found just by creating a little movement with the horse, just letting them understand if they do these things, and we are consistent in how we ask them, then suddenly they settle down and gain confidence. They can be in an environment that can be upsetting to them, but yet they will lock onto you...you represent a place of safety to them."
Those practices described by Duncan were taught to him by several masters in horsemanship, including Monty Roberts, who is often referred to as "The Horse Whisper," the late Ray Hunt, and Pat Parelli.
A takeaway from Duncan's time with Roberts is the "pressure-release" method. On a recent morning in Saratoga, that practice was used on a 2-year-old. Duncan, holding a shank that was attached to the bridle, gently applied pressure so the horse would move forward into the gate. Simultaneously, one of his crew, positioned a few yards behind the horse, held up a rope stretched between his two hands. The rope never made contact with the horse.
"In a herd environment, there is always a dominant horse who does not lead as much as drive a horse, pushing a horse away from a spot," Duncan said. "And we try to use the rope in a similar fashion. Put a little pressure on the horse and cause them to move. The key is when they start to move, stop with the pressure. The person behind is supporting the guy on the front end, who is asking the horse to move forward.
"The man standing behind the gate with that rope never touched that horse, but the horse felt him there," he continued. "As soon as the horse did something right, you noticed the man dropped his shoulders and turned away from the horse. And the horse is fine with that because it happens all the time in his life if he is in a herd environment."
During the winter months, Duncan consults for trainer Todd Pletcher at Palm Meadows Training Center in Boynton Beach, Florida.
Pletcher said one of the challenges of the starting gate is to have a horse on his toes so he breaks sharply, but not to the extent the horse is frazzled. Duncan, the trainer said, knows how to strike that balance.
"Every single race starts at the gate," Pletcher said. "If you are not prepared there, then you are not prepared to win. I think maybe one misconception people have is that if you want to have one go over there and break well, you want to have them all charged up. Whereas, our experience is that a calm, relaxed horse will break more alertly than a nervous, fired-up personality. It's an interesting process because when you are getting young horses to run you teach them the need to really run away from the gate. And when you do that, mentally they become more wound-up. So it's kind of a step forward, half-step back process. You want to get them to where they break alertly, but you also want them to be calm while they are doing that, and I think Bob is really good at that."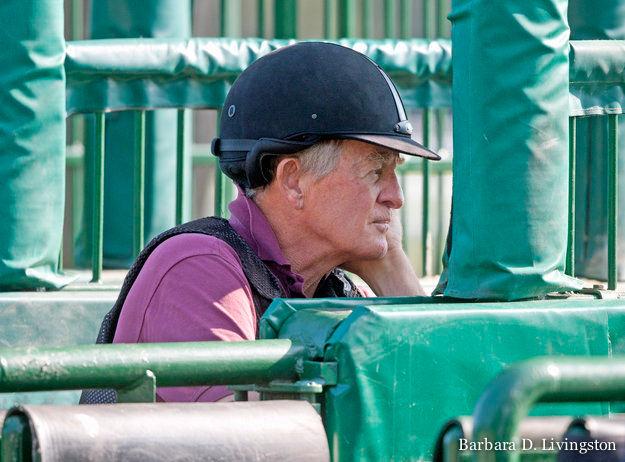 Duncan and Retzel's morning sessions with I Spent It paid off this past Sunday, when the Super Saver colt placidly entered stall 1 of the starting gate for the Saratoga Special. He remained unruffled as he waited for the rest of the field to load, and broke cleanly under Javier Castellano. He showed unusual tenacity for a juvenile when he surged through a slim opening on the rail with a furlong remaining. His margin of victory was 2 ¾ lengths.
Undoubtedly, Duncan and Retzel's work with I Spent It played a role in the victory, as did the expert handling of the colt by NYRA's afternoon gate crew. Had I Spent It, who is owned by Alex and JoAnn Lieblong, been rattled in the gate, it's unlikely he would have been able to execute such a dazzling performance.
For Duncan, however, victory comes to him well before the finish line.
With a catch in his voice, he said, "These horses go from bug-eyed and scared, and looking to leave the area, to where they lock onto you, drop their heads . . . you move, and they tuck their heads into your chest . . . it will make you cry. It's so exciting to make that connection. It truly is."