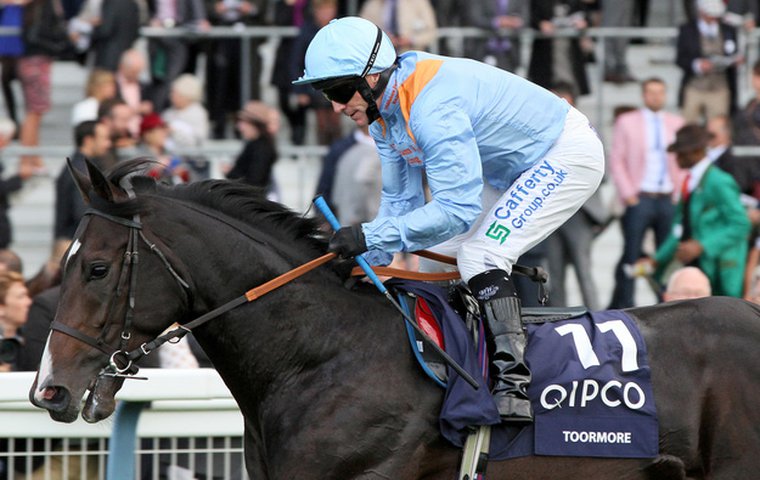 In the latest instalment of our series looking at the rise of ownership syndicates around the world, Julian Muscat traces the astonishing rise of Middleham Park Racing, one of the largest - and most successful - groups in Britain.

Where there's a will, there's a way.
The old adage is certainly true of Middleham Park Racing. It took the syndicate ownership company 17 years to post its first Group-race victory, courtesy of Esentepe's G3 Nell Gwyn Stakes triumph at Newmarket in 2012. Since then, however, the floodgates have opened.
Middleham Park has now morphed into one of Britain's most successful ventures of its kind. It raced Europe's champion 2-year-old in Toormore in 2013, while the pennant last year was carried by G Force, winner of the G1 Haydock Sprint Cup in September.
A telling detail about Middleham Park is that both horses were bought for small money. Toormore cost £36,000 as a yearling, while G Force was bought for 26,000 guineas (£27,300) at the close of his juvenile campaign. Bargain-hunting at the sales is the company's forte.
In the process, it has acquired a reputation for giving people on modest incomes the chance to rub shoulders with racing aristocracy. But success comes across the board. With 103 winners recorded in 2014, Middleham Park has already eclipsed their 2013 haul of 86 winners, itself a record for a British-based syndicate.
That has sharpened the appetite of a myriad of wannabe owners without the financial means to go it alone. "Going into [2015], we have 120 horses individually syndicated with 21 trainers," said Middleham Park Racing's founder, Tim Palin. "Around 550 people are involved and many have shares in two or three horses."
You don't need a fat pay cheque to get involved. At the lower end, a 3½ percent stake in some horses is available for one payment of £250, plus training fees of £75 per month. "At that level, ownership is accessible to 90 percent of working folk if they want to spend their leisure money that way," said Palin, 49.
"But the company has done so well that we have raised our sights," he continued. "This year we have bought a couple of £100,000 yearlings, which gives people a real chance to operate among the sheikhs and other big owners. It's an exciting challenge for us."
Overall, the average purchase price of Middleham Park's 120 horses in training stands at £40,000. While still at the affordable end of the scale, it's a far cry from the day when Palin established the company on the back of a yearling that cost just £1,000 back in 1995.
"China Castle was actually bought by Pat Haslam, who trained him for us," Palin recalled. "We then set about putting a syndicate together, and we paid Pat as and when people got involved. We had no money; we were just a few lads from the north [of England] who wanted to make it affordable."
China Castle proved a gift from the gods. Over seven years he won 26 races from 83 starts, all but one of them on synthetic surfaces. It was a most unlikely script fashioned by a man whose own background adds another implausible strand to the story.
Palin was a school teacher in Hull until the racing bug bit him so hard he simply had to get involved. "When I went racing I'd see people on the other side of the plastic white rail, and I thought I'd like to get in among them," he reflected.
China Castle aside, he toiled for 15 years before he got his big break with a versatile horse called Junior. He bought the then 7-year-old at auction for £35,000 in May 2010 and within weeks Junior obliged by winning the Ascot Stakes at the Royal meeting in Middleham Park's pale-blue sinks.
But that was just the start. Nine months later, Junior galloped out to a crushing 24-length victory – over steeplechase fences, no less – at the hallowed Cheltenham Festival. "We'd been going for a long time," Palin noted. "We'd had 50 or 60 horses in training since 2005, but after Junior, people started recognising our silks."
That coincided with the company making a concerted effort to raise its profile by patronising well-known trainers. It has recently placed 17 yearlings with the champion trainer, Richard Hannon, Jr., whose exploits on behalf of Middleham Park have been outstanding.
In Hannon's ranks are the aforementioned Toormore, who has obvious stallion value, and Kool Kompany, a £40,000 yearling purchase who won G2 races in France and Ireland before his sale for £700,000 two months ago. He was bought by Neil Werrett, a part-owner of Australian sprint sensation Black Caviar, who will continue to race the colt from Hannon's stable.
For Middleham Park, it was a case of good business. Every horse is syndicated on a 12-month contract, which allows everyone involved to get an understanding of each horse. Beyond that, the horses race indefinitely for their syndicate until 65 percent of the shareholding opts to cash out.
Most new acquisitions are syndicated at open days hosted by Middleham Park's array of trainers. "Open days are the best vehicle for selling horses because your merchandise is on display," Palin said. "When people see horses in the flesh, they get excited. They start to dream."
Asked to explain Middleham Park's appeal, Palin replied: "The beauty of what we do is that it costs members between £2,000 and £4,000 annually. It's much the same for an annual golf club membership, or a holiday.
"If you race on your own, the cost is so prohibitive you'd probably wince when you added it all up. With us, you probably won't even add it up because hopefully the enjoyment alone has made your investment worthwhile. The fun is more quantifiable than the economics stacking up."
The man born in a small house on an estate owned by the local council in Runcorn, Cheshire, can scarcely believe how his seed of an idea has germinated. Yet Palin maintains the key to his success has been a lot of hard work.
"It's true when people say that the harder you work, the luckier you get," he said. "Even when I am abroad on holiday, there is never a day off work. I enjoyed my time teaching but this is a vocation. It doesn't feel like work at all."