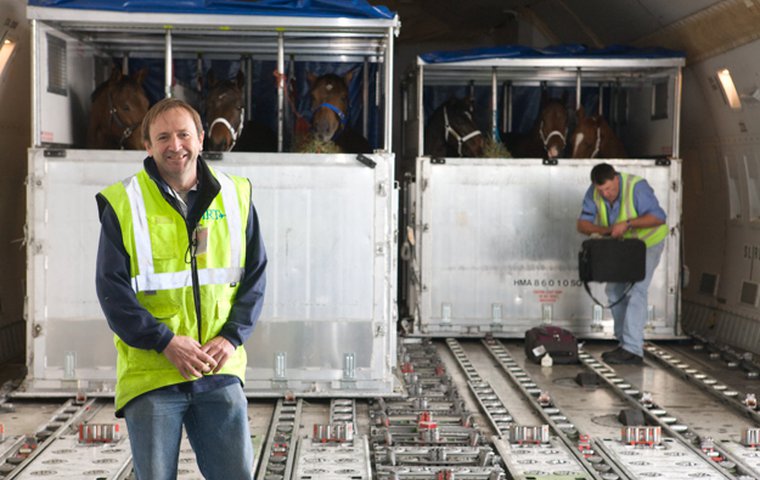 IRT is the name of the company – International Racehorse Transport. But, were it not for the good reputation it has acquired during almost 43 years of trading, a name change would be in order to help inform the uninitiated.

For nowadays much of IRT's trade involves horses from outside the racing industry, be they family pets, polo ponies, or competition horses from the other sports such as show jumping, dressage, or endurance.
Up until the 1990s, it was even more varied, with many of IRT's shipments consisting of dogs, cats, deer, cattle, and occasionally zoo animals.
So the 'R' for Racehorse is slightly misleading as is the 'T' for Transport, since IRT no longer has a road transport business and is purely involved in moving horses by plane.
The one of IRT's six worldwide offices where more than 50 percent of its traffic still involves racehorses is in Newmarket, the "headquarters" of British racing.
And it is here, to a High Street office that backs on to the grounds of the renowned Thoroughbred auction house Tattersalls where the company's European managing director, Jim Paltridge, is based.
"We reckon that you can usually say that IRT has a horse in the air for every hour of every day of the year, and we like to think of ourselves as the market leaders - we are certainly the biggest by numbers," Paltridge asserted.
"Our busiest route [from England] is to Australia, and the cost of taking a horse there is roughly £14,000, whereas to America, it would be around £7,000 to the East Coast and £10,000 to the West Coast.
"But, while we think that we are economical for the service that we give, we generally deal with people for whom price is a secondary issue and horse care and trust is the most important thing. After all, when it comes down to cost, you are probably only talking half a percent difference between all the agents."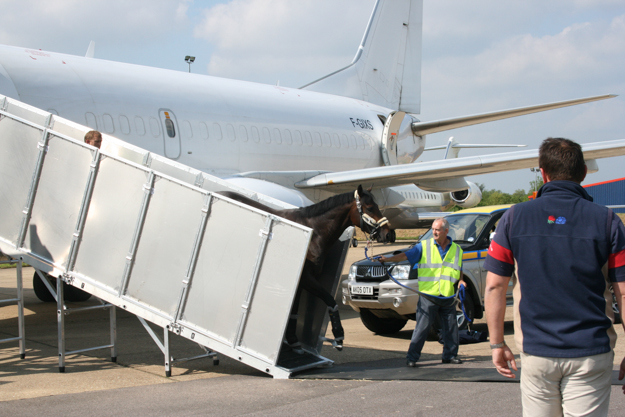 Asked how equine air travel has changed in the last 40 years, his response was surprising. "Very little," he said. "The only thing that has really changed is that we now use enclosed containers whereas horses used to have open-topped stalls.
"We don't have our own planes, we charter them, as the freight business is so competitive that most aircrafts need to be in the air for 15 hours a day in order to pay for themselves. So you need to get the cargo on and off exceptionally quickly and doing that with horses in open-topped stalls on a scissor lift is an extremely precarious thing."
The downside of these closed containers is a lack of clean air flow, which brings with it an increased risk of horses contracting pleuropneumonia, or shipping fever as it is more commonly known.
"Our knowledge of shipping fever has increased a good deal," Paltridge explained. "We know that it can be contracted during travel when horses have problems expelling germs from their windpipes because they can't put their heads down to graze or feed.
"Shipping fever can be fatal and, once it grabs hold of the vital organs, it is very difficult to stop – the key thing is to improve its detection and treatment with the right antibiotics. A blood test can detect it even before the horse develops a temperature, so we have a vet on most of our long-haul flights."
Office-based staff are important, and Paltridge believes IRT gains a crucial edge by being the only equine shipping company with offices around the world (in Newmarket, Chicago, Los Angeles, Melbourne, Auckland, and Hanover) interconnected by a single computer system.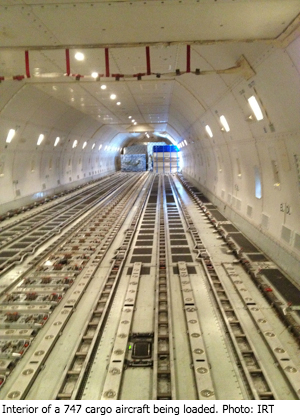 Outside the four or five in-flight veterinarians that it uses on a regular basis, the company's key personnel are its flying grooms, the people who travel in the cargo hold with the horses.
"We employ a dozen full-time flying grooms and subcontract another 12," Paltridge said. "They need to have exceptionally calm dispositions and be able to bond with horses very quickly, while good organisational skills are another important quality.
"They need to be incredibly dedicated to their horses, to never quit. That's the first thing we look for. It only takes one bad apple, one person to get shouty and aggravated, and it sets everything awry.
"They work on very tight timetables but they need to make sure that any anxiety is not transmitted to their horses."
Despite spending most of his adult life in England, stretching right back to his first visit in 1979, Paltridge is, like IRT's founder, Quentin Wallace, a proud Australian. The son of a small-time trainer-breeder and full-time farmer from the border between South Australia and Victoria, his brother was a steeplechase jockey. Paltridge has himself ridden all his life.
But he admits that his own hands-on horse knowledge is much less in demand than it used to be. "My job is almost exclusively office-bound," he revealed. "And 90 percent of it is logistical, solving problems with ministries, aircraft and airlines, and complying with all the various protocols and regulations, which are ever-changing."
As if to illustrate this point, at the end of January, a single case of Glanders was discovered in a horse in north western Germany. Glanders is a highly infectious and usually fatal disease that can even be transmitted to humans.
"As a result, all horse exports from Germany to Australia have been shut down for six months, although that could have been for as much as three years," Paltridge disclosed. "We have just shipped Ivanhowe [last year's top German colt, who was recently sold to continue his career in Australia] to Sydney but if the Glanders outbreak had come two weeks earlier that trip would have been scuppered."
Asked for his favourite reminiscences of a lifetime in the business, Paltridge's Aussie roots come shining through. "I remember having a drink in the Horseshoe Bar at Tattersalls Sales with the agent John Foote during the December Sales [of 1999]," he recalled.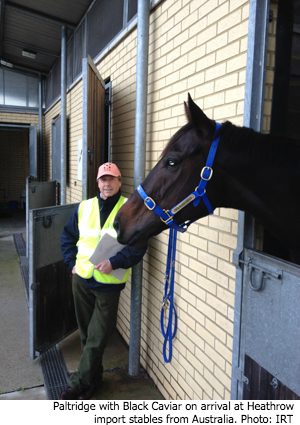 "He was complaining that a Desert King foal of his had failed to make its reserve and said: 'I'm not going to give her away, so I will just have to send her down to her owner's place in Australia.'
"I was rubbing my hands together as that meant another horse to ship, but little did we know that the foal in question would turn out to be [the record-breaking three-time Melbourne Cup winner] Makybe Diva."
And Paltridge has fond memories of that other recent legend of the Australian turf, Black Caviar. "She was undoubtedly the highlight of my career," he admitted. "We didn't realise what a maelstrom of interest she would cause.
"It was fantastic having her here in Newmarket and I became 'Mr. Popular' for a couple of months. A lot of people who did not know anything about racing suddenly wanted to get in touch because they thought that I could show them Black Caviar or send them a picture of her.
"It was quite bizarre, like a new religion. I have never known anything quite like it."
----------
James Crispe is associate director of editorial at the International Racing Bureau.