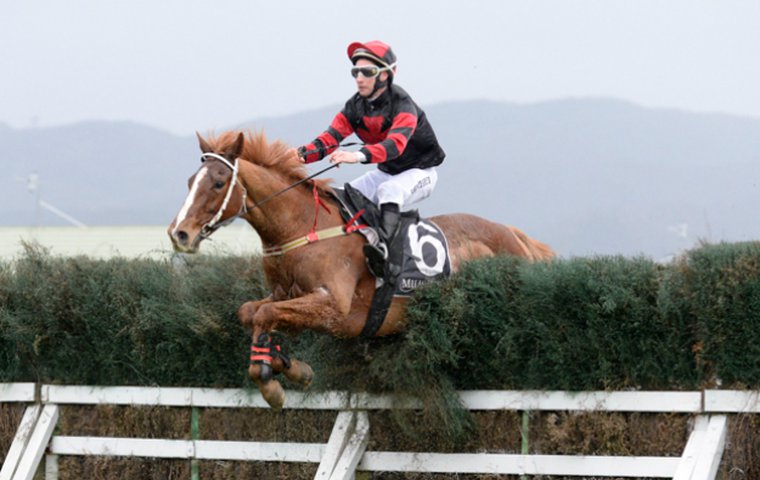 Australia's flagship jumping festival wrapped up last week at Warrnambool, and after a successful, casualty-free three days on the track, Australian jumps racing is celebrating. Gretchen Kijak caught up with one of the sport's great ambassadors, former jockey-turned-media personality Sam Hyland, who has set his sights on New Zealand to fill the jumping fields in Australia.

Sam Hyland is dropping off his dry cleaning after the three-day Warrnambool May Carnival, where the heavens had opened and the muck had got into everything. It has a tendency to do that in southern Victoria this time of year, but it matters little to the racegoers. Affectionately known as the "Bool," small, seaside Warrnambool throws open its doors to racing folk every May, and they all flood in, rain or shine, for this famous festival of flat and jump racing.
"Year after year it's a terrific atmosphere," Hyland said of Warrnambool. "There are new people coming, and people you haven't seen since the previous year, but you just pick up right up from where you left off and have a great time. We'll never [have a jumps industry] as big as the United Kingdom, where it's an industry of its own with horses bred for jumping and full jumping cards every day. This week at Warrnambool is as big as it gets for us down here."
Hyland is a well-known ambassador for jumps in Australia. He has travelled the world for the sport, and rates Cheltenham as the best.
"It's what I believe is the best week of racing I've ever been to," he said. "Everybody is there for the races. At Royal Ascot or the Melbourne Cup carnival, it's the trendy thing to do to attend, and 80 percent of the people are there because it's that time of year and it's just what you do. But with Cheltenham, I would say that 90 percent of the crowd is there because they love jumps racing and they love horses."
Hyland has worked as an on-air racing commentator, most famously with the now defunct television network TVN. He was a paddock personality, casting his astute eye over runners for the "pick of the yard," or sidling up to winning jockeys on the track for post-race interviews. But he also holds a few key roles in something called the Corrigan Club, a jumps-racing organization within Australia. He is its ambassador, and also one of its talent scouts, forging new frontiers for the sport by sourcing jumping horses from New Zealand. It's an ideal role for Hyland.
Born to a Melbourne Cup-winning jockey-turned-trainer, Pat Hyland, son Samuel has pedigree.
"It was natural progression for me to go into horse racing and become a jockey," Sam said.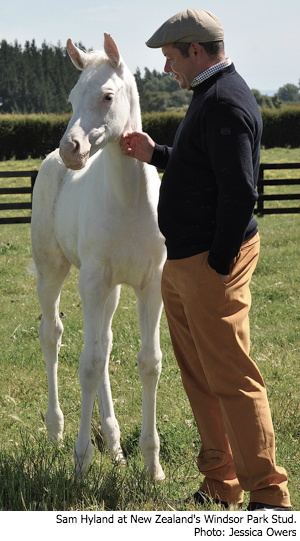 He was an award-winning apprentice who went on to become one of Victoria's leading riders, notching up multiple feature-race wins. Among the highlights of his career was a G3 Adelaide Guineas win aboard a horse called Mustang Red, trained by his father. Hyland also raced in Macau, winning a G1, but back in Australia, a riding accident at Ballarat brought the curtain down on 16 years in the saddle. Cracking vertebrae in his neck and back, doctors warned him that he could not sustain another fall, and so he retired.
Hyland reinvented himself with TVN, working as the popular on-course commentator for four years until late last year. During that time, he was approached by Racing Victoria to become its professional trackwalker. In a way, this was a legacy begat from his father, who was a fastidious believer in analyzing turf surfaces on every racing day. Hyland's role with Racing Victoria sees him leave home in the very early hours of the morning to travel Victorian racetracks, providing an independent assessment on going conditions.
It was Hyland's broad expertise and gregarious enthusiasm that caught the attention of esteemed racing identity Bob Charley, founder of the Corrigan Club and a passionate advocate of jumping in Australia. Aptly named after legendary jumps jockey Tommy Corrigan, the club has 450 members, and is all about history, and all about jumping.
"Bob wanted to get the club rolling, and he knew that I was in media, that I loved jumping, and so [my recruitment] was a good way to go out there and promote the sport," Hyland said.
But what, exactly, is the Corrigan Club? Is it a jumps-racing syndicate?
"No, not at all," Hyland said. "It was established for keen jumps followers that had nowhere to go. It doesn't cost anything to join, and we have a get together at the beginning of the jumps season, and at the end of it. The club is not trying to sell horses, or trying to do this or that. It's simply there to encourage people to follow jumps racing."
It could be said that in the U.S., Elizabeth Taylor and Mickey Rooney put steeplechase racing on the radar with the timeless "National Velvet." The Grand National at Aintree, the Cheltenham Festival, and, in its own unique way, the Bool festival, all attract die-hard jumping fans. While an estimated 500 million viewers across 140 countries tune in to watch the Grand National every year, jumping's impact on crowds is also significant by Australian measures. More than 20,000 people flocked to the last day of the Bool this year, while 34,000 attended a similar jumping festival at South Australia's Oakbank over Easter.
There is poetry in the motion of jumping horses, and when all is going as it should, it is a breathtaking spectacle. But as beautiful as it can be in one moment, it can take your breath away for all the wrong reasons in the next. Racing at high speed in close quarters, even the smallest miscalculation can lead to disaster. As with any horse sport, really, but probably more so in this code, jumps racing is inherently dangerous. Horse and jockey safety came under enormous public scrutiny in Australia some years ago, and virtually closed down the sport.
"Five years ago we were in enormous trouble. Jumps racing stopped in Australia," Hyland said. "Victoria had to fight really hard to hold its spot, but now the safety is not even just twice as good: it's three times as good. Schooling procedures, trials to complete if a horse falls... they all have to go through intense schooling. So it [the sport] is on the build again, and we have great prize money. So we just have to make up the numbers."
Enter Sandy McGregor, very successful businessman, and very successful racehorse owner. Among McGregor's best horses was the jumping star Black And Bent. McGregor is also a Corrigan Club ambassador, working with Hyland on sourcing horses from New Zealand to fill the fields in Australia.
"I actually rode Black And Bent on the flat," Hyland said. "We [he and McGregor] created a friendship back then, so we're now good mates and we've worked out we're going to find better jumpers and better horses for the future of this sport."
In December 2014, Hyland and McGregor headed to New Zealand to scout tough Kiwi types that might have an impact in Australia. They weren't necessarily buying animals. They were encouraging trainers to bring their jumpers to compete at the Australian carnivals. But why New Zealand?
Andrew Birch, of New Zealand Thoroughbred Marketing, says it is a simple case of New Zealand breeding more stayers.
"We breed 3,800 foals per year, and 900 are exported to Australia," he said. "But that still only represents five percent of Australian runners. The Australian market is au fait with the New Zealand product, and trainers and owners know what we offer. Zabeel, for instance, has had 42 or 43 G1 winners, and has proved to be a pretty good jumps sire too."
Birch said the reinvigoration of the Victorian jumping scene has boosted the possibilities of New Zealand trainers shipping horses up for the big prizes. While jumping in New Zealand remains part of the fabric of Kiwi racing, there are still only 80 jumps races a year, and only about NZ$2 million in total prize money available for the sport (total Australian prize money is $3.63 million). But it's challenging to ship horses out for the Australian carnivals.
"The jumping season here only just begins in May," Birch said, "so the big carnivals like Oakbank and Warrnambool are too early for us."
That doesn't mean trainers won't travel. John Wheeler, a Hall of Famer based out of New Plymouth on New Zealand's North Island, has often brought horses to Australia to jump. Also, in recent weeks the Pukekohe-based trainer Rudy Liefting declared his talented jumper Just Got Home for some of Victoria's big targets this year.
"There are people here that just genuinely love jumps racing," Birch said. "The New Zealand jumping scene is grassroots, and people with an affinity for the land tend to gravitate towards it."
This is backed up by the owners of galloper Who Shot Thebarman, who ran third to Protectionist in a very smart Melbourne Cup last year. The horse's owners are jumps trainers, and schooled him over hurdles.
But in New Zealand, it's a different style of racing – slower tempo, bigger and stiffer jumps, wetter tracks. Hyland agrees that the softer surfaces keep the speeds slower.
"We tend to race on pretty quick ground in Australia," he said, "which provides a quick tempo, and the quicker they go, of course, there's more chance of an accident."
Hyland and McGregor clearly have this in mind as they beckon New Zealand horses "across the ditch." But it's no different to scouting international stayers for the Melbourne Cup: there will be surface and climatic considerations. In the meantime, Hyland is winding down from a quieter-than-usual Warrnambool carnival.
"My partner Nicole and I just had a baby boy, William James, so I was at the Bool working away, but all I was thinking about was getting home," he said. "In years gone by, I've been the one that's led the pack a little bit, but I was very well behaved this year. Since I've had a child, I've matured a bit."
Wearing the many hats of writer, tipster, trackwalker, ambassador, and new father, it's taken Hyland, by his own measure, only a few weeks to mature. It begs the question, really, what might he accomplish next?