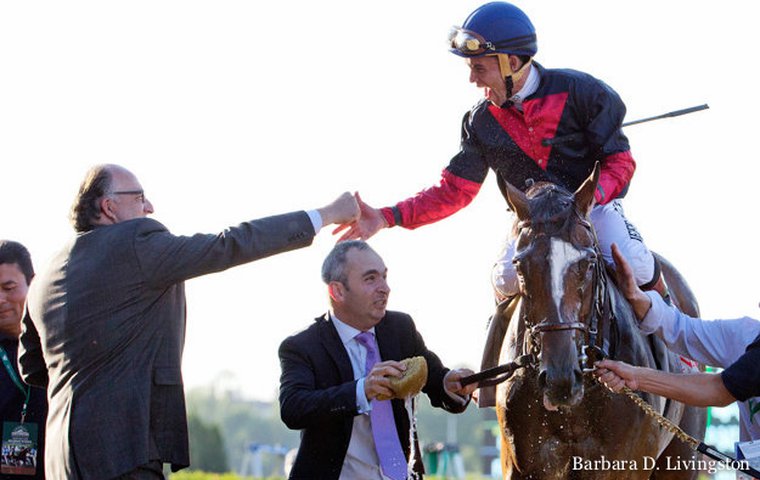 Long known for his prowess with turf horses, Christophe Clement's victory in the Belmont Stakes with Tonalist signaled a new and noteworthy chapter in his training career.

It was the first classic win for Clement, 48, who came to the United States from his native France in 1991 and won with his initial starter, Spectaculaire, at Belmont Park.
Before the Belmont Stakes, he owned just a single G1 win on dirt, with Funny Moon in the 2009 Coaching Club American Oaks.
But Clement's success with grass runners has been plentiful.
He guided Gio Ponti through a career that yielded three Eclipse Awards, $6 million in earnings, and runner-up finishes in two different Breeders' Cup races, the G1 Mile and G1 Classic. The trainer's deft handling of Forbidden Apple enabled the horse to compete successfully at the highest level until his retirement at age 8. Clement's work with fillies and mares has been exceptional; he is the only trainer to have won Arlington Park's G1 Beverly D., a premier race in the female turf division, three times.
This weekend, Sea Queen or Summer Solo could add to the Clement's roster of important turf scores in Saturday's inaugural running of the $1 million Belmont Oaks Invitational, a Breeders' Cup designated "Win and You're In" event for the G1 Filly & Mare Turf.
"Before the Belmont, I was the guy who finished second in a bunch of Breeders' Cups," Clement said two weeks after Tonalist's triumph in North America's sole Grade 1 at 12 furlongs on the dirt.
For the record, it was on five different occasions Clement had to settle for second-best at the Breeders' Cup, including Gio Ponti's near upset of Zenyatta in the 2009 Classic at Santa Anita.
"Don't get me wrong, those Breeders' Cups were great," he continued. "But it is just fun to win a classic. It's tough to win a classic. They are not easy races to win.
"I didn't quite realize when it happened the importance of winning a classic. I've been lucky to win some G1s, but I never won a race that meant so much to the people around me. And for me, it was great because I consider myself a New Yorker."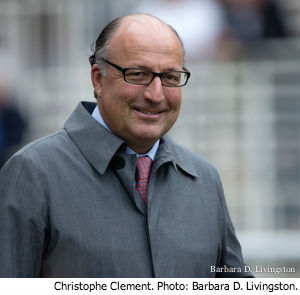 The composition of Clement's stable has always been top-heavy with grass runners. In part, because he trains for a number of European owners. Also, the majority of his owners are breeders, who are not filling his barn with expensive yearlings acquired at auction.
"I train mostly for the owner/breeder," said Clement who is on the cusp of his 1,500th career win. "I don't train for many people who buy yearlings. And I don't complain about it. By training for the owner/breeder, I have great, great relationships with some of these owners that have lasted for many years. It is a luxury position to be in. But it would be nice to be training for some of the people who could buy some of the better horses at the public auctions, just to give me some access to these yearlings."
Tonalist is owned by Robert S. Evans whose father, the late Thomas Mellon Evans, won the first two legs of the 1981 Triple Crown with homebred Pleasant Colony. A son of Tapit, Tonalist was privately purchased by Evans after he failed to reach his reserve at Fasig-Tipton's select yearling sale in Saratoga. In a nice twist, the colt's dam, Settling Mist, is a daughter of Pleasant Colony.
About 10 years before Tonalist came into his barn in the fall of 2013, Clement had trained a turf filly for Evans. Clement recalls being fired by Evans, while the owner recalls it differently. No matter, the tale makes for great racing lore.
"Funny story," Evans said recently. "I had a Pleasant Colony filly with Christophe, maybe 10 years ago. He called me up after he had her for awhile and told me she wasn't going to make it in New York and said, ʻWhy don't you find another trainer for her.' So, I sent her to Graham Motion at Fair Hill."
A good-natured exchange between the two took place several years later, according to Evans.
"I had lunch with him down at Keeneland at the sales about two years ago, and I mentioned the story to the group at the table," Evans continued. "Of course, everyone laughed. I said, ʻYou kicked me out of your barn,' and Christophe said, ʻWell, I will let you back in now.'"
Subsequently, Evans began sending horses to Clement, and among them was Tonalist. The owner said the impetus to renew the relationship came after a conversation with Timber Town Stable's Wayne Sweezey, who along with wife Cathy, consigned Tonalist to the Saratoga sale.
"First of all, I know Christophe's record, and I knew he was a very good trainer," Evans said. "Cathy and Wayne's son, Kent, worked for Christophe, and actually Wayne told me how hard Christophe worked his son and how much he learned. I didn't really understand how he operated his barn until I heard about that. And, of course, now I've seen it first-hand. He is very hands-on and very detailed, and very thorough, and he is very smart. That is a good combination."
Another trait that appealed to Evans is Clement's extreme patience with his horses. Equally, Clement said having Evans' full support in bypassing the G1 Wood Memorial with Tonalist, after a minor lung infection was detected following a March 27 work, allowed him to change course and target the G2 Peter Pan as a prep for the Belmont Stakes. Tonalist won the Peter Pan, his stakes debut, by four lengths in the slop.
"Mr. Evans never had a Derby horse, and I'm sure he was disappointed, but he put the horse's well-being first, and that is really refreshing," Clement said.
Christophe and older brother Nicolas are sons of trainer Miguel Clement, who died in an automobile accident when they were teenagers. The elder Clement managed a successful yard in Chantilly, outside of Paris, where he now trains.
Christophe said his decision to leave France to begin his career on American soil was an easy one. "I didn't think France was big enough for two brothers."
Close family friends of the Clements are trainers Alec Head and his daughter, Criquette Head-Maarek. Christophe worked for the Head family while he attended university in Paris. After obtaining a degree in economics, and meeting his future wife Valerie, Clement continued his racing education in the U.S. He worked at Taylor Made Farm in Kentucky, and later as a hotwalker for Shug McGaughey. Then, he worked as an assistant to the legendary Luca Cumani at his Newmarket, England yard.
Clement said he could not imagine a better teacher.
"Professionally as a trainer, the most influential man in my life has been Luca Cumani," he said. "I worked with him for four years when I was a kid and I've stayed very close to him ever since. He was a great teacher and is a great man. He would have been successful in whatever he had done. He is just a very bright guy.
"He is a very disciplined and rational man. I think it is very important to learn from rational and disciplined people."
That discipline is apparent in the Clement barn. From the neatly groomed shed row, to the regimented manner in which his impeccably turned out horses line up on the track during training hours so Clement can inspect them individually as they jog off, his operation reflects extreme order.
Clement said he can't overemphasis the importance of teamwork to achieve the desired result in his stable, which currently ranks 18th in all-time earnings in North America with $92.6 million.
With 45 employees, 60 to 80 horses – depending upon the time of year – split between his Belmont Park and Saratoga barns (he winters at Payson Park in Florida), Clement heavily relies upon assistant Christophe Lorieul.
Lorieul, 40, said the perfection that Clement strives for in himself, is also expected of his employees.
"He's very hard on himself," said Lorieul, who came to work for Clement 20 years ago. "He expects the best of himself, and the best from us. He is hard to work for, but in a good hard way."
It is noteworthy that not once has Clement received a medication violation, according to the database of the Association of Racing Commissioners International. He has saddled runners in more than 7,000 races.
"We don't treat horses to have an edge [competitively]," Clement said. "We only treat them when they need to be treated. And by being disciplined and having staff working for you who are disciplined, we avoid [medication positives]. One day we will have a stable mistake. But I will do everything I can to avoid it."
The teamwork that Clement speaks of also extends to his tight-knit family, who are his staunchest supporters. He and his wife of 26 years, Valerie, have two children. Frequently seen by their father's side at the racetrack are Miguel, 23, who is in his first year with the Darley Flying Start program, and daughter Charlotte, 19, a junior at Vanderbilt University who recently completed a stint in the marketing department at The New York Racing Association.
"It is a strength to work as a family," Clement said. "I'm very lucky to have had Valerie with me since Day 1. This is not an easy life whatsoever for a wife because the life of a trainer is not easy. I am not sure [trainers] are the most pleasant people to live with."