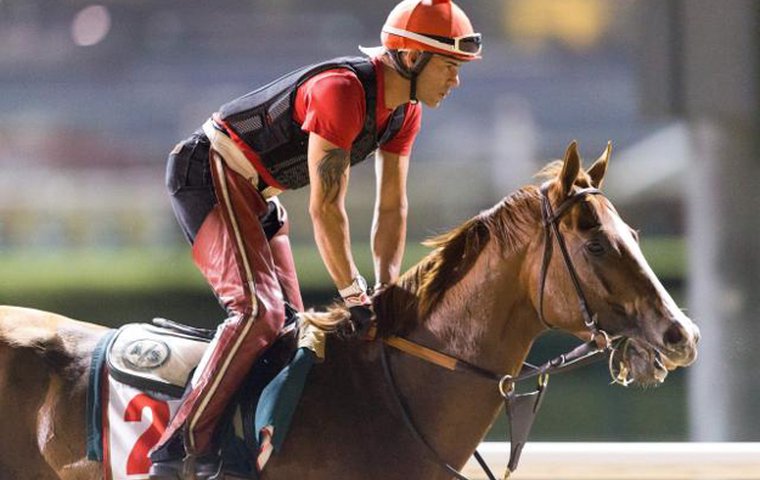 When you are a 78-year-old great-grandfather, as Art Sherman is, you are entitled to believe you have seen all that life has to offer.

However, the look on Sherman's face as he emerged from the bowels of Meydan's giant grandstand told a different story. To behold his sense of wonderment yesterday was to fully comprehend the resonance of his journey.
Bleary-eyed he may have been after the 12-hour flight from California, but Sherman audibly drew breath as he savoured the surrounding vista. He paused to gather his thoughts and looked out into the distance.
"Wow," he said.
Some hours later, having sated the incessant demands of a global media, he was asked for his early impressions of the desert state that had lured him into his current odyssey. "It's international," he replied. "There's a lot of different people here, and racing is all about bringing people together. I haven't been here very long but it has already been a great experience. I'm just glad we came."
Whether Sherman is as joyous on Saturday evening will largely depend on how California Chrome fares in the $10 million Emirates Dubai World Cup, when he will be ridden by regular jockey Victor Espinoza. Come what may, he is unlikely to harbour regrets.
The trip was in the balance for much of the winter as Sherman broke bread with California Chrome's owners, Steve Coburn and Perry Martin. They probably chewed the cud during the ceremony at which the blue-collar colt acquired his status as Horse of the Year.
For all the debate, however, there would be unanimous consent that their lives changed irrevocably last year. To witness Sherman charm an audience thousands of miles from his home in Rancho Bernardo was further proof of it.
Reading about Sherman from afar is immeasurably different from encountering him in the flesh. At times he has been portrayed as an almost hapless character who happened to stumble upon a good horse. The reality is exactly as he portrays it: "I have had success all my life, just not in a big way," he said. "I have never had the clients to spend big money."
Sherman has considerable presence for a man small enough in stature to have spent 23 years in the saddle. Nor does reproducing his words in print do any justice to their eloquence.
But above all, Sherman is as astute an observer of life as you could meet. He speaks in the manner of a preacher, but entirely bereft of evangelical countenance. All of which made seeing that initial look of wonderment such an arresting sight.
Sherman was just 18 when he spent his days exercising Swaps as that colt made his way towards a Kentucky Derby triumph Sherman would repeat as a trainer with California Chrome last year. Needless to say, the respective memories he retains represent two sides of the same coin.
"It means a lot different to me now than when I was a teenager," he reflected. "When you are young, everything is new. It feels like a fairytale. But I'm not an apprentice any more. I have put in 55 years on the racetrack, so to have that happen to me last year was extra special."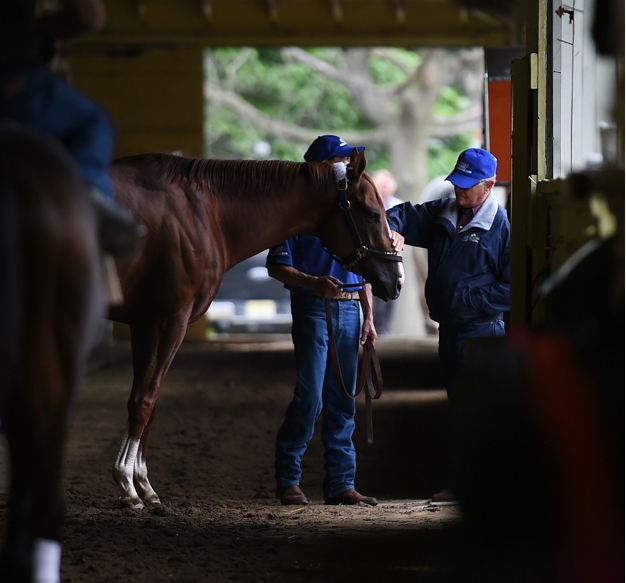 The first oil strike in Dubai was 11 years distant when Sherman was putting Swaps through his paces. Its subsequent transformation into a desert metropolis was as fanciful as the notion Sherman would one day race a horse on its shores. Yet here he is, delighted with California Chrome's condition and relishing the imminent challenge.
It will not be easy, although the much discussed sand-based surface is the least of Sherman's concerns. "He has travelled all over the United States and raced on different courses," he said. "You don't have to take his racetrack with him."
Needless to say, thoughts of California Chrome landing the world's biggest racing jackpot are constantly dangled before Sherman. "I guess $10 million has a nice ring to it," he admitted, "but it's definitely not a done deal."
Sherman draws inspiration from a book about the inaugural Dubai World Cup winner, Cigar in 1996, that he read on the long flight over. "I kinda found myself thinking we would be in the $10 million prize-money bracket with Cigar if we won," he mused. "Wow, wouldn't it be something to have a horse do what that great horse did?"
Cigar's trainer, Bill Mott, has placed a significant obstacle before California Chrome in Lea, and the horse is impressing onlookers. When encountering the Japanese filly, Harp Star, on lapping the track Tuesday, Lea instantly sized her up. He changed leads, jumped into his bit, and charged past her in a heartbeat.
Sherman, for his part, is concentrating his efforts on his own horse. He has left little to chance for a race due off at 9 p.m. local time, long after sunset.
"They have lights at Los Alamitos [where California Chrome is trained] so we have been taking him out in the dark," he said. "The floodlights [at Meydan] shouldn't bother him. And I have been working him a lot faster than I usually would. If we were coming here for the big money, I didn't want to have any excuses."
Sherman is also motivated by the feeling that he is representing his country. "You have to feel proud to be here," he said. "It is by invitation only, so it's a great honour for us that they want us to be part of it."
"We must enjoy every step because this will probably be his last year," he continued. "He will go to the breeding shed at the end of it. To me, it is like being in a movie. I don't know whether I am the main man or not, but I hope the ending is great."
And his most abiding memory from the unfolding story? "There have been so many," he said, "but, as you get older, you reflect on a lot of things that have happened during your life. You wonder whether friends no longer with you are aware that the guy who was running around the fairs all them years has finally made it."
There is an unrelated symmetry between Swaps and the chestnut colt responsible for Sherman's late renaissance. Swaps was popularly known as the California Comet, a sobriquet uncannily redolent of California Chrome.
However, should California Chrome enjoy a trouble-free trip on Saturday, he could well become known in Middle Eastern racing folklore as the Sherman Tank.