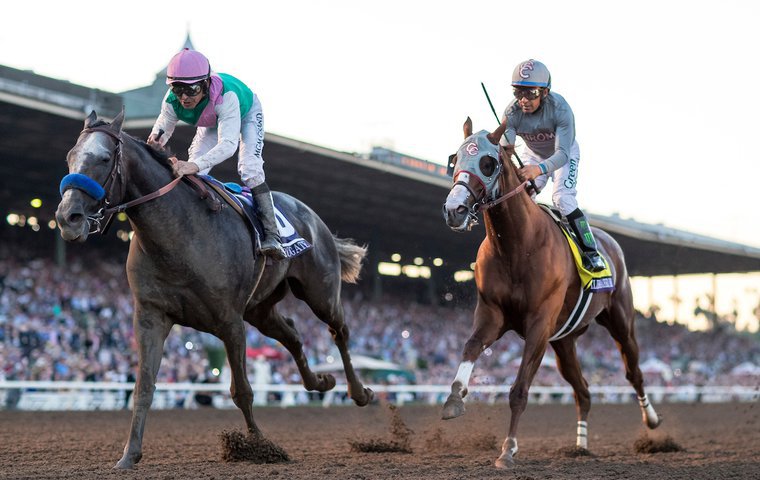 The dust from the Breeders' Cup has now fully settled and only one question remains: Who will be crowned Horse of the Year?

The 2016 Breeders' Cup Classic more than lived up to its billing and its name as the two main protagonists fought out a truly 'classic' duel. Whether Victor Espinoza could have given California Chrome a better ride is certainly up for debate. What is not, however, is that both horses gave their all as they pulled nearly 11 lengths clear of third-placed Keen Ice.
The debate has now begun to rage over who will win the Eclipse Award for America's Horse of the Year. Before the race, the feeling was that, even if California Chrome didn't win the race, he was still a shoe-in for the award. In the immediate aftermath, that seemed to remain the prevailing view, particularly in view of the question mark over Espinoza's ride.
However, now the experts have had time to analyse the race, there is a growing feeling that, like all votes in 2016, it is not as straightforward as it seems.
In winning the Classic, Arrogate posted a Racing Post Rating (RPR) of 136, which is in the all-time top 10, and a Beyer Speed Figure of 120, equal to the best Beyer posted by American Pharoah. The performance was so good that Chrome's Beyer figure - 119 - was the best of his glittering career, and he was only second.
So you are left with a choice, summed up here by the DRF's Mike Watchmaker in this ESPN article: "No one can dispute that California Chrome's overall record in 2016 dwarfs Arrogate's" ... BUT ... "there is a very, very strong possibility that Arrogate is better than California Chrome."
So the question is: Even though California Chrome has had a better year, can you still vote for him knowing he has been beaten fair and square by probably a better horse? Have your say now.