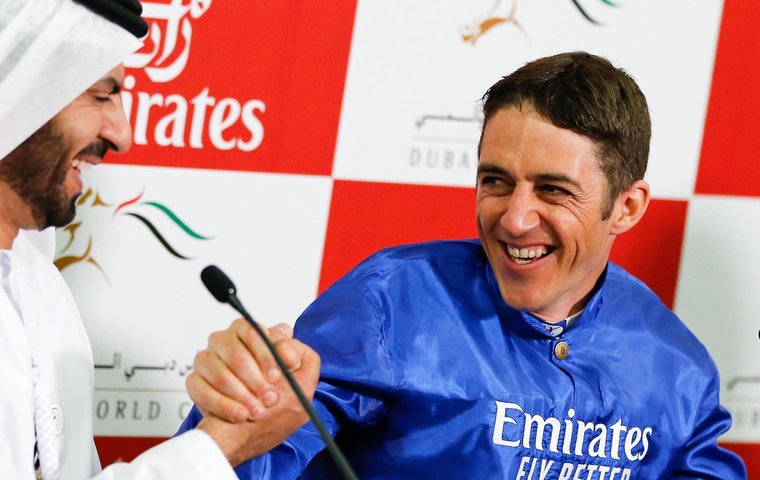 Christophe Soumillon has been one of the world's elite jockeys since the start of the millennium. The 38-year-old Belgian, the Aga Khan's retained jockey, has been French champion ten times, holds the European record for wins in a calendar year (306 in 2017) and has won nearly 100 G1s all over the world. His big-race roll of honour includes two Arcs, a Breeders' Cup Turf, a Japan Cup, a Hong Kong Derby, a Canadian International, a King George VI and Queen Elizabeth Stakes, a British Champion Stakes and an Irish Champion Stakes, as well as the last two Dubai World Cups aboard Godophin's Thunder Snow.

He spoke to Sally Ann Grassick as part of our What They're Thinking series.

Who do you think is the most important figure in the history of racing around the world?
It is difficult to name just one person. If you were to ask me who is currently the most influential person in our industry, with the greatest achievements, then I would have to say Aidan O'Brien. In previous years, trainer Francois Mathet had a massive effect on French racing.
If you are talking about owner-breeders, then you have to mention His Highness the Aga Khan, who has been a major influence in European breeding and racing as a whole, whether it be in Ireland, England or France. Sheikh Mohammed and Coolmore are two others who have revolutionised racing on a global level.
I can't just pick one name; it would be like choosing the best football team between Barcelona, Real Madrid and Manchester United. They are three owner-breeders who have changed racing around the world and who, thanks to their vision, have won top races internationally. I have seen things change so much in racing, just during my lifetime, thanks to them.
As for jockeys, then it would have to be Lester Piggott and Frankie Dettori who stand out for me. They made England the centre of the racing world thanks to their success on the international stage. The racing world moves very quickly, a few years ago Andre Fabre was changing the face of racing in France, and now we are talking about John Gosden's success in the UK.
We are lucky enough to be surrounded by talented people in racing and we seem to have been blessed with champions in recent years, be it Treve, Enable or Frankel. I am looking forward to seeing what the next ten years will bring for our industry.
Which is your favourite venue and race (anywhere in the world)?
My favourite race will always be the Prix de l'Arc de Triomphe. It stands to rights that my favourite racecourse would have to be ParisLongchamp. I have won big races all over the world, but what I love the most about ParisLongchamp is the atmosphere. I love its location too - just five kilometres' walk from the Eiffel Tower. It is a magnificent place right in the heart of the Bois de Boulogne. All the English want to come because they have such a good time there. All the Europeans, whether they be Italian, Spanish, Belgian or German, want to be there too.
It is currently the favourite target of the Japanese, even though they have yet to win an Arc. Everybody wants to come and win a Prix de l'Arc de Triomphe. The entire racing world looks at the Arc as a major elite race: it is our own version of the World Cup. They tried to do something similar with Champion's Day in the UK, but I think that Arc weekend is still a unique event.
What is your fondest memory in racing?
For me personally, it would have to be Zarkava (see video below of her 2008 Arc victory). She was the highlight of my entire career. To find such a talented filly and be able to maintain an unbeaten partnership together brought me unparalleled satisfaction. I appreciated what we achieved together back then, but I appreciate it even more now.
It makes me nostalgic to witness champions such as Treve and Enable winning two Arcs. At the time when Zarkava retired to stud, very few horses had managed to do the Arc double and it seemed an almost impossible feat. We can see nowadays just what the superstars of racing can achieve, and she is definitely part of that elite group. We knew that we had the best horse then. Who knows if that would have been the case the following year? One this is certain; she has made her mark in the racing history books.
What do you see as the biggest challenge racing faces today?
I think that there are too many races, which means punters don't have time to study the form properly and take a real interest in what is going on. There is less transparency and visibility about how a horse is training in the mornings, compared to countries like Japan, Hong Kong, Australia or the States, where we see horses taking part in barrier trials and know their times and weight. There is always an unknown with horses even if you have all the information available, as sometimes you never know why a horse runs badly, but at least you have more transparency and reassurance for punters.
Maybe then you would have more people betting on racing as they would think that it is possible to find a winner if you study the available information properly. At the moment that is not the case in France as there are too many variables; one day it is a left-handed track, and the next right-handed. One day soft going, and the next fast. One day the horse runs on the turf and the next on the all-weather. Punters can feel a bit lost, like they are betting on a different race every two minutes; it is more like a lottery rather than studying the form.
Less and less people buy the Paris Turf every day to study the form before racing, but at least social media has made videos of past performances more available to punters. It is also hard when trainers and jockeys can't reveal all the information about their runners, as it might annoy the owner or breeder, so punters feel like they are in the dark.
Some people prefer not to say anything rather than lie in an interview. We need to do our best to open up our sport to punters to encourage them to bet more on it.
If you could change one thing in racing, what would it be?
For me, what makes a big-race day special is the crowd. The more people there are on a racecourse, the better the atmosphere. It is like a football match: if the stadium is half empty then the match doesn't have the same atmosphere even if you have best players on the pitch. When a stadium is full and there is tension in the air and a huge roar from the crowd, then you can feel the passion and all your sensations are heightened.
The most important thing is to get people to come to the races. Popularity breeds popularity; if you can get enough people to come racing then the crowd will follow. Atmosphere is everything. The Thursday evening Jeuxdi concept at ParisLongchamp is a good example of this. People want to go to a cool and popular event, and if they have a good time and there is a great atmosphere, then they will go back again and bring their friends. They don't care how good the racing is, they just want to have a fun time with some food and drink and their friends.
It is a great feeling for a jockey to ride in front of a crowd like on those evenings or on Arc day. Even if you are disappointed to have been beaten, it is hard to feel down for long when you see the reaction and passion of the crowd. Very few sports can create such a wide range of emotions in the space of two minutes. It makes me sad to see empty stands on racecourses. It is not a good sign for our sport.