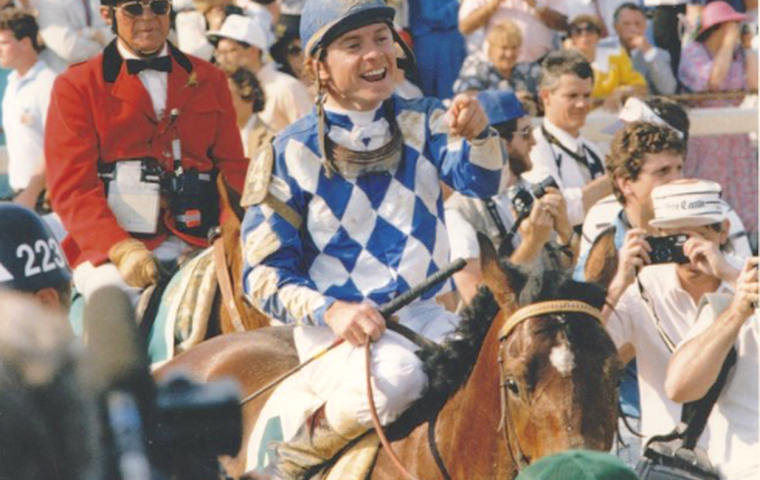 It has been 25 years since Chris McCarron won his second, and his last, Kentucky Derby (aboard Go For Gin). But the one he remembers most vividly all these years later is the 1987 Run for the Roses, which he won aboard Alysheba.

Here McCarron, who lives in Lexington, Kentucky and now serves an executive on the Team Valor International, reminisces about the thrill of winning his first Derby, the profound impact it had on his journey from the outskirts of his native Boston to the National Museum of Racing's Hall of Fame in Saratoga Springs.

When I retired as a rider in June 2002, I had ridden in over 34,000 races and won more than 7,100 of them. I won races with considerably larger purses, but they all pale in comparison to the thrill of winning that first Kentucky Derby.
And I don't think it was any coincidence that I was elected and inducted into the National Museum of Racing's Hall of Fame two years later, joining personal idols like Eddie Arcaro, Bill Shoemaker, Johnny Longden and Ron Turcotte.
If there's one race that can put a rider on the map, it's the Run for the Roses. It has been contested since 1875. Winning it provides an exceptional boost to your career. It is really a life-changing event.
While I've always tried to be a person who looked ahead rather than behind, it's hard not to look back when the Triple Crown races come around each spring. And looking back on my Derby win with Alysheba always brings back many fond memories of May 2, 1987.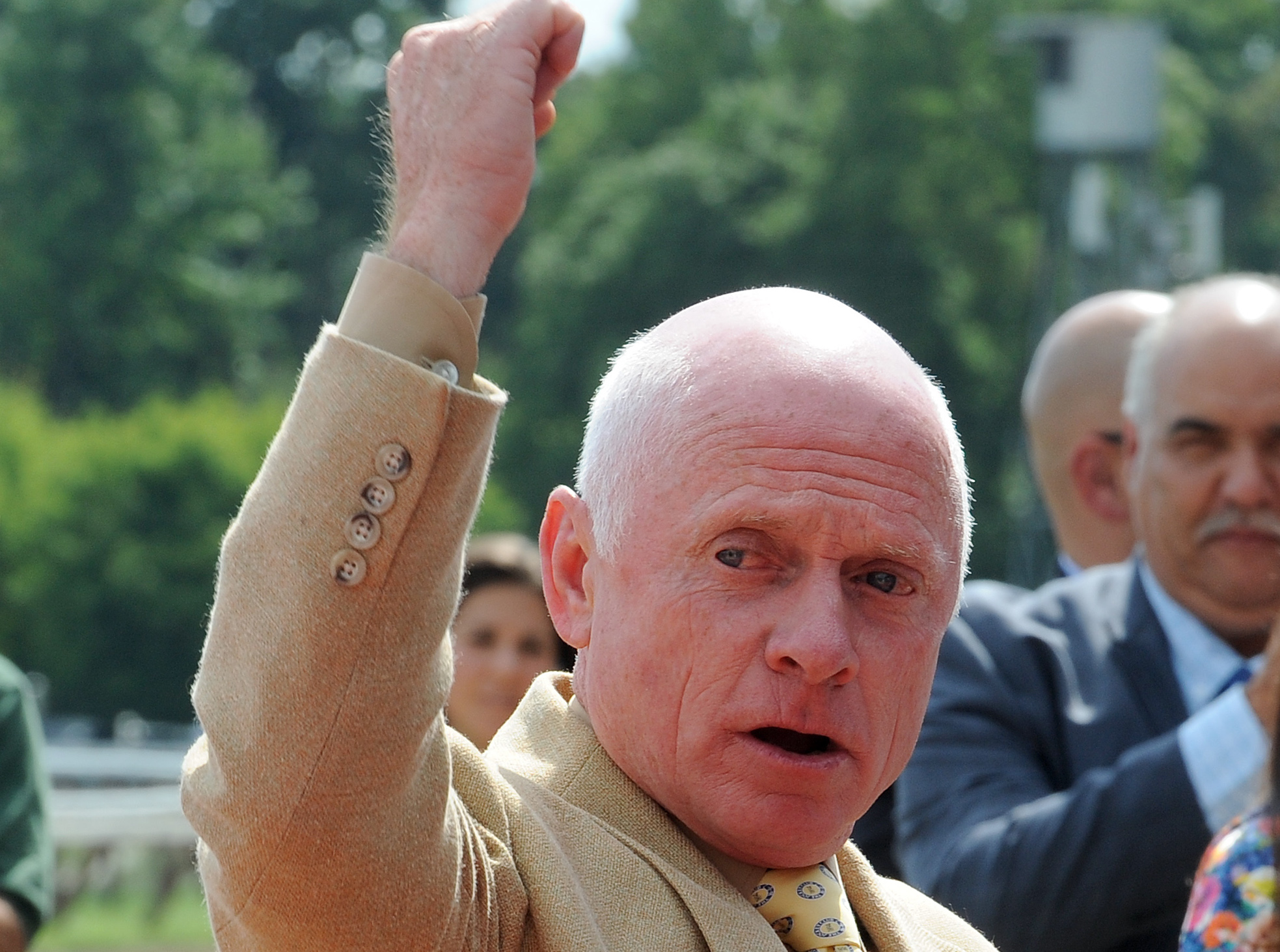 It also triggers thoughts and countless recollections of the people, places and events that brought me to that fateful day.
It was a long and winding road, to be sure.
I grew up in the Boston suburb of Dorchester, the seventh of Herb and Helen McCarron's nine children. Hockey was really the sport I loved most. Whether it was on the ice or in the street, we played hockey for a good six months a year.
The thought of pursuing a career as a jockey never entered my head, even after my older brother, Gregg, had ventured off to the local racetrack, Suffolk Downs in East Boston, in 1969. Riding at Rockingham Park in New Hampshire and Suffolk Downs, he started winning races and earning a good living.
That got my attention, and I spent the summer of 1971, between my junior and senior year in high school, working as a hot walker with a trainer named Odie Clelland at Rockingham Park.
The following summer, I was back living in my parents' home in Dorchester and bumming rides to the track from a friend and workmate of mine named Judy Wexler. She too worked for Odie Clelland and she was kind enough to drive from Brookline to Dorchester early each morning to give me a ride to work. Needless to say, I was immensely grateful, but I had absolutely no idea what an influence she would have on my life or career at the time.
Sometime that summer, Odie decided he wanted to cut down on his travel and just stay in Maryland, which had what amounted to a year-round circuit with Bowie, Laurel and Pimlico race courses. It would turn out to be a blessing in disguise for me.
I was 'promoted' to groom that summer. I was now responsible for the daily care of four horses. This included cleaning the stalls, feeding and bandaging the horses and leading the horses over to a race.
By now, I had decided to follow Gregg's path to becoming a jockey. My parents felt a little better about the situation by then, but my mom never really got over the fear of danger that we faced every time we got on a horse. In truth, she had good reason to worry, something I appreciated a lot better when I became a parent.
It didn't take long for me to feel the same way about the sport that Gregg did. I had a competitive nature and I just loved everything about it. I rode my first race on January 24, 1974, at Bowie and won my first race on February 9, 1974. It was the tenth mount of my career.
Witnessing history - then making it
Besides being home to the Preakness Stakes, Maryland had a rich history when it came to Thoroughbred breeding and Thoroughbred racing. It was also a proving ground for jockeys, many of whom went on to bigger and better things after spending time in Maryland. Kent Desormeaux, Ramon Dominguez and Edgar Prado are a few who come to mind.
In 1973, I was in Maryland to see Sandy Hawley break the legendary Bill Shoemaker's record for most wins in a year. Bill had won 485 races in 1953, and the record had stood for 20 years. Sandy won number 500 on December 15, 1973 at Laurel Park and by the end of the year, he had won 515 races.
I was thrilled to witness history; it never crossed my mind that I would be breaking Sandy's record a year later.
With the advantage of the weight allowance granted to apprentice jockeys, it wasn't long before trainers were giving me mounts. I was winning races in bunches. By the time 1974 ended, I had won 546 races, leading the nation and breaking the record held briefly by Sandy. I won an Eclipse Award for my achievement.
During the fall meet at Laurel that year, Judy Wexler showed up at my doorstep with two suitcases in hand. She didn't have a place to stay. We were good friends and, just as I would say to any friend, I told her she could stay with me until she found place.
Looking back, I'm not sure she looked too hard for a place. As sometimes happens in such a situation, the friendship evolved into something more. We got married in January 1976, less than two years later.
1974 was also the year that the significance of the Kentucky Derby really hit home for me.
The move to California
On Preakness weekend, all the top riders in the country were getting mounts that the local riders would have had. It made quite an impression on me to see how in demand they were, and I wanted to be one of those elite riders. That meant shifting my tack to New York or Southern California.
I was going out there on occasion to ride in a major races and I liked what I saw. The competition, the purse structure and the weather were all very appealing to me.
So Judy and I packed all our belongings in a station wagon and headed west. We left on March 27, 1978, the day I celebrated my 23rd birthday. Judy was pregnant. We rented an apartment in Torrance, California, when we got there.
To procure mounts in the afternoon, jockey agents often offer the services on their riders for morning workouts. Harry the Hat Hasek wanted me to get to know all the California trainers as quickly as possible so, in addition to looking for mounts in the afternoon, he also told any number of them that I'd be glad to work their horses in the morning.
I'd get on anywhere from six to nine horses each morning. He worked my ass off.
Since my services were in such high demand in Maryland, I didn't have to work too hard during morning training hours to get mounts. But this was a whole new ballgame. Harry's aggressive strategy paid handsome dividends and paid them quickly. In my first full race meet in Southern California, I finished fourth in the jockey standings. Sandy Hawley, Darrell McHargue and Laffit Pincay Jr were ahead of me, but I was in front on everyone else, including the legendary Bill Shoemaker.
A colt named Alysheba
I was on my way to becoming one of those elite riders. I led the nation in wins in 1974, 1975 and 1980 and led in purse earnings for a jockey in 1980, 1981 and 1984.
And I was seeing more and more of a legendary trainer named Jack Van Berg. Jack was the son of a Hall of Fame trainer and he became one himself during a 60-year career in which he won more than 6,500 races.
By the middle and latter part of the 1980s, I had ridden for him often and we'd had some success and some good luck, especially on the West Coast. If a jockey did something wrong in a race or didn't closely follow his instructions, he'd give you an earful after the race. But it was always well intentioned and I never took any criticism from him personally.
By then, I had won numerous major stakes around the country, including the 1986 Belmont Stakes on a colt named Danzig Connection, the last of trainer Woody Stephens' five consecutive Belmont winners.
Jack was training a colt named Alysheba. I was quite aware of his talent even before I rode him for the first time. As a 2-year-old, he had run a huge race and finished third in the Breeders' Cup Juvenile on November 1, 1986. Unfortunately, I was recuperating from one of the most serious spills of my career at that time. On Thursday, October 16, 1986, I had broken my femur in a five-horse spill at Santa Anita and I'd had an eight-ounce metal plate inserted during a three-hour surgery the next day.
I was already thinking about all the good mounts I had lined up for that Breeders' Cup when the ambulance was taking me to the hospital. Missing a multi-million dollar nationally televised event like the Breeders' Cup was a very bitter pill to swallow.
This was going to be the third running of the Breeders' Cup. When I first heard about the Breeders' Cup in 1982 or 1983, I doubted it would ever become a reality. They said NBC Sports was going to cover it, but I didn't know how they would fill four and a half hours, even with nine races.
The first one was held at Hollywood Park in Inglewood, California. Some of Hollywood's biggest names were there to see it, including Liz Taylor, Cary Grant, and John Forsythe.
There was a silver lining of sorts when I had to miss the third one: I was invited to sit with sportscaster Dick Enberg on the NBC telecast of the Breeders' Cup and provide some commentary on the races.
He became a good friend, whom I often saw during the Del Mar racing season.
Procuring mounts is a funny business. Jockeys all have jockey agents, who are tasked with finding the best horses to ride in any given race. They are also expected to maintain good relations with as many trainers as possible. For all that, they get a 25 percent cut of the jockey's earnings.
A game of musical chairs
When it comes to jockeys (or their agents) lining up mounts for major stakes races, like the Triple Crown or Breeders' Cup races, it often resembles a game of musical chairs. And that was the case with Alysheba in the spring of 1987.
One morning a few days after the San Felipe, I was walking around in the barn area at Hollywood Park and I saw Jack leading a colt around. He said to me, "Are you fit enough to ride yet?"
I told him I was, and he told me to come by the barn the next morning to get on a colt (for a morning workout). I had the mount from that point on.
But Alysheba still had some obstacles in his way. Jack had noticed that in his first two races as a 3-year-old, the colt seemed to be cocking his head to the side as if he were struggling to get air. An endoscopic exam revealed an entrapped epiglottis and on March 24, 1986, Dr Scott Merrill performed throat surgery on Alysheba.
The surgery was successful, but when Alysheba got to Keeneland Race Course in Lexington a few weeks later, he spiked a fever and the Blue Grass Stakes on April 24, run just eight days before the Derby, suddenly became Jack's last chance to get him in a race before the Kentucky Derby.
I rode him for the first time that day and he was the favorite. He ran a great race but, with about a sixteenth of a mile to go in the stretch, he kind of skipped over some tire tracks left by the tractors used to position the starting gate and he veered slightly to his right. He bumped a colt named Leo Castelli and finished a head in front of War, who was another head in front of Leo Castelli.
Vivid memories
After reviewing the video and talking to the two riders, the stewards disqualified Alysheba, placing him third instead of first. War was declared the winner with Leo Castelli second. I didn't agree with their decision, but there wasn't much I could do about it.
The way Alysheba had run in the Blue Grass, even with the disqualification, made us all very confident going into the Derby. By now, I obviously had a much better appreciation for the Derby. I might have been slow to come around, but I realized the impact it had on the lives and careers of people in our sport. This was the big kahuna of horse racing.
It reeked with tradition. The mint juleps, the ladies' hats, the parties, the celebrities from all walks of life, the international television audience … and always a different cast of colorful characters among the owners and trainers.
By 1987, I had ridden in six Derbys. In fact, I'd finished second to Ferdinand while riding a horse named Bold Arrangement the year before. All these years later, my best and most vivid memories trace back to that 1987 Derby.
When my wife Judy and I arrived in Louisville on the Thursday before the Derby, we checked into the Executive West hotel, which had long been a headquarters of sorts for Derby owners, trainers and jockeys. We didn't realize until late that night that our room was facing Standiford Field, the Louisville airport, which is a hub for United Parcel Service.
Sleep at any price
UPS jets were taking off about every six minutes starting at 1am. Our windows rattled every time they did and I got very little sleep.
I went looking for the general manager the next morning. He said he could move me to a suite - but it would be even more expensive than the already astronomical rates Louisville hotels charge that week.
I didn't care. I needed my sleep.
I also distinctly remember an exchange I had with one of the track maintenance guys when the horses stepped onto the track for the Derby. I yelled over to him, "Hey, make sure you get rid of all the tire tracks from the tractor, please!" We both laughed.
And then there was the playing of My Old Kentucky Home. It's a unique feeling and one that is really difficult to describe or put into words. You just have a deep appreciation for the history and the tradition of the event. There's a real sense of nostalgia and it's a feeling you don't feel for any other race.
Oddly, when you go out on the track for any other race on Derby Day, it's a completely different vibe. When you go out for the Derby, though, there is this extremely loud and dull roar. You feel a sense of exhilaration no matter what horse you're on, whether you're on a favorite or a longshot or something in between. It can be a once in a lifetime chance for an owner, trainer or jockey to make history. Or, as Dan Fogelberg sang, "it's the chance of a lifetime in a lifetime of chance."
There are no do-overs or second chances for that horse.
Miraculous recovery
It is not an easy race to win and, in fact, some of our sport's most accomplished horses did not win it. Among them: Seabiscuit, Man o' War, Kelso, Forego, John Henry and Cigar.
I felt goosebumps every time I rode in the Kentucky Derby … and I never felt them in any other race.
Shortly after the starting gate sprung open, another horse wiped us out about 100 yards from the gate. But Alysheba was such a good horse and such a great athlete, you just had to point him in the right direction and he'd take you there. After that first bumping incident, he ran nicely and I just eased my way between horses and eventually put him on the outside so his momentum wouldn't be interrupted.
But, as we caught the frontrunner Bet Twice in deep stretch, Alysheba clipped heels with Bet Twice and nearly went down. Miraculously, he recovered from the stumble and continued on.
All I remember thinking is: we've one horse to get by to win the Kentucky Derby. I wasn't thinking about the 16 horses behind us and the terrible wreck that might have ensued had we gone down.
Alysheba crossed the finish line three quarters of a length ahead of Bet Twice. I had won the Kentucky Derby!
One of the first people I saw in the winner's circle was the track maintenance guy who I asked to smooth over the tractor's tire tracks. He had a huge smile on his face and I told him to come see me in the jockeys' room after the races.
In the winner's circle interview with sportscaster Jim McKay, I got to see a replay of the stretch run. I couldn't believe my eyes. I really didn't realize how bad the stumble had been (see the YouTube video below - the race itself starts after 10 mins 24 seconds).
Once the ABC telecast concluded, I was escorted by a track representative and two burly police officers to the press box for a press conference and then through the crowd back to the jockeys' room. One of the officers told me to hold my helmet tightly in my hand or else someone would grab it as a souvenir.
With the police escort, I felt like a rock star for the first time in my life. It was fun but I'm not sure I'd want to live my life that way.
Usually, when you win a Triple Crown race, you're too busy afterwards with the press conference and other ceremonies to ride any mounts you have in the few lesser races scheduled at the end of the day. Other riders are glad to pinch hit.
I wanted to skip the last two races I had that day, but Jack was the trainer of one of them and he insisted I keep my commitment. The horse finished second.
When my pal the track maintenance worker came by the jocks' room, I gave him my thanks and a $100 bill.
There was a memorable victory celebration that night. The entire Alysheba crew headed for Pat's Steak House in Louisville. There were about 30 of us in the group and, since Pat's was a popular spot with the racing folks, plenty of them were in there when we arrived. We got a standing ovation.
And it turned out to be one late night.
Preakness confidence
Before I checked out of the hotel early Sunday morning for our flight back to California, I went to see the general manager again. I had plucked one of the roses from the blanket of roses and I gave it to him as souvenir.
A few days later, a package arrived at my home. The track maintenance guy had used all of the $100 to buy all sorts of Kentucky Derby souvenirs. Hats, T-shirts, key chains … you name it.
I remember feeling and thinking about what a great sport I was involved in and about what great people I was meeting along the way.
Naturally, I was looking forward to the Preakness two weeks away at Pimlico Race Course in Baltimore, a track I knew quite well. The Preakness is always a smaller field of horses and a shorter distance. I was confident that Alysheba could win the second jewel of the Triple Crown. We had an uneventful trip and won by half a length.
Now it was really get interesting. With the Belmont Stakes three weeks away, Alysheba was now poised to make a run at history: he could become the 12th Triple Crown winner in Thoroughbred racing history.
Missing out at Belmont
There had not been a Triple Crown winner since Affirmed won all three races over his rival Alydar in the spring of 1978. There had not even been an attempt at a Triple Crown since 1979, as no horse had won both the Derby and the Preakness.
Adding to the drama and the excitement was the $5 million bonus for any horse winning the Triple Crown and the $1 million bonus for the horse that compiled the most points in the three races.
I was scheduled to fly from Los Angeles to New York on a red-eye Thursday night. We had a scary incident, however, when an engine caught fire and we had to return to the airport. I had to stay in a hotel near the airport and I didn't get to New York until dinner time Friday night.
My trip in the Belmont Stakes the next day wasn't much better.
I took Alysheba back and really didn't ride my best race. Bet Twice was the better horse that day and it was heart-wrenching to finish fourth and miss out on all that bonus money. Had we finished second or third, we would have salvaged the $1 million bonus.
To be honest, I thought it to be a bit unfair that Alysheba won two of the three races and Bet Twice got the bonus. By the time both horses had retired the following year, however, Alysheba had won five of their nine meetings. Bet Twice won four.
But Alysheba won seven Grade 1s as a 4-year-old in 1988, including the Breeders' Cup Classic, and finished as the sport's all-time leading earner with purses of $6,679,242.
Career boost
The publicity I got from his Triple Crown campaign and his 4-year-old campaign really gave my career a boost.
I won a second Derby in 1994 with the Nick Zito-trained Go For Gin, another Belmont Stakes and two editions of the Preakness. I also won eight Breeders' Cup races and was inducted into the National Museum of Racing's Hall of Fame in Saratoga Springs in 1989 before retiring as a rider, at age 47, in June 2002.
I look back on the Hall of Fame induction as my proudest achievement. It represented many years of hard work. Horse racing is a sport of tremendous ups and downs. I certainly feel like there were far more ups than downs.
The thrills, the excitement and the handsome financial rewards far outweighed the dangers, injuries and disappointments along the way.
As I got longer in the tooth, it was harder to bounce back physically and mentally. I had given it a lot of thought and I was very comfortable with my decision to quit riding in 2002.
I still miss the big days and the big events, but overall I'm very satisfied with my career and all I accomplished. I'd absolutely do it again.
And the thrill of that 1987 Kentucky Derby with Alysheba, rather than fade into the distance, seems to intensify and grow as the years roll by.
Whenever a stranger finds out you are or were a professional jockey, the next question is always the same: "Have you ever won the Kentucky Derby?"
Since May 2, 1987, I have been able to say, with a broad smile on my face: "Yes! And I'd be glad to tell you all about it."
Chris McCarron was talking to Bob Curran Jr, the former vice president of corporate communications for The Jockey Club in the U.S.