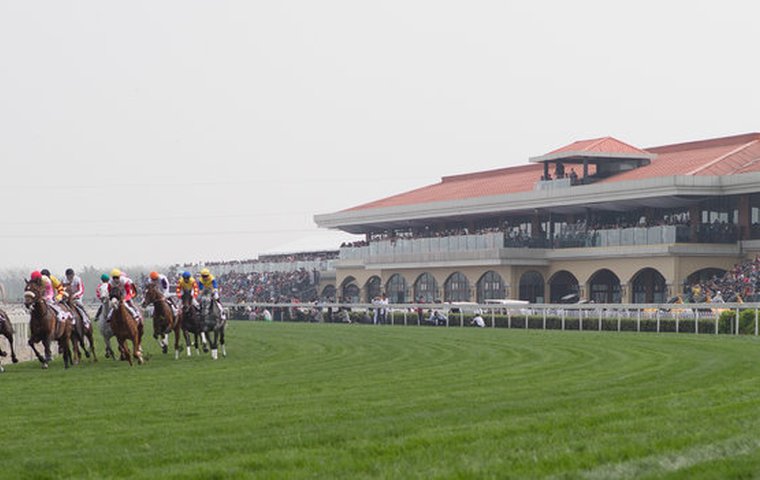 It may not have been earth shattering. The crowd may have been modest in a city of 14 million. But the Dubaian initiative of staging a successful race meeting in the heart of mainland China may one day be looked back on as a first important step in the process of opening up the world's most populous country to the joys of the world's finest sport. George Woodforde reports on the inaugural Chengdu Dubai International Cup meeting held April 6.

We have had pop-up shops, pop-up restaurants, and pop-up nightclubs – now we have pop up race meetings.
The Chengdu Dubai International Cup is not the first Thoroughbred race meeting to take place in mainland China, but it must certainly be the first to feature all the trappings of an established racing jurisdiction.
The Dubai Racing Club popped up in Chengdu, pretty well in its entirety. The ever affable Vice Chairman Malih Lahej Al Basti, and CEO Frank Gabriel Jr. had the whole infrastructure from stewards to forensic samplers, paddock farriers to outriders, all present for five races that were run on Sunday April 6 at Jinma International Racecourse in Chengdu over distances from 6 to 11 furlongs on turf.
Only one race being run in Europe the same weekend had more prize money than the RMB 1,500,000 (US $240,000) Chengdu Dubai International Cup and that was the Crabbie's Grand National at Aintree Racecourse. The lowest prize money on the card was RMB 500,000 (US $80,000).
The racecard pointed to Chinese "owners for a day," and while it is hard to know quite where the "owners" have come from – more pop ups – Mr. Lou Zhongfu, president of Guangsha Holding Group and sponsor of the 7-furlong Guangsha Handicap featured prominently. The company – advertised to have 120,000 employees ­– played a significant part in the construction of the majestic grandstand at Meydan and one suspects that members of its workforce, combined with a sizable local government contingent, swelled the crowd numbers significantly.
No racing event in China, however obscure or last–minute, can pass without an assortment of overseas visitors all united in the quest for the holy grail of Chinese investment in whichever horse racing nation they have come from. While the day was manifestly a Dubai production, the British and Irish presence was noticeable - with sales company Tattersalls represented, and bloodstock agent Michael Donohoe of BBA Ireland and respected Irish breeder
Dermot Cantillon also spreading the gospel. China specialist Michael O'Hagan was equally busy, and veteran California-based bloodstock agent Rollin Baugh had also made the long trek.
Racing without betting has always been a slightly curious beast – a three-legged one perhaps, or a dog without fleas. However, it may be regarded that the lack of betting windows or bookmakers did not appear to detract from the crowd's enjoyment of the occasion. No official attendance figures were given, but the show was probably better attended, and definitely more edifying, than a cold afternoon at any of the less exalted tracks in Europe or America could ever be. At a guess, the crowd probably numbered around 3,000 people, and while they never made the sort of noise that the winning and losing of money produces, they did at least look engaged.
And maybe that is as much as one can expect. It is unlikely that more than a handful of the local crowd had ever witnessed a race meeting. First-time racegoer Bella Liu had driven two hours to be there and had brought some friends who shared her enthusiasm for all things equine. She had heard about the event through her local equestrian club. Others had flown in from even further afield in this vast country, and if nothing else, the inaugural staging of the Chengdu Dubai International Cup at least proved that there is an appetite for events of this kind, however last minute and quietly promoted they are.
Nevertheless, it is an appetite that looks highly unlikely to be matched in the labyrinthine corridors of power. Written in the welcoming introduction in the racecard was the message that, "The horse is a universal symbol of strength and beauty. We are excited that in the year of the horse we bring this great day of racing for the people of Chengdu to enjoy as a sport and a spectacle."
"Sport and spectacle" would appear to be about as far as racing can progress at this stage in China's social development. Not one foreign visitor was predicting imminent change in the betting laws, and the topic is barely discussed by the Chinese. Perhaps it is no coincidence that the show was put on by a racing jurisdiction that also does not allow betting.
In that respect, Dubai is the perfect partner for the Chinese authorities and quite naturally, China features prominently in the global vision of Dubai. Horseracing has long played an integral part in the promotion of Dubai as a destination for tourism and investment, and no country in the world has more to offer than China.
If the inaugural Chengdu-Dubai International Cup was more about Dubai than racing, then it was a job well done. The day went seamlessly – apart from the young Chinese choirgirl who fainted while belting out a charming rendition of the Dubai National Anthem.
The track was widely praised by jockeys and trainers alike. The stabling was equally well regarded, and the horses, all flown in from Dubai, were a credit to their connections.
Of course, results were incidental to the event itself to some extent. But there was good racing too, with British jockey Royston Ffrench and Dubaian trainer Ali Rashid Al Raihe, winning two of the five races. These included the opening Wenjiang Sprint over 1,200 metres with Albayan, and the closing main event, the Chengdu-Dubai International Cup, over 2,218 metres, with the lightly weighted Mutual Force. Dubai-based Frenchman Erwan Charpy also had reason to celebrate as his exacta in the Meydan Mile gave him the 500th winner of his training career, while Musabah Al Muhairi also landed a double with Special Boy and jockey Gerald Avranche in the 1,400 metre Guangsha Handicap, and Colour Guard and jockey Sam Hitchcott in the not-too-modestly-titled Wenjiang-Meydan Classic over 1,600 metres.
All five races went off with the sort of clockwork precision for which Meydan is famous and that official timekeeper and sponsor Longines would have appreciated. The event is something of a swansong for the well-liked Dubai Racing Club CEO Frank Gabriel Jr., who is shortly returning to America, and he can be proud of what he and his Dubai Racing Club team, along with local partners - not least the municipal council whose cooperation at least implied approval from Beijing - achieved in Chengdu.
"I would like to thank all the trainers, jockeys, and stable staff for their dedicated preparation, and to thank everyone involved in the partnership with Meydan Group for their tremendous support," a satisfied Gabriel said afterward. "We had the safety of horses and riders as our prime priority when planning the race meeting, and thanks to everyone's hard work, everything has gone well. Also, we had a good crowd and everyone seems to have enjoyed the day."
It was a great advertisement for Dubai, a grand show of commitment to the world's most populous nation, but was it of great significance to the almost global sport of horse racing? Possibly not - but that remains to be seen.