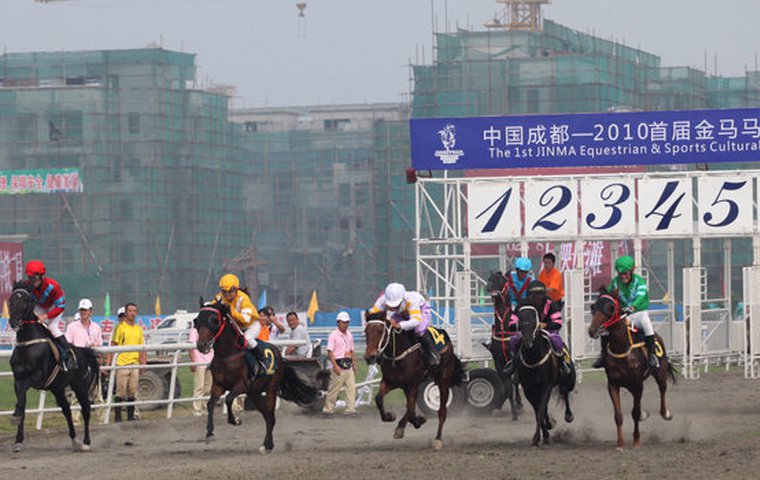 On April 6, the inaugural Chengdu Dubai International Cup race day, a partnership between the Meydan Group and the Chengdu Municipal Government, will be staged at Jinma International Racecourse in the Garden City of Chengdu in Wenjiang District, China. Consisting of five turf races, the meeting will be the first ever held on mainland China to feature international horses undergoing both import and export quarantine procedures. Jeremy Greene previews the event.

In the canon of seldom heard phrases in sport "I'm going to mainland China to watch an international race meeting" is right up there with "England are certainties to win the World Cup" and "I kind of feel sorry for Lance Armstrong."
The barely credible becomes reality on April 6 when a joint venture between the Emirates Racing Association (ERA) and local authorities in the capital of Sichuan province presents the Chengdu Dubai International Cup raceday.
Five turf races will be staged at the Jinma International Racecourse, less than an hour outside Chengdu, a city of some 14 million people in the geographic heart of China. The participating horses, roughly 50 of them, are all active players, fit from competition at the end of the Emirates racing season on the tracks of Meydan, Jebel Ali, and Sharjah. They will be prepared by ERA trainers and be ridden by ERA jockeys of the quality of current champions Tadhg O'Shea and Ted Durcan.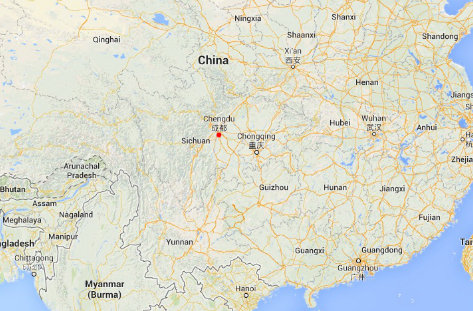 Granted, a five-race card is an unusual number. But, the fact that there is even one race going ahead is a monumental achievement considering the recent history of Thoroughbred racing in China, a period that has witnessed a hardened governmental suspicion of the sport, overall stasis and even horse culls.
The opaque nature of Chinese politics mean that few really know why the latest change of heart has come about. It can hardly be because we are in Year of the Horse.
"Our role is to act as support to our friends in China in developing and educating them about Thoroughbred racing as a sport," said Frank Gabriel Jr., outgoing CEO of the Dubai Racing Club.
"It is our intention to create a quality race meeting, to demonstrate how it can be achieved, to display hands-on experience. We are providing the horses, the manpower, the expertise, and it is all being run under the ERA regulatory system."
Betting is forbidden in China, so the event represents a peculiar paradox: A gamble being made by an enterprise that does not sanction gambling in another region that does not permit gambling either. Why bother at all?
Perhaps one small clue can be garnered from the fact that Darley already stands a couple of sires in China and might wish to profit from breeding rights if racing in China progresses. But surely this would only be a drop in the ocean of bloodstock revenues.
Godolphin is not the first global racing power to host an event in China -- Coolmore shipped some of its unwanted stock to a meeting in Inner Mongolia last September. Even though the horses who will race on Sunday will be returning to the United Arab Emirates (UAE), this latest move from the Dubai operation appears a conspicuous upping of the ante.
Gabriel insists there is no ulterior motive to Dubai's benevolence, pointing to a lengthy history of cooperation between the UAE and China, and Sheikh Mohammed's desire to promote racing as a sport worldwide.
"Other things may develop from it in the future, but the point is that we want it to have a future," Gabriel said. "We just want to stage a successful and safe race meeting. That will constitute success for now. Both sides wish to make this an annual event and improve where possible, but we have to start somewhere."
"Logistically, it has been very challenging to arrange, especially getting around 50 horses from Dubai to the middle of China and back to Dubai with the correct import and export quarantine protocols to observe."
With government agreement, a "quarantine environment" has been set up at Chengdu to get around regulations that at one point seemed to threaten the project's viability. This is the first of the meetings arranged or attempted in recent years to have an import-export quarantine facility.
Depending on how the occasion is received in China, the small Jinma track, described as a "temporary location" by Gabriel, may be improved upon in due course. Patrons at the venue on Sunday might not have any idea about the quality of the horseflesh, but there will be a fair degree of quality on display, with some of the horses who took part in the Dubai World Cup Carnival recently carrying respectable international ratings up to the high 90s.
The five races will be handicaps at distances from 1,200 metres to the featured 2,200-metre Chengdu Dubai International Cup. The horses left the UAE on March 27 and will return a few days after their April 6 race date.
"As ever, our task is to make the races as competitive as possible, but this meeting poses a greater challenge in that we have a smaller group of horses relative to a normal meeting here in Dubai," explained ERA senior handicapper Melvin Day.
"There are greater discrepancies in the ratings of the horses and the spread of the weights is greater than what we would have here normally," Day said. "It's made more complicated by the fact that there will be horses racing out there who have never raced on turf in their lives. It could make for some interesting finishes, or interesting margins at the finish. But we have to deal with the fields we have. It's a learning curve for everyone involved."
In the great scheme of things, it is immaterial as to whether the runners cross the line in a blanket finish or strung out like buoys in the harbour. Nobody will spend much time dissecting the form post-race. That would be to miss the point of the event's potential significance as the first meeting of its kind. Ultimately, the future of racing in China is entirely dependent on local and, more importantly, national political will.
For now, however, the efforts by those in the Emirates are admirable and should be commended. Any sort of reciprocation by the Chinese authorities would offer a glimmer of hope for racing's most elusive frontier.
---
Map by Google: https://goo.gl/maps/xwAiQ