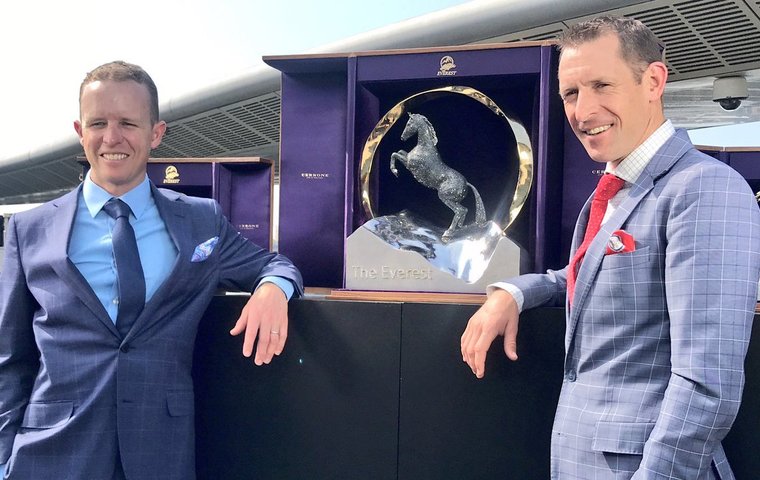 The first running of The Everest, the world's richest sprint, the world's richest turf race, and the flagship event of the Sydney Spring Carnival, is just 20 days away. Based on the same concept as the $12 million Pegasus World Cup in Florida in January, The Everest was conceived with a A$10 million (USD$7.9m) prize fund and lofty international ambitions. So how is the inaugural contest shaping up? Steve Moran expects it to be a cracking race, but he believes the concept may need some tweaking for next time.

There is, almost certainly, some fine tuning to be done to ensure The Everest continues in its current guise after the first three years, which are guaranteed as each of the 12 slot holders had to commit for that period - at $600,000 per annum.
I would certainly expect it to continue but wouldn't be shocked if this much hyped sprint at Randwick reverts to being a conventionally funded race with a prize pool of anywhere between $2-5 million.
After all, Racing New South Wales (RNSW) and the Australian Turf Club (ATC) could easily have taken that approach from this first year as the 12 sold slots left a prize money shortfall of around $2.8 million. This will be provided by the two bodies with the hope that the gap is covered by increased revenue from the race meeting.
Thus both the ATC and RNSW were anxious that champion mare Winx would also run that day (October 14) - in the $500,000 Craven Plate, which had a $350,000 prize hike this year with Winx very much in mind. Those hopes received a huge blow the other day when trainer Chris Waller said Winx would next run at Flemington - for the first time, incidentally - in the $500,000 Turnbull Stakes on October 7.
Note - for those readers outside Australia, I can assure you the level of cooperation between the racing bodies in the states of Victoria and New South Wales is zero, and the level of enmity extremely high.
Is the first prize enough?
Given that the two major G1 sprints in Melbourne (Victoria) this spring (Manikato Stakes and Darley Classic) each carry a prize pool of $1 million, you'd imagine Sydney could attract a similar line-up to the likely stellar field for this year's Everest for a $2-5 million prize. At least for something well short of the total Everest purse which, incidentally, may not have a large enough first-prize carrot to sustain the concept.
Maybe a $2-5 million purse is not enough to attract international competitors, and the Sydney bodies may have to reassess their thinking on that score - even though it was very high on their agenda this year.
Who are they missing this year? There's no Silent Witness in Hong Kong, no Lord Kanaloa in Japan - so it's really only the high-class European 3-year-olds Harry Angel and Caravaggio. But how many Northern Hemisphere 3-year-olds are ever going to come to the other side of the world to have to carry 58 kilograms as, according to South Hemisphere rules, they will be treated as 4-year-olds?
The top end of that mooted prize scale - perhaps a little more - may be enough to attract international competition, especially for anybody with a stallion prospect, and if $4-5 million won't do it then I doubt any more would make a difference. Even without overseas-based runners, it will be a great race this year.
The Everest is a convoluted concept and I'm sure that not every scenario was envisaged or accounted for when the terms and conditions were drafted. Even now, as the race draws near, various nuances are still being evaluated; most significantly contingencies around emergency runners should one of the declared runners go amiss on the morning of the race.
Only recently was the following clause added to the conditions of the City Tattersalls Lightning Stakes, to be run over the same course and distance on Everest day: "Horses accepting for this race may also be declared as emergency runners for The Everest and must contest The Everest if gaining a start in that race." Apparently the ATC and RNSW will nominate four Lightning acceptors as Everest emergencies and a slot holder can choose one of the four, as a replacement, if the need arises.
I can envisage many owners being unhappy about this. After all, first prize money in the Lightning (being billed as The Everest consolation) is $287,000 - whereas sixth to 12th in The Everest pays $175,000, and if you've not secured a slot in The Everest in the first place you'd be extremely unlikely to finish in the first half of the field in the main event.
Blistering form
Not to mention that you'd be racing for only half or less of the advertised prize money given that it's someone else's slot.
There is a $400,000 sprint (Schillaci Stakes) in Melbourne on the same day, which some owners might now think would be more attractive.
As it stands, the final field for the Everest will be declared at 10am on Tuesday, October 10 - five days before the race. Theoretically, nobody is 'locked in' to any choice until those final acceptances (declarations) are taken.
However, the likely field is very much taking place. Brave Smash, Houtzen, She Will Reign, Chautauqua, Redzel, Fell Swoop, English and the newly confirmed Deploy (the Gerry Ryan-trained 5-year-old takes the Chris Waller Racing slot) are in at this stage and it is expected that the David Hayes-trained duo Redkirk Warrior and Vega Magic will be confirmed.
So, the nation's top-rated sprinter, Chautauqua, is there (and his fresh run was satisfactory at an unsuitable distance) along with Redkirk Warrior and Vega Magic, who have returned this season in blistering form. The former Japanese galloper Brave Smash looks untapped; Redzel is unbeaten in two runs this season and the likely appearance of the Golden Slipper-winning filly She Will Reign adds great intrigue.
She Will Reign is expected to resume in the G1 Moir Stakes (1000m) at Moonee Valley on Friday, and that race along with the G2 Premiere Stakes (1200m) at Randwick the following day, will shed a whole lot more light on The Everest.
For those unfamiliar with The Everest concept, you don't have to own a horse to own a slot, and you don't have to use it on your own horse if you do happen to own one.
But therein lies another area of potential issue as obviously the slot holder and the horse owner have to come to an arrangement regarding the prize money.
Let's say, for argument's sake, they go 50-50, which means they will each get $2.4 million each if their horse wins. That doesn't sound quite as alluring at the advertised $5.8 million first prize which is, in fact, $4.8 million after the percentages paid to trainer, jockey, jockey's fund etc are deducted.
Melbourne Cup comparison
That's 7/1 for your money - $300,000 to win $2.4 million (assuming slot owner and horse owner have split the entry fee). Doesn't seem like a great bet to me - especially this far out from the 2018 and 2019 editions. Or even for 2017 as it's about 4/1 the field in most pre-post markets for this year's race.
You'd have to wonder how long the goodwill or sense of adventure of the original slot holders will last. Only the first three placings pay more than $600,000.
In comparison, entry fees for the Melbourne Cup (November 7) - which has a first prize of $3.6 million (less percentages) - are around $60,000. Obviously costs might be another $60-80,000 if you bring a horse from overseas but, with prize money of $125,000 down to tenth, you have a reasonable chance of going close to breaking square … and, if not, the money loss in absolute terms is much less.
The Everest has certainly generated plenty of talk and plenty of publicity, but most of it uninspiring. It would certainly generate much more, and be far more intriguing, if the slot holders were compelled to reveal the details of their deals.
Whatever the future holds for the race and the concept, it does look very much like - barring misadventure - it will have a high-quality first edition and that certainly can't hurt.