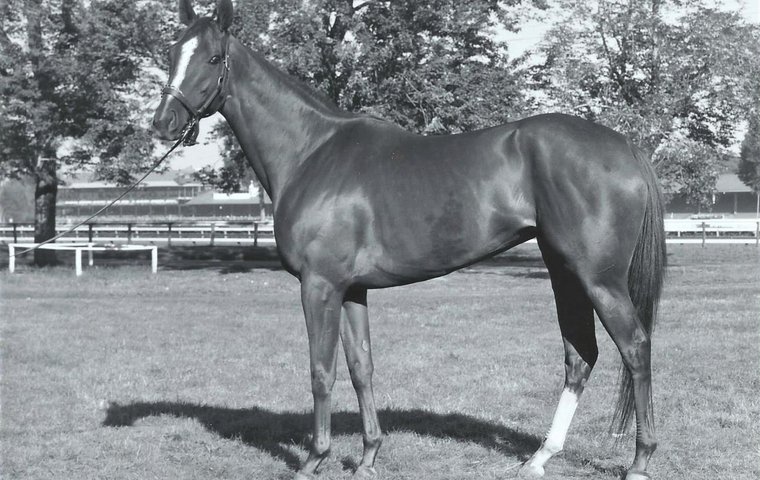 When Bigger Picture, a 5-year-old gelding by Badge Of Silver, won the G3 Red Smith on the turf at Aqueduct on November 12, his victory would rekindle prominence to a female family whose foundress was a champion exactly 50 years earlier.

Not every filly who performs well on the racetrack also makes a name for herself in the breeding shed, and still fewer can be said to be the foundation mare of what would become one of the great female lines of modern times. One such was Lady Pitt, a personal favorite since this scribe married into the surname nearly two decades ago.
Bred by John W. Greathouse at his Glencrest Farm near Midway, Kentucky, Lady Pitt was purchased at the 1964 Keeneland summer yearling sale for $24,000 by Pittsburgh transportation magnate Thomas A. Eazor and named for his hometown. She raced in the colors of Eazor's Golden Triangle Stable and was trained by Stephen DiMauro, who was champion trainer in 1975, when he conditioned two divisional champions, Dearly Precious (2-year-old filly) and Wajima (3-year-old male).
She was from the second crop of Sword Dancer, Horse of the Year in 1959 and winner of a host of stakes, including the Belmont, Travers, Metropolitan Mile, Jockey Club Gold Cup, Suburban and Woodward, the latter at both three and four. He was also the sire of 1967 Horse of Year Damascus.
Lady Pitt was a chestnut, like her sire, with a blaze and a stocking on her right hind leg.
Moderately successful at two
Her dam, Rock Drill, won three of 32 starts, including the Susan Stakes at Thistledown in 1953. Lady Pitt was her best offspring, but she also produced Rocky Link, a 1960 colt by Sailor, who won a trio of stakes, the Remsen, Stuyvesant and Westchester, for Eazor and DiMauro.
Lady Pitt was moderately successful at two, with three wins from 14 starts. She ran third in the 5½ furlong Astoria at Aqueduct in July, second in the first division of the Schuylerville at Saratoga in August, then dead-heated for first with Paul Mellon's Prides Profile in the seven-furlong Astarita back at Aqueduct in September.
In October, she was second in the one-mile Frizette to Priceless Gem, who in her previous start had beaten Buckpasser in the Futurity.
In November, she ran second to eventual champion juvenile filly and Horse of the Year Moccasin in the 1 1/16-mile Gardenia Stakes at the now defunct Garden State Park in New Jersey. The win capped an undefeated season for Moccasin, a full sister to Ridan, handing her the divisional championship. Lady Pitt ran once more, finishing second in the Demoiselle
At three, Lady Pitt finished second twice at Hialeah, in the Orchid and in a division of the Jasmine Stakes. She came third in the May 6 Kentucky Oaks, but was moved up to second on the disqualification for interference of runner up Justakiss, who was placed last. Native Street won by a head.
The big victories start to come
Moccasin, who was unable to repeat her stellar juvenile season, finished third in the Acorn, just ahead of Lady Pitt in fourth. The winner was Marking Time, who became the dam of Relaxing, who produced 1989 Belmont winner Easy Goer.
On June 11, Lady Pitt won the 1 1/8-mile Mother Goose by 1¼ lengths under jockey Walter Blum, with Marking Time second and Prides Profile third. Moccasin had skipped the race. All New York-area racing took place at Aqueduct, as Belmont was closed while the grandstand was being rebuilt.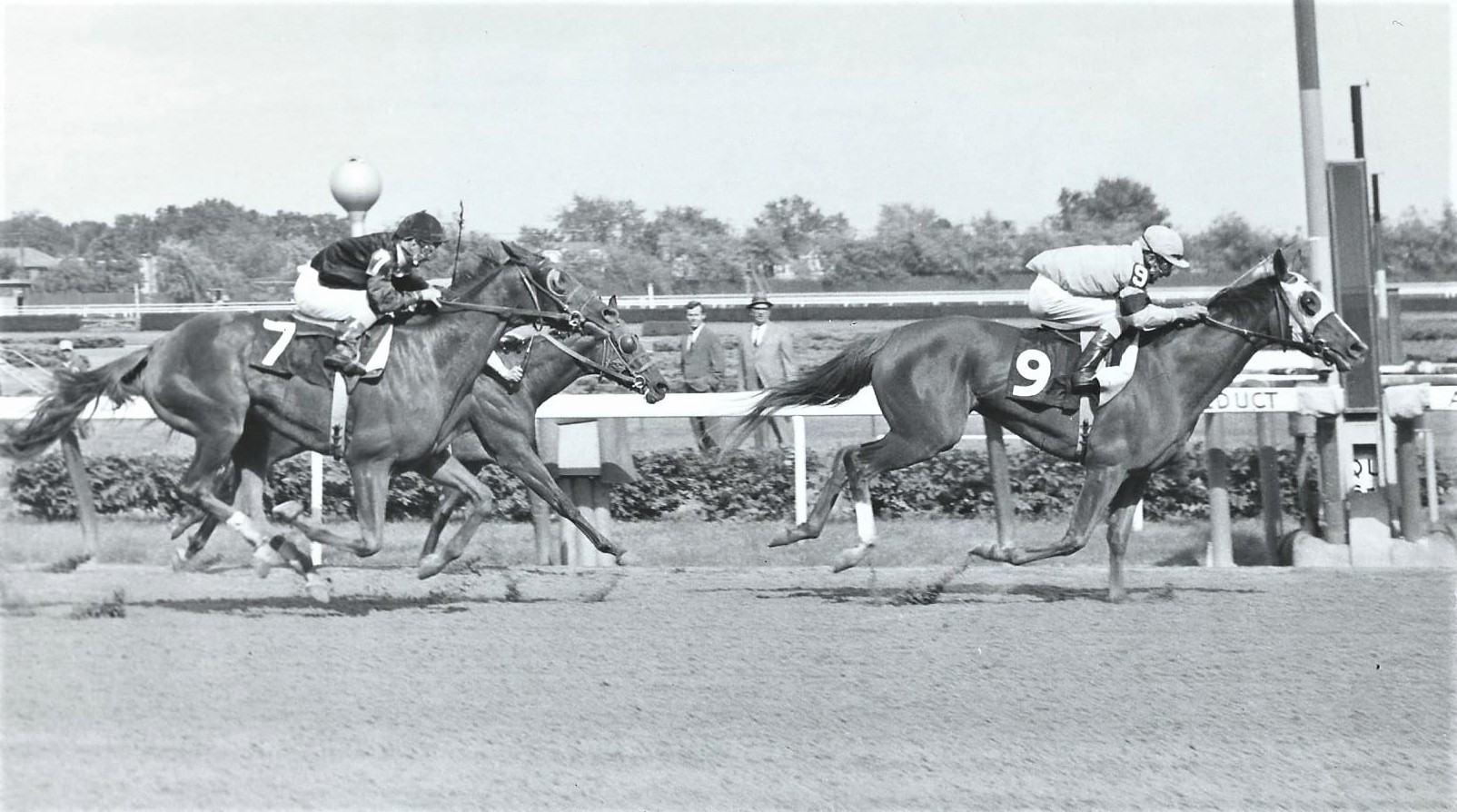 The 50th running of the $100,000 Coaching Club American Oaks at a mile and a quarter on June 25 saw Lady Pitt come home first by three-quarters of a length in front of a crowd of 41,106, again under Walter Blum. Greentree Stable's Gentle Rain was second, but was disqualified and placed fourth for changing course in the last two furlongs. Prides Profile was moved up to second. Moccasin was a tiring fifth in the field of 10.
On the same day as the Oaks, Buckpasser set a world record for a mile on dirt – 1.32 3/5 – in the Arlington Classic.
Lady Pitt then won the nine-furlong Delaware Oaks by five lengths. She was first under the wire in the August 19 Alabama at Saratoga but was disqualified for bearing in on Natashka, who was awarded the race, at the furlong pole. Moccasin missed the Alabama with a fractured sesamoid and was subsequently retired.
Earlier on the Alabama card, a 2-year-old named Dr Fager won a six-furlong allowance.
On to the breeding shed
In September, Lady Pitt was favorite for the nine-furlong Gazelle at Aqueduct but went down by a neck to Prides Profile. Running against her elders in the Beldame, Lady Pitt was third behind eight-length winner Summer Scandal and second-placed Straight Deal, who would be named champion older female in 1967.
Lady Pitt was back to winning ways in the nine-furlong Vineland Handicap at Garden State, scoring by three-quarters of a length over 10 other fillies and mares. Closing out the year with five wins in 15 starts, she was named champion 3-year-old filly of 1966.
She raced on after her championship season, running third in the one-mile Maskette at Aqueduct at four, and finishing second in the Santa Paula Handicap and third in the Santa Barbara Handicap on the turf, both at Santa Anita, at age five.
From 47 lifetime starts, she notched 10 victories, 14 seconds, and was third five times, with career earnings of $413,382.
It was in the breeding shed that Lady Pitt came into her own. She had 10 foals, nine of which raced, with six winners, including stakes winner The Liberal Member.
A share in immortality
But it was one in particular that would earn her a share in immortality. Her name was Blitey.
By two-time champion and 1972 Kentucky Derby and Belmont winner Riva Ridge, Blitey was a foal of 1976 who at three won the G2 Test, Maskette and Ballerina Stakes, and finished second in the G1 Ruffian for her owner-breeder Ogden Phipps (Phipps had purchased Lady Pitt privately in 1969).
Like her dam, the breeding shed is where Blitey excelled. She produced 14 foals, 12 of them winners.
Her first good one was Dancing Spree, a son of Nijinsky and winner of the 1989 Breeders' Cup Sprint at six furlongs and the mile and a quarter Suburban, adding the 1990 Carter at a mile as a measure of his versatility.
Blitey also produced Fantastic Find, by Mr Prospector, winner of the G1 Hempstead Handicap in 1990 and the dam of Finder's Fee (by Storm Cat), winner of the G1 Acorn in 2000; and Furlough (Easy Goer), winner of the 1999 Ballerina (G1).
Taking it a generation further, Fantastic Find is the second dam of stakes winner Optimizer, Finder's Fee is the granddam of G3 winner Feathered, who sold for $2.35 million in foal to War Front at the Keeneland sale in November, and Furlough is the granddam of 2015 G2 Futurity winner Annual Report.
Her influence lives on
Blitey's unraced full sister to Dancing Spree, Oh What A Dance, produced Dancinginmydreams, dam of 2008 Manhattan Handicap winner Dancing Forever, and granddam of 2016 Top Flight Handicap winner Carrumba. Oh What a Dance also produced stakes-placed Hunting Hard.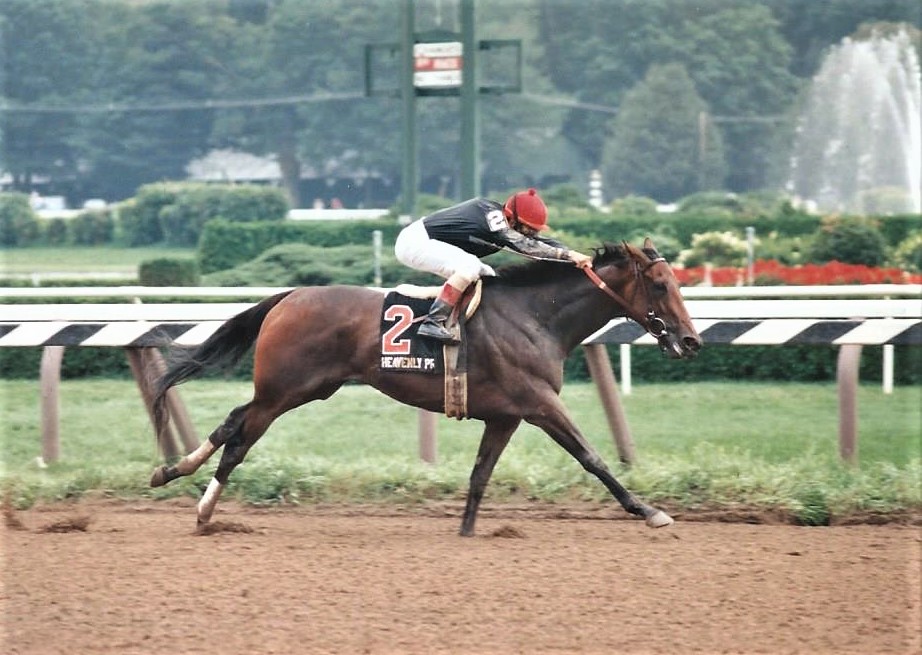 Oh What A Dance's best offspring was probably 1994 champion 3-year-old filly Heavenly Prize (G1 Alabama, Gazelle and Beldame), herself the dam of stakes winners Good Reward (Hollywood Derby, Manhattan Handicap) and Pure Prize (Kentucky Cup Classic), the latter named being the sire of dual G1 winner Pure Clan and G2 winner Dothraki Queen. Heavenly Prize is also the second dam of G1 winner Persistently.
Among Blitey's other daughters, Dancing All Night, a full sister to Dancing Spree and winner of the Long Island Handicap (G2), is the dam of Oh What A Windfall, who won the G1 Matron in 1998, and is the second dam of the aforementioned Bigger Picture.
The influence of Lady Pitt also lives on several generations back in the female line of 2016 Breeders' Cup Juvenile Turf winner Oscar Performance, through another of her daughters, Bank Of England, by Buckpasser. Long may the Lady reign.
Sources
American Racing Manual, 1971
Bloodhorse.com, True Nicks article, Pedigree Time Machine: the 1966 Mother Goose, by Ian Tapp, June 25, 2010
Daily Racing Form website, drf.com, 'Benefitting From The Big Picture', John P. Sparkman, November 14, 2016
Legacies of the Turf, A Century of Great Thoroughbred Breeders (Vol. 2) Edward L. Bowen, Blood-Horse Publications, 2004
The Blood-Horse, July 2, 1966, article by William H. Rudy
The Sporting Life, Joe Hirsch American racing columns: November 8, 1965, July 4, 1966, August 19, 1966
The Thoroughbred Record, July 2, 1966, article by Mike Casale
Thoroughbred Times Racing Almanac, 2005