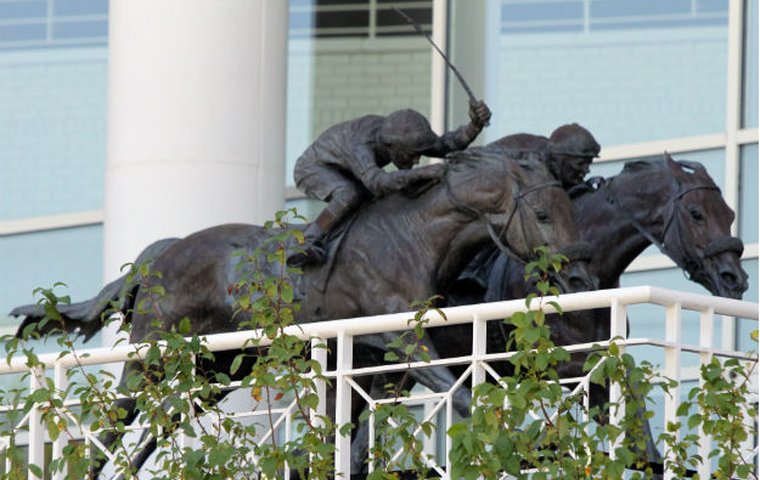 Of all the rich memories this reporter still can summon from the first running of the Arlington Million – other than John Henry's operatic victory over The Bart that summer of 1981 – two linger like hard-learned lessons.

The first took place in the lobby of the Arlington Hilton Hotel, located a healthy walk from the racetrack, two nights before the running of the watershed event. Lewis Cenicola, John Henry's exercise rider and boon companion, was in a postprandial mood, heading for either the lounge or the lift, depending on the pull of social gravity. Cenicola and his small band of Californians suddenly intersected with a gang of celebrating Brits who were on the scene with trainer Paul Kellaway and Madam Gay, winner of the Prix de Diane.
"What chance will John Henry have against a classic filly like ours?" said one of the lads, or words even more colorfully to that effect. "He's just a handicap horse."
Cenicola, an Italian of the New York persuasion, leveled an icy stare. The rest of us stood back.
"A handicap horse? A handicap horse!?" he demanded, building in volume. "You mean like the Santa Anita Handicap?"
Clearly, their common language was worthless in the face of fundamental differences in racing cultures. Two days later, Madam Gay finished third behind that mere handicap horse, although she was beaten barely two lengths. Her jockey, Lester Piggott, was not able to do the assigned weight, given the allowances afforded a 3-year-old filly against older males in August, and came in four pounds heavy. During the NBC post-race interviews, Michael O'Hehir, of all people, broached the subject.
"You don't think the four pounds overweight made any difference?" O'Hehir asked Piggott, a robust 45 at the time.
"Well," mumbled the jockey, "she might have been a lot farther back."
Point. Set. Maestro.
Floodgate of memories
The recent death of Tommy Trotter, at age 93, opened a floodgate of memories that flowed from his tenure as one of North America's most widely respected racing officials. His career flourished in an era when 'handicap' horses stood shoulder to shoulder alongside classic 3-year-olds as the stars of the U.S. sport, elevated in prestige by not only the races they won, but the weight they carried.
Those weights came down on high from racing secretaries like Trotter and his forbears. They commanded a begrudging reverence unfamiliar in today's racing suites, where managements do not have the advantage of captive racing inventories, and elaborate betting menus have suppressed the winning imperative.
They were executives like Edward W. Maginn, who once studied for the priesthood before becoming racing secretary at tracks throughout the American heartland in the late 19th century and into the 20th. Faced with betting syndicates and horsemen who thought nothing of holding a runner until the odds were right, Maginn would levy the same stern weight in race after race until the poor trainer was forced to turn his horse loose.
Walter Spencer Vosburgh, a one-man star chamber through the first third of the 20th century, cloistered himself nightly when compiling weights for races under the jurisdiction of the Jockey Club in New York. He rarely shared his methods, except to insist that champions had to continually prove themselves worthy of the designation by carrying far more weight than their inferiors. When Sam Riddle asked what kind of weight Man o' War might expect as a 4-year-old of 1921, Vosburgh was said to have replied, "The heaviest weight a horse has ever carried." Man o' War was promptly retired.
John Blanks Campbell came along after Vosburgh and didn't miss a beat. Campbell, from Louisiana, cut his teeth on the rough tracks of the old southwest, so New Yorkers failed to impress. He dumped 130 pounds and more with regularity on Devil Diver, Whirlaway, and Stymie. Campbell also spun the handicappers' version of the Golden Fleece in the 1944 running of the Carter Handicap at Aqueduct when Bossuet (127 pounds), Wait A Bit (118), and Brownie (115) finished in a triple dead-heat at the end of the seven furlongs.
Frank Eugene 'Jimmy' Kilroe was an urbane New Yorker who served in a U.S. Army intelligence unit entering Germany in the immediate aftermath of World War II. After that, his inspired reinvigoration of the racing programs in New York and California was child's play. Kilroe's best handicaps were replete with horses like Round Table, Ack Ack, Affirmed, and John Henry, embellishing their winning records with serious weight.
Trotter did some of his finest work weighting the popular gelding Forego in New York's historic handicaps. Commencing with the 1974 Metropolitan Handicap, in which Forego finished second while giving the winner 22 pounds, Trotter asked the gelding to carry 130 pounds or more in 22 races over parts of five seasons, topping out at 137 twice and 138. Forego's owner, Martha Gerry, considered it an honor to be asked. Her horse won 12 of those 22, finished second in five, and third on two other occasions.
Proud moment
In the 1976 Suburban Handicap at Aqueduct, Trotter assigned Forego 134 pounds. Foolish Pleasure, the 1975 Kentucky Derby winner, carried 126 pounds and beat Forego by a nose, while Lord Rebeau, a capable trial horse, carried 116 and finished third, a nose behind Forego.
"I was pretty proud of that one," Trotter said. Rightfully so.
"I'd certainly feel bad when a highweight would finish up the track," Trotter once said. "Then something would come out in the next day or so that had nothing to do with the weight they carried."
Today's racing secretaries are handicappers in name only. Only a handful of Grade 1 handicaps remain in North America. Even the fabled Santa Anita Handicap went through a period recently when a 126-pound maximum was demanded by the owners' association, which only served to increase jockey overweights.
As a result, the modern Thoroughbred must prove his worth in ways not measured by champions of the past. A brief, carefully calibrated career now is valued over a long and testing campaign that might chance the occasional defeat. International prizes carve out huge hunks of recovery time for domestic travelers. Speed figures are being touted in stallion advertisements.
And so it goes. In Europe, a handicap horse is still a handicap horse. In America, he is a dinosaur.