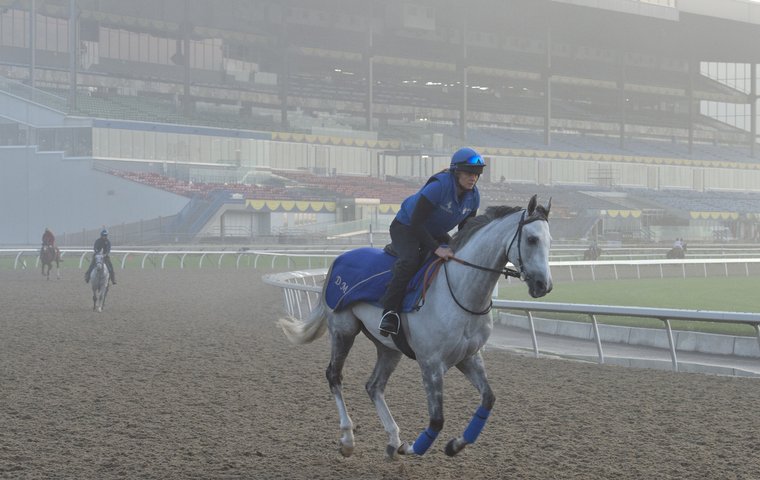 Thundering Blue, the British-trained likely favourite for Saturday's Pattison Canadian International, had his first feel of Woodbine's E.P Taylor turf course yesterday morning with assistant trainer Kim Johnstone aboard.

"I think it was a massive culture shock for him," she said. "At home, the gallops, we don't really share them, he's on his own and he never really sees other horses. So I took him out this morning and he was like, 'What is this?' He was a bit shocked, bless him, but he will be fine tomorrow. He's like that, he will take one day to just check it all out and he will be fine tomorrow."
Thundering Blue, a 5-year-old grey horse trained in West Sussex in Southern England by Johnstone's parter, David Menuisier, is coming off a win in the G3 Stockholm Cup just over two weeks ago, which followed a fine third at 50/1 in the Juddmonte International at York, when he had five G1 winners behind him. He is a best-priced 3/1 market leader for Saturday's race with British bookmakers.
Johnstone indicated the race at Bro Park in Sweden was a good prep before he tackles the turf course at Woodbine.
"Obviously, we don't have courses as tight as this in the U.K.," said Johnstone. "So, that's why Sweden was a massive thing for us, to take him over there, because I think the track is quite similar [to Woodbine]. We were super pleased with the way he handled Sweden, so we are pretty confident with him handling the track here."
The flashy son of Exchange Rate has been in Menuisier's yard since he was two. Johnstone, Menuisier's wife, has overseen the horse's care as well as watched his career blossom over the last two years. Not surprisingly, she's formed a close bond with the horse she simply calls 'Blue'.
"He's a gentleman," said Johnstone. "He is a good horse. He is so good-looking and he knows it. He's cheeky, but he's got the right amount of cheekiness.
"He makes me laugh everyday because everyday he does something and is just a character but without being over the top with it. He wouldn't hurt a fly, but he's got that certain amount of cheekiness on top of it. I don't think I will ever meet another horse like him, I hope I do, but I don't think I will."
Johnstone will lightly train 'Blue' over the turf heading into the International. "I just hacked him today," she said. "Tomorrow he will probably roughly do the same, just have a little hack around. On Thursday, David will be coming over and we might give him a bit more of a canter. We don't want to do too much with him when he's just travelled. And then Friday, we would like to give him a little bit of a breeze just to remind him what he's here for and then he will run on Saturday."