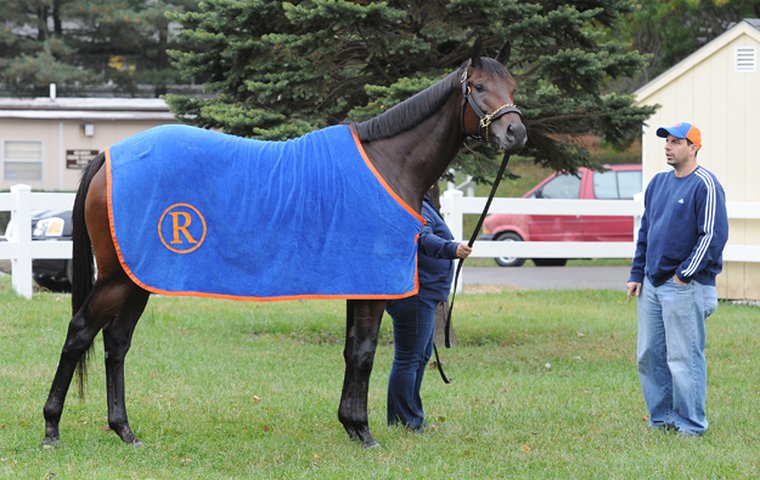 Mike Repole believes that if he could somehow live for another 100 years, he would still be famous for one aspect of a highly successful business life.

"I'll always be known as Uncle Mo's owner," he said.
Uncle Mo.
The lightning-quick colt who became the initial champion for Repole Stable in 2010 and earned a favored spot in his owner's heart. First through an electrifying, undefeated, Eclipse Award-winning juvenile season when he won his three starts – two of them in G1 stakes - by slightly more than 23 lengths, spawning heavenly Triple Crown dreams. Then with a gigantic tease of a 3-year-old season that was compromised by a liver ailment that sidelined him from April through August.
"There was an aura about him, whether it was at the barn or racetrack and especially when he was in the winner's circle," Repole said of the 2010 Breeders' Cup Juvenile winner. "I'll never get that from another horse, ever. It was special to own him."
Nearly four years after Uncle Mo's career-ending loss in the 2011 Breeders' Cup Classic, the bond between Repole and Uncle Mo has branched into a new avenue of equine life.
Repole now takes pride in being the owner of Uncle Mo, an exciting first-year sire for Coolmore's Kentucky-based Ashford Stud who seems intent upon making a name for himself in the breeding shed as quickly as he did on the racetrack.
According to equineline.com statistics, through June 28 Uncle Mo already had four winners out of just seven starters. His 37 2-year-olds sold at auction this year averaged a price of $169,986.
On June 25, his daughter Gomo, out of the Elusive Quality mare Gentle Audrey, posted an auspicious 5 1/4-length maiden win on turf at Santa Anita for owner Paul Reddam and trainer Doug O'Neill.
Gomo is one of three Uncle Mo juveniles in O'Neill's barn and she joined Nyquist, a colt also owned by Reddam, in quickly reaching the winner's circle.
"I'm very excited by what I've seen so far in the Uncle Mo's that I have," said O'Neill, who won the 2012 Kentucky Derby and Preakness with Reddam's I'll Have Another. "All three are very athletic-looking and speedy and they are acting like they could be very good horses. We're taking our time with Nyquist and targeting the [G2] Best Pal [Aug. 8 at Del Mar] because I think he's a special colt.
"So far it looks like Uncle Mo is duplicating himself as a sire and the future is bright for him at stud. His offspring have good minds, speed, and physical appearance. When you check all three of those boxes, that's special."
Seven-time Eclipse Award-winning trainer Todd Pletcher, who trained Uncle Mo and still handles Repole's top runners, says there's been a sense of déjà vu in watching the young sons and daughters of the freakish colt who grew into a champion for him.
"I've been impressed with the Uncle Mo's we have and I would have to think he's the favorite to be the leading freshman sire based on what we've seen so far," said Pletcher, who currently has five of them at his Belmont Park barn. "They've been precocious. They have some size, but speed as well.
"It's early, but it's always encouraging to see them come out running for a first-year sire and the market place appreciates that as well. When you get off to a good start, it generally helps you at the upcoming sales."
The comments by O'Neill and Pletcher are nothing new for the sales team at Ashford, which has experienced little trouble in booking mares for the strapping son of Indian Charlie out of the Arch mare Playa Maya, either in the United States or for a shuttle season with Coolmore Australia. Priced at $25,000 for a live foal, his first crop includes 164 2-year-olds, and the interest in Uncle Mo has yet to wane. While bookings for most sires slow in their fourth season as breeders monitor the wins and losses of their first foals, Repole says Uncle Mo, is once again booked to more than 200 mares this year.
"He's had a full book every year wherever he goes. Every time I'm on a phone with a trainer, he's telling me he has an Uncle Mo he likes, so there's a lot of hype about him. He's a very exciting stallion," said Charlie O'Connor, Director of Sales for Ashford. "We couldn't be more pleased and excited about the big summer meets."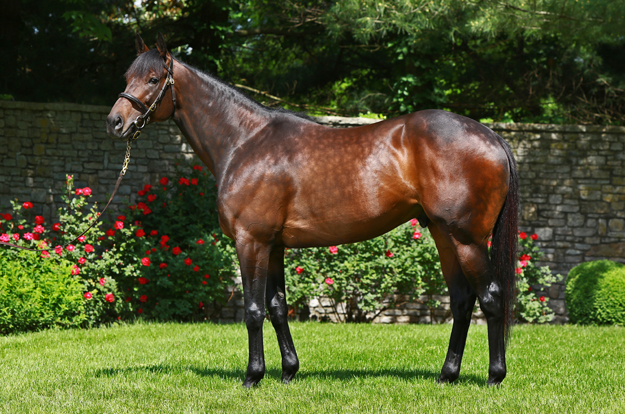 As much as Ashford uses media and advertising to spread the word about its new sires, a key element in developing a highly successful first-year sire is early success in producing both eye-catching foals and fast, precocious runners. In both areas Uncle Mo has created a buzz, heightening the already lofty expectations for him and fueling anticipation that his offspring will be in high demand at the major summer and fall sales.
To date, the top price for one of Uncle Mo's progeny at a sale was the $725,000 Conquest Stable paid for Conquest Superstar, a colt out of the Aldebaran mare Being Anna who will be trained by Mark Casse. O'Connor, though, predicts that due to Uncle Mo's positive early results that mark will be surpassed in the coming months.
"Advertising helps, but a horse like Uncle Mo does his own advertising," O'Connor said. "When his first foals hit the ground, we went out to see them and what we saw was very nice. A lot of breeders saw their first foals and bred their mare back to him. He's easy to advertise because he has all the credentials. People notice when a stallion like him comes around.
"We were confident in him all along and I don't mean that in a cocky way," he added. "A lot of stallions go to stud, you think they're going to do well and they don't. We're not surprised by what we've seen so far. I would have been surprised if we didn't see results like this."
In a number of ways, Ashford's expectations were fueled by what has been successful formula for the prosperous Versailles, Kentucky, farm.
According to O'Connor, Uncle Mo had all of the proper physical attributes to become a prized sire.
"He was an extremely good-looking horse," O'Connor said. "It doesn't matter how good of a horse you are, you need to be a big, strong, good-looking type. They need to be correct, walk well and have a good hind leg. Those are the main credentials we like in a stallion. He also has a perfect temperament, which we've seen in his offspring."
While Uncle Mo's electrifying speed inspired confidence that he could pass along a considerable amount of talent along to his offspring, being a champion at 2 sealed the deal for Ashford, which already stands two other juvenile champions (Lookin At Lucky and Shanghai Bobby) and will be the home to four of the last six 2-year-old champions next year when Triple Crown winner American Pharoah takes up residence there.
"We liked that he was a 2-year-old champion," O'Connor said. "He won his races with such ease at such good distances. He was the talk of the 2-year-olds. It wasn't hard to pick him out on the strength of the way he was winning his races."
Tying everything together in the growth and development of Uncle Mo's new career at stud is the solid team behind him.
Not only does Uncle Mo have an industry leader supporting him with an outstanding book of mares, O'Connor points out that Coolmore's owners will be racing several Uncle Mo's this year and have also been active at sales.
Then there's the man who raced him. In Repole, Uncle Mo has not just an avid supporter, but someone who usually embraces tasks with extraordinary gusto and has the necessary financial assets to give his sire an added boost.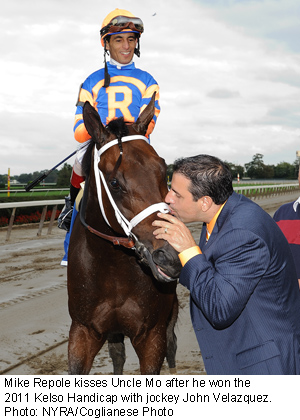 "Mike loves Uncle Mo. His all-time favorite Is Uncle Mo. He'll always have a special place in his heart for him," said Ed Rosen, who serves as Repole's bloodstock adviser. "He's going to support him for business reasons, but also for emotional reasons. And all those clichés about a foxhole buddy, Mike's that type of guy. He's the one you want in your corner and he's in Uncle Mo's corner."
While Repole has four other horses at stud Stay Thirsty (Ashford); Overdriven (Ocala Stud) Overanalyze (WinStar Farm) Giant Surprise (Rock Ridge Stud), Rosen said much of Repole's attention at sales this year will revolve around Uncle Mo.
"We went out and bought about five mares for him," Rosen said. "He's such a great outcross that it's easy to find matches for him. We've looked at all the Uncle Mo's and tried to focus on the best ones."
The 46-year-old Repole, who made his business fortune in 2007 through the sale of Glaceau for an estimated $4.1 billion, currently has 20 Uncle Mo's, ranging from babies to juveniles, among a stable that ranked 14th nationally in earnings through July 5. Eight of them are 2-year-olds, including a homebred colt named Outwork, who achieved a special status in his dad's blossoming career at stud.
A son of Repole's stakes-winning mare Nonna Mia, Outwork debuted on April 23 at Keeneland for the same team that raced Uncle Mo and posted a 2 ¼-length victory to become his sire's first winner.
"It's really satisfying to know that with Outwork, I owned Uncle Mo, I owned Nonna Mia, they were both stakes horses. Uncle Mo was a champion and now I have the baby," Repole said. "The whole family is part of Repole Stable, so it's cool to open a program and see breeder Repole Stable, owner Repole Stable. It was special for us that I got the first winner for Uncle Mo and it was at Keeneland with Todd Pletcher and [jockey] Johnny Velazquez for Repole Stable. He's going to have a lot of winners in his life, but to know I had the first is very special for me."
Though Outwork defeated Coolmore's highly regarded Finnegan in that April 23 race, that result was sweet music to the farm's sales team.
"My phone started to ring as soon as Outwork crossed the finish line," O'Connor said. "We must have made 15 bookings in the next two days off the strength of that one win.
Unfortunately the promise Outwork displayed in his debut has been put on hold. Repole said some minor setbacks will prevent Outwork from racing at Saratoga and will sideline him until the fall at the earliest.
"We were really, really looking forward to running him at Saratoga, but welcome to racing," Repole said. "He'll be back. We'll give him more rest than he needs and focus more on his 3-year-old season. Obviously he's a big, beautiful horse; very talented, great pedigree and we're expecting big things from him next year."
Big expectations? And why not? As they say, like father, like son, and Outwork surely has a pedigree rich with expectations, both on the racetrack and now as a sire.