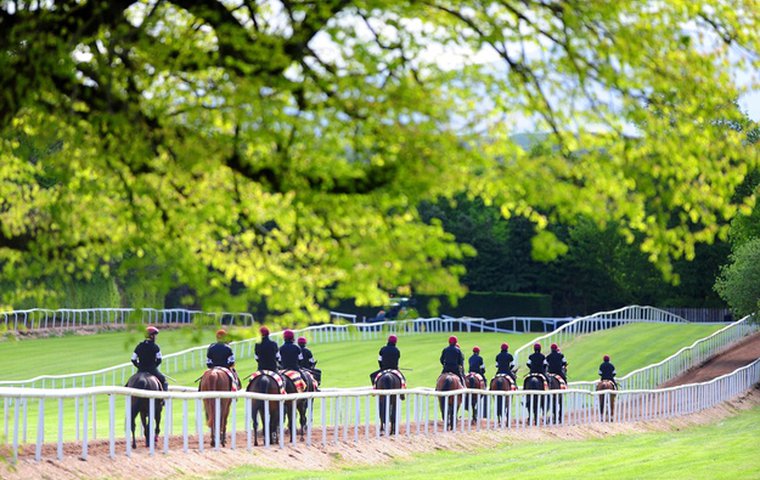 Both meetings are at the absolute pinnacle of championship horse racing - and there the similarity ends. On one side we have the elite Thoroughbreds of the Breeders' Cup, the annual showdown between the classiest flat racers of America and Europe, on the other the Cheltenham Festival, the Olympic Games of jump racing, where the mightiest hurdlers and steeplechasers in the mightiest lands of hurdling and steeplechasing lock horns in the shadow of England's Cotswold Hills.

To train a winner at either is a monumental achievement. To train one at both requires a range of skills virtually beyond comprehension.
The Breeders' Cup races are run round a flat oval over distances from six furlongs to (nowadays) a mile and a half. Cheltenham, which starts today, requires horses to compete over obstacles around severely undulating parkland in races of between two and four miles.
Yet four trainers have actually managed to send out winners at both. It's not surprising, therefore, that each of them is widely recognised as among the greatest exponents of their craft we've ever seen.
VINCENT O'BRIEN
Breeders' Cup: one winner (1990)
Cheltenham Festival: 23 winners (1948-59)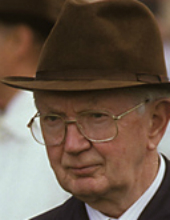 At the end of 1999, in their book A Century of Champions, racing historians Tony Morris and John Randall meticulously developed a formula to assess the greatest Europeans of the previous 100 years. Unsurprisingly, Michael Vincent O'Brien, master of Ballydoyle, trainer of six Epsom Derby winners, six Irish Derby winners, three Arc winners and three King George winners, and the man whose genius was the foundation for the Coolmore bloodstock empire, came out as the outstanding flat trainer of the 20th century.
And the trainer of Ballymoss, Sir Ivor, Nijinsky, Alleged, The Minstrel, Sadler's Wells and El Gran Senor was also the top trainer of the century over jumps.
O'Brien's legendary achievements on the flat were almost an afterthought. Long before he zeroed in on the big prizes at Epsom, the Curragh, Royal Ascot and Longchamp - and Belmont Park - he attained an almost surreal level of success over hurdles and fences, initially sending them out from the family farm. He is famed for training the winner of the Grand National three years in succession - with three different horses - from 1953-55.
But the real testament to his dominance was his record at the Cheltenham Festival, which included four Gold Cups, three Champion Hurdles and 10 of the 14 divisions of the Gloucestershire Hurdle novices' championship in the seven years from 1952 (it was split into two every year in those days).
It's a level of success that no-one, not even the phenomenal Willie Mullins, has matched before or since.
O'Brien's greatest years were done by the time the Breeders' Cup was inaugurated in 1984, yet his victory in the 1990 Mile at Belmont with Royal Academy, ridden by the then 54-year-old Lester Piggott, is regarded as one of his most memorable.
MICHAEL DICKINSON
Breeders' Cup: two wins (1996, 1998)
Cheltenham Festival: 10 winners (1982-84)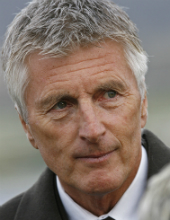 Fittingly, Dickinson spent two years as an assistant to Vincent O'Brien at Ballydoyle before he got his licence and took over his parents' stables in Yorkshire in 1980, aged just 30. Within two seasons, he was British champion jumps trainer, a title he held three years running. And then he quit.
Those three seasons, 1982-84, shine out as one of the most remarkable periods in British racing history - largely because of Dickinson's excellence at the Cheltenham Festival. And it wasn't just the much lauded feat of training the first five home in the 1983 Gold Cup. His Festival haul included the Gold Cup in 1982 as well, and the Queen Mother Champion Chase in each of those three seasons.
Dickinson was then lured away from jumping when Robert Sangster installed him as a flat trainer at a lavish new complex at Manton, Wiltshire, in southern England. But it didn't work out, and in 1987 Dickinson went off to start a new life in Maryland.
In 20 years' training there, Dickinson compiled a fine record of success, but his greatest accomplishment there was Da Hoss, the horse he trained to win the 1996 Breeders' Cup Mile at Woodbine and then to win the race at Churchill Downs two seasons later despite a two-year absence because of injury.
Dickinson quit training in 2007 to concentrate on his synthetic racing surface Tapeta Footings. Now 66, he has just begun training again.
SIR MICHAEL STOUTE
Breeders' Cup: six wins (1996-2013)
Cheltenham Festival: two wins (1988, 1990)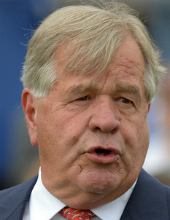 Along with the late Sir Henry Cecil, Barbados-born Stoute has been the dominant flat trainer in Britain for the last 40 years. He has been champion trainer 10 times, and he has trained more than 100 G1 winners in Britain alone, as well as over 50 in nine other countries.
His collection of great races includes five Epsom Derbys, 10 other British classics, 11 Irish classics, one Arc, two Japan Cups, one Dubai World Cup and 11 Grade 1s in North America.
The champions he has trained number among them Shergar, Marwell, Shahrastani, Zilzal, Singspiel, Pilsudski, Islington, Conduit, Harbinger and Workforce.
And Kribensis.
Sheikh Mohammed's battling grey, a high-class handicapper on the flat, was a rare departure for Stoute when it was decided to send him hurdling. But it showed the extent of Stoute's talent when he produced the son of Henbit to win the Triumph Hurdle (the 4-year-old championship race) at the Cheltenham Festival in 1988 and the Champion Hurdle itself two years later. In that 1989-90 season, Kribensis won British jump racing's three biggest races - the Champion, the Fighting Fifth Hurdle at Newcastle and the Christmas Hurdle at Kempton Park. He remains the only horse to have won that particular triple crown.
Stoute won his first Breeders' Cup race six years later - when Pilsudski took the Breeders' Cup Turf at Woodbine. Five more successes have followed - Kalanisi (Turf, Churchill Downs, 2000), Islington (Filly & Mare Turf, Santa Anita, 2003), Conduit (Turf, Santa Anita 2008 and 2009), and Dank (Filly & Mare Turf, Santa Anita, 2013).
Stoute, 70, is Britain's most successful trainer at the Breeders' Cup.
AIDAN O'BRIEN
Breeders' Cup: 10 wins (2001-2015)
Cheltenham Festival: five wins (1996-2000)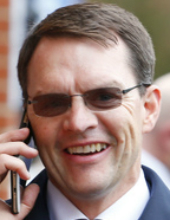 It may have looked like a huge folly to the outside world, but Coolmore boss John Magnier was guilty only of a stroke of genius when he signed up a fresh-faced 24-year-old from the National Hunt world to succeed Vincent O'Brien in 1994.
Of course, the young (and unrelated) Aidan O'Brien was already making his mark. He had just won the first of what was to be five successive Irish NH trainer titles, and he was also champion amateur jump jockey. But was he up to training the blueblooded flat racers of Ballydoyle?
The bare statistics answered that long ago.
Aidan O'Brien has been champion Irish flat trainer (based on total prize money) every year since 1997. He has been champion trainer in Britain four times. He has won 34 Irish classics, including 11 Irish Derbys, 23 British classics, including five Epsom Derbys, 36 French Group 1s, including one Arc, 23 North American Grade 1s, and further G1s in Italy, Hong Kong, the UAE and Australia.
The horses he has trained include Giant's Causeway, Galileo, Imagine, Hawk Wing, Rock Of Gibraltar, High Chaparral, George Washington, Yeats, Alexandrova, Dylan Thomas, Peeping Fawn, Duke Of Marmalade, Henrythenavigator, St Nicholas Abbey, So You Think, Camelot, Australia and Gleneagles.
With 10 Breeders' Cup successes, O'Brien ranks third on the all-time list. Only D. Wayne Lukas (20) and Bob Baffert (12) have trained more winners at the meeting.
His first winner was Johannesburg in the 2001 Juvenile at Belmont, followed by back-to-back triumphs in 2002-03 (Arlington and Santa Anita) by High Chaparral in the Turf (the second a dead-heat with Johar).
It was six years before he scored again - with Man Of Iron in the (now discontinued) Marathon at Santa Anita - but he quickly made up for lost time. In 2011 at Churchill Downs, he landed the Turf again, with St Nicholas Abbey, and the Juvenile Turf with Wrote. The following year he saddled George Vancouver to win the Juvenile Turf at Santa Anita and the year after that he won the Turf once more - with Magician (at Santa Anita). O'Brien drew a blank in 2014, but came back strongly at Keeneland last year, when Found won the Turf and Hit It A Bomb the Juvenile Turf.
O'Brien's run of Irish National Hunt titles dried up after he quit that arena to concentrate on the flat. Indeed, he probably only carried on training jumpers as long as he did because of one horse - Istabraq. Widely acknowledged to be one of the greatest hurdlers of modern times, the son of Sadler's Wells won four times at the Cheltenham Festival - the Sun Alliance Novices' Hurdle in 1997 and the Champion Hurdle in each of the following three seasons.
O'Brien's other Cheltenham triumph, his first, was with Urubande in the 1996 Sun Alliance Novices' Hurdle.
Oh, and the picture at the top of this article was taken at Ballydoyle, the training establishment in County Tipperary set up by Vincent O'Brien and now run by Aidan O'Brien.
An honourable mention
JONATHAN SHEPPARD
Breeders' Cup: two wins (2008-09)
Cheltenham Festival: one second (1987)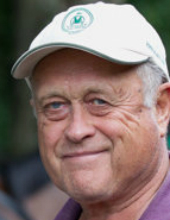 Maybe we should be saying that the 75-year-old Hall of Famer has actually won six Breeders' Cup races - he won America's version of the Grand National at Butler, Maryland, four times (1988, 89, 92 and 99) when it was known as the Breeders' Cup Grand National, although it was not run at the Breeders' Cup meet.
His two mainstream victories came via Forever Together in the 2008 Filly & Mare Turf and a year later with Informed Decision in the Filly & Mare Sprint, both at Santa Anita.
Sheppard, who was born in Hertfordshire, England - less than two hours' drive from Cheltenham - but moved to the States at the age of 20, has recorded many top-level flat victories, but it is as a jumps trainer that his name truly resonates. His continuous domination of American steeplechasing is the stuff of legend - he has been champion trainer 23 times since 1973 and has won more than double the prize money of the next trainer on the all-time list.
His best horse was four-time Eclipse Award winner Flatterer (1983-86), once described by owner Bill Pape as "Secretariat over fences", and it is Flatterer who gets Sheppard a mention here for his mighty effort when a length-and-a-half runner-up on an unfamiliar course over unfamiliar obstacles to See You Then (who was completing a hat-trick) in the 1986 Champion Hurdle at the Cheltenham Festival.
The Cheltenham attempt was not the only bold adventure Sheppard and Pape undertook with Flatterer. He tried another kind of obstacle and another kind of track a year earlier, when second again in the French Champion Hurdle.
The only jockey to do the same double
Yes, it's happened just the once, although it took 36 years for the rider to get there.
After his sole Cheltenham Festival victory - as an 18-year-old on Mull Sack in the now-defunct Birdlip Selling Hurdle on March 2, 1954 - he had to wait almost half a lifetime, until he was nearly 55, to complete this particular double.
We've already mentioned the race - the 1990 Breeders' Cup Mile. And we've already mentioned the jockey - the man who rode the winner, Royal Academy, for Vincent O'Brien.
Lester Piggott.