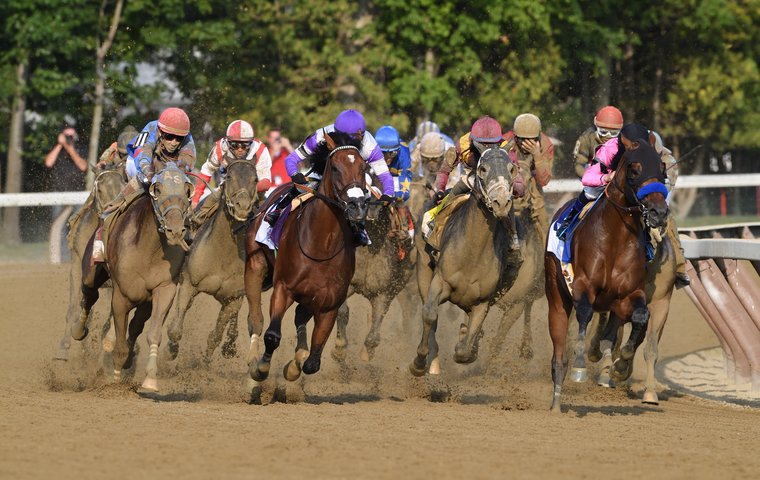 The previous time the famed Travers Stakes brought the trio of the Kentucky Derby, Preakness and Belmont Stakes winners to Saratoga was 1982.

On that memorable August day, it was neither a) the Kentucky Derby winner, b) the Preakness winner, nor c) the Belmont Stakes winner who prevailed. Instead it was the unheralded Canadian Runaway Groom who upended super horse Conquistador Cielo and his Triple Crown buddies, and earned a permanent spot in racing lore thanks to track announcer Marshall Cassidy oft-repeated call of "Runaway Grooom" winning the centerpiece event of the Saratoga meet.
On Saturday, 35 years after the last Triple Crown showdown in the Mid-Summer Derby, once again neither a, b nor c triumphed at the Spa.
Unfortunately for longshot players, it wasn't a Runaway Groom this time. Trainer Bob Baffert's victorious West Coast ($14.20) was a fairly logical 6-1 co-third-choice in the wagering in the $1.25 million stakes.
Yet to better understand what happened in the 148th Travers, even though the winner's price was half of Runaway Groom's in a significantly larger field, the impact on the 3-year-old championship was far more dramatic.
Conquistador Cielo went on to be named 1982's Horse of the Year, even after finishing third at Saratoga in what proved to be his final start.
This year, as the sun set on Travers Day at the Spa, it seems highly unlikely that either Derby winner Always Dreaming, Preakness winner Cloud Computing or Belmont victor Tapwrit will be named the 3-year-old champion.
Right now, at the top of the stretch of the Eclipse Award race, West Coast is the leader and he figures to be as hard to catch in that dash as he was on Saturday in the Travers.
To simply say West Coast beat the three Triple Crown winners does not do justice to his feat before a crowd of 47,725 at the historic Spa. Aside from that trio, he also beat four other horses who finished 1-2 in the major graded stakes leading up to the Travers.
For Gary West, who owns West Coast along with his wife, Mary, that spoke volumes about his colt's accomplishment.
"I don't know in the history of the Travers if you've ever had a Belmont winner, a Preakness winner, a Kentucky Derby winner, a Haskell first- and second-place finisher and a Jim Dandy first- and second-place finisher and some other Grade 2 winners in the same Travers," he said. "I don't know if you've ever had a Travers field as competitive as this race was. I don't know who is a good racehorse who didn't show up today."
Decisive winner
Given all of the parity this year, with Always Dreaming being the only one of the Travers starters with more than one Grade 1 win (he also captured the Florida Derby), it would seem that a victory in the Saratoga Showdown has propelled West Coast to the head of the division. Especially with Always Dreaming finishing a weak ninth, Cloud Computing eighth and Tapwrit eight lengths behind West Coast in fourth. West, however, prefers to let others chat about that.
"I'll leave that to the experts. I'm obviously biased so anything I say will obviously not be taken kindly by anybody else," said West, a San Diego-area resident who built West Corporation into one of the world's leading providers of teleservices. "You got to put him among the best [in this division], I think."
Actually, there's little doubt that West Coast is the one to catch as fall approaches, just as Arrogate was a year earlier when the Juddmonte Farms star posted a victory with certain similarities to Saturday's chain of events.
Both, of course, are trained by Baffert and while West Coast did not win by more than 13 lengths in track record time like Arrogate, he was a decisive winner by 3¼ lengths in a highly respectable time of 2:01.19 for the mile and a quarter.
Missing the Triple Crown
"He was a monster today," said assistant trainer Jim Barnes, who saddled West Coast while Baffert remained in California and watched the Travers from what Barnes called Baffert's "Grade 1 couch". "He pulled away from them. It was a decisive win in a prestigious race that's not very easy to win."
In making Baffert the first trainer to win back-to-back Travers since Shug McGaughey in 1989-90, West Coast was also the second straight Mid-Summer Derby winner for the Hall of Famer who was making his Grade 1 stakes debut in the race.
Like Arrogate, West Coast skipped the Triple Crown. There was a time earlier in the year when Baffert pondered starting him in the Blue Grass against some of the leading Triple Crown contenders, but he opted instead for the Lexington as a Preakness prep. After West Coast finished second in that Keeneland stakes, he spent May winning an allowance race at Santa Anita.
Baffert toyed with the idea of running West Coast in the Belmont Stakes, but West shot down that idea.
"I wanted to run in the Belmont, but Gary looked at me, and he said, 'Are you out of your mind? I don't think he's ready for that.' And he was right, he wasn't ready for it," Baffert said by phone from California.
West Coast was ultimately shipped east, but the target was the ungraded Easy Goer on the Belmont Stakes undercard. After a 3¾-length win there and a 2¾-length score in the G3 Los Alamitos Derby, the son of Flatter blossomed into a fresh and fast runner who, yes, like Arrogate, was able to swoop in and crush a group of rivals who seemed worn down from the rigors of butting heads in the Triple Crown and major 3-year-old stakes.
'A man amongst boys'
"When I saw him in the paddock, he looked unbelievable," Baffert said. "I mean I never saw him look so great. You could tell he was like a man amongst boys. He looked the part. I mean, he was a specimen when he came onto that track. It was slow coming around but there was nobody that was going to beat him today."
After receiving a green light from Baffert to set the pace if the opportunity presented itself, jockey Mike Smith, Arrogate's regular rider, rode West Coast in a manner reminiscent of a year earlier. Though West Coast was sixth in the early stages of his last two races, he quickly went to the front and cruised along with a length-and-a-half lead after an opening half-mile in a comfortable 48.12 seconds.
Always Dreaming, Cloud Computing and three-time graded stakes winner Irap took up the chase, but as West Coast reached the quarter pole the Triple Crown winners were done.
Irap moved to within a half-length of the leader with a quarter-mile left and Gunnevera mounted a strong rally outside them, but in the final furlong it was no contest as West Coast kicked into another gear and drew clear.
Gunnevera, in his best race since an eye-opening win in the Fountain of Youth back in early March, took second at 24-1 odds, 2¼ lengths ahead of Irap, the 5-1 second choice.
Tapwrit, one three horses at 6-1, was making his first start since the Belmont and came up empty in the stretch and finished an even fourth. Jim Dandy winner Good Samaritan, the 7-2 favorite, was 12th and last after six furlongs and rallied mildly for fifth.
Smith's ride in the Classic
"I told Gary in the paddock, don't be surprised if I take advantage of a good jump, and he said, 'You just ride him like you want.' [West Coast] was quick enough. He's good enough and he was training lights out for this," Smith said. "It's nice that someone trusts you to go out there and do what you know how to do, and that's to adapt to situation."
As the regular rider of Arrogate and West Coast, it was mentioned to Smith he could have a decision to make when the Breeders' Cup rolls around in November at Del Mar, but West rather bluntly answered that question for him.
"I'll tell you who he's going to ride," he said. "It's not going to be our horse, and I fully understand that. We don't know what we're going to do with our horse yet, and that's the truth of the matter. It's a really tough bunch of older horses this year, probably the toughest ever. We'll just enjoy this moment and think about things down the road. I would fully expect Mike to ride what I think is probably the best horse in the world. If he didn't do that, I'd have his head examined."
Though West said he plans to continue racing West Coast at four and hopes his colt can become a leader in the older division once Arrogate heads to stud at the end of their current campaigns, it's fair to say that asking West Coast to replicate Arrogate's success and reel off successive wins in the Travers, Breeders' Cup Classic, Pegasus World Cup and Dubai World Cup is a bar a tad bit high to set. Yet there is one final similarity between the events of 2016 and 2017.
A few weeks ago, Baffert said the New York Racing Association's Saratoga Live telecast was fast becoming one of his favorite television shows. He said he loves the numerous shots they air of the canoe in Saratoga's infield lake painted in Juddmonte's colors to celebrate Arrogate's Travers win.
Now it looks like Baffert will continue to use his DVR to save those Saratoga Live shows.
"We got control of the canoe for one more year," Baffert said.
And perhaps the 3-year-old division as well.