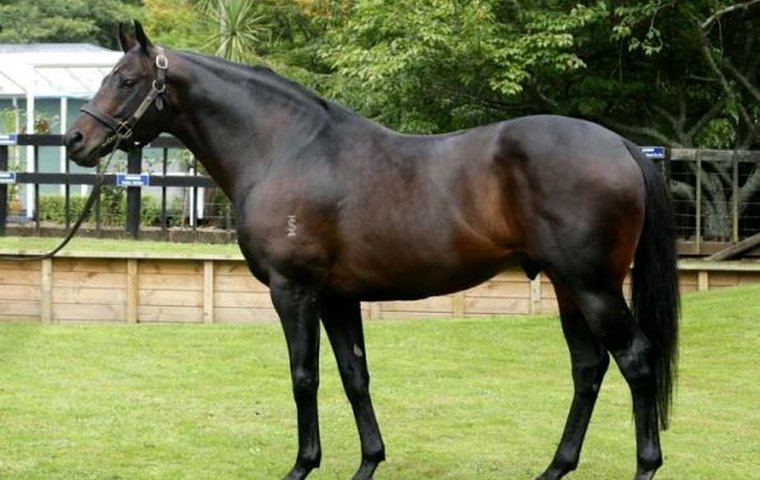 The Melbourne Cup. Australia's most famous horse race. The one every owner, trainer, breeder and jockey wants to win. But is the legendary contest - the 2016 edition will be run at Flemington on Tuesday - a stallion's race?

The immediate answer from many would be a resounding 'No'. The breeding industry - certainly since the influence of Star Kingdom and the Golden Slipper Stakes - is early maturing, sprint-racing focused.
Or is it?
Let's take a look the history of Melbourne Cup-winning stallions.
Archer (1861-2)
Assuring his name in history by winning the first two runnings of the Cup, Archer retired to his birthplace, Exeter Stud, at Jembaicumbene, 291km south of Sydney. He remained there until his death, aged 16, in 1872, having failed to make an impact at stud.
So not a great start for the Melbourne Cup as a sire producer.
The Barb (1866)
He was the first Melbourne Cup winner to sire stakes winners, his best including the Brisbane Cup winner Strathearn and the All-Aged Stakes winner Tocal, who was named after the Hunter Valley stud at which The Barb stood.
The Barb's name lived on via his daughter Melody, grandam of the high-class racehorse and stallion Wallace.
Tim Whiffler (1867)
Not to be confused with the successful U.K. stallion of the same name, Tim Whiffler was, like Archer, bred at Exeter Stud from where he was leased to Hobartville Stud. He lived to 19, having sired a New Zealand Derby winner called ... Tim Whiffler.
Glencoe (1868)
He failed to fire at stud.
CHESTER (1877)
He can lay claim to being the first successful Melbourne Cup-winning stallion.
Standing at Kirkham Stud, he was well supported by his owner, James White, who purchased well-bred broodmares for him.
Four times Australia's leading stallion, Chester sired winners of the AJC Derby (Abercorn, Camoola, Stromboli), the Caulfield Guineas (Autonomy, Carlyon), the VRC Derby (Camoola, Dreadnought), the Oakleigh Plate (Camoola, Titan), the Australian Cup (Carlyon, Dreadnought), the Newmarket Handicap (Cranbrook), the AJC Oaks (Lava, Spice, Tamarisk, Trieste, Uralla), the VRC Oaks (Spice, Uralla), the Sydney Cup (Stromboli) and the Adelaide Cup (Warpaint).
Darriwell (1879)
As with all stallions of the era, it is difficult to find much on Darriwell, but the stud book lists him as having sired three stakes winners, including the South Australian Derby winner Cheddar and the Western Australian Derby winner Harridan.
Grand Flaneur (1880)
The Melbourne Cup's only undefeated winner, Grand Flaneur also boasts the distinction of being the first Cup winner to sire a Cup winner. In fact he sired two - Bravo (1889) and Patron (1894).
And he was the first Melbourne Cup winner to sire a Northern Hemisphere stakes winner, his Williamstown Cup-winning son Merman (who was recently inducted into the Australian Racing Hall Of Fame) sold to famed actress Lillie Langtry, going on to win a number of U.K. features, including the Goodwood Cup and the Ascot Gold Cup.
The Assyrian (1882)
This well travelled Cup winner (also winner of feature staying races in New South Wales, South Australia and Tasmania) has six winners accredited to him in the stud book - including three winners (Benedict, Chaldean, Macquarie) of the Hobart Cup, a race he won the year after his Melbourne Cup success.
Martini Henry (1883)
The first New Zealand-bred Melbourne Cup winner was Martini Henry, who fared well at stud, siring several Classic winners (Acmena AJC Oaks, Corvette AJC Oaks, Litigant VRC Oaks, Prelude AJC Oaks, Rudolph Caulfield Guineas, Singapore AJC Derby) as well as the Ascot Gold Vase winner Mons Meg.
MALUA (1884)
The most versatile of all Melbourne Cup winners, Malua won a remarkable range of races including two feature sprints (Newmarket Handicap, Oakleigh Plate), two high-class weight-for-age contests (Australian Cup, Melbourne Stakes) and three Cups (Melbourne, Adelaide, Geelong) - and a Grand National Hurdle.
And he went on to become the second Melbourne Cup winner to sire a winner of the great race, his son Malvolio successful in 1891.
Malua sired a number of other stakes winners, including the Caulfield Cup winner Ingliston, the Newmarket Handicap winner Maluma, the Adelaide Cup winner Mora and the West Australian Derby winner Wairiri.
Malvolio (discussed below) fared well at stud whilst Malua's dual stakes winning son Malatua sired the Caulfield Cup winner Maranui. He was also grandsire of the Oakleigh Plate winner Silenus.
Sheet Anchor (1885)
Another Tasmanian winner of the Melbourne Cup, Sheet Anchor also sired stakes winners including the Newmarket Handicap winner Laundress, the Moonee Valley Cup winner Our Jack and VRC Derby hero The Harvester.
Arsenal (1886)
Arsenal, who only deigned to run well when accompanied by his best friend - a goat, also stood at stud, though he is credited with just the one stakes winner, the versatile Murmur, who won a 1200m black-type event as well as the 2400m Caulfield Cup.
Dunlop (1887)
Overcoming a case of strangles just eight months before the Cup, Dunlop was a particularly tough winner. The stud book has him siring the Australian Cup winner Ayrshire and the Oakleigh Plate winner Abington.
Mentor (1888)
Mentor gave his owner Donald Wallace a thrill, winning the 1888 Melbourne Cup en route to siring four stakes winners, but it was the same owner's 1890 winner who would eclipse all other Melbourne Cup winners in terms of influence at stud - the legendary Carbine.
CARBINE (1890)
At the time of his retirement to stud, Carbine was the highest Australasian prize money earner, a record that remarkably stood for another three decades. He hit pay dirt early as a stallion, in his debut crop producing the Caulfield Guineas, VRC Derby and Sydney Cup winner Wallace - himself a leading sire whose progeny included the Melbourne Cup winners Kingsburgh (1914) and Patrobas (1915).
After just a few years at stud in Victoria, Carbine was purchased by the Duke Of Portland to stand alongside the immortal St Simon at historic Welbeck Stud. He was not an instant success but a stallion often only needs one really good one to make his mark - and that horse was the 1906 Epsom Derby winner Spearmint.
Prolific in pedigrees, Spearmint was a successful stallion, who sired another Epsom Derby winner in Spion Kop, in turn sire of yet another winner of that world famous classic in Felstead (whose daughter Faustina is the third dam of great sprinting influence Bletchingly).
Spearmint was also sire of the famed matriarch Plucky Liege and dam sire of Night Raid, sire of the most famous of all Melbourne Cup winners, Phar Lap. He is also second dam sire of Tesio's masterpiece Nearco, whose grandson Northern Dancer is line-bred to him 5 X 6.
While in the U.K., Carbine also sired Greatorex who belied an ordinary race record by becoming South Africa's champion sire on 10 occasions.
Malvolio (1891)
Son of 1884 Cup winner Malua, Malvolio fared nicely as a sire of stayers, siring among others winners of the Adelaide Cup (Sport Royal), Sydney Cup (Dyed Garments) and the Perth Cup (Cypher, Novitiate).
Patron (1894)
Also by a previous winner (Grand Flaneur, 1880), Patron sired the Moonee Valley Cup winner Patronus.
Newhaven (1896)
The 1896 winner has one stakes winner accredited to him by the stud book - though his name lives on because one lucky punter, Jack Cassidy, won such a large amount on him in an Australia-wide sweep that he was able to buy a farm, one still in successful operation - Newhaven Stud.
Gaulus (1897)
The 1897 Melbourne Cup provided a unique quinella - Gaulus and The Grafter (who came back the following year to go one better) being full brothers. The former sired one stakes winner, the latter was a gelding.
Merriwee (1899)
He did well at stud in New Zealand, being represented by 13 stakes winners.
Blue Spec (1905)
Western Australian Hall of Fame member Blue Spec - successful in record time - sired two stakes winners.
Poseidon (1906)
The first winner of the Caulfield Cup/Melbourne Cup double, the outstanding galloper Poseidon was purchased as a youngster with his dam Jacinth by the Moses brothers who established the still operating Arrowfield (the property now Coolmore) Stud in the Hunter Valley. While he lived until 26, he had just limited success at stud, siring the Queensland Derby winner Rascasse and the Moonee Valley Cup winner Telecles.
Prince Foote (1909)
Despite pulling up with a hoof injury from his VRC Derby win, Prince Foote was able to win the Melbourne Cup just days later. He passed on some of his superior stamina to six stakes winners, including the Sydney Cup winner Prince Charles and the VRC and AJC Derby winner Richmond Man.
COMEDY KING (1910)
Born in the United Kingdom and shipped to Australia with his dam, Comedy King wrote his name into history as the first imported winner of the Melbourne Cup.
Twice Australia's champion stallion (and in the top six on 10 occasions), he joined the elite list of Cup winners to sire Cup winners - his sons Artilleryman (1919) and King Ingoda (1922) also on the honour roll. And he sired one of the legends of the race - Shadow King, who was placed in four consecutive Melbourne Cups, including a third to Phar Lap in 1930.
Piastre (1912)
He sired eight stakes winners, including Hosier, who holds a bit of provincial history, being the only three-time winner of the Grafton Cup.
Westcourt (1917)
He is not credited with any stakes winners, though he is grandsire of two.
Poitrel (1920)
Poitrel, raced by the Moses brothers of Arrowfield Stud, won the Cup before a stud career that saw him sire five stakes winning stayers.
King Ingoda (1922)
He also retired to stud but failed to sire a stakes winner.
Backwood (1924)
The second imported Cup winner was Backwoo, who had run second in the Ebor Handicap at York three years previously. He proved to be a versatile stallion, his eight stakes winners including the Caulfield Guineas winner Beechwood, the Grand National winner Dakwood and the Newmarket Handicap victor Wood Rab.
WINDBAG (1925)
Buried at what is now Darley's Victorian base, he was a very good stallion, represented by 18 stakes winners, one of whom was a real stand-out - the champion Chatham, winner of two Cox Plates and two Epsom Handicaps and another four races now credited with G1 status.
He too went on to sire a number of big-race winners, as did Windbag's Caulfield Guineas/VRC Derby-winning son Liberal.
SPEARFELT (1926)
Having returned to the scene of his VRC Derby victory two years earlier to take the Cup, Spearfelt went on to have 28 stakes winners listed in the stud book - including the 1943 Melbourne Cup winner Dark Felt.
Nightmarch (1929)
He sired just a handful of stakes winners.
Hallmark (1933)
He was another represented by just a few stakes winners.
Peter Pan (1932 & 34)
The flashy dual winner sadly died young, having sired VRC Derby winner Precept.
Marabou (1935)
He added himself to the list of Melbourne Cup winners to sire Melbourne Cup winners when his terrific son Skipton was successful in 1941.
Skipton (1941)
He also stood at stud but has no stakes winners listed in the Australian stud book.
Wotan (1936)
He has one stakes winner in the stud book.
Dark Felt (1943)
He is another with just one stakes winner.
Sirius (1944)
Sirius is credited with four stakes winners.
Russia (1946)
In an interesting career, he retired to stud in 1948 before winning three more feature races in 1949. He was purchased by Phar Lap's owner, David Davis, who stood him in the United States, where he sired three stakes winners.
Foxzami (1949)
This is another with a sole stakes winner to his name.
Comic Court (1950)
He was famously strapped by a youthful Bart Cummings. He had five stakes winners.
Delta (1951)
He was a high-quality performer, also winning a VRC Derby and a W.S Cox Plate, but, from just a small group of runners, he did not sire a stakes winner.
Dalray (1952)
Dalray had 16 stakes winners, including one of the most popular gallopers of the late 1960s/early 1970s, the durable Tails.
Wodalla (1953)
He did a good job standing in Tasmania, with 11 stakes winners.
Even Stevens (1962)
He won both the Caulfield and Melbourne Cups in the same year before retiring to his place of birth (New Zealand). He sired the G1 gallopers Master John and Evenstead.
Rain Lover (1968-9)
Dual Melbourne Cup winner Rain Lover served only small books but managed to sire four stakes winners.
Silver Knight (1971)
He sired 1984 winner Black Knight.
AT TALAQ (1986)
He was afforded the opportunities deserving of such a high-class performer. However, from just 410 foals, he sired 25 stakes winners, including the G1 winners Al Mansour, Toledo, Skating, Star Of Maple and Leica Smile.
At Talaq is also a successful broodmare sire with his daughters producing 35 stakes winners; five G1 winners, including the wonderful stayer Mummify and one of this spring carnival's stars, Black Heart Bart. He is also second dam sire of last year's Golden Slipper winner, Vancouver.
Beldale Ball (1980)
Perhaps the most widely travelled Melbourne Cup winner was Beldale Ball, who, after his victory, returned to America, his country of birth, before being on sold to Switzerland and then, aged 13, to the then Czechoslovakia. There he sired the Czech Gold Cup winner Barrow.
Tawrrific (1989)
Spending eight years at stud in Victoria (siring the listed winners Eagle Charge and Roccoo), 1989 winner Tawrrific headed to Ireland in early 1999 to stand as a jumps stallion. Sadly, he died having suffered from a twisted bowel just months later. His four-times winning son Tawrific Laois was still racing last year (in point-to-points) aged 15.
KINGSTON RULE (1990)
Also standing in Victoria was the handsome chestnut Kingston Rule, a regally bred entire by Secretariat out of triple G1 winner Rose Of Kingston. Holding the Melbourne Cup record of 3-16.30 seconds with his 1990 success, he stood 20 seasons at Ealing Park Stud.
Eight of Kingston Rule's sons and daughters were stakes winners, the best of those being the big race winners Kensington Palace (VRC Oaks) and Sheer Kingston (Brisbane Cup, Adelaide Cup).
JEUNE (1994)
Another good looking chestnut bred in the Northern Hemisphere, Jeune (1994) was a particularly talented Melbourne Cup winner and was able to make the transition to weight-for-age. He was given a decent chance standing at Colin Hayes' Lindsay Park Stud in South Australia before transferring to Victoria late in his stud career.
Doing a very good job with a winners-to-runners strike rate in excess of 70 percent, Jeune sired 28 stakes winners, including the G1 winners Alcopop (sixth as favourite in Shocking's 2009 Melbourne Cup), Mummify (who represented Australia on the international stage, winning the Singapore International Cup), The Verminator, True Steel and Young Centaur.
SHOCKING (2009)
There was a big gap between Jeune and the next entire to win the Melbourne Cup, the big race for several years dominated by mares and geldings, aside from two entires - the Japanese galloper Delta Blues (2006), who embarked on a showjumping career instead of retiring to stud, and the ill-fated Viewed (2008).
It was Shocking who would be the next to stand, the first Melbourne Cup winner made available to New Zealand breeders since Even Stevens (1962).
Standing at Rich Hill Stud (breeders of last year's Cup hero Prince Of Penzance), the son of Street Cry has made an encouraging start, having sired 34 winners from his first 85 starters, including New Zealand Oaks heroine Fanatic and the G2 winner The Hassler.
The best looks still to come with Shocking's son Antonio Giuseppe in the market for Tuesday's running of the Cup. After winning four in a row he was a gallant second in the G1 Metropolitan Handicap on October 1. The following day at Flemington, Shocking's daughter Pure Pride was a somewhat unlucky second at G2 level.
Rich Hill's John Thompson was at first wary about standing a Melbourne Cup winner - "there is a bit of a stigma on them", he said - but he has always been a Shocking fan.
And it turns out that New Zealand breeders are too, Shocking serving 154 mares in his first year.
"It was a time where people wanted to start fighting the European invasion," Thompson said, noting that New Zealand breeders were not happy that Australian buyers, who traditionally looked to them for stayers, were now heading to the Northern Hemisphere.
AMERICAIN (2010)
Swettenham Stud stands one of the Northern Hemisphere 'invaders', the 2010 Cup winner Americain. And, the stud's Adam Sangster said, it is the internationalization of the race that has made it a more attractive race for stallion prospects.
"One thing a lot of breeders say to us when sending a mare to Americain is that they are impressed by the quality of the field he defeated in the Melbourne Cup."
Plus there is just something about this race. "It always captures the imagination."
Americain has served 377 mares in his first three years at stud and has shuttled to Calumet Farm in Kentucky. He is already represented by a 2-year-old winner in Canada and his first Australian progeny are due to hit the track soon.
Sangster is more than happy to have a Melbourne Cup winner at stud, noting that his family, in conjunction with Colin Hayes, stood two in the past and both were successful - Jeune and At Talaq.
"I don't think we saw the best of what Jeune was capable of siring as he was just starting to take off when he passed away," Sangster said.
DUNADEN (2011)
It was two Melbourne Cup winners in a row for the internationals with Dunaden nosing out Red Cadeaux in 2011. The handsome French bred bay stands at Overbury Stud, Gloucestershire, England, where, aided by a generous prize money scheme provided by his owner, Sheikh Fahad, he was supported by 96 mares in his debut year.
Overbury's Simon Sweeting is impressed by Dunaden's first foals. "We have been visiting studs to inspect his stock and have formed a very favourable impression," he said.
And, with his progeny just weanlings, Dunaden has already created history with one of his daughters the first filly to win the title of Reserve Champion at a prestigious annual foal show.
Without the incentives, Sweeting admits that Dunaden would have been a bit of a hard sell with the trend towards more early maturing sprinting types not just an Australian one. "The view is that it is a less attractive proposition to breed stayer," he said.
But there is a push by local breeders' associations to encourage breeders - "as stayers are such a big part of the racing spectacle".
Overbury recognise that the Melbourne Cup has been a part of breeding history in the U.K., their website making note of "the only other Melbourne Cup winner to stand at stud in Britain sired a Derby winner!"
It has been a long gap - that horse, of course, was Carbine.
Green Moon (2012)
The 2012 Cup winner stands privately at Comer Stud in Ireland.
FIORENTE (2013)
Sun Stud in Victoria is home for 2013 winner. And, like Americain, he has been keenly supported with 309 mares in his first two years - which is a relief at the farm.
The stud's David Grant admitted: "We did have reservations about how popular he would be. We have seen Derby winners of good quality stand at stud and not be given much of a chance."
But, as Adam Sangster said, there is just something about the Melbourne Cup, and Fiorente is proving a strong attraction for those "who want to breed their own classic or cups horse."
Stud book statistics are not 100 percent complete, with a few overseas results missing, especially in the early days. But it seems there have been around 400 stakes winners sired by Melbourne Cup winners.
There was a period around the 1970s where the race was won by dour staying types with little stud appeal but historically its winners - the well-bred ones at least - have been treated with a degree of respect at stud.
For the first time in decades, there are several winners on offer to broodmare owners so it may be that the best is still to come. Locally Americain, Fiorente and Shocking are being given a good chance, while two of the more recent Cup-winning stallions - Jeune and At Talaq - proved their value at stud.