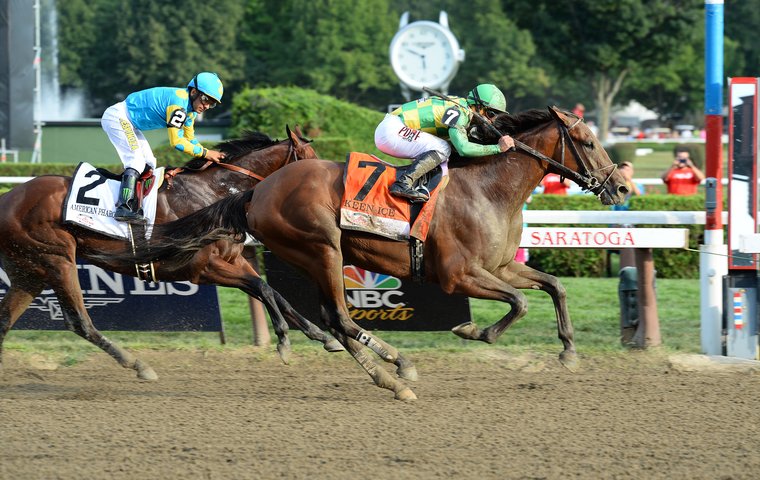 There's an odd feeling attached to knowing that a long and productive life could be framed by a single, two-minute-long moment. Yet that's the lot of Jerry Crawford, a respected lawyer and Democratic fundraiser and also the founder of the Donegal Racing Partnership.

Even with all of that on his resume, a friend told Crawford after the 2015 Travers Stakes: "How does it feel to know how your obituary will start?"
A strange choice of words, yet Crawford fully understood what they meant.
For the rest of his life – and even afterwards – Crawford's greatest claim to fame figures to be that he owned Keen Ice.
Yes, Keen Ice, the horse who scripted one of horse racing's most startling upsets when he beat American Pharoah in the Travers at Saratoga, handing the 2015 Triple Crown winner the lone loss of his 3-year-old season in no less a setting than the historic 'Graveyard of Champions'.
"It's hard to describe what it was like that day," Crawford said. "It was an overwhelming 48 hours. Keen Ice's victory trended No. 1 on social media around the world for a few hours that afternoon. That doesn't happen too often in anyone's life. It was life-changing."
Obituary changing as well.
Intriguing possibility
And now the horse and ownership group that gave the sport such a jolt in 2015 is trying to teach lightning a thing or two by actually striking twice.
In a field of 12 for tomorrow's epic first edition of the $12 million Pegasus World Cup, conventional thinking has the mile-and-an-eighth race reduced to a two-horse rematch between Arrogate and California Chrome. They finished 1-2 in the Breeders' Cup Classic and are 7-5 and 6-5 respectively in the Pegasus with no one else lower than 12-1.
Yet, with that third choice in the morning line being Donegal's Keen Ice, the possibility of déjà vu has become an intriguing possibility in a contest that will break from the gate as America's richest race – even if Keen Ice has to beat two champions this time around.
"I think I'm a pretty good lawyer," Crawford said, "but it takes a better lawyer than me to come up with a story about how we can beat both California Chrome and Arrogate. I am not that talented. It's foolish to speculate about beating California Chrome and Arrogate in the same race, but should it happen I think Keen Ice becomes the biggest upset horse in the history of racing. I think he's one of them already.
Positive signs
"Realistically this is an even bigger challenge than the Travers because of two great horses in the field, but it's a no-lose opportunity for us. The connections of California Chrome and Arrogate are going to be more nervous than we are. They're going to be looking over their shoulder at each other and there's a lot at stake for them. For us, it's a free role of the dice."
According to the morning line, if anyone can win the Pegasus other than two-time Horse of the Year California Chrome or the Bob Baffert-trained Arrogate, it's Keen Ice. He's the aforementioned third choice, based largely off a third-place finish in last year's Breeders' Cup Classic. The downside is that Keen Ice was 10 ¾ lengths behind California Chrome and 11 ½ lengths behind the victorious Arrogate.
That's an imposing gap to make up, but there are some positive signs.
Perhaps not as a positive as the vibes Crawford, original trainer Dale Romans and jockey Javier Castellano had in the morning hours before the stunning turn of events in the Travers.
"The three of us thought we were going to win that day," Crawford said. "We believed it for a week. We were on the right surface, the right distance, we were facing American Pharoah at the right time. We all felt like it was our day. People thought we were saying that after the fact, but we really believed it."
Valuable conditioning
Yet nonetheless there are some valid reasons for hope this week, explaining why Crawford was able to engineer a deal to run Keen Ice in the starting spot bought by Jerry and Ronnie Frankel for $1 million.
The Breeders' Cup Classic marked only Keen Ice's second race – and first stakes – since he came out of an eighth-place finish in the Dubai World Cup on March 26 with a fissure fracture in his left hind leg. Since then he received some valuable conditioning, and a race over the track, when he finished second in the G3 Harlan's Holiday at Gulfstream, and he has been training in solid fashion since that Dec. 17 race.
"He's trained well since the Harlan's Holiday. We were concerned that the Harlan's Holiday was a little too short of a distance for him (a mile and a sixteenth) but we needed a race between the Breeders' Cup Classic and the Pegasus to have him sharp and ready for the Pegasus," said Todd Pletcher, who took over the training of Keen Ice after Crawford decided to make a change following the Dubai World Cup. "So right now he's in about as good a shape as we can get him."
Whether that's enough to spring another upset only adds to the intrigue of a race with $12 million in purse money on the line.
"Without a doubt it's a difficult assignment," said Pletcher, a seven-time Eclipse Award winner. "You arguably have the two best horses in the world showing up, so what we need is a good trip and a favorable pace scenario. If those guys mix it up, we feel Keen Ice will be closing well at the end. But everyone's realistic about their chances if California Chrome and Arrogate show up and turn in efforts like they did in the Breeders' Cup Classic. Then they are going to be hard to beat.
Sneaky good race
"Keen Ice is the type of horse that needs a good pace in front of him," Pletcher added. "He's probably best at a mile and a quarter and beyond, but the problem is that in the longer races sometimes you don't get a fast pace scenario. Still, he's very honest. He shows up every time and runs hard, and he's proven that on any given day he can deliver a big performance."
The proof of that came when American Pharoah put away Frosted after a prolonged duel, but could not resist the late charge of Keen Ice and went down to a three-quarters of a length defeat as a 3.5-to-10 favorite.
"I ran Competitive Edge in the (2015) Haskell and watching the race I thought Keen Ice ran a sneaky good race that day," Pletcher said. "American Pharoah won very easily but, even though (jockey Victor Espinoza) wrapped up on him, you could see Keen Ice was closing with interest that day. I thought he was a potentially dangerous horse in the Travers if American Pharoah didn't run his best race. Then, when Frosted and American Pharoah mixed it up early, it set up well for him, and Javier gave him a great trip.
"Everyone was shocked that American Pharoah got beat, but I wasn't necessarily shocked that Keen Ice was the horse to do it."
To members of an older generation, Keen Ice's victory in the mile and a quarter Travers no doubt resurrected memories of the 1973 Whitney at Saratoga, when trainer Allen Jerkens sent out an upstart gelding named Onion and defeated the great Triple Crown champion Secretariat.
No typical one-hit wonder
What happened afterwards to both Onion and Keen Ice only enhances the comparisons, while putting Keen Ice in a strange light.
Onion never won major stakes after the Whitney, and Keen Ice holds the same distinction. Moreover, the son of two-time Horse of the Year Curlin has yet to win a race since the Travers and owns just two, yes, two victories in a rather well-known career.
Yet, before his streak of eight straight losses categorizes him as a one-hit wonder along the lines of countless forgotten singers over the years, Keen Ice is not a typical case.
"I'm confident you're not going to find another horse in the world with just two wins and earnings as big as his," said John Buckley, a member of the partnership that owns Keen Ice.
The 5-year-old horse might be 2-for-19 in his career, but included in those starts, beyond the win over American Pharoah, are a second in the G1 Haskell and a third in the Breeders' Cup Classic and Belmont Stakes to give him 14 karat career earnings of $2,387,245.
Talented closer
"You look at the money he's won and you see why it's tougher for a talented closer to win than it is for an equally talented horse with early speed," said Crawford, who recently finalized a deal to stand Keen Ice at Calumet Farm when his racing days are done.
"One of the biggest problems we'll have in the Pegasus is that it's a 12-horse field. Castellano really will have to do a fine job to get through the traffic. Realistically, half this field doesn't belong with the others in terms of quality-wise, but on the other hand I don't blame anyone for running."
Regardless of what happens in the Pegasus, nothing will ever change the memories of the Travers resting in the heart of Crawford and the partners in Donegal's Derby Dreams VI package. They didn't get a Derby winner. Keen Ice finished a troubled seventh at Churchill Downs on the first Saturday in May. But, aside from a Travers winner, they had a starter in the 2015 Kentucky Oaks in Puca (who was 12th) and a stakes winner in the New York State-bred Brother O'Connell.
For the partners in Derby Dreams VI, a group people hoping to make a relatively small investment in a high-priced sport and enjoy it at its highest level, their investment with Donegal did not disappoint.
Larry Connolly, a retired businessman in Atlanta, has participated in each of Donegal's yearly packages since Keen Ice was bought for $120,000 as a yearling in 2013 and will never forget the euphoria he felt in the Travers.
Special moment
"Jerry has developed a great algorithm for finding horses who can handle a mile and a quarter and become quite successful," Connolly said. "It was exhilarating to see Keen Ice catch American Pharoah. I hope it's not a once-in-a-lifetime experience, but I know it could be. I was with a group of about eight of us that day, and each one of us was crying. We were all grown men and we were crying from joy and exhilaration. It was a truly special moment."
Buckley, a lawyer living in North Haven, Connecticut, reflects the mindset of many partners who turn to syndicates such as Donegal to make their dreams of the Derby or the Dubai World Cup or even the Travers come true.
A long-time fan of the sport, Buckley spent about two decades operating a small yet successful claiming stable with his good friend Ralph Durante. Yet, after another friend invested in West Point Thoroughbreds and wound up with a share of 2014 Kentucky Derby runner-up Commanding Curve, Buckley and Durante shopped for a syndicate and gave Donegal a try. That they have also invested in each Donegal package since Derby Dreams VI underscores the great enjoyment they have savored the last few years.
"It's been an unbelievable ride," Buckley said. "The partnership has been terrific. Ralph and I have really enjoyed our time with the Donegal. Jerry does a great job and to experience a year with a Triple Crown champion like American Pharoah and then beat him at the Travers … It was a priceless moment. I don't know if it gets any better than that.
Solid record of success
"Sometimes you have to pinch yourself about being involved with a horse like Keen Ice. My family has enjoyed it. My mom and dad have enjoyed it. Ralph and his whole family have enjoyed it. You're blessed to have a horse like Keen Ice."
Buckley and his 83-year-old father, Jack, will be among a Donegal crowd at the Pegasus estimated at about 70 by Crawford. That figure speaks well not just for Donegal but for the impact syndicates can have in boosting interest for the sport and its major races.
"It is special to share these great moments with so many people. We've been very fortunate," Crawford said. "God bless Cot Campbell and Dogwood for coming up with the idea of partnerships. Because of him and his wife Anne, there are hundreds and thousands of people who get to enjoy horse racing at the highest levels now. They never would have been able to afford these horses or have the know how to do it without partnerships."
In its first six ventures, Donegal produced three Kentucky Derby starters and two of them finished third (Paddy O'Prado in 2010 and Dullahan in 2012). According to Crawford, in 2016 Donegal had the highest winning percentage of any of the leading partnerships and the highest earnings per start for a second time. There's a solid record of success.
Yet there's also a day that will long be attached to anyone associated with Donegal Racing. August 29, 2015. The day that Keen Ice beat American Pharoah.
On Saturday, Jan. 28, 2017, there could be another date with destiny. It seems unlikely now, but the 146th Travers should service notice of what can happen in the Pegasus. Keen Ice could be your ticket to cashing a bet on an upset winner.
For an even luckier few, he might even script some new words for their obituary.