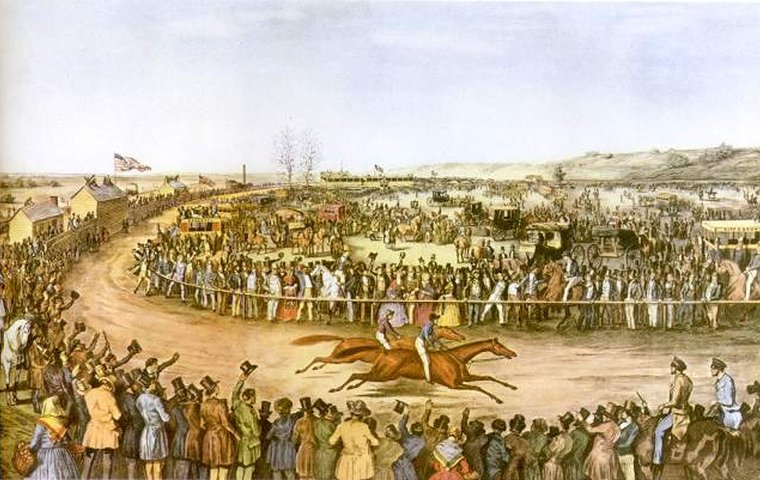 The first official record of a racecourse in North America was one laid out on Hempstead Plains on Long Island by Colonel Richard Nicholls, the man who in 1664 took New Amsterdam from the Dutch settlers there, and, on behalf of the British Crown, renamed the place New York.

The course laid out on that plain would have been similar to the many expansive sweeping racecourses in the old land. He even named it Newmarket. Why wouldn't he? That is what horseracing was, gentlemen pitting their horses against each other, mostly in matches, from point to point, often run in heats, at distances of up to four miles across heathland, or downland.
When racing horses took off in Virginia, tobacco fields that had become infertile were used to mark out a circular course. People came to watch the races. People loved to come and watch the races.Then, as right now, it was the only sport in town.
Racing carried on like this on the turf, more and more often around fields in a circle of sorts, and over time a circumference of a mile grew common.
Backbreaking work
For much of this time, the eastern half of the USA was a vast 1,000-mile high and 1,000-mile wide forest, thick with trees. Some of those ancient trunks measured 15 feet across. It must have been backbreaking, heartbreaking work clearing those million square miles.
I took down a tree with just an axe in my youth, a puny thing in someone's driveway. I still remember those roots. So, the strip of land cleared down that eastern coast was precious – and not for two- or four-mile-long racecourses.
The Newmarket racecourse, though, was still in use when the Union Course was set out in New York in 1821 in an oval, and, for the first time recorded, for some reason they raced on a skinned track. It was North America's, and indeed the world's, first dirt racetrack.
Horses, it was said, ran two to three seconds faster on the new dirt track than the old grass track of Newmarket. And right from the beginning, it was noted that innumerable horses were lamed on such tracks.
The desire for speed measured by stopwatch, perhaps fueled by the evolution of such watches (Kentucky watches, they were sometimes called) prevailed over concerns for safety in a wild and unsafe world. Early speed was an advantage. Pace and toughness were required, and the adoption of dirt may even have been to cock a snoot to the recently vanquished powers of the old world, putting an American stamp on a sport of the British aristocracy.
A more democratic sport, a sport any man could come and watch, the oval mile making for easy viewing by all.
And now, almost exactly 200 years later, it is still the preferred racing surface in the U.S., many racefans unaware that Americans raced solely on turf for 150 years.
Turf racing largely disappeared from U.S. racing but is experiencing a resurgence now. I think it would be great to see a Turf Triple Crown married to the dirt one. Same races, same days. One turf, one dirt.
Where some Europeans are wrong
The forests are gone now - America is vast and open - but the ubiquitous dirt oval is entrenched in horsemen's minds here. It seems a shame. One of the nicest places to go racing in the States is Kentucky Downs, a small five-day meet that races around a nine-furlong undulating grass course. Big fields, big money, big name riders and trainers.
I know I'm a European, used to racing on turf, and in later years synthetic tracks, and that in Europe the importance of times – an interesting and very educational aspect of U.S. racing - doesn't hold the same fascination. "Time only matters if you're in prison" is the dismissive (and wrong) consensus of some European trainers.
I don't know what to predict for horseracing in the U.S., for dirt racing, what will win out. Safety and modernization - or the prising of that last handful of dirt out of the sport's dying fist.
Horseracing is a great sport here. I, like most European racing fans, love watching the Breeders' Cup each year. But will it eventually be buried by public opinion? The Covid crisis saved American racing from being in the newspapers for all the wrong reasons once again after the doping arrests, which came so quickly after the disaster that was Santa Anita.
Stay quiet, change nothing, ignore the critics. Not having a governing body that is accountable means no one has to answer to the public. Put a band-aid on it. Another year another thousand dead horses. Americans are known as innovators, they created the first artificial racetracks - they just never updated them.
If the U.S. motor industry was as innovative as the U.S. horseracing industry, your car would still have ears.
I know it irritates some people when I talk about safety. Progress is often unpopular until, with the benefit of hindsight, people admit that progress was necessary.
Should voting rights for women be rescinded? Should higher education be only for the wealthy? Should smoking be allowed again in planes and movie theaters and restaurants? Should seatbelts and airbags be removed?
Someday U.S. racing will abolish race-day medications and find a safer surface that sits better with the U.S. horsemen. Either that or someday the public will likely send horseracing the way of greyhound racing.
A worry for racing globally
U.S. racing didn't use to race on dirt, and it didn't use to race on drugs. Now it does both and the people stopped watching. They turned away. Is it possible to make U.S. racing widely popular and great again?
With the stance of the Kentucky Horsemen's Benevolent and Protective Association (KHBPA) opposing the Kentucky Horse Racing Commission's (KHRC) decision to ban lasix in 2-year-old races this year, no chance. They make the Flat Earth Society appear enlightened and progressive in comparison.
Jason Servis et al have pled not guilty to the charges made against them. That raises the prospect of those transcripts, discussing horses killed and drugged, making headlines, quite possibly around the world, if the cases go to trial.
American racing might not just bring itself down, it could strike a blow against the sport globally, tarnish its reputation even in the majority of countries where horsemen take seriously their duty of care towards their horses and riders.
No serious progress
A national governing body is urgently needed here. Kentucky maybe needs horseracing. California certainly doesn't, and neither does New York. Neither do most states.
The rest of the racing world may need to distance themselves from U.S. racing if this case blows up internationally in the media. How shall U.S. racing defend itself when it makes no serious progress, when the horsemen are seen fighting against every genuine effort to clean up their own house? By producing PR stunts and skirting around the major issues. I genuinely don't understand why.
Horsemen never want change. Back in the UK, we would have our trainers' meetings and grumble about every new change the British Horseracing Authority was going to introduce. And then, after those changes were implemented, we would accept it, and get on with grumbling about the next change.
Nearly all those changes were progressive and better for the horses and riders and public perception, and the sport grew in popularity and prestige year on year.
Common-sense rules
It is just Lasix. Race without it, in 2-year olds. Try it for a year. See if the planet stops turning. But they need it for racing on dirt, they say. Well, there lies the answer, doesn't it?
If you need to drink alcohol to treat your alcoholism, people on the outside looking in might think you are going about things the wrong way.
I'm not suggesting America does something impossible – like land a man on the moon. I'm just suggesting that maybe NYRA, CHRB, KHRC, etc could get together and agree on common-sense, unified rules and penalties that send a clear message to all participants that training racehorses is a privilege, not a right.
Chris McCarron helped us when we first came to the States. He told me about WHOA. He is a spokesman for them. I asked him if it stood for Water, Hay, Oats, Anabolics.
Congratulations are due to Mark Casse for publicly stating his support for the Water Hay Oats Alliance. It is startling to see how few licensed trainers have done so. Owners and breeders maybe should take note.