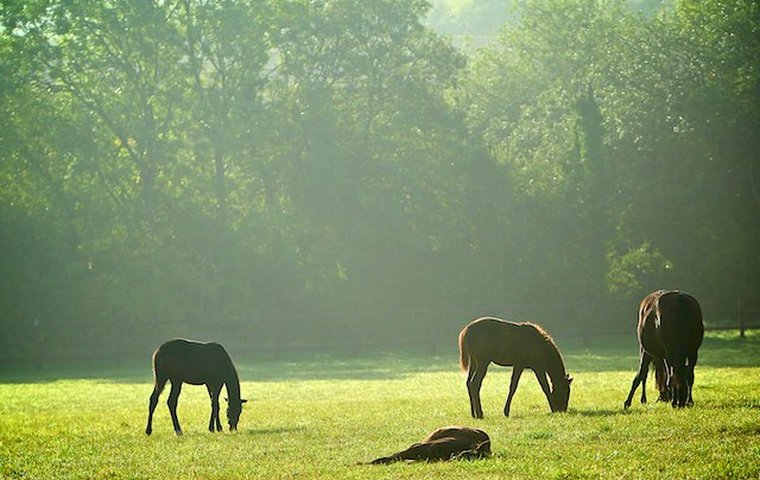 They say that, when one door closes, another one opens. When Robin Sharp and Malcolm Bryson left the Newmarket-based Collin Stud, it was to turn their attention to the nearby Fox Farm in the village of Hundon. The pair had forged an excellent working relationship during their lengthy period at Collin, which had been under the ownership of Neil Adams up until his death in 2002, and, when the time came to leave, the pair grasped the chance to make their own name with both hands. Fox Farm was the chosen base and, in 2007, Houghton Bloodstock - selected as a name synonymous with quality - was born.

Houghton Bloodstock hadn't been in operation very long before Sharp and Bryson had something to cheer about. In only their second year of business, Fox Farm raised two subsequent G1 winners in Mayson, the July Cup winner who was bred and raced by David and Emma Armstrong's Highfield Farm, and Belle Royale, successful in the G1 Gamely Stakes in the U.S. following a productive career for Mark Brisbourne in Britain.
Bred by DXB Bloodstock, the Val Royal filly was also an early big-race winner to pass through the Houghton sales consignment.
"Fox Farm is wonderfully situated in the beautiful village of Hundon," says Sharp. "It stands in around 170 acres. The previous owners were a retired farming family and the grounds were put down to grass for 16 years previous to our arrival.
Fortunate position
"We were in a very fortunate position as all of the clients from Collin Stud came with us, which was incredibly humbling."
He adds: "Sir Percy, the [2006] Derby winner, was born and raised on the neighbouring farm [at Harry Ormesher's Old Suffolk Stud] so we were confident that we could raise good horses here. We have every facility you need to produce top-class racehorses, and we are also very fortunate to have experienced and loyal staff that have been with us since the inception of Houghton Bloodstock."
Time will tell whether Houghton's latest flag-bearer, the Rabbah Bloodstock-bred Raven's Lady, can scale the heights of either Mayson or Belle Royale, but the five-time winner has already provided her owners, Heart Of The South Racing, with a lot of fun.
A tough performer who was well bought by Jamie Lloyd for 38,000gns out of Book 1 of the 2015 Tattersalls October Sale, Raven's Lady recently landed the G3 Summer Stakes for Marco Botti, a performance that has her connections hopeful of a bold showing at a higher level down the line. It also continued a good season for Houghton that began with Invincible Army's win in the G3 Pavilion Stakes at Ascot. The Invincible Spirit colt was offered by the agency as a breezer at the 2017 Tattersalls Craven Sale.
"We have had an incredible last few months with horses born or raised here," says Sharp, "including Ravens Lady, who was a very athletic, good moving filly. We also had Century Dream, who won the Diomed Stakes for Simon Crisford - he was a beautifully balanced colt. And then also Euchen Glen, who landed the John Smith's Cup for a wonderful owner, Mr William Johnstone."
There have been naturally several high points in the ring for Houghton during the decade of its existence. Last December at Tattersalls, for example, they sold the Azamour mare Privacy Order, dam of the listed winner Private Matter, to Charlie Gordon-Watson for 425,000gns - some return on the 65,000gns that she had cost Redenham Park Stud just three years before. And, in 2015, they topped the GoffsUK Premier Sale with the sister to Galileo Gold, who sold on behalf of Colin Murfitt's Pantile Stud for £280,000 to Tony Nerses.
Later named Choumicha, she became an useful winner for Saleh Al Homaizi and Imad Sagar.
"One of the most satisfying parts of the job is raising stock and selling them well for our clients," says Sharp. "We have been incredibly lucky with the quality of the stock going up year on year, which goes hand in hand with the good sales results.
"The whole buying and selling buzz comes very naturally to me as I started at a very young age in Melton Mowbray Market. I actually wanted to be an auctioneer when I was very young! I defy any man of any wealth for their heart rate not too increase when selling their offspring."
Doncaster draft highlights
This year's sale circus opens for Sharp and Bryson later this month with the GoffsUK Premier Sale in Doncaster (August 28-29). From there, they head to the Tattersalls Ireland Ascot Yearling Sale - they topped last year's inaugural edition with a £47,000 Sepoy colt - and then back to Newmarket for the Tattersalls October Sale.
This year's draft for Doncaster is not heavy in numbers, comprising five yearlings. However, it's a quality line-up, one that is led by a pair of 'smart' yearlings from the first crop of Gleneagles.
The young Coolmore stallion has only four catalogued in the sale overall, something that should place Houghton in a strong position, especially as both representatives are well-connected; lot 124 is a colt out of a half-sister to G1 sprinter Kingsgate Native, while lot 259 is a filly from Juddmonte's famous Toussaud family.
The draft also includes a colt by the ever popular Kodiac (48), who is from a quick family, a Dark Angel filly (60) out of a half-sister to current G1 Japanese sprinter Fine Needle, and a Poet's Voice half-brother to the listed-placed Hawfinch (368).
Bound for Ascot
Another four youngsters are earmarked for the Ascot Sale (September 11), among them a Dutch Art half-sister to G3 winners Lohit and Lokaloka (lot 120) and a Brazen Beau filly out of listed winner Sweet Wind Music (19).
"We have also supported the Tattersalls Ascot Yearling Sale in September with four handpicked individuals, including a Brazen Beau filly that looks all speed," says Sharp. "The Dutch Art is a quality filly with a very good pedigree and then there are two Due Diligence colts that are made for the sale.
Strong group for Tattersalls Book 1
"We also have a very strong group of 17 yearlings for Book 1 of Tattersalls in October [October 9-11], including the Kingman half-brother to Delegator and a smashing half-brother to Galileo Gold by Oasis Dream.
"There are some other wonderful pedigrees as well, including a Shamardal colt out of Lady Of The Desert [a half-brother to G2 Lowther Stakes winner Queen Kindly - his dam also won the Lowther], a Kingman filly out of G3 winner Melody Of Love and a Sea The Stars filly out of Sayyedati Storm [a sister to G3 winner Star Storm, she is a granddaughter of 1000 Guineas heroine Sayyedati].
"We have quite a lot of yearlings arriving now ready for their prep, which is a very exciting time."
With that kind of ammunition, Houghton's autumn prospects look bright. But, like many consignors, Sharp is also approaching the sales season with some trepidation. Those in the industry are under no illusion as to the challenges that the smaller British breeder faces, something that was brought home last month at the Thoroughbred Breeders' Association AGM in Newmarket when it was revealed that the average Tattersalls October Book 3 yearling records a loss of £23,500.
In response, the TBA has floated the idea of a new bonus scheme to boost the appeal of British-breds. Development is still very much in its infancy and, while the proposed scheme is likely to require nomination payments, there are hopes that it will provide an estimated £7.75 million of bonuses a year once fully bedded in.
"The market astounds me every year with the lack of prize money," says Sharp. "I expect it on the whole to be very strong at the top but very hard work at the bottom to the middle end."
He adds: "I'm a great believer in having a scheme but not how it is administered at present. Year on year, the breeders are being asked to dip their hand in their pocket to try and keep things on an even keel. The foals and yearlings that we feel need to be members of these schemes invariably are the ones that lose money.
"However, I am a strong advocate of the Tattersalls Book 1 Bonus scheme [which awards £25,000 to the winning owner of a Book 1 graduate should it win a qualifying race]. It has been very successful for us on a personal note and seems to be a big incentive to purchases, which is the object of the exercise."
With Raven's Lady and Century Dream among those flying the flag on the track and an array of well-regarded yearlings on the cards for auction, 2018 has the scope to be Houghton Bloodstock's best year yet regardless of how the market plays out. And, with that, the scene is set for the next decade of successful trading.