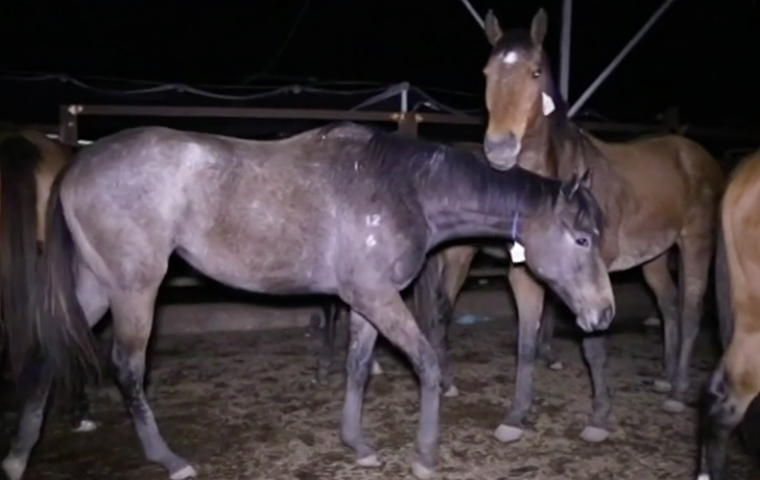 Leaders from all sections of the racing industry in Australia have called for immediate action to prevent ex-racehorses being subjected to the appalling torture and cruelty shown in '7.30', a current affairs television program aired on ABC, the national station.

The expose focussed on an abattoir in rural Queensland that comes under the watch of federal authorities as it is licensed to export horse meat to other countries. Many of the horses filmed were former racehorses, proof of which was their branding, compulsory practice for identification in Australian racing.
Hidden cameras captured sickening images of workers viciously attacking the horses with iron bars, beating and kicking them, shouting and swearing at them. The horses were shown to be terrified and brutally treated before their slaughter.
Several major studs were named, using the brands, but in the majority of cases, the horses had been sold or transferred on, in some cases several times. There was an immediate call for the creation of a National Horse Traceability Register.
Anti-racing lobby gaining ground
Official data from Racing Australia shows 34 ex-racehorses end up at slaughterhouses every year, but the 7.30 program claimed that up to 4,000 horses were killed in one abattoir alone.
Lee Freedman, the Hall of Fame trainer now based in Singapore, said, "I am broken-hearted at the ABC report. If we don't make real changes, the court of public opinion will bury racing."
Michelle Payne, the first woman to ride a Melbourne Cup winner, warned, "Heartbreaking to watch … we need to make sure this stops."
The anti-racing lobby is gaining ground rapidly in Australia, with protesters to be found outside racecourses on most major racedays. "You bet, they die … you bet they die" is a common chant.
Saturday was one of the biggest days in the racing calendar at a national level, with the Caulfield Cup in Melbourne and The Everest in Sydney. Both races, and their respective undercards, were covered wall-to-wall nationally by television network Seven.
Presenter Bruce McAvaney, Australian sport's broadcasting icon, headed the day's coverage with a prepared 90-second statement delivered at what he called 'a crucial time in the industry'.
McAvaney said, "The ABC's exposure of what happens to some retired racehorses requires immediate action. It was horrifying to watch. As a small-time owner, it made me ashamed. And to not have known is not good enough.
"There has to be a way we all think going forward. The nurturing of our racehorses in retirement is just as important as the care and training given to a yearling or a 4-year old champion. It's a complex issue that must be addressed as a priority. It's going to require a unified approach nationally across all levels of the industry.
"Horseracing can be the very best of sports, a magnificent spectacle where the Thoroughbred, the strapper, the jockey, the trainer and the owner unite in a thrilling performance. For the sake of the future, we need to shine a spotlight on whatever might be lurking in the shadows and take action right now."
The reporter responsible for the 7.30 report is award-winning journalist Caro Meldrum-Hanna, who four years ago produced Making A Killing, which exposed the greyhound racing live baiting scandal.
As a result, greyhound racing was banned in New South Wales, only for state premier Mike Baird to reverse the decision months later, stating that he had 'got it wrong'.