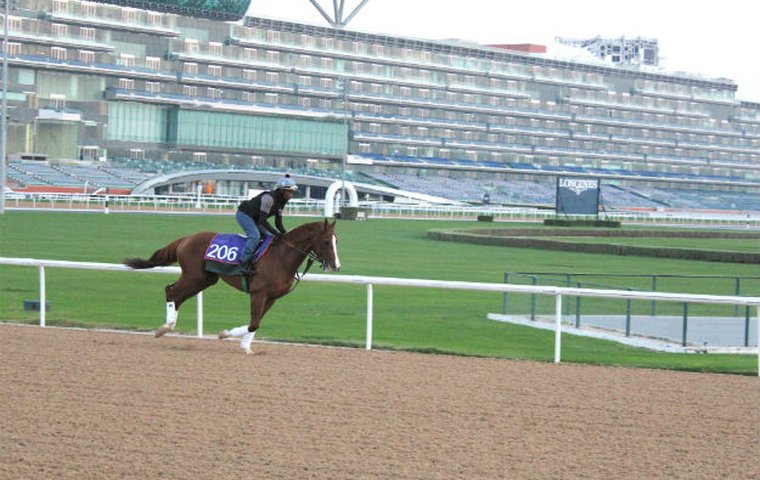 You can tell he has been here before, and it is crystal clear he is used to being the centre of attention; he is almost posing for the cameras and television crew. As he takes a nonchalant look around what is essentially familiar territory, it is also apparent he has grown, strengthened and is a far more furnished animal than the one we saw here year.

California Chrome is back at Meydan, and the 2014 American Horse Of The Year has already created quite a stir. His first appearance on the Meydan track in 2016 was described on local television as a 'media frenzy', and he certainly attracted the kind of crowd not normally seen here outside Dubai World Cup week.
Of course, California Chrome was here for that particular fixture and the world's most valuable horse race, the $10 million Dubai World Cup, last March. He was a gallant second, considered by many unlucky not to win.
He has only run once since, but more of that later.
Connections, albeit a slightly different partnership from last time, have changed their tactics from last year and are following 'the Curlin route'. As opposed to arriving just before the big race on the back of one run at home in the U.S., seven weeks earlier, they are here already to get a prep run on the Meydan dirt.
----------
The unfair burden of expectation on California Chrome
Read Nick Luck's view
----------
To accommodate him, the Emirates Racing Authority (ERA) and Dubai Racing Club (DRC) have amended the conditions of two upcoming dirt handicaps for horses rated 95-108 and 100-113 to 95-118 and 100-123 respectively.
Similar was done for Curlin, resulting, as it transpired, in a six-runner 2,000-metre (mile and a quarter) dirt handicap, in which he was rated 129, at least 20lbs superior to his opposition.
He won, of course, and went on to win the World Cup, a feat the California Chrome team will be trying to emulate, via the same 2,000-metre dirt handicap on Thursday, 25 February.
The only difference will be venue. Curlin won at Nad Al Sheba, the predecessor to Meydan as the U.A.E.'s flagship racecourse.
'He knows exactly where he is'
Chrome's trainer, Art Sherman, has entrusted his son and assistant Alan, along with exercise rider Dihigi Gladney, groom Raul Rodriguez and vet Chuck Jenkins, with the initial preparation.
As far as we, the media, are concerned, a trainer with just one horse (or even a small string) is a dream come true, especially when the handler in question is 'away from home'. Why? I hear you ask.
Basically, they have time on their hands and, as a rule, are happy to talk.
Alan Sherman definitely fits this category and has been most forthcoming and helpful.
"It is great to be back, and [it's] very exciting," said Sherman. "He has travelled over very well and not turned a hair. He has eaten everything we have put in front of him and seems a very happy horse.
----------
Breeders snap up shares in California Chrome
----------
"He is an intelligent horse and knows exactly where he is and settled back in straightaway. So basically, all is good so far."
His early routine since arriving has been gentle - cantering, walking and hacking - but a serious gallop is planned some time this week.
That his surroundings should appear familiar to him is hardly surprising; he is again based in the Dubai World Cup quarantine barns, on the outskirts of the Meydan racecourse, as he was last March. It is just a short walk (if you are a horse) from the main tracks, where he has the option of dirt or turf (by appointment only) surfaces to work on. It is expected he will spend most of his time there.
There are plenty of other options, however. If connections fancy a change of scenery, the Tapeta training track is a bit further away and also has a turf surface. Should they feel he is getting stale in well-known surroundings, though unlikely given the regular style of preparation for most American-trained horses back home, Jebel Ali racecourse could be an alternative.
The Jebel Ali 'away morning' option
Twenty minutes away in a horse box and a totally different dirt surface would await. Meydan is flat and 'traditional' dirt, whereas Jebel Ali is a mixture of sand and oil, offering a steep uphill finish in the straight, perfect for improving fitness.
Nayef, the Marcus Tregoning-trained winner of the 2003 Sheema Classic, was a notable World Cup night winner to have enjoyed an 'away morning' at Jebel Ali.
It would be hard to imagine the Jebel Ali management declining a request were it to be made on behalf of California Chrome.
Nevertheless, the horse has arrived race fit, having won his comeback, and first race since the World Cup, at Santa Anita three weeks ago.
"Obviously that was not the plan," said Sherman. "It is well documented he went to England, picked up an injury so missed Royal Ascot and the rest of the year.
"In hindsight, that could well turn out to be a blessing. Just look at him. The trip and different environment helped him grow up and he has thrived for the time off.
"He was kept busy as a juvenile and even more so in his 3-year-old campaign, so the break has done him the power of good. He went to Taylor Made and they did an amazing job with him. When he walked back in the yard, he was like a different animal.
"As you can see, he is a bigger and stronger horse. He was certainly not 100 percent straight for his comeback win and, if he had missed one piece of work before that run, he would not even had made the race.
"After nine months off, it was a great effort and proved he still has the right attitude. He just loves to run, to do his job and loves to get on with it. There was always the possibility he could have gotten lazy during the layoff, but that certainly is not the case."
Tactics to suit Meydan
Having already won a Kentucky Derby, his future at stud is assured but the lure of the $10 million Dubai World Cup (on Saturday, March 26), so nearly landed last year, is a hard one to resist.
Sherman explained: "The World Cup is one of the most prestigious races in the world. Who would not want to win it? He produced such a good effort last year when the race could have panned out better for him as we forfeited a bit of ground.
"He has plenty of tactical speed, so I imagine he will be ridden near the speed, tactics which seem to really suit Meydan."
The G1 third round of the Maktoum Challenge on Super Saturday (March 5) is the most traditional World Cup prep, but Sherman's star will run a week earlier.
"The 2,000 metre handicap on 25 February is the same course and distance as the big race, will give him a good workout and another race on the track.
"We believe most horses are at their peak on their third run back, so the plan is to make the World Cup his third outing. The handicap option gives him four weeks between races and we prefer that to three weeks after Super Saturday."
It would be fair to say, Sherman seems pretty optimistic regarding the chances of his charge and concluded: "Frosted and Keen Ice [two other signficant Americans aiming at the World Cup] are good horses. There will be others as well but, if Chrome runs his race, hopefully he will be hard to beat."
Regular jockey Victor Espinoza is expected to ride in both California Chrome's Meydan excursions this season.