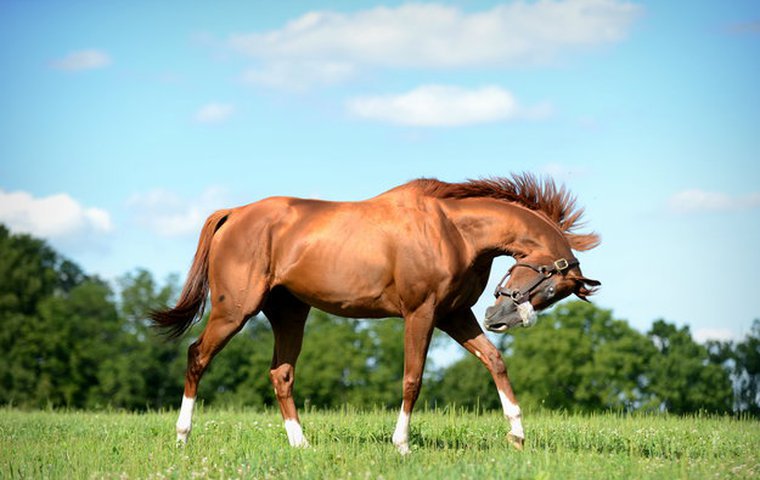 All would-be heroes, mythological, human or otherwise, must endure a few trials and tribulations before they can achieve bona fide cult status. But the travails that have followed California Chrome have been more tumultuous and a little more outlandish than most. Since his thwarted effort at Belmont Park last summer to capture the Triple Crown, sub-plots have emerged to overshadow a stellar track career.

It all began moments after the runners crossed the wire behind Tonalist in last year's Belmont Stakes, and co-owner and breeder Steve Coburn's hair-trigger accusation of cowardice on the part of the winning connections for draft dodging the first two legs of the Triple Crown. California Chrome left Belmont Park both beaten and bloodied – an overreach putting his summer campaign on hiatus.
The media carnival then moved onto Del Mar, and the ugly spat between California Chrome's owners and Del Mar's management over demands of a $50,000 appearance fee for the horse to parade at the track. Del Mar demurred, and California Chrome stayed at home in his box.
For the rest of the year, California Chrome's performances on the track once again shaped the media narrative, with a third-place finish in the Breeders' Cup Classic and a victory in the GI Hollywood Derby on the turf securing him Horse of the Year honors at the subsequent Eclipse Awards. And, though he was beaten by Shared Belief in the G2 San Antonio Stakes in February, he then produced a performance of exemplary guts and courage to finish second in the $10 million Dubai World Cup.
But, once more, off-stage intrigues conspired to upstage the leading man.
In the days approaching the big race, co-owner Perry Martin announced that the horse would head to England for an appearance at Royal Ascot - a decision that came as something of a thunderbolt to trainer Art Sherman. Martin's subsequent clarification of his decision revealed deep fissures between the co-owners. And, though California Chrome's arrival in England was accompanied by much fanfare, the trumpets eventually winnowed to nothing – a foot abscess ruled him out of an intended start in the GI Prince of Wales's Stakes.
'We've got the stall all ready for his return'
Hopes that California Chrome's 2015 summer campaign could be rejuvenated in the Arlington Million in August were scuppered when his injuries — bruising to the cannon bone — proved more severe than first thought. After which, it was announced that Taylor Made Farms had bought Coburn's minority interest in the horse. But, when California Chrome subsequently headed to Taylor Made Farm in Kentucky for some well deserved rest and recuperation, the jungle drums in certain quarters began to thump ominously: was this the end of California Chrome's racing career?
Which brings us in circuitous fashion a few months later back to Los Alamitos in September, back to California Chrome's home track and to Sherman, eagerly awaiting the return of his stable standard-bearer to full training.
"We're just waiting for him to come back to the barn. We've got the stall all ready for him," said Sherman, perched outside the racetrack kitchen on a wooden deck overlooking the homestretch. At sunrise, the track resembled a busy freeway of horses going through their paces. But, before California Chrome can hop back onto this merry-go-round, he must pass a veterinary exam at the beginning of October. His trainer doesn't anticipate any glitches.
"Taylor Made just sent me a video of him. He looks great. He's put on something like 125 pounds."
'He's put on a ton of weight and is starting to look good'
Sherman leaned over and started the video on his cell phone:
"Art, this is California Chrome, your big boy. He's looking good," came the disembodied voice of Duncan Taylor, president of Taylor Made Farms, while California Chrome gleamed like a polished copper penny in the Kentucky sunshine. "His feet are still a little tender but we're working on those. He's bare-footed. They're growing out. He's put on a ton of weight and [is] starting to look real good."
Given the nature of California Chrome's injuries, time was the elixir he needed the most. And Taylor Made has given the horse time in abundance, indulging their potential MVP with long lazy days in the paddock to graze and to sunbathe. They also removed California Chrome's shoes to let the horn re-grow.
"It's funny - we never had any foot problems at all with him until he went to England. Never," said Sherman. "My blacksmith does a hell of a job with him. When [California Chrome] comes back, he'll probably put some flat shoes on him, make sure his feet are alright."
"He might not even want to run any more after being turned out," Sherman added, laughing, the Taylor Made video finished. "He might say, 'now you're going to put me back in training? Are you serious?'"
Sherman, 78, is bright and affable, quick with a quip and a chuckle. But when the conversation steered towards the first half of the year and the abortive assault on Royal Ascot, it's clear that the episode rests uncomfortably with him.
'If he'd run at Royal Ascot, that would have been a killer'
"When they brought him to Chicago to run him in the Arlington Million, when he got off the plane he looked horrible. I said, 'Arlington Million? He ain't gonna run any place looking like that.'"
During his U.K. sojourn, California Chrome was stabled with trainer Rae Guest in Newmarket. But Sherman doesn't finger-point. "The other guys did a good job with him." Rather, he believes that "a combination of things" factored into the horse's condition.
Perhaps the most significant factor had been California Chrome's punishing race schedule. He ran seven times as a 2-year-old, with three races as a 3-year-old even before the Triple Crown series. And, though he had a brief siesta last summer to recover from the Belmont Stakes-sustained over-reach, he'd been ticking over ever since his return in the G2 Pennsylvania Derby in September all the way through March.
"When they brought him back from the Dubai World Cup, the horse needed two months off, not running at Royal Ascot," said Sherman. "If he'd run, that would have been a killer. You would have had to retire him after that race. I told them that."
The differences between the U.S. and U.K. in training facilities and methodologies, surfaces and climate also played a part. "They go up and down hill over there, they have different courses, different tracks," he said, pointing out how, physically, California Chrome was ill-prepared for the rigors demanded by the whole experience.
"You're using different muscles over there. When you're going uphill, you're pushing with your hind legs. Here, on a flat surface, we don't need to do that. They don't need to be built up like they are over there."
"So much was changed around," he added. "The horse didn't have his groom [Raul Rodriguez]. They know each other so well. Chrome eats better when he's around. The other guys did a good job, but it's not the same. We've had him since he was a baby. When Raul walks out of the tack room, Chrome nickers at him."
'He's a throwback to the old kind of racehorse'
Speaking over the phone, Duncan Taylor confirmed that California Chrome had indeed settled into his life of leisure with aplomb.
"He probably gets turned out 15 hours a day right now in a huge paddock of his own, just hanging out for the most part. He's also doing some hand walking. Everything's doing good. I would like to think he's enjoyed his time here, but hopefully he's ready to get back out there."
"Very easy to deal with," is how Taylor describes California Chrome. "He's got a great mind." And he's equally complimentary of the horse as a physical specimen.
"He's a throwback to the old kind of racehorse, what with 18 starts within a 23-month span. With the pre-purchase x-rays, the vet couldn't believe how clean his joints were. Everything … He's a great looking horse, we're happy to be a part of him. We're looking forward to running him in 2016 and then standing him, trying to make him into the next great stallion. We'll get behind the horse to give him a 100 percent chance to be successful. We've got a large customer base."
If popularity as a racehorse equals potency as a stallion, then the augurs are bright. To afford the horse time away from the flashbulbs of a large retinue of fans, Taylor Made barred visitors to the farm (Though they carved out three open-days at the end of September to atone for the blackout). Any further success on the track can only bolster his appeal at stud, too. But Taylor remains vague about the specifics of a possible big-race itinerary.
A return to Dubai is tentatively on the agenda
"I think we'll get the horse out to Art and get him going again." Though Taylor intimated that the Breeders' Cup would be the long-term target.
"We'll let Alan and Art dictate when he's ready to go," he added. "I think they managed him very well, took good care of him. That's why he's going back there."
Sherman, meanwhile, has already put pencil to paper, with a return to Dubai for another stab at the World Cup tentatively on the agenda.
"If I do go to Dubai next year, I'll go a lot earlier and prepare him a little different," he said. "I didn't realize what it was like. I'm not sure I wouldn't want to get a prep race under him. They've got a race for him a month out, which would give him a race over the course in preparation for the $10 million-dollar race."
As for any post-World Cup targets, the options are varied for a horse like California Chrome. "I'm from the old school, but it's nice to know that the big races are out there. Still, you've got to see your horse before you make plans."
Should he like what he sees, Sherman could point California Chrome towards "one more nice grass race."
"He likes the grass," he said. "The Hollywood Derby wasn't a true Grade 1. I don't know about a deep course - he likes to hear his feel rattle. Del Mar was perfect for him this summer," he said. "I'd also love to bring him to the [GI] Pacific Classic. I think he'll run good down at Del Mar. That would be my preference."
With mention of the Pacific Classic — the jewel in Del Mar's summer crown — talk among the merry rabble of trainers and handicappers seated around Sherman turned to this year's winner, Beholder, and the possible clash of the sexes in the Breeders' Cup Classic: Beholder vs. American Pharoah.
American Pharoah? Art Sherman's verdict
"American Pharoah, he's been a shot in the arm," said Sherman. "He's a real neat horse. I think he's great for racing. He's an ambassador. We need those. But he's gonna have his work cut out for him in the Classic against Beholder."
Seated at an adjacent table, Eric Guillot, trainer of top older horse Moreno, threw his 50 cents' worth into the soup. "The best horse in training is the grey horse that was cut loose in the Woodward, Liam's Map," said Guillot, never one for understatement. "That grey horse ain't gonna let [American Pharoah] gallop on the lead. Liam's Map went 46 flat at Saratoga, and kept on running."
"That's what you've got to do to beat American Pharoah," replied Sherman. "Beholder's got speed enough to find a place, which is what's good and what she'll need to do."
Had California Chrome remained in hale-and-hearty form this year, the Classic would have been an obvious target for him. And I suggested a hypothetical match-up between Beholder, American Pharoah and the reigning Horse of the Year.
Sherman said: "I think Chrome would have run really well. [California Chrome and American Pharoah] have got almost the same style of running. You can't let American Pharoah just be galloping on the lead with ears pricked, you know. You'd have to put pressure on him."
Still, while the eyes of the racing world will be focused on this year's equine titans on October 31, Sherman will be quietly going about the business of bringing his luminary from last year's batch back to optimum fitness.
If he proves successful, and the horse returns as good if not better, there will be something missing from the second iteration of the California Chrome show - the off-stage antics.
"I'll only have to deal with one person now, Duncan [Taylor], who'll be making all the decisions. That's how it's going to be, so that's cool for me. We'll have a game plan, and stick by it."