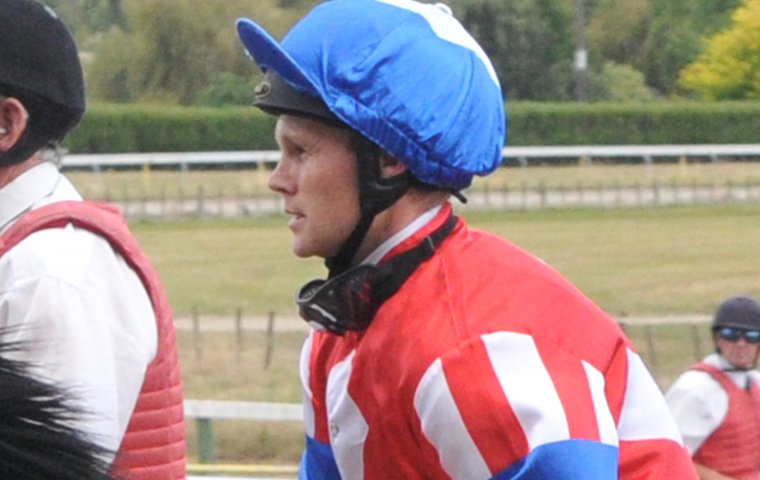 Senior rider Andrew Calder is fit and raring to go as he eases back into life in the New Zealand racing environment after riding successfully in Macau for the last six years.

With wife Natasha and twin boys Jax and Tye, he recently returned to Pukekohe in New Zealand and is keen to re-establish himself among the elite jockey ranks after enjoying a lucrative time abroad.
Successful at G1 level on five occasions and with more than 200 winners to his credit, Calder was a sought-after commodity in Macau after first venturing there during the 2011-12 racing season. "I had been doing well in New Zealand, but I was keen on a change of scenery when the Macau opportunity came along," he said.
"A couple of my riding mates in Aaron Spiteri and Matt Pumpa were riding up there and they encouraged me to go and have a look around.
"Paddy Busuttin was training up there at the time, and he gave me a ride on a horse called Imabayboy in the Macau Guineas. We won it and then backed up by winning the Macau Derby as well. That was a great introduction after which I successfully applied for a three-month licence and things snowballed from there."
Calder admits that, despite that instant success, he did struggle to adapt to the local riding environment and the nature of Macau's Taipa racecourse. "I found I had to adapt my style pretty quickly once I started riding regularly as the pattern of the races and the track itself were quite different to what I was used to in New Zealand," he said.
"The Taipa track is quite a forgiving surface and it lends itself well to horses that race on the pace. In most races. you would have several horses that would tear their way to the front with all guns blazing.
"I found myself sitting back early on and waiting for them to come back to me, but that didn't really happen as the leaders just weren't stopping. I found I had to be a lot more aggressive than you would normally be and put your mount in the race as early as possible.
"Once I got used to that pattern, I started to ride winners on a regular basis and went from strength to strength. I ended up riding for several of the more powerful stables, which was a real boost throughout my time there."
Worthwhile exercise
Calder also enjoyed a number of the other benefits associated with having racing based around the island's single venue.
"Because they only race at the Taipa track it meant I didn't have to travel any distance to ride, which is one of the tougher aspects of the New Zealand scene," he said. "That was a major cost-saving and, combined with the ability to earn a good living due to the prizemoney on offer, it was a worthwhile exercise.
"You are paid the equivalent of NZ$180 per ride and you also receive ten per cent of the stake for a winner or five per cent for finishing second or third. With the success that I had, we were able to save quite well, which certainly helps as we look to establish ourselves back home now."
While Calder enjoyed his time in Macau, he is also mindful that the local racing industry there is not in the shape it once was, with some immediate action required to boost its sagging fortunes.
"When I first started riding there was a pool of around about 800 horses in work with plenty of owners and things were trucking along nicely," he said.
"I think at last count the horse population had declined to around 320-odd, and several of the major owners who had large strings of horses have left the industry.
"That has seen the popularity of the sport drop, which meant betting turnover fell. With fewer horses available they have had to cut back on the number of meetings they run, so it has been a bit of a downward spiral all around.
"The big boost has been that the club that manages and operates the venue has renewed the lease on the property with the Macau government for another 24 years, so they now have some breathing space to try and turn things around.
"In a lot of ways, the decline in popularity probably mirrors what has happened elsewhere, so it is not a problem that is just confined to New Zealand, which has its own difficulties at the moment."
Now that he is back, Calder is looking to re-establish himself in the local riding ranks over the winter months, with his focus firmly set on being at his peak when the lucrative spring and summer racing period arrives. "I'm not really in a mad rush to get back into it, but I'd just like people to know I'm here and available," he said.
"My weight is good and I can comfortably ride around the 53-54kg mark, which hopefully is attractive for trainers who might want to put me on.
"I want to be back into full swing for the start of spring so, although the winter months can be a drag at times, I'm really looking forward to riding winners and to seeing what opportunities can come from that."