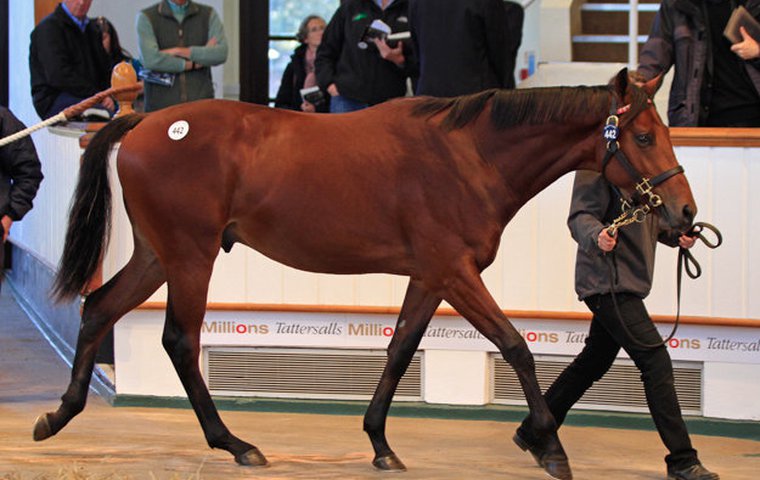 Incredible international demand sees records smashed at elite Tattersalls Sale

There was hope rather than expectation that Book 1 of the Tattersalls October Sale in Newmarket this week would come close to matching last year's frenetic trade. But, as the hammer came down on the final lot through on Thursday evening, Tattersalls could reflect on a sale where records had been smashed and six million-guinea lots had changed hands.
There is an incredible demand for the premier tier of European bloodstock at the moment, thanks in part to an array of world-class stallions led by Galileo and Dansili. American buyers, for instance, paid significant amounts this week for the progeny of Galileo and Dansili among others.
The China Horse Club, which races the majority of its horses in Australia and Singapore, made a memorable second trip to Book 1 as the buyer of 1.375 million guineas ($2.31 million) worth of horses through Michael Wallace. And then there was the consistent presence of Al Shaqab Racing's Sheikh Joaan al Thani, who employed the services of a number of different agents, making the extent of his activity seemingly considerable but unclear.
However, none could match the investment made by Sheikh Mohammed's racing advisor, John Ferguson, who paid an incredible 17.465 million guineas ($29.34 million) for 38 yearlings. Ferguson's expenditure accounted for 22 percent of the entire sale aggregate, and when participation from Rabbah Bloodstock - 34 bought for 3.122 million guineas ($5.24 million) - and Sheikh Hamdan's Shadwell Estates - 13 bought for 4.37 million guineas ($7.34 million) - are factored in, it becomes very clear as to how reliant European racing has become on the Maktoum family.
The end result was that Tattersalls turned over 79.274 million guineas ($133.18 million), a record for any European auction, for 336 yearlings sold. While the aggregate rose 13 percent from last year, the average increased 14 percent to 235,935 guineas ($396,370) and the median increased 15 percent to 150,000 guineas ($252,000). The clearance rate was 81 percent.
The top price dropped from last year's record of 5 million guineas ($8.4 million) to 2.6 million guineas ($4.37 million), but in turn, that figure is the highest price for a yearling sold worldwide this year. The number of million-guinea lots also rose from three to six, while an incredible 38 lots made 500,000 guineas ($840,000) or more compared to 22 in 2013.
What makes those statistics even more impressive is the fact that trade during Tuesday's opening session was universally described as patchy, seemingly as a result of a lesser group of horses (even though the book is catalogued alphabetically), which in turn was reflected by a minor downturn in average.
"Book 1 of last year's Tattersalls October Yearling Sale scaled some enormous heights, which makes the record returns at this year's renewal even more remarkable," said Tattersalls Chairman Edmond Mahony. "A significantly smaller catalogue has produced unprecedented turnover of nearly 80 million guineas [$134 million], new highs for average and median and extraordinary competition for yearlings of outstanding quality throughout the sale.
"The depth to the trade, especially on days two and three, has been extraordinary and reflects the global demand for the best bloodstock that Europe has to offer. The quality of the stallions currently standing in Britain and Ireland has arguably never been higher and buyers from throughout the world are recognizing this in ever increasing numbers."
Ferguson signed for four of the seven-figure lots overall, but top billing went to a Galileo half-brother to King George winner Harbinger, who was knocked down to MV Magnier for 2.6 million guineas ($4.37 million). In one of the strangest bidding patterns ever seen in the Tattersalls ring, auctioneer Simon Kerins had to drop all the way to the minimum bid of 5,000 guineas ($8,400) to open proceedings. Although a flurry of bids were taken from then on, there was another worrying moment for his vendor when the bidding stuck at 60,000 guineas ($100,800).
Eventually, the big hitters came out to play and, as bidding surpassed one million guineas, matters rested between John Magnier and underbidder John Warren, who had bought Harbinger as a yearling.
The colt was the only yearling catalogued to Book 1 by the Somerset-based Ashbrittle Stud, who sold him on behalf of breeder Nick Ooi, a native of Malaysia who lives in Bournemouth. He is the 11th foal out of the Bering mare Penang Pearl, who was raced by Ooi to Listed success in Britain.
He was the only seven-figure lot knocked down to MV Magnier. However, Magnier ended the sale having spent 6.885 million guineas ($11.6 million) on nine lots, including a Galileo brother to Highland Reel that cost 750,000 guineas ($1.26 million).
Galileo was also responsible for the dearest filly of the auction, a three-quarter sister to Derby winner Pour Moi bought by James Delahooke on behalf of American celebrity chef Bobby Flay for 1.25 million guineas ($2.1 million). Sold by Camas Park Stud, she is the third yearling out of the Darshaan mare Gwynn to realize 800,000 guineas ($13.4 million) or more at the auction.
For just more than 24 hours, the accolade of top yearling sold in 2014 rested with a Shamardal colt out of top sprinter Cassandra Go from Ballyhimikin Stud, who was snapped up by Ferguson for 1.7 million guineas ($2.86 million). Bidding for the colt was a throwback to the old days as Ferguson had to fight off a determined John Magnier - a clash that is rarely seen nowadays.
Owner Trevor Stewart purchased Cassandra Go for 200,000 guineas ($336,000) at the 1997 Tattersalls Houghton Sale and campaigned the daughter of Indian Ridge with Geoff Wragg to win the King's Stand and Temple Stakes. In the breeding shed, she has been just as successful for the owner; her fourth foal was Irish 1,000 Guineas heroine Halfway To Heaven, while more recently she bred Abernant Stakes winner Tickled Pink, who now resides with her dam at Ballyhimikin Stud in County Tipperary, Ireland.
Asides from the Shamardal colt, Wednesday's session was all about Dubawi, who supplied four of the top eight lots, all of whom were sold to John Ferguson. John Warren and Charlie Gordon-Watson, who joined forces at the 2012 October Sale to purchase Great Voltigeur Stakes winner Postponed, also by Dubawi, on behalf of Sheikh Mohammed Obaid al Maktoum, were underbidders on three of them.
Ferguson's dearest purchase by the stallion was a colt out of Fillies' Mile heroine Crystal Music from Watership Down Stud that cost 1.6 million guineas ($2.7 million). He also paid 1.4 million guineas ($2.35 million) for a half-brother to Hong Kong star Viva Pataca and G1 winner Laughing from Floors Stud (he was another for whom bidding opened at 5,000 guineas), 800,000 guineas ($1.34 million) for a colt out of Listed winner Dash To The Front and 725,000 guineas ($1.21 million) for a colt out of Listed winner Cosmodrome.
As a result, Dubawi led all sires with an average of 654,500 guineas ($1.1 million). Galileo topped the standings by aggregate, thanks to 22 yearlings that sold for a total of 12.710 million guineas ($21.34 million).
The Dubawi - Comic colt capped an outstanding week for the Duke Of Roxburghe's Floors Stud, which also sold Tuesday's session-topping Oasis Dream colt for 775,000 guineas ($1.3 million) to John Ferguson and a Galileo half-brother to 1,000 Guineas winner Attraction for 750,000 guineas ($1.26 million) to MV Magnier.
Such results saw Floors Stud end the week with an average of 975,000 guineas ($1.64 million). In terms of total sales, Highclere Stud led the way with 27 sold for 8.035 million guineas ($13.5 million).
The Maktoum family and Coolmore may have assumed their usual prominent positions on the buyers' list but there was also strong participation from John Warren - 29 bought for 6.835 million guineas ($11.5 million) - and Charlie Gordon-Watson - 22 bought for 6.16 million guineas ($10.3 million). Both have signed for Al Shaqab Racing in the past.
There was also notable activity from international buyers, including American agents Jason Litt and Alex Solis, who came away with a Dansili sister to Zoffany that cost 700,000 guineas ($1.18 million). They were also underbidders on the sole War Front catalogued, a filly bred by Theory CEO Andrew Rosen who fell to John Ferguson at 950,000 guineas ($1.6 million).
American owner Jon Kelly increased his string with Luca Cumani by going to 650,000 guineas ($1.09 million) through Jamie McCalmont for a Galileo filly out of the Listed-placed Date With Destiny, herself the sole live foal sired by George Washington. American-based agent Shawn Dugan, meanwhile, signed for 1.32 million guineas ($2.21 million) worth of yearlings.
An unfavorable exchange rate played its part in restricting Japanese activity. However, that failed to deter Katsumi Yoshida of Northern Farm, who spent 200,000 guineas ($336,000) on two yearlings during the opening day.
Focus now turns to Book 2 of the sale, starting on Monday, which is traditionally more of a trainers' sale. Given that many have found it tough to buy so far this year, another highly competitive trade is on the cards.