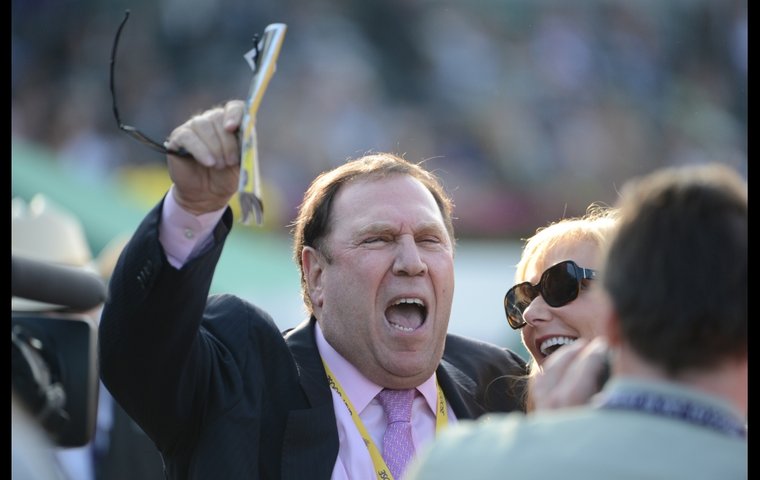 Martin S. Schwartz has a relatively simple business plan as a racehorse owner. He uses his knowledge of speed figures to search for talented European turf fillies. He then turns to bloodstock agent Michel Zerolo for his appraisal and help in buying them. Next he ships most of them to the United States and turns them over to trainer Chad Brown, the nation's premier turf trainer.

Months or weeks later, he has a graded stakes winner.
See? Simple.
Right.
Nothing, of course, is that simple in horse racing. Yet for Schwartz, his ability to find a comfort zone and then stick with it, ignoring the temptation to toy with another business model, has made him a best-selling success story in a game where red ink is too often the norm.
"Marty has a deep knowledge and understanding of European racing that he gained through years of buying horses overseas, and he picks the right one quite a bit," Brown said. "He manages money very well and has a complete program that has been very successful."
Schwartz's success might be viewed differently if he spent tens of millions to buy dozens of horses each year. Instead, what makes his accomplishments so astonishing is that he usually has between six and 12 horses in training each year – with the vast majority of them female turfers - and most of them were acquired for less than $1 million.
Lucrative career
Nevertheless, since buying his first horse in 2000, he has defied the odds, campaigning two Eclipse Award winners and registering 14 victories and 20 runner-up finishes in G1 stakes.
"I don't want to answer to anyone. That's why I keep a small stable and own the horses by myself," the 71-year-old Schwartz said. "I'm risking my own money but it makes the success more gratifying and more remarkable because of the limited number of horses I have."
Prior to buying his first horse, Martin was an extremely successful Wall Street trader, whose lucrative career was chronicled in his autobiography Pit Bull: Lessons from Wall Street's Champion Day Trader.
The New Haven, Connecticut, native had been a long-time fan of racing but he was not swayed by the glitz and glamour of trying to find a Triple Crown candidate at a yearling or 2-year-old sale. Using the same savvy decision-making process that made him such a buzzsaw on Wall Street, he ventured down a path that was lightly traveled in 2000 – but which has proven to be immensely profitable.
Too much hit or miss
He removed a large chunk of the uncertainty in building a stable by buying European-bred turf fillies with winning or promising records through private sales with overseas owners.
His horses' lifetime earnings, which stand at $14,058,995 through Aug. 1, attest to how wise of a business decision he made. Ditto for his 108 wins from just 503 starts since 2000, and his average earnings of $27,950 per start.
"Like everyone else, I started buying young horses, but it's very hard to judge yearlings, and I found it to be a bad investment," Schwarz said. "I don't have the skill to do it, but I do have the skill in business or mathematics. Just like human athletes, it's hard to tell what's inside a horse. I simply didn't have much success with yearlings and unraced horses. It was too much of a hit or miss proposition for me.
"So I decided I wanted horses that had won already. By seeing that they've run in or won a number of races, I can look for positive trends in their speed figures. I found I was able to be successful doing that."
Schwartz's first graded stakes winner was actually a 5-year-old horse, who proved to be his best purchase at an auction. Bought for $260,000 as a 2-year-old, Bowman's Band won the 2003 G2 Meadowlands Breeders' Cup for legendary trainer Allen Jerkens and earned $1,315,774.
Upward-trending speed figures
After that, all but two of his graded stakes winners were bred in Europe.
Angara, who won the 2005 G1 Beverly D. at Arlington Park, was the trailblazer in the United States, and she was followed by Gorella, who captured three graded stakes, including the 2006 Beverly D. Asi Siempre, a Kentucky-bred bought for $800,000, won the 2006 G1 Spinster at Keeneland and was later sold for $3 million.
All those fillies were trained by Patrick Biancone, who was suspended in 2007 for the use of cobra venom in his horses. Schwartz tried several trainers afterwards, but his racing stock did not skyrocket until he teamed with Zerolo, who operates Oceanic Bloodstock, and then Brown.
While Schwartz looks for prospects in horses with upward-trending speed figures, Zerolo then steps in and appraises the physical look of the horse. If he likes what he sees, he hammers out the framework of a deal that Schwartz finalizes.
"I met Michel in 2008 and have had extraordinary success with him," Schwartz said. "He's been going back and forth between France and the United States for 35 years, and our best success is when Michel is in France and when he knows the owner's financial situation.
Introduction to Chad Brown
"He's able to make a deal happen because he knows the players. Since I'm a trader, I'll write a check for $1 million that day, while a lot of others, even though they are far wealthier than me, will agonize over a decision. I'll just do it."
With Zerolo's help, Martin enjoyed the satisfaction of winning races such as the 2009 G1 Poule d'Essai des Pouliches (French 1000 Guineas) at Longchamp with Elusive Wave.
His fortunes in the United States, however, did not soar until fellow owner Michael Dubb introduced him to Brown in 2010. At the time, Brown was just an obscure 31 year-old native of rural Mechanicville, New York, who had gained acclaim for his work as an assistant to Hall of Famer Bobby Frankel. But he proved to be a gem and today is considered one of the industry's best trainers.
In both 2014 and 2015, he was second to Todd Pletcher in earnings with a combined figure of more than $35.5 million. Much of that total comes from turf races, where Brown has enjoyed exceptional success. He has won six Breeders' Cup turf races (three of them the BC Filly and Mare Turf), trained four turf champions and this year alone already has 16 graded stakes triumphs in turf races.
Highs and lows
Schwartz took an instant liking to Brown, and the rest is part of turf history. Working in unison, the trio have registered 14 graded stakes wins (six of them G1s), posted a victory in the 2013 Breeders' Cup Filly and Mare Turf and produced a pair of Eclipse Award champions.
"I knew of Michel's deep knowledge of European racing and his buying, appraising and managing skills since he worked for Bobby Frankel, but when Marty hired me I found that he also has a deep knowledge and understanding of it from many years of experience," Brown said. "Together they work well as a team to find these prospects and once they come over to me, that's when I get involved and we manage it as a team, the three of us. "
Schwartz likened the association to a marriage, which inevitably has its highs and lows, though he says: "I don't think we're at the seven-year itch yet."
"Chad won his first Grade 1 with me and we went through an evolution," Schwartz said. "He's matured quite a bit since I first met him. He's much more polished now. He's learned how to handle to people.
Female turf champions
"Before, he was a hot-head. I guess when you run three horses in the same stakes race you learn how to be more professional because you have to explain to at least two owners why their horse lost. Nobody likes losing, especially to a stablemate.
"There were times when I wanted to fire him, but I didn't. I know he really wants to win for me. Over time, the respect for each other and the relationship and friendship has increased. But there have also been times I wanted to leave, but I didn't. I'm a numbers person, and I knew the numbers wouldn't be as good with someone else, so why should I do that? His desire to be on top burns extraordinarily bright."
Schwartz's Zagora, a G3 winner in France, gave Brown his first G1 victory when she triumphed in the 2011 Diana at Saratoga. She also put the team in the winner's circle at the Breeders' Cup when she defeated The Fugue in the 2012 BC Filly and Mare Turf at Santa Anita, as well as on the podium at the Eclipse Awards when she was named 2012's champion female turf champion.
Zagora, who was co-bred by Zerolo's Oceanic Bloodstock, was sold for $2.5 million shortly after the Breeders' Cup.
Their first champion came a year earlier, courtesy of Stacelita.
A daughter of Monsun, she was a champion and G1 winner at three in France and was seventh in the 2009 Prix de l'Arc de Triomphe. Schwartz originally bought a 50 percent share of her for $1.5 million. Later he bought the remaining half for $1.5 million and eventually sold her for $3.5 million.
Finding horses with talent
In between, she gave Schwartz his third triumph in the Beverly D, took the G1 Flower Bowl and was third against males in the G1 United Nations. A rough trip led to a 10th place finish as the 9-5 favorite in the 2011 Breeders' Cup Filly and Mare Turf, but her body work was stellar enough to land the Schwartz-Zerolo-Brown team the first of their two back-to-back Eclipse Awards for the champion female turfer.
"The misconception is that Marty goes to Europe looking to buy the best horse and bring it over here and win big races. It doesn't work that way," Brown said.
"There were horses he paid a lot for and who were extremely accomplished in Europe. When Marty bought into Stacelita after her 3-year-old campaign, she was a champion. He paid for it, and kudos to him for writing the big check. But then take Zagora, who Michel identified before she was a group winner. She was just group-placed and Marty purchased for a modest amount and they turned her into $4 million when all was said and done. She wasn't a Group 1 winner when they bought her. She wasn't even close.
"Sometimes you have to have some imagination. Their primary goal is to find horses with talent, bring them over here for me to hopefully develop and take them to the next level. Those prove to be the best buys monetarily, if you can find them."
Aiming for the Beverly D. again
This year's "finds" include Sea Calisi, who won the G2 Sheepshead Bay at Belmont Park and was second as a 4-5 favorite in the G2 New York, a race in which Brown saddled the first three finishers. The G2 winner in France will try at Arlington on Saturday to give Schwartz a fourth Beverly D. victory.
There's also been some adversity as the German-bred Olorda, winner of the G3 Bewitch Stakes at Keeneland and G3 The Very One at Gulfstream Park, suffered a stress fractured and will be sidelined until the fall.
Wekeela, G1-placed in France, was a solid second in the G1 Gamely at Santa Anita in May, but most recently failed to fire while finishing 10th in the G1 Diana at Saratoga.
In the end, 2016 might not match the heights of 2011 and 2012, but don't expect any change in the routine from Team Schwartz.
"I've been successful because I know what I know and I know what I don't know, and when I don't know something I go to people who have spent their lives working in that area and I trust them," Schwartz said. "That doesn't mean I won't fire them, because I fire a lot of people. But when you get someone you're comfortable with, you stay with them. That's how I manage my life.
"People who are egotists lose money in horse racing. People have bravado because of a successful career in business, but it doesn't translate to racing and you have to be willing to learn something entirely new. You have to take your time and have a plan."
And for Marty Schwartz, the plan, as simple as it might sound, has definitely worked.