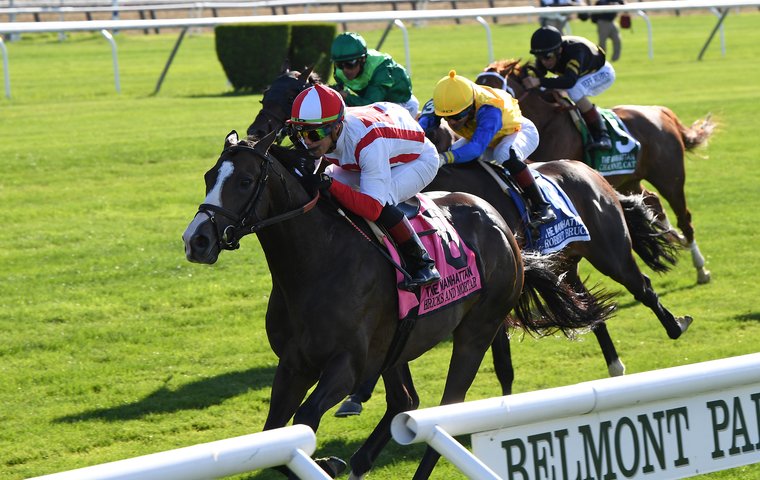 One individual stands out above all others around the world after an exceptional series of achievements in the TRC Global Rankings week that ended on Sunday. It certainly made it no-contest when it came to decide the destination of one of the TRC Performers of the Week awards.

TRC TRAINER OF THE WEEK
CHAD BROWN has been one of the elite top four in the standings since the end of July 2016. In that time, he has spent a total of 35 weeks as world #2. And he seems to be getting more and more effective. After his amazing weekend at Belmont Park, his Performance Index (points total) now stands at 1073, a career high. It has been rising steadily over the life of the rankings, as the graph below illustrates.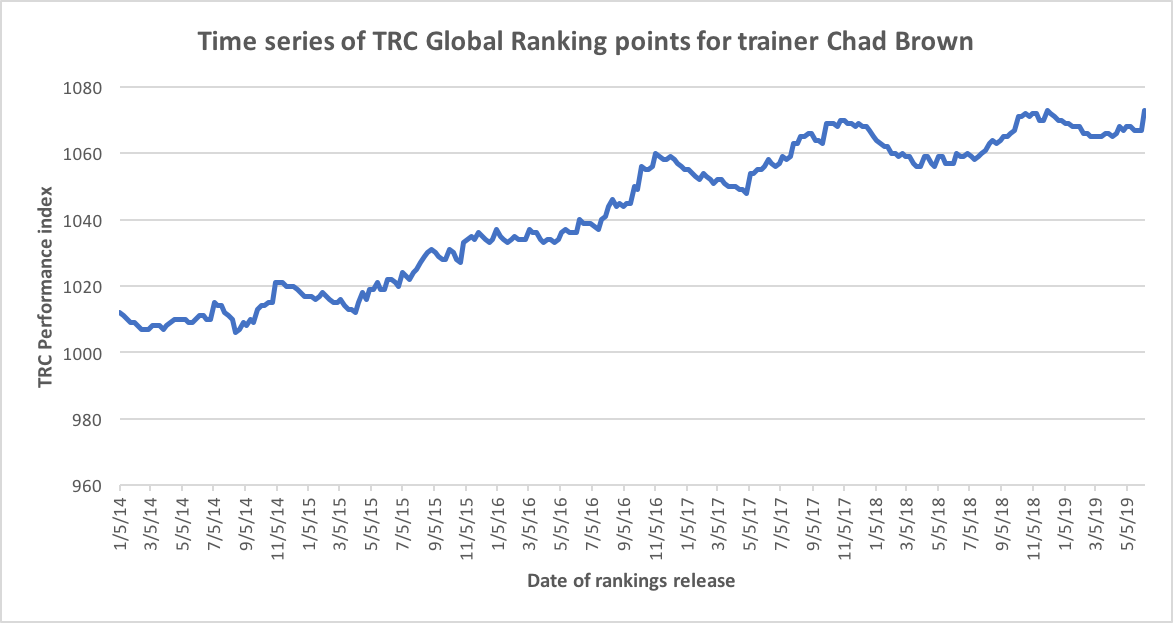 Normally an individual as high as Brown in any of the four rankings categories needs to have a really good week to gain any points at all, such is the level of expectation around them as far as the TRC algorithm is concerned.
So how exactly did the 40-year-old American manage to gain no less than six points last week?
By saddling the winners of an incredible SEVEN Graded races, that's how.
Just look at his roll of honor:
Last Thursday: Significant Form and Cambier Parc both won G3s. It was a Brown 1-2 in the latter contest, Cambier Parc accounting for her odds-on stablemate, the sensational Breeders' Cup Juvenile Fillies Turf winner Newspaperofrecord.
Last Friday: Another 1-2, this time in the G2 New York Stakes (Homerique ahead of Competitionofideas), and a G3 win by Separationofpowers.
Last Saturday: three G1 victories - Bricks And Mortar leading home a Brown 1-2-3 (from Robert Bruce and Raging Bull) in the Manhattan, Guarana taking the Acorn, and Rushing Fall the Longines Just A Game.
Brown's domination of the U.S. turf scene is only getting more pronounced, but he should not be defined purely by his successes on that surface. Last week's septet included two triumphs on dirt (Guarana and Separationofpowers) and Brown is certainly top class in that more competitive arena as well.
The American could be on the verge of taking the world #1 slot for the first time. He is now just two points behind Godolphin trainer Charlie Appleby (-1pt, stays #1), who overtook longtime world leader Aidan O'Brien (-1 pt, stays #3) in February, after a sustained period of high achievement that included victories in the Epsom Derby (Masar) and the Melbourne Cup (Cross Counter).
Appleby has been having a thinner time of it since his treble on Dubai World Cup day at the end of March, and he will be hoping for a revival of fortunes at Royal Ascot next week, where both Masar (Prince of Wales's Stakes) and Cross Counter (Gold Cup) could be in action.
Click here for a list of all last week's biggest TRC Global Rankings points gainers
Click here for a list of all the week's Group and Graded winners