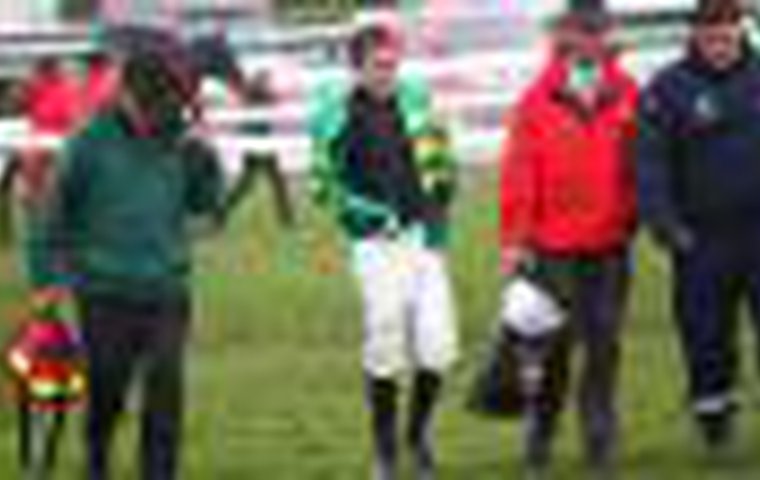 In recent years, concussion management and treatment has become a central issue in the sport safety debate in the United States and elsewhere. High-profile cases of dementia and mental impairment in American pro-athletes with a history of head injuries have led to reforms at every level of play, but what about horse racing? Teresa Genaro considers concussions in the racing context in a two-part story focusing first on Britain, then America.

Read about early efforts on concussion research in U.S. racing
Few images at a racetrack still a crowd like the sight of a jockey down on the track, and few elicit heartier cheers than seeing him get up on his own. Seemingly indestructible, these athletes are often called the bravest in sports, perched atop a speeding animal that outweighs them by a factor of ten.
Aware of the risks of their occupation, jockeys willingly take them on, resigned to the occasional broken bone, to surgery, even to concussions, which have the air of the inevitable in a sport where falls at speeds exceeding 30 miles per hour are not uncommon. Riders take time off, they heal, and they get back on the horse.
But while healing is a fairly clear-cut procedure when it comes to broken bones, it is anything but when it comes to head injuries.
In December, the British Horse Racing Authority (BHA) announced that its chief medical adviser, Dr. Michael Turner, would leave the organization to focus on concussion research. Turner joined the BHA in 1992 and is responsible for instituting a concussion protocol for Britain's jockeys.
A former director of medical services at the British Olympic Association and the medical officer for Great Britain's Olympic teams at several Winter Games, Turner is especially interested in safety in high-risk sports, protective equipment in sport, concussion, and doping control.
Since 2004, jockeys riding on BHA tracks have been required to undergo baseline neuropsychological testing annually in order to be licensed. In addition, a standard protocol must be followed before a concussed jockey is permitted to begin riding, a protocol that is overseen by the BHA.
Now, Turner will no longer focus on jockeys' concussions during their careers; instead, he'll focus on the effects of those concussions as the jockeys grow older.
According to research Turner presented at the International Conference for the Health, Safety, and Welfare of Jockeys at Monmouth Park last September, BHA riders suffered 559 concussions from 28,724 falls, a rate of one concussion per 51.4 falls, from 2004 to 2011.
Turner also noted that though the injury might seem slight at the time, and despite close monitoring and appropriate management of the concussion, athletes who are subject to regular head trauma risk long-term consequences. What is unclear is who is at a risk and how to determine the risk factors for those consequences.
CONCUSSION AND "CONCUSSION PLUS"
In November 2012, the participants at the International Conference on Concussion in Sports in Zurich released a consensus statement defining "concussion" as a "complex pathophysiological process affecting the brain, induced by biomechanical forces." Notable in the definition is that concussion involves "short-lived impairment of neurological function that resolves spontaneously." The definition also makes clear that concussion results in a "functional disturbance," not any structural injury to the brain.
Turner puts it more simply.
"At the end of the day, a concussion causes no damage to any part of the brain," he said. "There is no structural damage; it's basically your brain rebooting."
People who have suffered a concussion, according to Turner, don't incur any long-term damage; the short-term consequences resolve themselves without the threat of extended impairment.
More serious is what Turner calls "concussion plus," in which, as a result of injury, brain cells are damaged or die. It's on this phenomenon that Turner is now concentrating his research as the medical director of the recently founded National Concussion and Head Injury Centre (N-CHIC) in London.
In a 2012 article in Brain magazine, Dr. Ann McKee of Boston University and a team of researchers conducted research on 85 post-mortem brains of people who had suffered repetitive mild head injury during their lives, primarily athletes and military veterans. They found that 85 percent of the brains showed evidence of chronic traumatic encephalopathy (CTE), long-standing brain damage that proceeds through four stages. In the early stages, people with CTE can suffer from headaches, depression, and loss of ability to pay attention; the last stage is characterized by dementia and aggression. Turner also notes an apparent link between CTE and suicide.
The brains of National Football League linebacker Junior Seau and National Hockey League enforcer Derek Boogaard were both found to contain evidence of CTE. Seau committed suicide in May 2012, and Boogaard's death in May 2011 was ruled an accident, the result of an overdose of alcohol and the painkiller oxycodone.
The difficulty, says Turner, is in determining the link between head trauma and CTE.
"It's not 100 percent," he observed. "You don't have thousands of football and ice hockey players with CTE. Is it genetic? Are some people born with [a pre-disposition to CTE]? Can alcohol and drug use trigger it?"
The only current way to diagnose CTE is through a post-mortem examination of the sufferer's brain. Turner's research will focus both on the long-term effects of head injuries and on trying to discover a marker that will permit doctors to diagnose CTE while patients are still alive.
He drew a parallel between head injuries and heart attacks. Angina and heart attack can look similar and patients will present similar symptoms, but while the effects of angina are short-term and cause no long-term damage to the heart, a part of the heart will die if a patient suffers a heart attack.
"We used to have to just wait and see which it was," Turner explained. "Then we had ECGs [electrocardiograms] and then blood tests" that helped doctors determine whether a patient was having an angina attack or the more serious heart attack.
"We need the equivalent of an ECG and a blood test for concussions," he declared. "We need to distinguish between a concussion, after which the patient is going to be OK, and concussion plus, which is the brain equivalent of a heart attack."
WHY IT MATTERS
Turner said that concussion rates in amateur race riding are 500 times greater than in American football, citing statistics of 95 concussions per 1,000 rides and 0.2 per 1,000 playing hours respectively, a figure frightening in its implications for the potential for CTE symptoms to develop as the jockey population ages.
And this is where Turner's latest endeavor comes in.
Building on the protocols established at the Florey Institute in Victoria, Australia at N-CHIC, Turner will monitor the neuropsychological status of retired jockeys through a combination of detailed medical histories, MRI brain scans, and neuropsychological testing. He will also collect blood samples.
Jockeys whose tests show no evidence of problems will be evaluated every five years; those who show evidence of what Turner called "wear and tear" will be evaluated annually.
Turner admits that at this point, he and his researchers don't really know what they're looking for.
"We suspect that there are biomarkers in the blood [for concussion plus], but we don't know," he acknowledged.
Crucial to the work will be partnerships with international researchers such as those at the Florey Institute and the Aspetar National Sports Medicine Progamme (NSMP) in Qatar, a well-funded institute that Turner called a "hub" of sports medicine research. He expects to send blood samples to the NSMP for evaluation.
"We're trying to find out whatever links we can find to deteriorating brain function while patients are still alive," he said.
"We like to be able to give an early indication of the onset of CTE. Now, we can only tell after death."
He also sees potential in the research to ward off long-term damage if doctors can distinguish between concussion and concussion plus at the time of injury.
"If, after evaluation, we can say that a jockey has a low grade one concussion, it's no big deal," he explained. "If it's concussion plus, the jockey should be off sport for much longer or even consider suspending his career. Too many episodes of concussion plus can lead to CTE."
Turner also hopes to set up a "brain bank" in England, to which athletes can donate their brain for research. Similar brain banks already exist in Australia, Europe, and the United States.
With an estimated cost of £3,000 ($5,016) for each screening, Turner's budget for the first three years of N-CHIC is about £1 million, money that he is still working on raising, with a projected launch date for the Centre this summer. He's looking for supporters within the racing community, including a sponsor that would get naming rights for the Centre. He also expects to apply for government funding.
All screening would be done at no cost to the participants.
Horse racing has so far avoided the lawsuits and controversy that have resulted from revelations about CTE, but the basis of the lawsuit brought by former players against the NFL is part of what impels Turner's work.
"In the NFL, the players are saying, 'We accept the dangers of the sport, but no one told us we may end up demented,'" Turner said.
"Everyone agrees that horse racing is inherently dangerous," he continued. "The jockeys understand that, and they take that accepted risk. We want to evaluate how dangerous it is to be involved in terms of their long-term health."