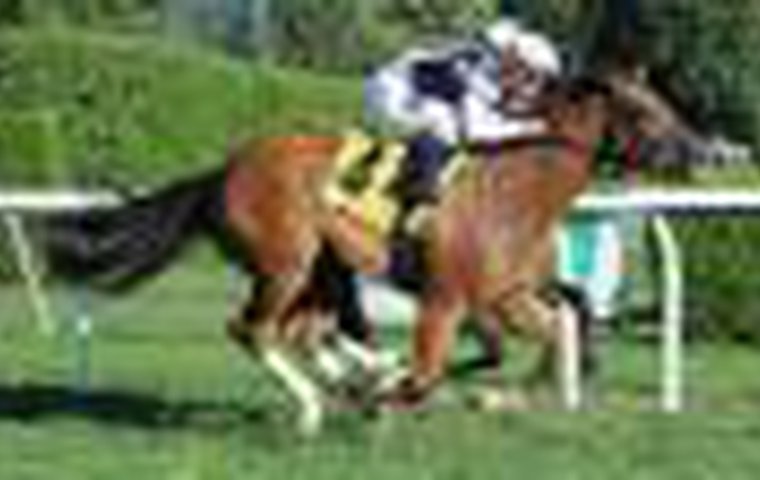 British trainer Weaver reaps rich rewards with American runners
Julian Muscat reports on how Newmarket-based Amy Weaver, 32, found a creative way of making a handsome profit despite the relatively poor prize money in the country where she trains.
----------
Necessity is the mother of invention. So when Amy Weaver wondered how a young British trainer with scant financial backing could stand out from the crowd, she came up with North Star Racing.
That was more than two years ago. Since then, horses owned by North Star have won 16 races and nearly $600,000 in purse money – every single cent of it in the U.S.
North Star Racing is named for North Star Boy, one of the first horses Weaver dispatched to the U.S. It was an apposite choice. Bought for £12,000 ($20,100) out of a claimer at Windsor Racecourse in May last year, North Star Boy has since accumulated purse money in excess of $140,000 from eight North American starts.
That, in a nutshell, is Weaver's way. Together with handicapping expert Colm White, she sources cheap horses from Britain and Ireland to ship to the U.S. Her most expensive purchase to date set her back £14,000 ($23,450).
"Sometimes we buy horses for less than the cost of the airfare, which is about £7,000 ($11,730)," Weaver said.
The mission statement dictates that every horse is on a one-way ticket. They ship, they run, and hopefully, they are sold on. Just like One Penny Piece, who was bought for £8,000 ($13,400) out of a Kempton Park claimer in November.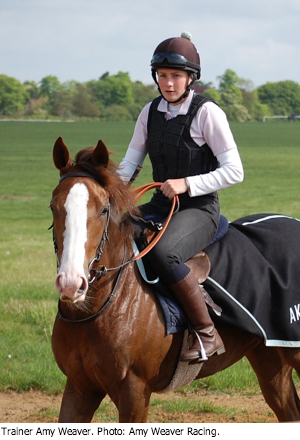 One Penny Piece resurfaced in an optional claimer at Florida's Gulfstream Park three months later. She made off with the winner's purse of $14,400, and was claimed for $35,000. Her owners have since placed orders for two new horses.

For owners of such horses in Britain, these riches might seem like a figment of the imagination. Last year, North Star Racing's runners in the U.S. averaged $4,783 per start. The same horses would struggle to earn that much for winning a race of similar status during the winter all-weather racing circuit in Britain. 
"It's not so much that the horses improve when they ship to the U.S.," Weaver said. "Although they enjoy the change of scenery, they are able to run at the same level for better prize money." 
Weaver trains a small string of her own in Newmarket. Although she is accustomed to Britain's poor purses, she has always inclined to adventurous running plans in mainland Europe, where purses are better.
"When it comes to North Star, prize money in the U.S. is the part my English owners can't quite get their head around," she said. "The can hardly believe it because I spend all my time telling them not to expect to make one penny at home."
Some of Weaver's owners have signed up to the North Star partnership. For others, however, the joy of visiting their horses in Newmarket and watching them exercise overrides the prospect of handsome financial returns in the U.S.
"North Star has quite a few American clients who have picked up on the opportunity far quicker than my English owners," Weaver said. "English owners have an ingrained attitude that they don't expect to make money. American owners do."
Despite initial success in Britain when Weaver started training in 2008, North Star Racing has become the mainstay of her business.
"Initially it was a project for a bit of fun over the winter, but it has taken off," she said. "We do it all year round now." 
Weaver has always been quite sassy. An avid poker player, she earned enough as a London casino croupier in her early 20s to buy a house in Newmarket. But training horses soon made her appreciate she needed other income streams.
"I am not from a racing background," she said. "I started with nothing, so I had nothing to lose. I couldn't subsidise training horses so I had to make it work one way or another." 
Any horse Weaver buys for North Star arrives at her Green Lodge stables to be freshened ahead of export.  
"We get them as healthy as possible before they travel," Weaver said. "We gallop them using the GPS Fine EquinITy programme (a satellite navigation tool) to clock the horses. Our trainer in America has a handle on each horse before it arrives."
The horses are trained by Niall Saville, a 31-year-old native of Ireland, who is based at Fair Hill Training Center, in Maryland. Saville has just left his winter base at Palm Meadows in south Florida for the meet at Keeneland Race Course, where two of North Star's horses, Zero Game and North Star Boy, will carry the banner. 
Although North Star Boy contested the $100,000 G3 Canadian Turf at Gulfstream Park in February, when he failed to figure, most of the company's horses don't aspire to such exalted company.
"We're not expecting to go to the Breeders' Cup, but horses racing in the lower tiers in Britain are not rubbish," Weaver said. "When they win, they can struggle for the next six or seven starts because they get too high in the handicap. In the U.S. you have many more options."
And much more purse money into the bargain.
---