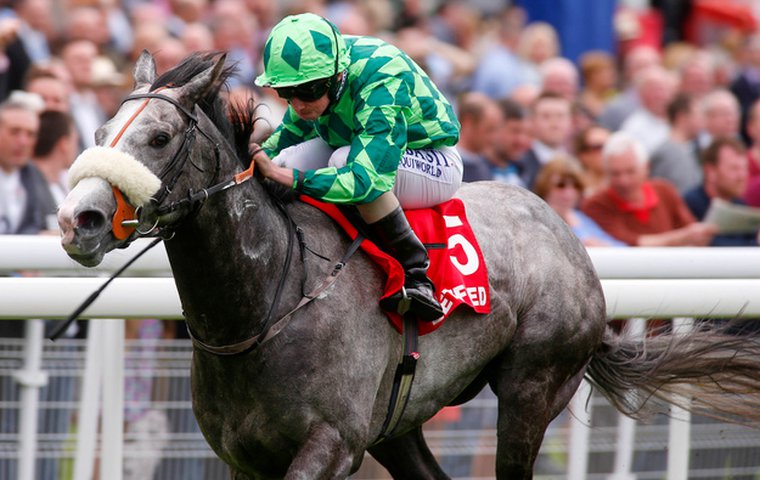 British-trained horses ran outside their homeland on more than 1,000 occasions in a calendar year for the first time in 2014. The previous record was the 920 foreign starts achieved in 2011.

In comparison to some other European countries, the annual figure of 1,003 overseas raids is unremarkable. Germany has regularly been racking up totals of nearer 2,000 runners in France alone over the past five years, while both Spain and Belgium, two nations with miniscule racehorse populations compared to Britain, have both accumulated annual French tallies reaching into four figures.
But analogies with continental European countries are misleading since Germany, Spain, and Belgium all have lengthy land borders with France while, being an island nation, any British overseas runners require more taxing journeys by sea (or Channel Tunnel) or air.
By far the biggest target for these foreign raids was France. This should come as no great surprise owing to the riches on offer on the other side of the Channel – in 2013 (the most recent year available) France staged only 7,146 flat and jump races, 70 percent of the 10,146 figure in Britain, yet the total prize money paid out in France was double that of its neighbour.
However, France has not always been the most popular destination. As recently as 2008, there were only 212 British sorties to France and British trainers saddled more runners in Ireland (224) than France.
Despite the growth in overall runners, the 2014 overseas prize money total of £17.9 million was some way short of a record – it was the third biggest tally behind 2009 (£24.6 million) and 2010 (£20 million).
Those bumper totals were inflated by the weakness of the pound during that period, especially in 2009, when each pound sterling gained you just $1.44 or €1.03 – the equivalent figures for 2014 were $1.66 and €1.20.
One remarkable aspect of the 2014 figures is the success rate for British shippers to Canada. Only seven horses made the transatlantic journey to Toronto, but five returned triumphant (all in races worth CAD$300,000 or more) and the other two pocketed tidy place cheques, meaning that each Thoroughbred visitor earned an average of £161,120.
On a broader North American note, there has, surprisingly, been little numerical change in the number of British competitors over recent years – the 2014 figure of 30 U.S./Canadian runners is just two more than was achieved in the first year of the new century.
This stagnation also applies when all European-trained horses coming to race in North America are taken into account, which mainly entails adding in horses from France and Ireland. In 2014, this ran to 64 transatlantic sorties, compared with the only marginally smaller figure of 62 European visitors way back in 1995.
Even recent innovations such as the offer of a $40,000 travel subsidy for all European runners at the Breeders' Cup and the inauguration of Belmont Park's rich Stars And Stripes Festival have, as yet, failed to inspire an overall boost in numbers.
The top of the trainer's table for British earnings abroad has an unfamiliar look, with Kevin Ryan, Jamie Osborne, and William Haggas filling the first three positions. Neither Ryan nor Osborne, who respectively owed their places to the exploits of a single horse (The Grey Gatsby and Toast Of New York), had ever figured prominently in this list before.
And Haggas had only ever sneaked into the final berth in the list's top 10 on two occasions, so all three registered big "career bests."
The country-by-country earnings list again underlines the sad demise of that once great racing nation, Italy.
Just 20 years ago, Britain dispatched no less than 151 runners on the 2,200-mile round trip to Italy during a calendar year, and for three seasons in the mid 1990s, Italy was the largest individual contributor to its overseas earnings coffers – in 1997 invaders from Britain scooped £2.64 million in prize money there.
Yet the organisation of racing in Italy has, in common with so much of that country's government, at times been chaotic and it reached a nadir when some prize money owed to British connections from autumn 2012 took over 18 months to be paid.
Discouraged by the prospect of a lengthy wait for their rewards, together with the demotion from G1 level of races such as the Italian Derby and Oaks, British trainers have understandably been less than keen to make the long journey. Hence just five Italian raids in 2013 and a mere two in 2014, when not a single solitary cent was earned there throughout the entire year.
Italy has, for the time being at least, staved off the threat of the loss of Group race status by demonstrating its ability to pay prize money promptly, so British visits may start to become more frequent, although it is hard to imagine them returning to their former magnitude.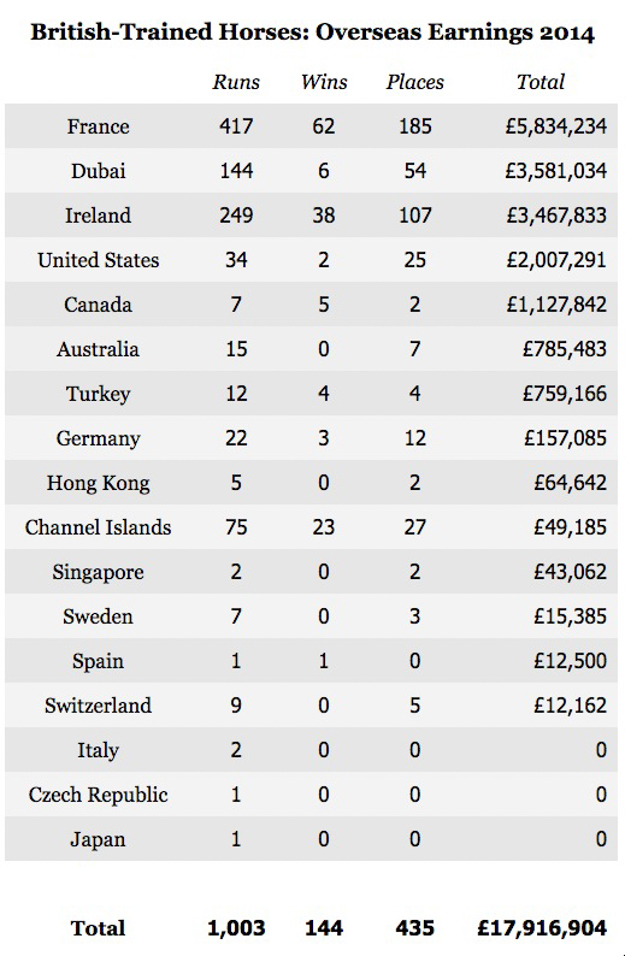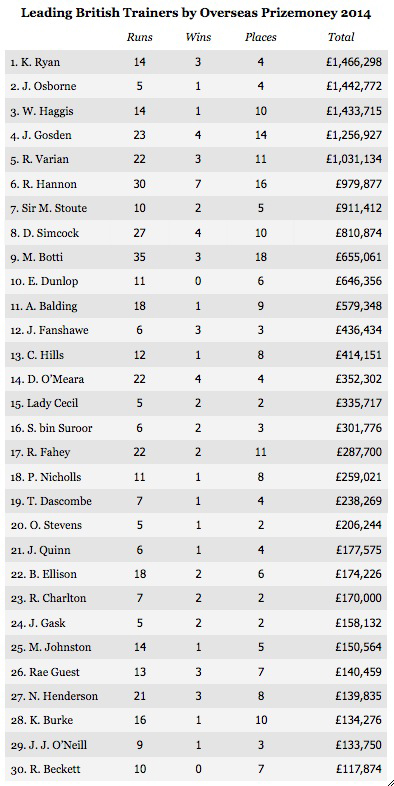 ----------
James Crispe is associate director of editorial at the International Racing Bureau.