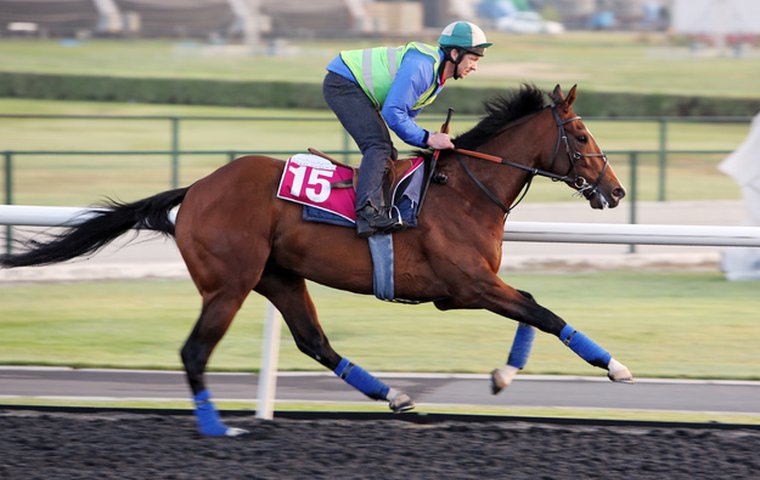 Impressive Dubai winner Toast of New York missed the Kentucky and Epsom Derbies with connections targeting Saturday's new Belmont race instead. Trainer Jamie Osborne tells Julian Muscat why.

One day after Jamie Osborne experiences the Fourth of July celebrations first hand, he will endeavour to plunder a rich American harvest. There will be more than a tea party on July 5 if the personable English trainer wins the G1 Belmont Derby Invitational with Toast of New York.
"I haven't yet considered the implications of that," Osborne said. "Let's just say it would be interesting if we could pull it off."
It is no forlorn prospect. Toast of New York bids to follow up his visually arresting triumph in the G2 UAE Derby at Meydan Racecourse in March, when his 2½-length tally bore no resemblance to the ease of his victory.
It was a seminal moment in the life of the former jump jockey whose company was cherished by Britain's late Queen Mother, who was herself an ardent fan of jump racing. But Osborne, 46, is hoping the cash till hasn't stopped ringing.
A sophomore son of Thewayyouare, Toast of New York earned his owner, Michael Buckley, $1.2 million in Dubai. He now shoots for the lion's share of the $1.25-million Belmont purse on turf.
"The money was certainly an attraction," Osborne said of his Belmont raid, "but the race also fits in with the loose program we mapped out for the horse. We looked at the Secretariat Stakes in August, but this race is worth more than twice as much."
Osborne did consider sending Toast of New York for the Kentucky Derby, but the colt ultimately made the decision for him. He arrived back from Dubai in late March looking like a horse in need of a rest.
"It was soon clear that we couldn't get him ready for Churchill," the trainer related. "We also decided to give the (English) Derby a miss. He is a big horse and we have time on our side. The ultimate aim is to have him at his peak for the Dubai World Cup next March."
Osborne made a swift impact when he started training 15 years ago. Having won the G1 Dewhurst Stakes with Milk It Mick in 2003, he seemed destined for the major league until some poor seasons caused his owners to lose confidence. The going got tough.
So much that without Buckley's patronage, Osborne would almost certainly have waved goodbye to Toast of New York many moons ago. "These are a set of circumstances that are quite unique," he said.
"In nine out of 10 cases, good horses become too valuable for us to keep and we have to sell them on. There have been offers for this horse right the way through but, luckily for me, Michael isn't a seller. He wants to enjoy it."
Osborne is no stranger to the long-haul commute. Eight years ago, he took Geordieland to the Melbourne Cup, convinced he had the ideal horse for Australia's banner race.
"It turned into a nightmare," Osborne recalled. "Geordieland had never bled before, but he bled badly in the race and finished out with the washing (he beat just five of 23 runners). It was a long way home after that."
Osborne's recent foray to Dubai bestowed a happier memory. Few at Meydan were more animated than Buckley, an entrepreneur who is better known as a jumps enthusiast. Indeed, Osborne rode several winners for him in a riding career that yielded almost 1,000 winners.
Buckley, who bought his first racehorse in 1974, is no stranger to New York. He put up some of the finance that took the hit musical "Priscilla, Queen of the Desert" to Broadway in March 2011. When it closed one year later, Buckley lost 70 percent of his investment.
The Buckley/Osborne axis will be looking for a different outcome this time. And Osborne could scarcely believe his eyes when Toast of New York completed a scintillating piece of work in Lambourn, where he trains, on Tuesday last week.
"My work rider Jimmy McCarthy, who is hugely experienced, said there's no way the horse could have worked like that before he went to Dubai," Osborne said. "It seems he has improved."
Belmont clockers will not have the chance to catch Toast of New York in his faster paces. The plan was for the colt merely to canter around the big oval once each morning after exiting quarantine on Tuesday. The routine served him well in Dubai.
One aspect of Toast of New York's career that will raise eyebrows is that he has never won on turf. All three of his wins to date have been gained on synthetics.
"He seems versatile, surface-wise," Osborne said, "but those synthetic wins are making us think about the Pacific Classic at Del Mar. Beyond that, there's the Breeders' Cup to consider."
Until recently, such targets were confined to Osborne's fertile imagination. But one thing is certain: There will be no more providentially named horse in the field on Saturday than Toast of New York.
Video credit: NYRA.