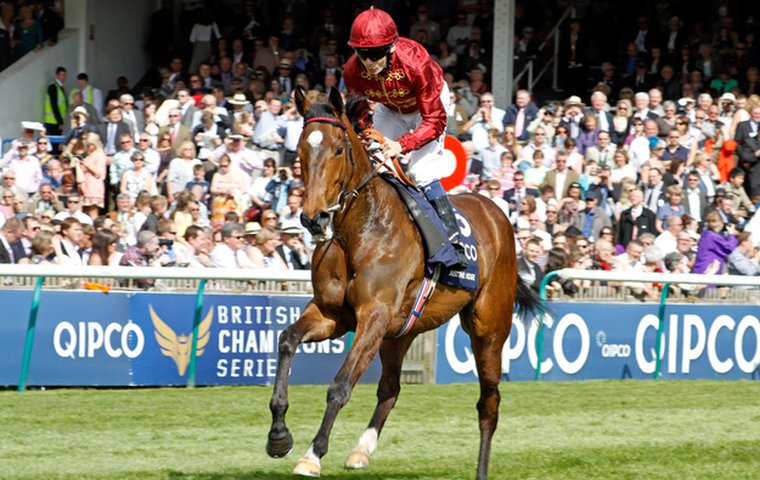 When Charlie Hills boards his flight to Chicago on Thursday morning, he will be hoping the journey culminates as it did when he last traversed the Atlantic.

Back in November, Hills flew into Los Angeles and returned to Britain victorious after saddling Chriselliam to win the G1 Breeders' Cup Juvenile Fillies Turf at Santa Anita Park. Little has gone right since then.
Chriselliam never got to test her mettle in the 1,000 Guineas, for which she was the advance favourite. She was put down in February after contracting septicaemia. Then, two months later, Hills' brother John, also a trainer, was diagnosed with pancreatic cancer. He died on June 1.
To compound matters, Hills' 140-strong string made a slow start to the British season. His horses have recently turned a corner, however, and Hills, 35, is optimistic ahead of saddling Just The Judge for the G1 Beverly D. Stakes on Arlington Park's turf course on Saturday, Aug. 16.
"I wasn't happy with the horses earlier in the year, but they are running a lot better now," Hills said. "I thought Just The Judge ran very well [when third behind Thistle Bird in the G1 Pretty Polly Stakes] at The Curragh last time, and she is looking terrific in herself."
A 4-year-old filly, Just The Judge has been slow to hit her stride this year. The daughter of Lawman won the G1 Irish 1,000 Guineas last season after missing out by a half-length in the British equivalent. Her trainer believes she is returning to that level of form.
"We've had the Beverly D. in mind for Just The Judge pretty much since the start of the year," Hills said. "She likes the [10-furlong] trip and she enjoys racing on a flat, level surface. She'll have plenty going for her in Chicago."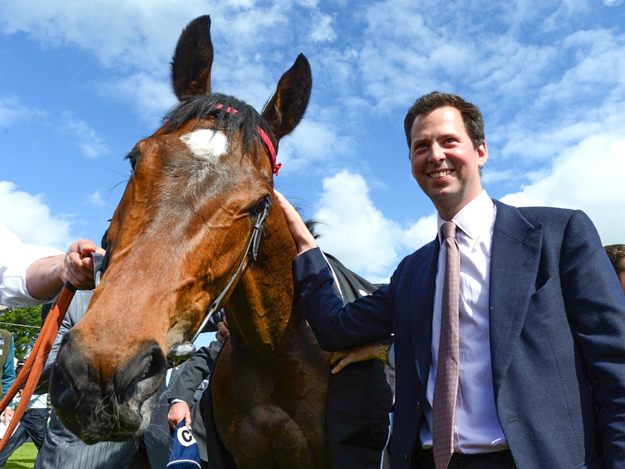 Hills spent eight years as assistant to his father Barry, who won 10 British classics and the 1973 Prix de l'Arc de Triomphe with Rheingold. He took over the training licence in August 2011 and three months later, saddled Slumber to finish a running-on third in the G1 Hollywood Derby after a wide trip.
His most recent foray to the West Coast provided him with a thrill he describes as "right up there" with Just The Judge's Irish classic victory last year.
"It was hugely exciting when Chriselliam won at the Breeders' Cup," Hills reflected. "She was so much the best in that race, as she was when she won the [G1] Fillies' Mile at Newmarket on her previous start. At that time she was improving at a rate of knots.
"Losing her was a huge blow," he continued. "We are seriously missing a flagship horse this year, and I have no doubt she would have been that. When she first got sore it looked like she had a poisoned foot, the kind of thing you'll see once a week, but it got progressively worse. Every antibiotic we tried made no difference."
Losing a horse is one thing; losing your eldest brother to cancer at 53 is as bad as it gets.
"John was diagnosed on April 19 and he died less than six weeks later," Hills said. "It was all very sudden. It has been hard but it helps a lot that we are a close family.
"Dad has been tremendously strong," he continued. "And my brothers have all got together to support [John's wife] Fiona and her four daughters [Jessica, Olivia, Martha, and Isabella]."
Hills is the fourth-youngest of five sons born to Barry. His older twin brothers, Richard and Michael, were both successful jockeys, while his youngest brother, George, has recently established a bloodstock insurance business in Lexington, Kentucky. George flies to Chicago to link up with Charlie on Friday.
Just The Judge is owned jointly by the Al Thani brothers' Qatar Racing Ltd. and the Sangster Family. The latter's totem, the late Robert Sangster, won the 1992 Beverly D. with Kostroma, who was trained by Gary Jones.
The Sangster/Al Thani axis represents a fusion of racing's old and new blood, much as when Hills succeeded his father, who trained more than 3,000 winners, at Faringdon Place Stables near Lambourn, 70 miles west of London.
Hills has big shoes to fill but is determined to add further chapters to the family's success story. Just The Judge was his first classic winner and hopes are high that she can return to her pomp on Saturday.
"We could certainly all do with a bit of a lift," Hills said. "Everyone knows that racing is a game of huge ups and downs and we are ready for a bit of 'up' time after a difficult few months.
"Whatever happens, I'm happy the horses are now running better than they were in early summer. I have the largest string of 2-year-olds I have ever had, and we can't wait to get some of the better ones out over the next couple of months. There is a lot to look forward to."