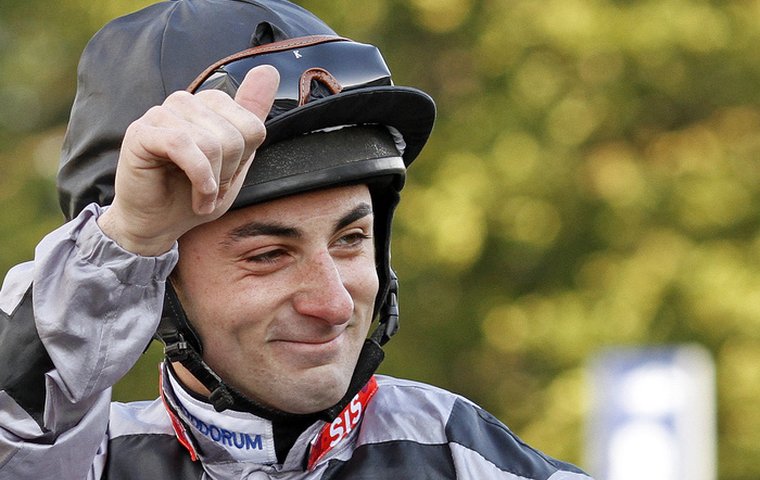 Tis the season in horse racing to roll the dice and see whether destiny holds for us outrageous good fortune or damnable bad luck. The time to press down the accelerator on those precocious 2-year-olds. The time to put the pick of the classic generation through the wringer of the Derby prep elimination game.

The time for those caught in career limbo to make that quantum leap of faith, not into the unknown necessarily - more into the unknowable.
"I thought I'd better make my decision solely on this weekend," said Adam Beschizza, the British jockey who, in his first full season riding in the States, is currently lying fifth on the jockeys' standings at Fair Grounds in New Orleans, with over $1.3 million in earnings already.
The weekend in question was one that passed last month – a star-studded bash that featured races like the G2 Risen Star and the G3 Mineshaft Handicap and the G2 Rachel Alexandra Stakes.
The decision? To return to the UK for the imminent start of the flat season proper or stay and make a go of it Stateside. "I did say that if I win it [the Risen Star on Steve Asmussen's Snapper Sinclair], that'll be a game changer."
Staying put
Though Beschizza — pronounced "Biscuit-za" — didn't win the Risen Star, he did everything but, leading them a merry dance for much of the way before going down a nose to Bravazo, octogenarian Wayne Lukas' gazillionth Derby hopeful after what seems like a gazillion years training.
What's more, Beschizza, 25, was white-hot all that afternoon, riding a brace of wins that included Mom's On Strike in the Albert M. Stall Memorial Stakes, where he demonstrated the kind of endurance and determination in the saddle more typically displayed on a wintery mud-bound Saturday afternoon at Chepstow.
All of which means that Beschizza is staying put, at least for a while, more than satisfied with a meet that has exceeded every one of his expectations. "I think I'd die on the thought that I'd never given it a 100 percent crack in America," he said. "It's something I've always wanted to do, and I'd never thought it would escalate to this sort of level."
'When you have no structure, no support when you lose your claim, it's tough'
This was the morning after the Risen Star, and we'd taken up two comfortable black recliners in the Fair Grounds backstretch kitchen, which more resembles a roomy and friendly youth hostel lounge, the smell of coffee hovering over the warmth and televisions blazing on the wall. Beschizza explained that this hasn't been his first stint in the U.S. – he first came out when he was 18, to spend three months working for trainer Mike Stidham.
Stidham's assistant at that time was Joe Sharp, who Beschizza said took him under his wing. "It was great grounding for me, learning to get the [work] times in my head. It took me a long time – I don't know why. Mike's pretty strict on his times. But what I took away from that, what I took home, probably molded me into a little bit of what I am now."
Beschizza and Sharp stayed in touch and, after the latter struck out on his own, Beschizza came back out to Fair Grounds for another three-months stint the winter of 2014-2015, riding the Sharp-trained filly Genuine Jones in both her racetrack appearances.
When Beschizza returned home, that summer turned out to be his most profitable yet in terms of earnings, helped in no small part by a back-end double-whammy in two of England's most hotly-contested handicaps – the Cesarewitch (on Alan King's Grumeti), and the Cambridgeshire (on Richard Fahey's Third Time Lucky).
He describes those wins as "surreal", but the problem was, "nothing really built on it," he said. "Never really rode for those trainers again. They were solely spares."
That's not to say his career back home became a washout – far from it. Rather, the ebbs and flows have been more ebb than flow at crucial times. In 2010, he was in the mix for champion apprentice honors, eventually losing out to Martin Lane.
The next year, he won the John Smith's Cup (another fire-breathing handicap), for William Haggas, whose stable he joined when he left the mentorship of his aunt, trainer Julia Feilden.
Slim pickings
The two years after that were relatively slim pickings, however, and what little Beschizza does say about that time reveals much about the vagaries of a game that harbors a sort of cannibalistic habit of eating its young.
"That was probably a big learning curve," he said. "[Haggas] is a fantastic trainer. Exceptional trainer. But I was very young, probably didn't do the right things at the right time. I sort of fell to the wayside, went out on my own – that's when I took a huge dip. When you have no structure, no support when you lose your claim, it's tough. Very tough."
And slipping fortunes have a habit of bringing everything crashing down with them. Self-confidence flags, patience frays, and, most crucially, the horses get slower and slower and slower.
"Don't ever think you are where you want to be, because people, when they get success, they relax, get comfortable," he said. "That's definitely when it goes wrong. There's always young people coming up behind you, waiting to take over."
The past few years saw his business steadily tick upwards once again, however. And last season he recorded his second highest tally of wins, crowning it with a listed victory for Ed Vaughan on Hikmaa - a filly possibly 1000 Guineas bound this year, Beschizza said.
Catching the eye
All this, however, disappears into the shadows of insignificance when held up against what Beschizza has achieved in a little over three months in New Orleans.
Since arriving last November, Beschizza's Stateside earnings almost match his UK earnings from the past four years combined (using the current exchange rate as the measuring stick).
The quality of mounts he's being offered has seen another notable bump. He posted his first North American stakes victory soon after the turn of the year, and followed that up a week later with a listed win on Mom's On Strike (who's fast becoming the jock's biggest fan). The day of the Risen Star, Beschizza had live mounts in all but one of the six stakes races on offer.
What's more, he's caught the eye of some of the shrewdest players in the game. "I'm glad to see he's broken into so many good barns," said Joe Sharp, who's provided Beschizza with the majority of his wins so far. "The list goes on. [Steve] Asmussen. [Mark] Casse. Brendan Walsh. All those guys."
In the years after first meeting, Sharp had followed the jockey's career in the UK, which he described as being "very impressive". But, "I didn't know how good he was until he got over here," said Sharp, who added that his owners have also been very supportive, "which is huge. And the rest has been up to him."
Beschizza begs to differ. "I've got to thank Joe, as well as all the other trainers who have given me a chance, including Steve Asmussen, not only to be part of his team, but to ride a horse like Snapper Sinclair – a horse of his caliber."
USA vs UK
Talk invariably turned to comparisons between the U.S. and the UK, and the following are short (slightly edited) excerpts of his from a variety of topics:
Post-race analysis: "What I've noticed here, you don't need to be able to diagnose every horse after a race. Some [U.S. trainers], I probably baffled them with the information I was giving them. It probably overwhelmed them. Back home, they want to know where the horse is going next, ground, trip - everything."
Racetrack variety: "I miss the variety of home, and it can get a bit one dimensional here. But listen, I'm not saying I don't enjoy riding over here. What's not to love – great prizemoney, great racing. The caliber of horse here [at Fair Grounds], is getting better and better every year. You're riding with the best jockeys. The best trainers are here. That's just a pleasure in itself.
"But back home you're riding at a different track every day – that's probably what makes you more versatile, more sharp. But at the same time, there's a lot more that can go wrong. I mean, I'd drive home five days a week thinking, 'Jesus, what went wrong there? Why didn't I sit still? Why didn't I go there?' Here, you still get those days where you go, 'I probably should have done that.' But, at the same time, you're probably not going home scratching your head."
Prize money: "Here, there's enough races for horses to win who are struggling for a spot. Back home, you could be going around the mill for a year trying to get it down the handicap. Here, you can run a Graded horse right back down, where it belongs, and make some money. That's the thing about racing back home. I love English racing, but they've got to do something about the prize money. There's no incentive for the owner to want a horse in training unless they simply love it. Over here, it's more a business, whereas back home it's more like a hobby."
Style and technique: "I'm probably always probably going to have that European style – probably want to close your eyes when I'm struggling! There's still things I've got to learn over here. They're focused on looking polished. They've got it pretty sewn up over here, and there's very small places for gain – there's no margin given. You're going left every day, same track every day. Really tightens your game up."
'This game will tame lions'
Another difference? The culture shock. "You know, that's what I'm buckling under a bit," he admitted. Which is hardly surprising.
The week before, New Orleans had been aflame in the life and gaudy splendor of its annual Mardi Gras celebrations. Brightly colored beads were still draped over the sagging willow trees throughout the city, and rainbow decorations adorned the old Southern Gothic architecture – a world apart from Newmarket high street on a drab, wet weekend in mid-February.
"You don't appreciate how you've got to take on the lifestyle," he said. "You've got to try and get the comforts you had back home. Simple things like trying to get my driver's license changed over to a U.S. one. They said, 'no, we only do German and Swiss.' So, there you go! All of a sudden, I can't buy a car right away. Will have to wait until I move state."
That move of state could come after the Fair Grounds meet closes, at the end of March, followed by the three-week Keeneland carnival, and then, quite possibly, Churchill Downs …
When I press him on the future — try to pin him to a concrete itinerary of places and dates — he prevaricates slightly, hinges his words with the sorts of remarks that reveal lessons hard learned and painfully digested.
"This game will tame lions, especially in America – you've always got to prove yourself," he said. "And I'm not really the sort of person who sets goals. I know that may sound negative. Definitely, when you're down in the dumps, you've got to figure out how to overcome it, but when you're on a wave, you've just got to ride it."
When I spoke with Beschizza last month, he was hoping to ride that wave all the way to the Kentucky Derby aboard Snapper Sinclair, with a pit-stop in the $1 million Louisiana Derby in between.
The Louisiana Derby's still the plan for Snapper Sinclair, but not for Beschizza – at least, not in company with his old pal. Asmussen recently announced that Jose Ortiz would take over riding duties on his Derby hope.
It would be fair to say, however, that the news didn't pack that same powerful punch to the guts it might once have had, in Beschizza's younger days. That's because he's been jocked-off "plenty of times" by now, the rider said, over the telephone recently. And he's seen how it far from means the journey's end.
"When I came here, I was under no illusion – I was prepared for the worst, but hopeful for the best," he said, before adding, with that philosophical trademark of his, "and who knows where I'll end up. We shall see, won't we."