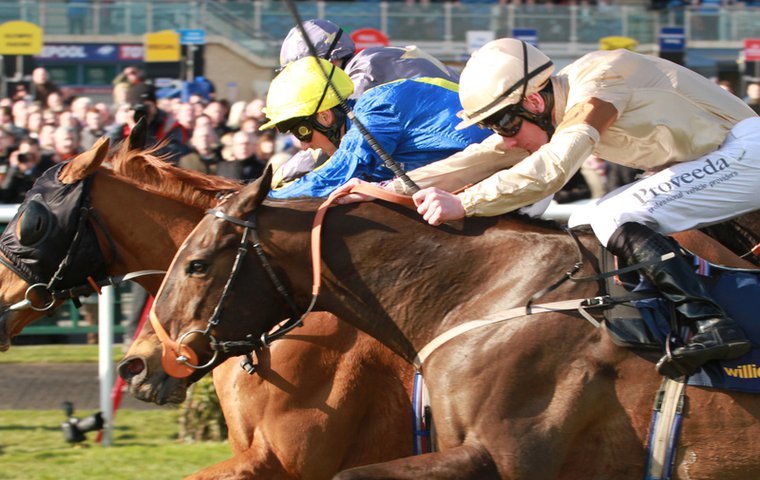 In a small, sparsely furnished apartment a few quiet, tree-lined blocks from Santa Anita racetrack, with blinds drawn on a gorgeous California afternoon, one-time star Irish-born apprentice Darren Egan explained in slow, deliberate fashion how an attempt at resurrecting his race-riding career in the United States had perished at the 11th hour.

"If you're suspended by any recognized racing authority anywhere in the world, that's prima facie evidence that you're not fit for a licence in California," he said, about the California stewards' ruling, delivered the day before: that they were upholding the British Horseracing Authority's suspension of his jockey licence for the duration of the BHA's penalty.
The BHA ban lifts on November 22, 2027, when Egan will be 35.
With this stroke of the steward's pen, the final sword had downed a career that, in less than two seasons in the UK, looked quickly on the ascendant. But, beyond the twists and turns of this one narrative (more on that here), emerges the strands of another broader story – how did the career of one of the country's top apprentices run aground so quickly?
One possible answer lies in the system in place to fashion novice jockeys into professional ones.
'An obvious risk' to integrity
In lieu of being able to attend last November's hearing on his case as a result of visa issues restricting his return to the UK, Egan wrote in an email to the BHA about the financial struggles he was under as he tried to transfer his license over from Ron Harris to another trainer:
"I was barely getting by financially. Mr. Harris was still receiving a percentage of my earnings even though I was not working for him, and I did not confront him about it because I was afraid [my career would suffer]."
Jockeys struggling with soaring costs and meager rewards is no new tale to the sport, however, nor are the implications of that status quo.
Last year, British champion jockey Silvestre de Sousa warned that low prize money made it difficult for jockeys riding fewer than 100 winners a year to make a decent living. In 2014, Robin Oakley wrote in The Spectator that the majority of those who risk life and limb are "bumping along the bottom financially", making temptation for jockeys to cheat too great, and "an obvious risk" to racing's integrity.
That apprentice jockeys must divvy up a share of their winnings and riding fees with the trainer they're licensed with only magnifies these problems, some feel. Which is why Britain's Professional Jockeys Association (PJA) has for a number of years now pushed the industry to come together in allowing young riders to pocket a larger portion of their earnings.
But a consensus has been hard to nail down, push back focusing on fears that, without incentive, trainers will prove less able and willing to give future generations of riders a fair shake of the yolk.
"I think there are some aspects of the relationship between trainers and apprentices that need to be looked at," said Rupert Arnold, executive director of the National Trainers Federation (NTF). "But, in terms of the share of prize money and riding fees, our current view is that trainers are satisfied that the present system is the right basis for the moment."
The mechanics of the apprentice system
A sliding scale is employed to work out the portion of the £118.29 riding fee that apprentices share with their contracted trainer. Seven-pound claimers split their riding fee 50-50 with the trainer. At five pounds, it's shared 55-45 in favor of the rider. At three pounds, the apprentice walks away with 80 percent of the riding fee.
Prize money, however, is split 50-50 between the apprentice and the trainer, regardless of the weight claim (a flat jockey receives 6.9 per cent of the prize money for a win, and 3.5 per cent for a place).
Conditional jockeys (apprentices in jump racing) fare noticeably better.
A conditional jockey claiming seven pounds will share the riding fee 50-50 with their contracted trainer. At five and three pounds, conditionals keep every penny of their riding fee, as they do all the prize money they earn, irrespective of weight allowance.
And it's this remunerative divide between emerging talents on the flat and over jumps that needs to be narrowed, said Dale Gibson, executive director of racing at the PJA, and himself a former journeyman jockey.
"If you're a dual-purpose trainer who employs an apprentice and a conditional, the conditional will earn more per ride for doing the same amount of work," Gibson said. "We [the PJA] are firmly behind a policy whereby this needs to be looked at and modernized."
So why the need to modernize?
Rising living costs
Time has marched forward swiftly since the likes of Reg Hollingshead churned out regiments of apprentices whittled lean on the millstone of hard-graft, self-discipline and old-school good conduct. For those "bumping along the bottom financially", as Oakley puts it, economic pressures brought about by rising living costs have posed perhaps the greatest obstacle to survival. Riding fees and prize money have been left in the dust of an inflation rate that has increased nearly 35 percent in the past 10 years alone.
Tom Marquand is last year's champion apprentice and the current chart-topper this year, despite having just ridden out his claim. He wrote in an email that all apprentices were in the "same boat" when it came to earnings: "Our boss gets [in the beginning] 50 percent of all money earned from riding so, although a lot of money can be earned, a lot is lost in the process. Between cars, insurance, diesel, and equipment for riding, another large amount of our earnings is lost."
The thing is, apprentices aren't expected to shoulder alone many of these costs. Trainers are obligated to stump up half the apprentice's racing expenses when they claim seven and five pounds. Only at three pounds is an apprentice expected to cover them out of pocket.
Here's a list of the racing expenses trainers are expected to contribute towards:
An allowance of 22.5 pence per mile when the apprentice uses his or her own car to travel to and from the races

Public or private transport

Jockeys' valets

Private medical insurance premium after any contribution to the premium made by the Injured Jockeys Fund.

Riding equipment: skullcap, breeches, goggles, body protector, and whip.
But are trainers living up to their end of the bargain? When it comes to the actual task of walking into the trainer's office cap in hand, "things can get very difficult for apprentices", Marquand wrote. "Obviously, being in a vulnerable position of wanting rides off their own boss, it is largely accepted that no expenses will be received due to not wanting to lose rides for kicking up a fuss."
Gibson agrees, noting that there are two or three "big-name trainers in this country" who have always employed apprentices, but who "refuse to pay expenditures". But there are other reasons why some trainers keep their hands in their pockets.
Young apprentices, many of them green when it comes to managing their personal finances, don't always hold onto the receipts and invoices necessary for proof of payment. While some trainers are reluctant to fork out racing expenses if the apprentice is riding for other trainers, irrespective of the fact that the apprentice is still earning them money, said Gibson.
Tip of the iceberg
In the past six months alone, six apprentices have approached the National Association of Stable Staff (NASS) seeking help in retrieving unpaid racing expenses, said the organization's chief executive, George McGrath. None of them did so while still in the employment of the trainer in question.
"I should imagine we're only looking at the tip of the iceberg," McGrath added.
The NTF's Rupert Arnold acknowledges the problem. But he poses a possible solution: a centralized "claims" system, where expense claims can be uploaded online, circumventing the need for apprentices who might be "intimidated" from having to panhandle in person for reimbursements.
"Riders should have their expenses paid in accordance with what's been agreed upon and what's set out in writing in the agreement," he said. Though he cautions that many apprentices, most of them riding in the odd race or two, offset costs by traveling to and from the races in the trainer's horsebox. "There's lots of ways in which the expenses to which they're entitled are mitigated."
The financial problem
To supplement their earnings, apprentices are expected to receive a full-time wage through the duration of their apprenticeship - a regulatory requirement so that apprentices should not have to "rely solely on prize money and riding fees", wrote BHA spokesman Robin Mounsey.
The problem is, the BHA's apprentice jockey training agreement leaves wriggle room as to how apprentices are paid for time worked away from the yard.
The PJA's stance is clear: apprentices should receive full-time wages unless they receive 100 percent of their riding fees. Final.
"At the end of the day, if they're out of the yard for four or five days of the week, they are earning that employer more money than he's paying them in wages. That's why their wages should be 100 percent," said Gibson.
Only, the BHA's training agreement is a "loose term", he added. "It isn't a proper employment contract."
As such, discrepancies arise where apprentices' careers have taken off – when the hours they would usually spend toiling in the yard, mucking out, riding and grooming, gradually diminish, lost to the hours spent at the races of an afternoon, or riding work for different trainers of a morning.
There should be a contractual agreement between the trainer and apprentice to address such a situation, said McGrath. Too often though, there isn't.
Employment relationship
"If it's written down and documented, there's not a problem," he said. "It's when it's not written down, and the trainer says, 'look, you've been away four days this week, so we're only going to give you half a week's wages'. They think that's justified, and maybe it is, maybe it isn't. But it should be written down."
Not that the apprentices are themselves blameless, McGrath said. "I promise you now, eight out of 10 of them, and that's being kind, just sign the document. They don't read it."
There is a case for reviewing the employment relationship between trainer and apprentice, "and, in particular, three and five pound claimers who are riding more frequently", admitted Arnold.
Young riders whose careers suddenly catch alight spend longer and longer away from the yard, putting pressure on the remaining staff to pick up the slack, as well as on the trainer to hire a new staff member – no inconsiderable expense.
One way to tackle this would be to implement a uniform contract delineating salary requirements more clearly for every apprentice and trainer, said Arnold.
"I think by standardizing these things, it makes it easier for both parties to understand what they're getting into," he said. Arnold declined to comment on specifics. But he admitted that it wouldn't be easy to corral agreement as to what the contract should include among the organization's roster of members.
Taking a step back to look at the issue more broadly, trainer John Berry, the current Newmarket mayor, is reluctant to tinker too drastically with the current apprentice system — if at all — for fear of dissuading further trainers from making what he sees as the financial sacrifice necessary to shepherd a young rider up through the ranks.
A hole in the yard
The careers of the vast majority of apprentices never go anywhere, he said – a calculation mirrored by Gibson, who said that roughly 30 percent of apprentices do not ride a winner, while 80 percent fail to ride their claim out.
"And so, effectively as a trainer, you don't make anything out of it," Berry said.
Berry pointed towards the "inconvenience" — both commercial and pragmatic — of grooming a wet-behind-the-ears apprentice, especially for smaller cash-strapped stables. Most owners are understandably reluctant to use an untested jockey, irrespective of the carrot of a jockey's weight claim dangled before them. As such, apprentices will often begin their careers on horses owned (and paid for) by the actual trainer.
And, even if the process unearths the next Jason Weaver or Ryan Moore (both past champion apprentices), Berry argues that the trainer still won't necessarily make any profit from their burgeoning careers. That's because a high-flying apprentice leaves a hole in the yard that needs to be filled by a new hire, costing anywhere between £15,000 and £20,000-plus per year (on top of the apprentice's wage). And the apprentice's earnings aren't guaranteed to cover that added outlay.
"You'll always find some trainers who will go to the expense of getting an apprentice started simply because they believe that it's the responsible and decent thing to do," wrote Berry, in a follow-up email. "But you'll find more prepared to go to that trouble and expense if the carrot is dangled that, if the apprentice really takes off, they might be able to recoup some of the expense."
Less money, more cheating?
Philip Langford, the gambler at the heart of Darren Egan's case, says he is a professional gambler, who, until the BHA's ban prohibited him from setting foot on any UK racecourse, was a familiar presence of an afternoon in racecourse grandstands and betting rings.
When we spoke about Egan, I took the opportunity to ask how prevalent he thought cheating was among jockeys, trainers and owners within the industry.
"It goes on every day. Every day," he said, arguing that, outside a narrow clique of riders who earn the big-bucks, many have to supplement their income with money garnered through gambling and the passing on of what would be considered inside information.
"The bottom lot, they're struggling pillar-to-post. Once you've paid fees, valets, PJA and things like that, what are you left with?" he asked.
In recent years, there have been notable efforts within the industry to tackle the problem, as well as to modernize the entire apprenticeship training system. Mandatory seminars for apprentices — covering a multitude of issues, including ethical good conduct on and off the racetrack — signal one such development.
Mentorship scheme
And, since 2011, ex-jockeys have been called on to act as one-on-one tutors, offering a sounding board to apprentices looking for post-race analysis, dietary advice, even recommendations on how to handle the media.
The mentorship scheme is paid for through a riding fee deduction – five percent for seven and five pound claimers, 10 percent for three-pound claimers. Trainers and apprentices split the cost equally. As many as 80 percent of apprentices currently use jockey coaches. By 2017, that figure will be 100 percent, when the program becomes mandatory.
"You have to be careful who you speak to," said Derby-winning jockey Michael Hills, and one of the mentors in question. "I say to them, 'play everything with a straight bat'. If they're in a small yard or big yard, a major owner might like to bet. And, while [the owner] might think it's okay because he's in the yard to receive information, as an apprentice you can't do that."
Marquand speaks highly of both initiatives. "Having a jockey coach has been massively beneficial from talking through races, or just discussing things in general," he wrote.
Ongoing talks could come to some kind of resolution by the end of the year, by the PJA's estimates. Aside from discussions surrounding pay, racing expenses and wages, the PJA has suggested placing a cap on the number of apprentices licensed at any one time, to improve and focus use resources better.
Though arguments surrounding that and all the other issues on the table may be splintered, the motive underpinning them all is essentially the same.
"We're wanting a career jockey out of an apprentice, we're not wanting two or three years of cheap labor from them," Gibson said. "If they've had a good time in the industry, they're more likely to stay."
How Darren Egan lost everything but emerged with new hope
Click here for Daniel Ross's report