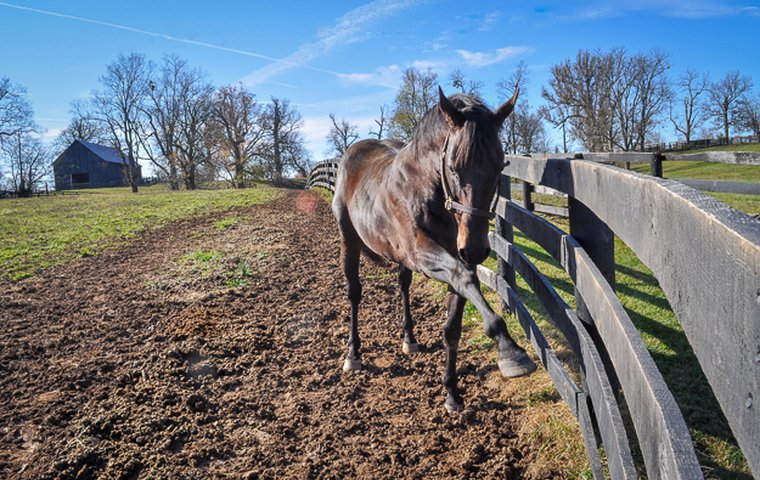 The breeding of Nyquist: a little twist of fate that led to pure gold

It never ceases to amaze. Every year, months upon months of preparation and speculation and wonderment are over in two quick moments of pounding pulses and hooves.
In this case, it was over in 2:01.31 and the winner of the 142nd Kentucky Derby rejuvenated an old and familiar hope. The victor, Nyquist, is the first undefeated 2-year-old champion since Seattle Slew to win the Derby, and he won using the same extraordinarily sharp tools that he carries in all his races: unwavering tactical speed and professional determination.
The whispering began as soon as Nyquist crossed the finish line; no one expected to see another Triple Crown hopeful so soon. American Pharoah was a gift. He was the superhorse needed to smash through that tired thick wall hardened by 37 years of disappointment. To think that we may have another horse capable of the feat so soon is stunning, and the jaded among us will search and search for a chink in Nyquist's armor, because up until 2015 there was always one.
Nyquist is in good company, as he is the fourth California-based horse to win the Kentucky Derby in five years. Of the other three, two went on to win the Preakness Stakes after cinching the Derby (I'll Have Another, 2012, and California Chrome, 2014) and one became the first Triple Crown winner since 1978.
Deep Californian roots
Top 3-year-old colts aren't the only gold that California has offered lately. Great fillies and mares - Zenyatta, Beholder, Songbird - and great geldings - Shared Belief, Game On Dude - are among the recent riches mined from California-based trainers.
It is ironic considering that as recently as 2009-10, the days of Zenyatta, west coast horses were quietly (and not so quietly, if you read the online forums) dismissed as being unable to compete east of the Mississippi River.
Uncle Mo, Nyquist's sire, never stepped foot west of Louisville, but Nyquist's Californian roots run deep.
In Excess, an Irish-bred dark bay/brown colt by Siberian Express (by Caro) out of Kantado, a paternal great-granddaughter of Tudor Minstrel, began his racing career in England. After six starts at as many racecourses, including a ninth-place finish in the G3 Jersey Stakes at Royal Ascot, In Excess was purchased by Jack Munari and imported to the United States in 1990, at age three. Just over a month after his arrival in this country, under the tutelage of trainer Bruce Jackson, the colt made his first start in the July 25 Oceanside Stakes at Del Mar, in which he finished second.
In Excess was a respectable racehorse on the west coast, but for a brief summer in 1991, he was a brilliant one on the east coast. He won four consecutive Grade Is at Belmont Park and Saratoga: the Metropolitan Handicap, the Whitney Handicap, the Woodward Stakes, and the Suburban Handicap, in which he set a Belmont Park track record of 1:58.33 for a mile and a quarter.
A turning point in history
That same summer - on July 26, 1991, to be exact - Soviet Sojourn, a 2-year-old bay filly by Leo Castelli, won the G3 Junior Miss Stakes at Del Mar. It was her first graded stakes win, and it was a turning point in Thoroughbred racing history as it was also the first graded win for her trainer, Bob Baffert.
Soviet Sojourn won the August 14 Sorrento Stakes (G3) next out, and although she was in the money several more times - and was Baffert's first Breeders' Cup entrant - the Sorrento was her last win. But her accomplishments didn't end there.
Baffert advised the filly's owners, Hal and Patti Earnhardt, clients from Baffert's days training quarter horses, to send Soviet Sojourn to the court of In Excess for the 1994 breeding season. In Excess was standing stud at his owner's Rancho Why Worry in central California but was about to move south to Vessels Stallion Farm under new ownership.
Back in 1991, Baffert's entry in the Metropolitan Handicap, the Michael Pegram-owned Letthebighossroll, had finished 10th. But Baffert was impressed by race winner In Excess.
"[In Excess] was a really nice horse and I was there when he won the Met Mile," said Baffert. "Mike Pegram was going to buy him so we bred all our mares to him to help him get started; that's why we bred Soviet [Sojourn] to him."
Kentucky Derby favorite
Soviet Sojourn foaled a bay colt in California on March 27, 1995; named Indian Charlie after a certain backside gossip sheet, he raced under the silks of his breeders, Hal and Patti Earnhardt. Indian Charlie won his August 3, 1997, debut, a 5 ½-furlong maiden special weight at Santa Anita Park, by 12 lengths. The colt didn't start again for six months.
On February 22, 1998, he won a seven-furlong allowance race by nine lengths, then a March 13 one-mile allowance by 2 ½ lengths, both at Santa Anita. Next, Indian Charlie took a big step up in class for the 1 ⅛ mile Santa Anita Derby on April 4 but met the challenge handily. Under jockey Gary Stevens, the colt won by 2 ¼ lengths in 1:47.00, a stakes record time shared by Sham (1973) and Lucky Debonair (1965). The second horse was Indian Charlie's Mike Pegram-owned stablemate, Real Quiet, and it was another seven lengths back to Artax.
It was on to Churchill Downs for the Kentucky Derby, and Indian Charlie - undefeated in four starts - was the morning-line favorite. Indian Charlie and Gary Stevens made their move on the final turn but so did Real Quiet and Kent Desormeaux, who swept by on the outside. Indian Charlie gave chase in the stretch but tired to third behind Real Quiet and Victory Gallop.
Given time off after the Derby, Indian Charlie was injured while training for his return and retired to stud.
Initially known for his female runners, Indian Charlie sired top distaffers Indian Blessing (champion 2-year-old filly of 2007 and champion female sprinter of 2008) and Fleet Indian (champion older mare of 2006), as well as Pampered Princess, Two Trail Sioux, Wishing Gate and By the Moon.
Uncle Mo's phenomenal first crop
The arrival of Uncle Mo, champion 2-year-old colt of 2010, cemented Indian Charlie's place as a top Kentucky sire. Other good runners include full brothers My Pal Charlie, Bwana Charlie (sire of the very game Comma To The Top), Souper Speedy, Liaison, and current runners Subtle Indian and Something Extra, both geldings.
"He was a picture beautiful horse that was an outstanding racehorse; he was really classy, and a quiet, intelligent, sweet horse on the track," recalled Baffert. "Indian Charlie was brilliant and he throws that in his offspring."
Euthanized at age 16 in December 2011, Indian Charlie's stud career was cut relatively short. But, if Uncle Mo's phenomenal first crop is any indication, this rich vein of California gold will be passed on for some time to come.
Baffert added: "If Mike Pegram didn't buy [In Excess], then we would have never bred [Soviet Sojourn] to him. Fate."