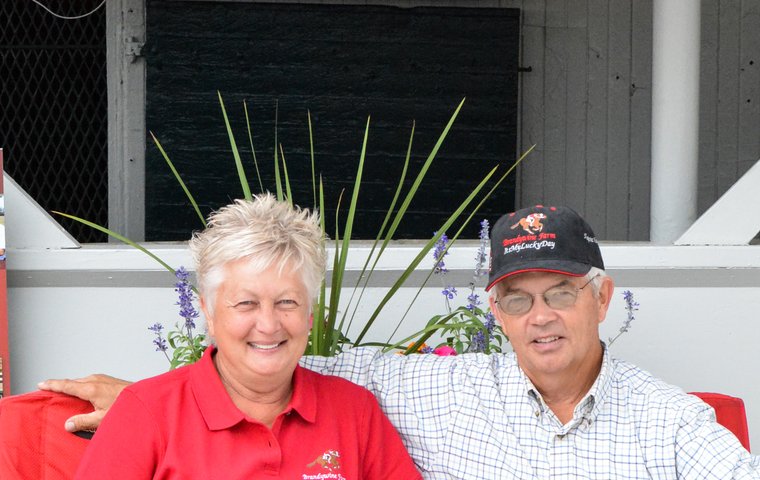 The sun is sliding down to the horizon, salmon-colored clouds trailing across the sky over undulating hills and blooming trees while mares nicker to slumbering foals. It's a breathtakingly beautiful spring evening at Brandywine Farm in Paris, Kentucky, but Pam Robinson hasn't had time to savor the scenery—nor has she had dinner yet.

She's been busy handling an emergency dystocia in which she labored, along with a mare and five assistants, to deliver a foal; her clothes are bloody and her right arm is beginning to hint of bruises that will inevitably erupt.
Scanning the notes she has left hanging on the door of her barn office, she braces for what awaits her and her husband, Jim, the following day in the nonstop life they lead as operators of a commercial Thoroughbred nursery.
She will have to leave the farm at 5:30 a.m. with a mare loaded on a trailer for the roughly 20-mile trip to Spendthrift Farm in Lexington for a breeding session with Temple City. Jim will meet a veterinarian at 6:45 to determine if another mare is ready to be bred and, if so, he and that mare will embark on a 35-mile trip to WinStar Farm for a rendezvous with Speightster.
Limitless chores
Before noon, Pam has promised to buy lunch for a dozen farm workers at a Paris restaurant to reward them for their labors, but she will have to finish quickly as she must head back to Spendthrift with another mare slated to meet Malibu Moon at 2 p.m. Jim is due return to WinStar at 3 p.m. with a mare for Outwork.
Simultaneously, the execution of limitless chores associated with caring for over 200 mares, including about 145 they own personally, in addition to newborn foals and more than 100 yearlings of 2017 must be directed with military precision.
Among those demanding particular attention at this time are 11 bulging broodmares who stand swishing their tails in the Brandywine foaling barn, ready to produce babies at any moment. In many cases, they will rouse the Robinsons from their bed in the quiet hours of night, but their deliveries will soften the hard edges of sleep deprivation.
Amid all this activity, it's no wonder that the Robinsons scarcely have had time to ponder the thrilling possibility that they could soon experience a sporting nirvana.
Two colts they bred, raised and sold could be running for next Saturday's holy grail of American racing, the gold Kentucky Derby trophy and blanket of red roses. Gunnevera, a multiple graded stakes winner and third in the Florida Derby, is highly regarded, while Royal Mo, a graded winner and third in the Santa Anita Derby, waits for a slot as No. 21 in a field limited to the 20 horses with the most qualifying points.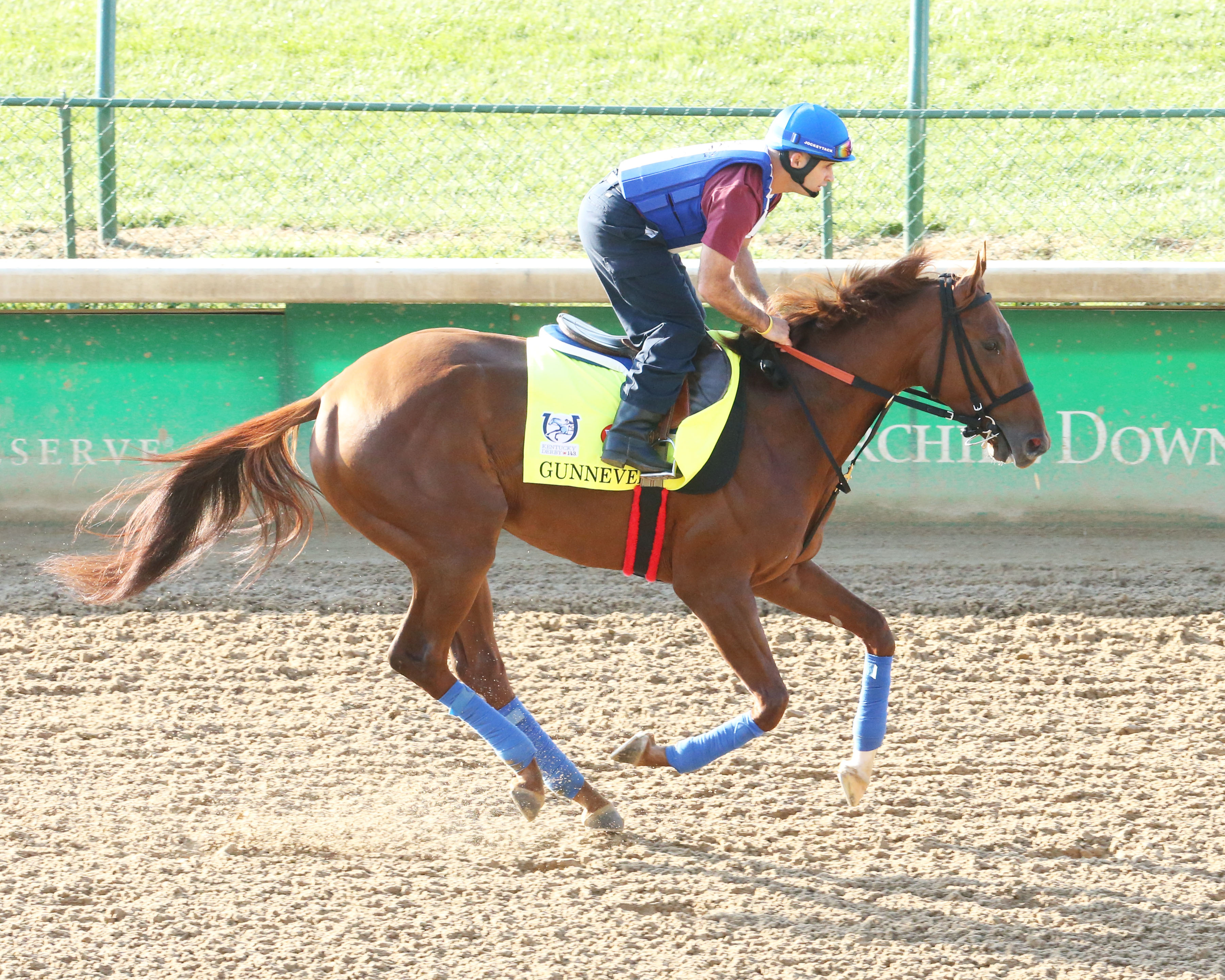 "Pam was up almost all of last night (with a foaling), and I don't know that we ever sit down and smell the roses," Jim reflects during a conversations he juggles between other tasks.
"No," Pam confides with a resigned laugh when asked if she has been able to revel in what she calls the Derby hoopla.
"It's intense. It's nerve-wracking," she says, noting a constant barrage of television, radio and print media requests for time she really doesn't have. However, she somehow makes time and shares insights into how she and Jim established a modest breeding business more than three decades ago that has grown exponentially in quality and quantity until Brandywine now is a steady generator of classic contenders.
Several racing publications have referred to Brandywine as a 'mom-and-pop' farm operation, but that old-fashioned moniker doesn't do justice in describing their gigantic yet budget-conscious nursery. To put the scope of their business in a bit of perspective, they maintain about the same number of mares that Sheikh Mohammed has kept at his Jonabell Farm in Lexington, although they do not buy mares or produce foals judged by the market to be worth the millions of dollars the ruler of Dubai has spent.
The Robinsons are virtually unique in the largely international, corporate-style breeding business of Central Kentucky. They devote nearly all their time, 365 days a year, personally taking care of their herd, delivering foals, planning matings, buying seasons, consigning horses to public auctions and running their own shedrow at sales.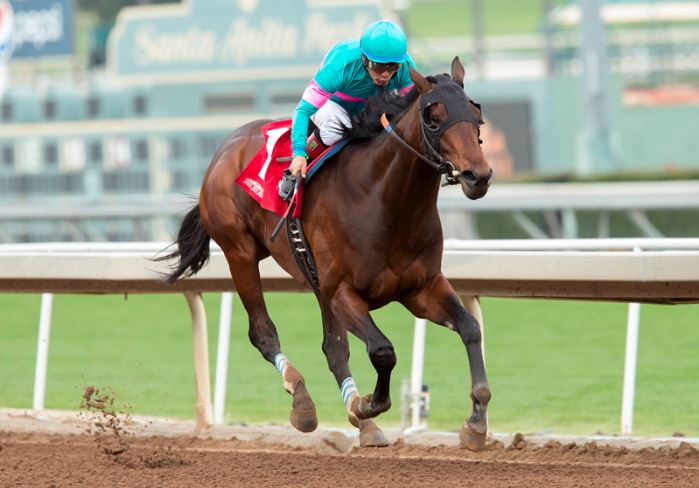 They do this work with a quiet love for animals that is apparent everywhere.
Accompanying the Robinsons around the farm are Einstein and McKenzie, their lively Euro Russells (black and tan Jack Russell terriers). Einstein often can be seen riding with Jim while he is working; his many talents include the ability to nose a lid off a go-cup of iced tea so he can take a sip when he's thirsty. McKenzie stays busy supervising activities in Pam's office.
Cats such as fluffy calico Jasmine, who likes to sit regally amid the breeding reports piled on Pam's desk, roam the barns, and part of the Robinsons' home on the farm is devoted to what is essentially a small aviary of exotic birds.
The horses, however, are the center of their universe. They range from 29-year-old retired Champagne Glow, dam of two G1 winners, and the more than a dozen other retirees that live at Brandywine to the frisky newborn Honor Code filly out of Royal Mo's dam, Royal Irish Lass, that Pam believes "might be the nicest filly we've ever had".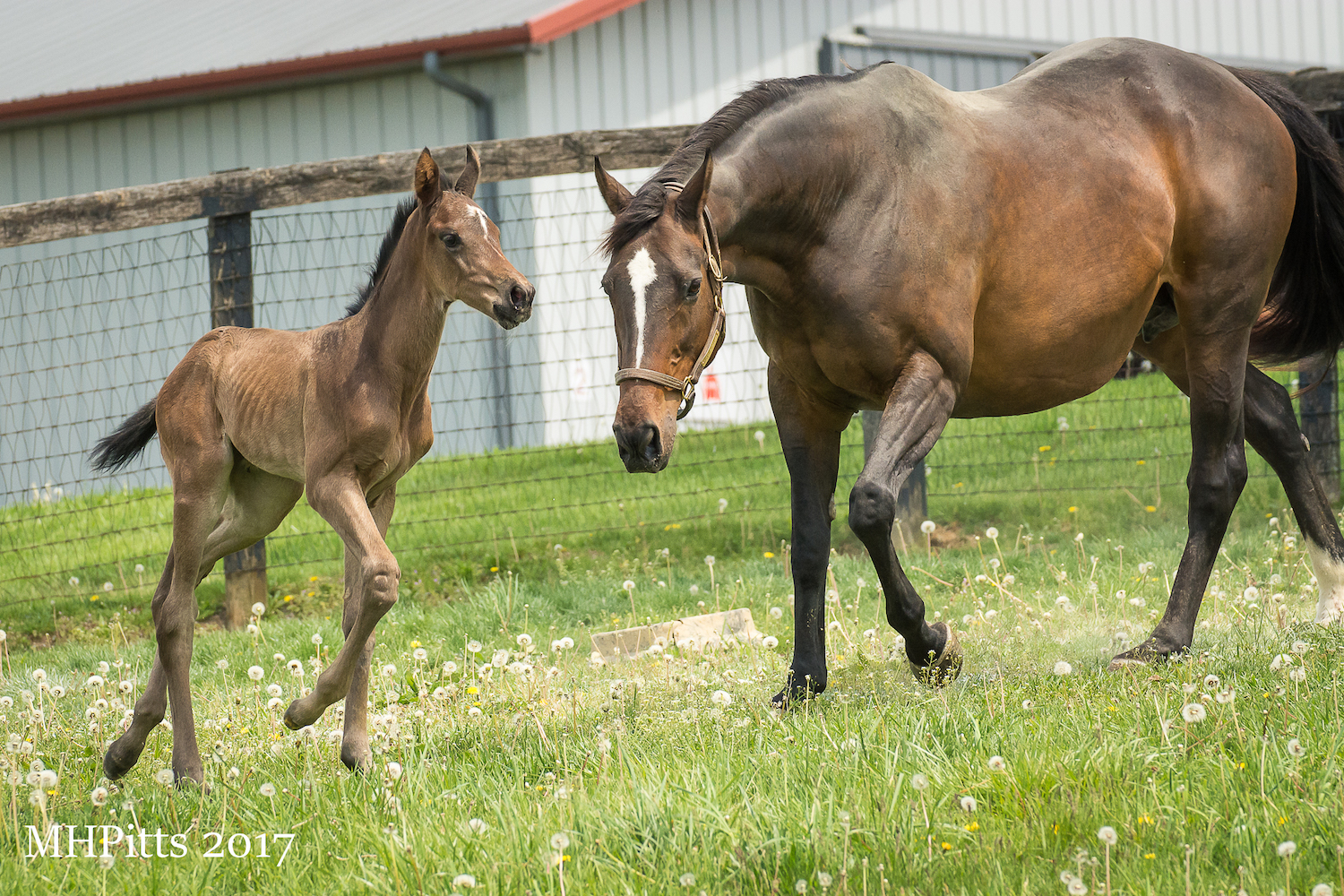 "There is probably nobody that does what Jim and I do, when you get right down to it," she says. "We live this 24 hours a day, seven days a week; we don't take vacations."
When asked what they value most, Pam does not hesitate. For them, the deepest reward does not come from selling a yearling for a hefty profit or even watching colts they have raised compete in classic races.
"It's getting a foal born, out on the ground, and watching them grow and develop, run and play — and try to kick me," she says, punctuating the last phrase with a laugh. The rigorous work of matings and care of pregnant mares for 11 months transforms into magic when the foals arrive.
While they say they can't imagine any other pursuit, life on the farm is not all frolicking foals and dazzling sunsets, however. Each day can present life-or-death struggles in equine management, such as mares colicking or difficult foalings.
With the current pressures on the middle and lower segments of yearling markets, there is no guarantee of income to reward the extreme hours of labor or match the staggering expenses.
Distinguished careers
"You'd better love it — you'd better have a passion for it — or it would probably drive you insane," Pam declares.
The Robinsons both gave up distinguished careers before they turned 50 to focus on Thoroughbred breeding in Kentucky, and they sunk some of their lifetime earnings into their now 600-acre farm and moved from their previous location in Hillsborough, North Carolina.
Not until this season, however, have they really grasped what they have been able to achieve and how rare the air is that Gunnevera and Royal Mo are breathing and sharing with them.
Yet these colts, both sold at the 2015 Keeneland September yearling sale, are following a number of other significant runners the Robinsons have raised, including 2011 Belmont Stakes winner and Breeders' Cup Classic third-place finisher Ruler On Ice; 2013 Preakness Stakes runner-up and Woodward Stakes winner Itsmyluckyday, and 2014 Arkansas Derby winner and Kentucky Derby third-place finisher Danza.
"We didn't realize what we had accomplished before. When Ruler On Ice won the Belmont, we thought, 'That's nice,' " Pam says with a rueful smile. "Now we know how much of a treat it is to be in this position."
"I'm not sure it's all sunk in yet," Jim says. "I look at all the other breeders and it's so special to get one Derby horse, and then to possibly have two, it's unreal. It's hard to believe, really."
The Robinsons' rise to rank among America's leading breeders — runners they raised earned more than $4.4 million each season in 2011, 2013 and 2014 to put them in the top dozen breeding farms — stems back to their teenage years and a pony and a cart.
Jim grew up on his family's farm in Bucyrus, Ohio, raising Ohio State Fair champion steers. Not far away, in Galion, Ohio, Pam lived with her family and pet cats and dogs.
Pam recalls that her father, an outstanding golfer, generously gave Jim a set of golf clubs when she was about to enter college. Around the same time, Jim caught Pam's attention by presenting her with a handsome pony and a cart.
"It wasn't until years later that I found out that it was a swap that took place; the golf clubs were in exchange for the pony and cart. I gave Jim brownie points when maybe I shouldn't have," Pam declares laughingly.
Regardless, they became best friends and "we dated on and off for five summers before we finally decided it was time to get married," she says. Both took jobs in Ohio, with Jim working as an engineer for General Telephone and Electronics (GTE) while Pam, armed with a Ph.D. and M.D., was a laboratory research associate at Ohio State University.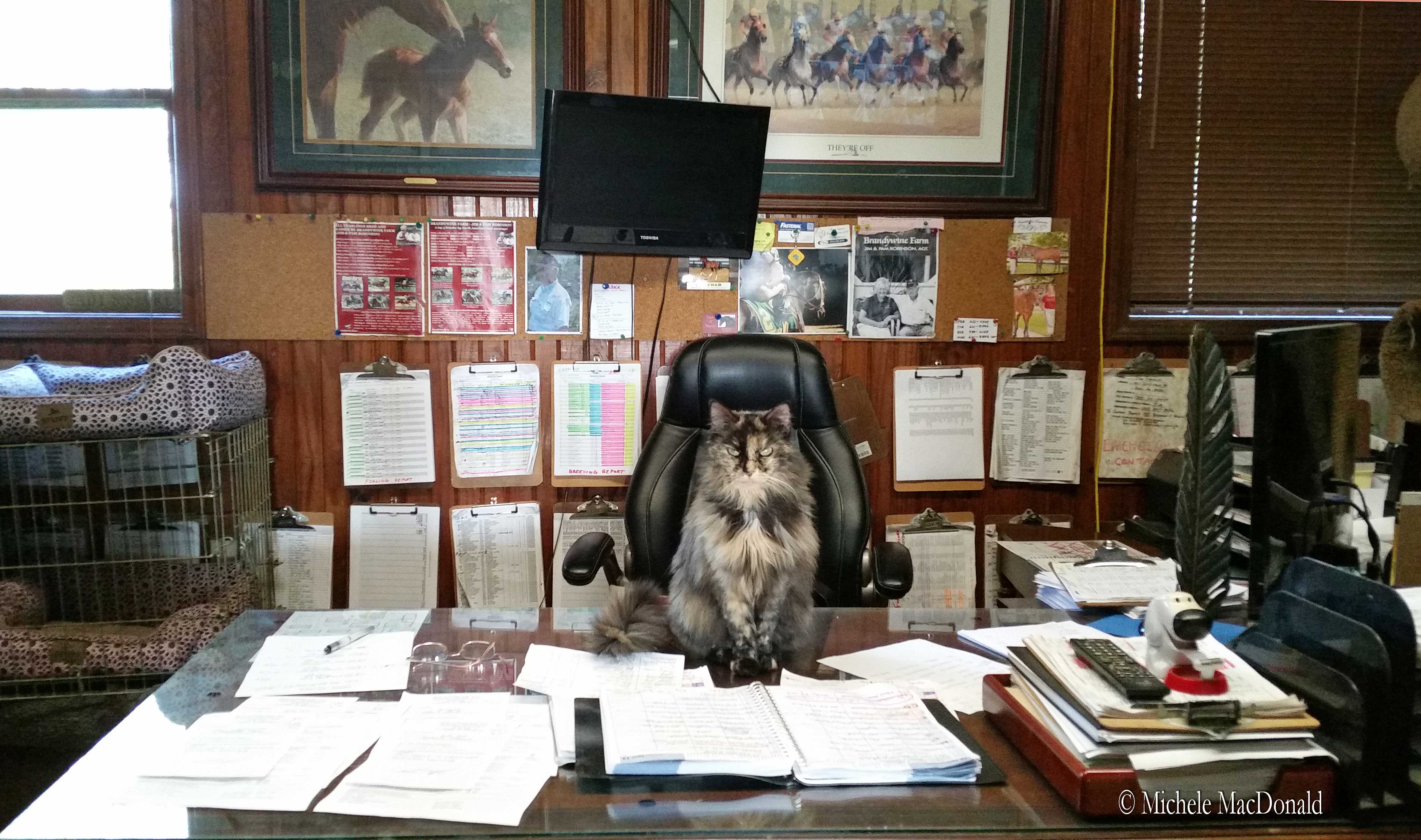 They moved to North Carolina when Pam took a prestigious position directing research and graduate programs in sports medicine at the University of North Carolina, and Jim was promoted, eventually rising to become GTE's director of transmission and protection for the southern United States while based in the company's Durham office.
As owners of three pleasure horses, they bought 100 acres near Chapel Hill, toiling mightily to clear timber and build fencing, run-in sheds and barns with their own hands.
The trajectory of the Robinsons' life changed forever when they went to a Fasig-Tipton sale in Maryland and spotted the attractive Full Pocket mare Granny Reeves, whose dam was a half sister to the dam of champion and Belmont Stakes winner Temperence Hill. Bidding $20,500, Pam acquired the chestnut and took her home, where in February 1983 she produced an On The Sly colt.
Eventually named Grannys Money, the colt was sold as a weanling to the BBA (England) for $16,000 at Keeneland and would go on to be G3-placed; thus, the Robinsons' life as commercial Thoroughbred breeders was truly underway.
Sleeping in the barn
"I don't know how we did it," Jim related of those early years in a story published in 2000. "We used to sleep in the barn, doing the foaling, and go to our jobs in the morning."
By the mid-1990s, the Robinsons were North Carolina's leading breeders and stood five stallions that covered 100 mares a year, but they were ready to compete nationally. They made a mark at Keeneland in November 1998, selling two weanlings for a total of $307,000, and they went out to look at Kentucky land with an eye toward investing sometime in the future.
"We looked at farms so that, when we decided we were getting ready to retire, we had some idea of where we wanted to be. But in three days, we bought this farm," Pam recalls of their purchase of an initial 100 acres in Paris.
"I made the comment to Jim that he could manage the farm here in Kentucky and I would stay in North Carolina and take care of things there and enjoy him on the weekends," she continues, chuckling. "But he told me he wasn't going to tolerate a weekend marriage."
The Robinsons opted to take retirement and become full-time breeders, even though Pam was in the midst of a heady career that included major research grants, 65 graduate students and studies of athletes ranging from elite swimmers to basketball players to injured jockeys.
Elite runners
Following their relocation, the Robinsons planned to keep their broodmare band limited to around 30 mares. But, as the winners kept flowing, the operation kept growing. The Jockey Club recently provided Pam with a list of all of the Brandywine-bred winners and it encompasses 79 small-type printed pages, and she estimates they have delivered more than 4,000 foals.
With horses like Ruler On Ice, Danza and Itsmyluckyday emerging from their program — which includes individualized yearling sale preparation featuring underwater treadmill work — they are succeeding in raising elite runners even though they do not breed most of their mares to stallions with high stud fees, preferring more economical young stallions.
They sell virtually their entire yearling crop annually, and buyers have found relative bargains in the Brandywine consignments: Itsmyluckyday was a $47,000 yearling, Danza sold for $105,000 and Ruler On Ice cost $100,000.
Gunnevera is quintessential Brandywine.
From the first crop of Mineshaft's Florida Derby-winning son Dialed In, he was produced by the then 19-year-old Unbridled mare Unbridled Rage, who had been a $13,000 acquisition in 2005; the Robinsons gave a partial interest in the mare to then employee Stephen Upchurch, who is listed as Gunnevera's co-breeder.
A well-made, leggy chestnut, Gunnevera was left orphaned when his dam died after hemorrhaging at his birth.
Shrewd intuition
While tragic, this was just the sort of situation when Pam, relying on her medical background and shrewd intuition, is at her best. She arranged a nurse mare and admits that the colt "was a little extra spoiled" to be sure he would thrive.
Although his growth and subsequent racing success have been everything a breeder could desire, his sale in the eighth session of the 2015 Keeneland September sale represents what can be the most dispiriting part of commercial breeding. The hammer fell on a bid of only $16,000 from trainer Antonio Sano.
"He was a nice, nice colt. He was the second horse in the ring that day, and I can remember walking around in the back ring and nobody was there. We knew we were in trouble [with few interested bidders], but we can't keep every yearling. We were extremely disappointed with the $16,000 — he was a big, good looking colt, just as good looking as the one we sold for $300,000," Pam recalls.
Royal Mo, born on Valentine's Day and from the second crop of outstanding young sire Uncle Mo, was offered in the third session of Keeneland's elite Book 1 and drew $300,000 from agent David Ingordo, acting on behalf of Zenyatta's owners, Jerry and Ann Moss. A colt Jim recalls as one who always elicited reactions "wow" and "special", Royal Mo was the highest-priced yearling the Robinsons sold in 2015.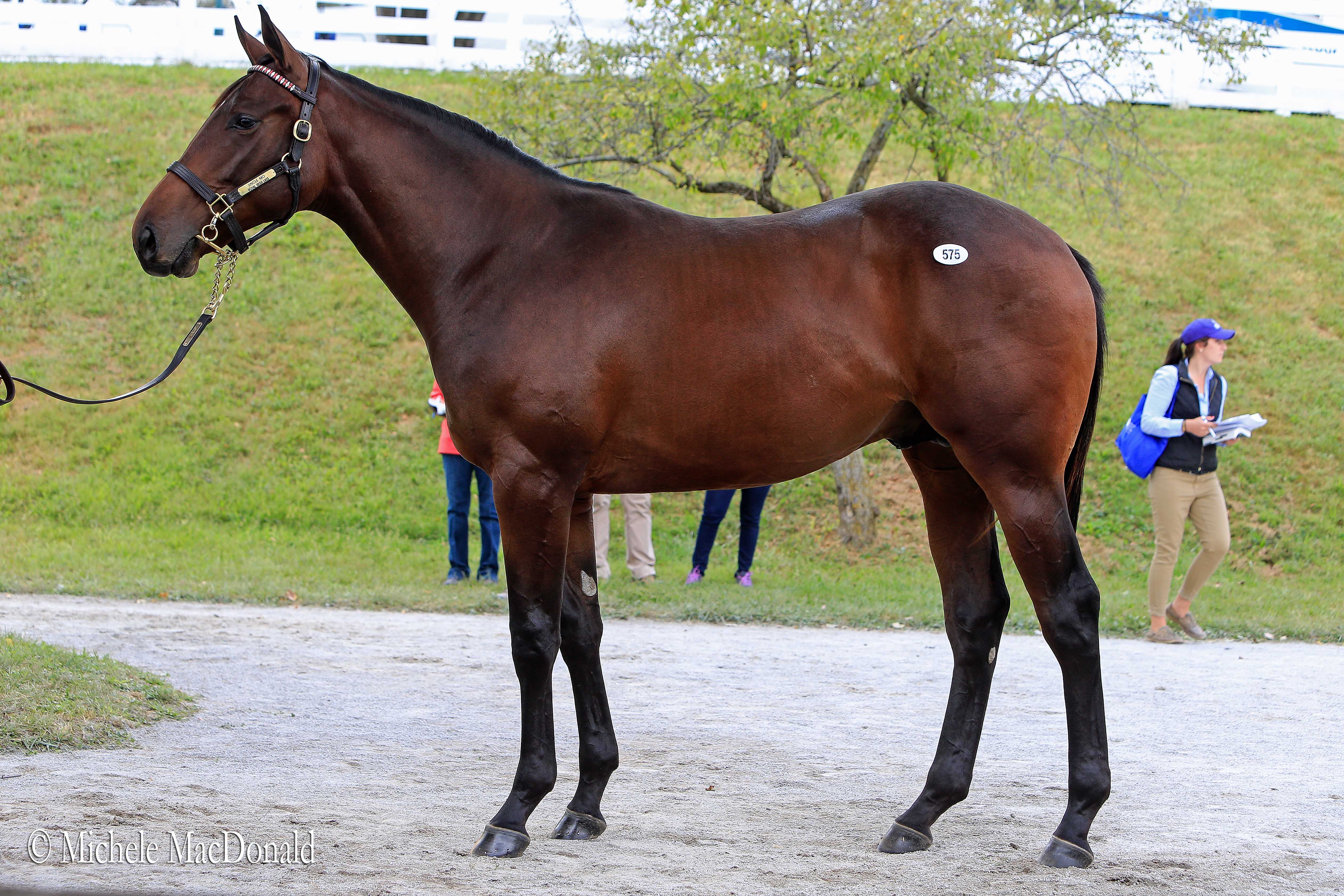 Despite strong bidding on Royal Mo, Pam candidly says, "I don't like the sales, really," expressing the plight of breeders with most of their horses at sales. Ongoing challenges are that veterinarians frequently steer buyers away from horses, even if whatever small flaws might show on X-rays are deemed inconsequential for racing performance, and the pool of buyers for moderately bred horses seems to be shrinking.
As an example of what they can face at auction, Pam recalls last year's September sale when, during the penultimate session with few buyers present, the Robinsons retained a filly by first-year sire Awesome Patriot when she drew no meaningful bids even though her X-rays were clean and her scope was good. The official RNA (Reserve Not Attained) price was $1,200.
"We brought her home and I gave her to somebody and she ran second at Keeneland on day one of the spring meet [April 7] against [colts] and the people have now turned down $100,000 for her," Pam relates of the filly, named Waki Patriot and a subsequent handy winner of a $60,000 maiden special weight race on April 20.
"So, I don't like sales … It's hard to estimate what your income is going to be. Last year was not a good year for us selling and the year before was one of our best years selling," she adds.
In 2015, Brandywine sold about 79 homebred and client-owned yearlings at the three primary Kentucky sales at Keeneland and Fasig-Tipton for just shy of $3 million; in 2016, 81 yearlings were sold at those sales for $1,942,200.
"This year I think is going to be a good year, but there is no guarantee. We have some very nice yearlings but I can't tell you if a particular yearling is going to bring $50,000 or $250,000 the way things are anymore."
No giving up
What is far more rewarding, at least intrinsically, is working some near medical miracles with horses, and the Robinsons have at times managed what others say is impossible. They do not like to give up on any individual.
Pam once raised a client's foal that was born two months prematurely and could not stand due to the possibility of fracturing its incompletely formed joints. She kept the filly in her office temporarily, feeding the youngster intravenously at first, before moving on to small sips of milk and eventually bottle feeding once the foal could physically handle the ingestion. She later rigged up a harness in a stall, somewhat like a human baby's bumper jumper, that was adjustable so the foal could gradually put weight on the ground.
"That was the most intensive, round-the-clock care that a person could give. It was intensive care for six weeks," she says.
More recently, she painstakingly utilized homemade splints and later specially made pie-shaped shoes to correct the contracted limbs of a client's foal that "were the worst we have ever had".
While neither of those foals was given much of a chance by veterinarians, the first grew up sound and able, although too slow for racing, and later became a kind companion in a handicapped children's riding program. The latter currently is in training for a racing career.
"The average person can't do these things," Pam says, citing the value of her background in physiology and physical therapy and indicating her dedication to every animal in her care. "We bend over backwards, and that client [who owned the foal with contracted legs] didn't pay anything more than the cost of the Elastikon [bandage tape] and the wraps."
Unspoken dreams
Saving mares and foals during dystocia is perhaps Pam's specialty, and she praises her longtime foal watch supervisor Robert Butler for his expertise in assisting her and Jim.
"One of the prominent vets has actually sent me some of his mares that he knew were going to be complicated foalings, as opposed to sending them to the clinic," Pam says, while another veterinarian "has made the comment to his team that, if we can't get it done, nobody can".
That statement might apply to other aspects of the Robinsons' life as well. They have mastered working together in a high-stress business that has torn apart other married couples, as Pam notes.
"We each have our responsibilities," she says of their blueprint for success, which keeps her primarily involved with equine health while Jim oversees farm maintenance. They share observations on stallions and possible matings, but Jim gives Pam "90 percent" of the credit for those decisions.
"She's a pretty special person," he says. "I am very fortunate to be married to her."
The Robinsons probably will watch the Kentucky Derby at home, which seems fitting as they will be surrounded by the animals they cherish. Their values are reflected in their recently written wills, which direct that monies be set aside first for the care of their retired horses and their dogs before any other disbursements are made.
Einstein and McKenzie are like children, and Pam avers that their retired broodmares "are really important. As far as I'm concerned, that's the essence of all of it—that we take care of the old girls".
But, for one afternoon in May, two 3-year-old colts will be their focus, carrying the unspoken dreams that race through the hearts of all breeders.
"We did spend a couple of years with each horse, so they're very special to us," Pam says while hoping that both Gunnevera and Royal Mo will be in the Kentucky Derby starting gate.
"This is a very difficult business; there are really more lows than highs," Jim adds. "But it is nice to think that after all our hard work, maybe it is paying off a little bit."