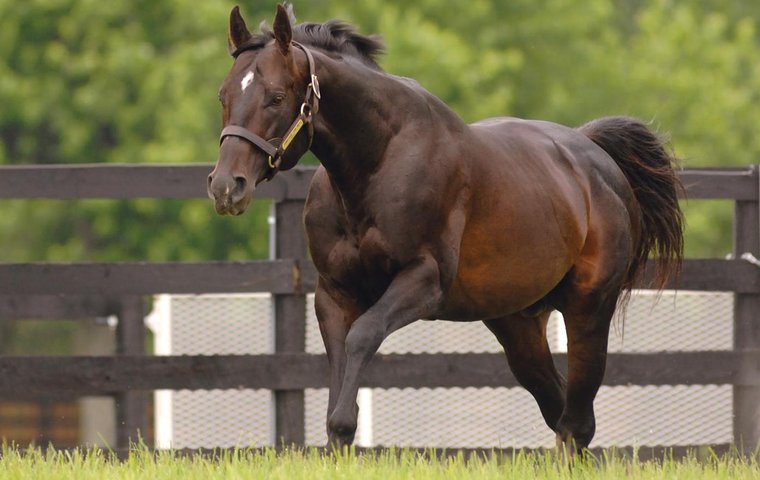 What did the TRC Global Rankings say about the winners at Santa Anita before the event? James Willoughby provides the race-by-race analysis, and picks out some highlights, including a look at the progression of Pioneerof The Nile, sire of American Pharoah and Saturday's Juvenile winner Classic Empire.

Breeders' Cup Juvenile Turf
Winner: Oscar Performance
Jockey: Jose Ortiz (TRC Global Ranking #23)
Owner: Amerman Racing Stables LLC (#207)
Trainer: Brian A Lynch (#54)
Sire: Kitten's Joy (#38)
Rankings focus: Based on turf racing in the U.S. alone, Kitten's Joy was the second highest-ranked sire in this subset before the meeting, ahead of Galileo and behind only City Zip. All three had Breeders' Cup winners, though City Zip's came with a horse switching from turf to dirt.
In the first ever TRC Global Rankings at the start of 2014, Kitten's Joy ranked #25. He has been ever-present since, as high as #23 (Jan 26, 2014) and as low as #96 (March 20, 2016). This win helped lift him to #33, just one notch below his yearly high, achieved on October 9.
Breeders' Cup Dirt Mile
Winner: Tamarkuz
Jockey: Mike E Smith (TRC Global Ranking #17)
Owner: Shadwell Stable (#4)
Trainer: Kiaran McLaughlin (#22)
Sire: Speightstown (#57)
Rankings focus: Sheikh Hamdan Al Maktoum races as Shadwell Stable in the U.S., but his racing interests around the world are linked by the TRC Global Rankings algorithm. We have had the Dubaian ranked in the top five owners in the world in 75 of a possible 149 weeks since we started producing the figures internally back in 2014.
Tamarkuz is a wonderfully talented runner, though he was helped by a pace meltdown and a patient Mike Smith ride here.
Breeders' Cup Juvenile Fillies' Turf
Winner: New Money Honey
Jockey: Javier Castellano (TRC Global Ranking #5)
Owner: E Five Racing Thoroughbreds (#--)
Trainer: Chad C Brown (#3)
Sire: Medaglia d'Oro (#6)
Rankings focus: Chad Brown made his reputation mainly with turf horses and he still has a huge edge on this surface over his rivals for overall supremacy in the U.S., Bob Baffert and Todd Pletcher, as these numbers show. Nowadays, however, he is increasingly potent with dirt runners too, and his Breeders' Cup exploits lifted him to the top of the tree among his countrymen, and to #2 overall in the freshly minted TRC Global Rankings.
Interestingly, Medaglia d'Oro is our highest-ranked dual-surface sire in the U.S. It is therefore no surprise his influence has spread to Europe and beyond, and this reach has seen him in the top 10 in the rankings in 84 of a possible 149 weeks (he entered stud in 2005). That is outstanding consistency from the Darley stalwart, and Songbird's sire is comfortably ensconced among the global elite.
Breeders' Cup Distaff
Winner: Beholder
Jockey: Gary Stevens (TRC Global Ranking #27)
Owner: Spendthrift Farm (#20)
Trainer: Richard Mandella (#60)
Sire: Henny Hughes (#46)
Rankings focus: That's some racing knowledge between jockey and trainer. It is 13 years since Richard Mandella dominated another Breeders' Cup at Santa Anita, but his shepherding of Beholder has underlined the consistent theme of his career: surely there are few better target trainers anywhere.
After this win, Mandella reaches #54 in the overall rankings. For the record, his highest position in the three-year span of our numbers is #47 on July 23, 2015 with 948 points; he currently has 946 points.
For her part, Beholder joined Goldikova as the only horse to win three Breeders' Cup races.
Breeders' Cup Juvenile Fillies'
Winner: Champagne Room
Jockey: Mario Gutierrez (TRC Global Ranking #122)
Owner: Ciaglia Racing Et Al (#54)
Trainer: Peter Eurton (#103)
Sire: Broken Vow (#308)
Rankings focus: Ciaglia Racing Et Al is a concatenation of the various partnerships of Sharon Alesia, Bram Jam Stable, Dominic Savides, Mike Burns, Exline Border Racing Llc and Ciaglia Racing Llc. Our text-matching algorithm, which has to make sometimes difficult decisions to group closely-related ownerships interests under the name of the dominant partner, needed a little help to forge these links. A total of 10 graded-race wins from eight different horses prove them to be a strong collective force, however, worthy of a TRC Global Ranking inside the top 50 now.
Breeders' Cup Filly & Mare Turf
Winner: Queen's Trust
Jockey: Frankie Dettori (TRC Global Ranking #3)
Owner: Cheveley Park Stud (#20)
Trainer: Sir Michael Stoute (#15)
Sire: Dansili (#29)
Rankings focus: It has been an excellent year for the Newmarket-based Cheveley Park Stud under the expert stewardship of Chris Richardson. Queen's Trust has been knocking on the door in Britain all season and deserved this top-level strike back at arguably her best trip of 10 furlongs.
The top 30 rankings belonging to all of Jockey, Owner, Trainer and Sire here show the importance of synergy. TRC Global Rankings points are designed to be comparable across categories; however, while they suggest jockey Frankie Dettori is the most potent force of this foursome relatively speaking, the credit should be shared equally.
Breeders' Cup Sprint
Winner: Drefong
Jockey: Martin Garcia (TRC Global Ranking #44)
Owner: Baoma Corporation (#--)
Trainer: Bob Baffert (#6)
Sire: Gio Ponti (#334)
Rankings focus: Surely a strong candidate for the most underrated performance of Breeders' Cup weekend. Bob Baffert's sprinter might have been gifted a rail-skimming trip by jockey Martin Garcia, but he looks a very good young horse and was arguably a little lost in the shuffle among an outstanding roster of champions on Saturday.
Racing Post Ratings allotted the winner a top-notch performance figure of 123, which looks fully merited. For what it is worth, the TRC algorithm bases its calculations more on the order of finish of races, and is less concerned with the distance between runners, which is more important to handicap ratings. On this basis, the 3-year-old looks equally dominant.
This was a fifth win in the Sprint for Baffert, who surely has no equal across the distance range on dirt.
Garcia also partnered the 2013 winner Secret Circle for the trainer. The rider gains two rankings points this week but stays at #44 because of other standout performers around him. He has a large sample of results, and this tends to result in a lower gain for the same results than for riders with smaller samples. Garcia has featured in every one of our 149 weekly classifications and has rated between #40 and #50 on 54 of those occasions. The system figures it has him pegged.
Breeders' Cup Turf Sprint
Winner: Obviously
Jockey: Flavien Prat (TRC Global Ranking #67)
Owner: Anthony Fanticola & Joseph Scardino (#165)
Trainer: Philip D'Amato (#41)
Sire: Choisir (#52)
Rankings focus: Phil D'Amato, 38, took over the license from the retired Mike Mitchell only in 2014. This was a maiden Breeders' Cup strike and he profiles as a young trainer to watch in 2017. D'Amato first appeared in our rankings on Aug 24, 2014 at #458; by the end of that year he reached #255; a year later he was #71, and his current #41 is his highest position.
Obviously came off a third in the G2 City of Hope Mile at Santa Anita, and was suited by cutting back to the Hillside Course trip. Less successful was the trainer's Vyjack, the winner of the same race, who may have recoiled from running 1:31.69sec and ran up the track in the Dirt Mile.
Breeders' Cup Juvenile
Winner: Classic Empire
Jockey: Julien R Leparoux (TRC Global Ranking #32)
Owner: John C Oxley (#40)
Trainer: Mark Casse (#19)
Sire: Pioneerof The Nile (#35)
Rankings profile: One of the features of the resurgence of American racing has been horses who stay the trip well. To run the golden two minutes for 10 furlongs, as American Pharoah did in last year's Classic, requires a horse to sustain a strong pace; running times for the American classics have got slower because of a sharp deterioration in the average speed of the last half-mile.
Later, Arrogate underlined the potency of this asset in the modern era, and the one-two here, Classic Empire and Not This Time, both look natural distance runners.
The winner is by Pharoah's sire Pioneerof The Nile, not uncoincidentally, and helped propel the stallion back up the TRC Global Rankings to #28 – two notches short of his best position, this September.
The accompanying graph shows the progression of Pioneerof The Nile. Lower (i.e. better) rankings are at the bottom of the y-axis, and ranks are plotted as a time series on the x-axis.
Breeders' Cup Turf
Winner: Highland Reel
Jockey: Seamie Heffernan (TRC Global Ranking #32)
Owner: Coolmore Partners (#1)
Trainer: A P O'Brien (#1)
Sire: Galileo (#1)
Rankings focus: Most of the individuals behind this win need no introduction, but jockey Seamie Heffernan is likely underrated outside Britain and Ireland. It is very difficult to think of occasions when he has not lived up to the stellar standards of Aidan O'Brien and Coolmore Partners.
TRC Global Rankings #1 jockey Ryan Moore was aboard third-placed Found, but the Arc winner found the fast terrain a bit too much for her, having stumbled at the start.
Heffernan climbed one placed on the back of this win. He entered the top 40 first on September 4 this year and this is his 10th consecutive placing within the bracket, with a ranking of #30 on October 2 a career-best.
Breeders' Cup Filly & Mare Sprint
Winner: Finest City
Jockey: Mike E Smith (TRC Global Ranking #17)
Owner: Seltzer Thoroughbreds (#--)
Trainer: Ian Kruljac (#--)
Sire: City Zip (#22)
Rankings focus: Salty veteran Mike Smith and comparative greenhorn Ian Kruljac are at different ends of the experience spectrum, though the rider spoke highly of the trainer's skills and a lot more may be heard of the 28-year-old, who comes from a racing dynasty.
City Zip is an excellent two-surface sire, though the rankings algorithm has higher regard for his turf capabilities. Finest City had run a sharp second in a G2 on turf at Del Mar on her previous start.
Incidentally, the old turf-to-dirt maxim beloved of some handicappers is a wise-after-the-event rationalisation of racehorse performance, though it can show up in data specific to a trainer, when it reflects a pattern of campaigning, rather than proof of cause.
Breeders' Cup Mile
Winner: Tourist
Jockey: Joel Rosario (TRC Global Ranking #24)
Owner: WinStar Farm (#20)
Trainer: William Mott (#29)
Sire: Tiznow (#275)
Rankings focus: Jockey Joel Rosario's TRC Global Ranking, and Tourist's fortunes in the Mile over the years, have gone in opposite directions. When the son of Tiznow failed to overcome an outside post and ran up the track at Santa Anita in 2014 under Rosie Napravnik, Rosario stood at #9 in the world; a year later, Tourist did a bit better to finish eighth at Keeneland for Jose Lezcano, but Rosario had fallen to #16; now, as Tourist hits paydirt with Rosario in the plate, his rider is temporarily outside the top 20. Nevertheless, the Dominican's skills have not waned and he was terrific here, and has now elevated his ranking four places.
Breeders' Cup Classic
Winner: Arrogate
Jockey: Mike E Smith (TRC Global Ranking #17)
Owner: Juddmonte Farms (#5)
Trainer: Bob Baffert (#6)
Sire: Unbridled's Song (#61)
Rankings focus: Mike Smith is first in Breeders' Cup history among riders with 25 wins and has been associated with some of the best horses in the sport's history, in which company Arrogate already belongs.
Incidentally, Smith – who also rode the colt's rangy sire Unbridled's Song to Breeders' Cup glory in the Juvenile at Belmont in 1995 – has never seen an outside trip he didn't like, so stall 10 was never going to be much of a hindrance, especially on the capacious galloper. He now has exactly 1000 rankings points – compared with a high of 1039 on October 5, 2014 – and climbs to #13.
Unbridled's Song was ranked #12 by the TRC rankings algorithm – using data from U.S. racing only – in this study. But notice that the deceased stallion's results are heavily skewed towards dirt, on which he ranked #9 compared with #482 on turf. The kind of bottomless stamina he owns is a more prized asset by breeders when it comes to racing on grass, and one wonders what will happen if Arrogate meets California Chrome in the much-vaunted Pegasus race over nine furlongs on the speedway that is Gulfstream Park West.
Khaled Abdulla's Juddmonte Farms is one of the great racing and breeding operations on the planet and has led the owners' category of TRC Global Rankings on 13 occasions, most recently on March 1, 2015. Its points totals has been contained within the interval 1032 to 1090 (only Coolmore Partners have topped this score) on all 149 weeks that we have either produced rankings internally or published them. We nominally consider 1000 to be the threshold of the global elite, which says it all.
Click here for the latest standings
'Big Money Mike' and Chad Brown on the move in world rankings