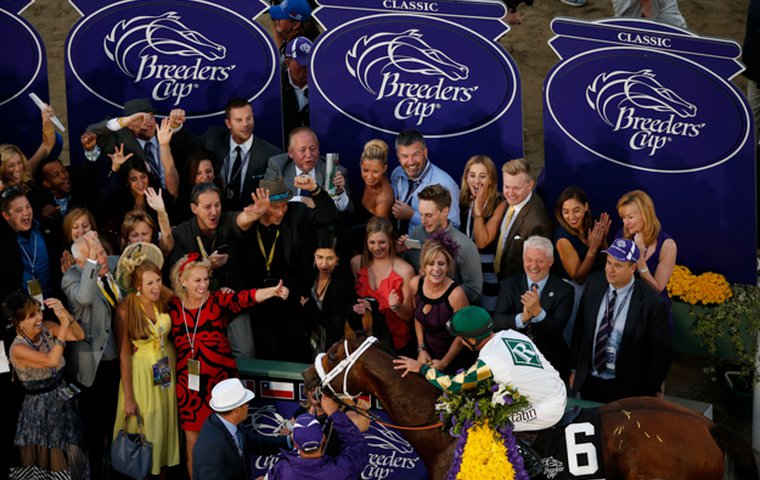 On Oct. 30 last year, Breeders' Cup Ltd. announced a 10-year media rights partnership extension with NBC, the longest media-relationship deal in the history of the championships. The agreement built on another, reached six months earlier, for NBC to televise 11 Breeders' Cup Challenge: Win and You're In events across various platforms leading up to the two-day Breeders' Cup in the fall.

Locking in with NBC through 2025 is, to date, the signature achievement of Breeders' Cup President and CEO Craig Fravel, the former Del Mar Thoroughbred Club president, who took charge of the championships in June 2011.
Adding in the separate "The Jockey Club Tour on FOX," which continues this year after 10 telecasts in 2014, horse racing events leading up to the Breeders' Cup are receiving the type of exposure on major media platforms not seen in years. Last year, the Breeders' Cup announced two new host sites for 2015 (Keeneland) and 2017 (Del Mar), with a return trip to Santa Anita in between.
In mid-February, John Scheinman visited the New York offices of Breeders' Cup for a conversation with Fravel, and the two discussed his achievements, the importance of international participation in the Breeders' Cup, and the two-day program itself.
The agreement with NBC for the television deal must be a great thing.
"When I came to Breeders' Cup in 2011, we had a deal that had about two years remaining in it with ESPN. ESPN indicated to us they were headed in a different direction; They were very much focused in the fall on college football. At the time, NBC still had its relationship with the Triple Crown tracks and was very much interested in connecting the Triple Crown and Breeders' Cup, which was obviously of great interest to us. And they were also then converting Versus to what is now NBC Sports Network, and so we started having conversations with both ESPN and NBC about trying to get out of our deal with ESPN early. We did that in 2012, migrated over to the NBC network platform for the Classic and most of the rest of the championships on the Sports Network. It started with a four-year deal, and then the objective behind that deal was to try and … really work together and grow the relationship. The NBC guys love racing and love Breeders' Cup. Gary Quinn and Jon Miller and Rob Hyland, who's the producer for most of the NBC shows on racing, his father-in-law is [trainer] Michael Matz, so he certainly knows his way around the backstretch and horses.
"I'm not one of those people who believe racing is that hard to understand, but for people who already have an interest in it, a passion for it, it certainly makes the relationship that much easier to build on. There's trust and understanding right from the get-go."
It can't hurt to have The Jockey Club series with FOX as a connecting tissue, just to keep people's eyeballs on horses going up to the Breeders' Cup.
"If you go back and look at the McKinsey report from [2011], one of the things they were saying is racing has lost its profile on television. At the time, there were really only the Triple Crown races and the Breeders' Cup on ESPN, and not on the same platform. There were, of course, the two TV networks that were dedicated [TVG and HRTV], but in terms of broadcast cable, that was about it. So, we went from roughly six to eight hours of programming to close to 50 in the space of a couple years between The Jockey Club and the Breeders' Cup. Hopefully, in the next two to three years, we'll be in a position with The Jockey Club to coordinate our efforts more closely and make the connectivity that much stronger."
You spent 20 years at Del Mar and now since 2011 have been running the Breeders' Cup. What do you consider your successes since overseeing the Breeders' Cup?
"Certainly reinvigorating the television relationship has been a major part of what we've done. I wouldn't say the relationship with ESPN was deteriorating, but their interest in horse racing was waning. So, we moved from a partner whose interest was waning to a partner whose interest was on the upswing and continues to increase. Clearly, migrating over to the NBC platform, the 10-year deal we signed late last year, was a very special part of what we've accomplished. And, also, I think one thing that I was very proud of at Del Mar and continues to be the case there – and certainly is not limited to Del Mar – we had a very strong interest in taking care of our customers and a great regard and respect for horsemen, owners, and trainers that participated in the events. To the point where Del Mar, every summer, an owner wanted to get a horse in. I know Saratoga is the same way on the East Coast. I think an emphasis, internally, at the Breeders' Cup is to make it the place horsemen want to be the first weekend in November, the last weekend in October, as the case may be."
They already want to be there, though.
"They want to be there, but I think what we really want them to do is walk away saying, 'I can't wait to come back next year. I can't wait to have another horse because we had such a great time. The racing was so great and everything about it was a wonderful experience.' The Breeders' Cup over the years has been a great experience, but I think there's a renewed emphasis on it and a continued focus making sure our service levels are the highest."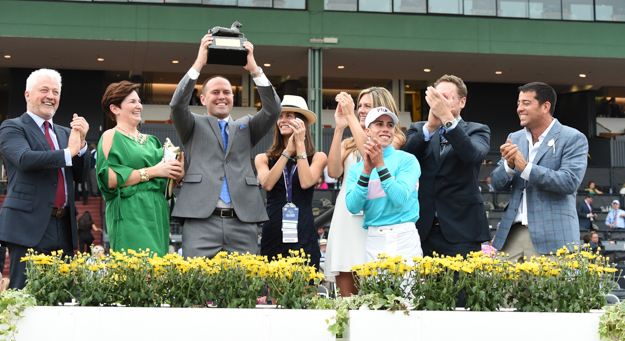 We don't have to name names, but we know that that is an issue in some big parts of racing, where there is a sort of distaste and the participants do get unhappy.
"It's always hard to make 14 owners happy when only one wins and 13 lose, but our objective is to make sure even the guy who came in last had such a great time that they're wanting to come back with their next horse the following year. And I think, by and large, our surveying and our customer feedback and responses have been reinforcing that a lot of things we're doing resonate with them.
"The other thing I think was problematic when I arrived at the Breeders' Cup was we were essentially on a one-year deal in identifying host sites. There's always a struggle and a debate over whether we should be constantly in one location, routinely at a warm-weather venue, and lord knows as a California guy, especially at my home [in Lexington], with my heater broken today, I'm sympathetic to the argument and understand it. But what we really wanted to do was change the dynamic."
So, you felt those were the two things that you needed to repair?
"A one-year process of identifying host sites was definitely problematic, so we went through a pretty extensive process to identify new sites. We wanted to inject new and exciting places into the mix that certainly don't meet the sort of standard idea of where the Breeders' Cup has been held historically."
I feel like the Monmouth Park event [in 2007] was such a disaster in the minds of Breeders' Cup that it kind of hurt all those other tracks, and Breeders' Cup said, 'We can never have that again.' Right?
"The Monmouth thing, if you talk to a lot of people who were there – and I didn't make it because there were wildfires in California at the time – I think it was difficult primarily because of the monsoon-like weather that got thrown at the Breeders' Cup. But, by and large, everybody said the staff at Monmouth did an amazing job; the facility was set in a great way, and had they not had the bad luck of the weather, there would have been a much different feeling about it."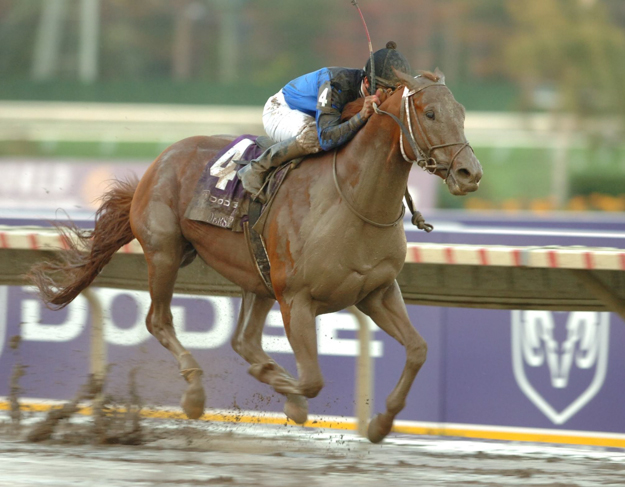 You talked about horsemen's relations, but in what other ways have you applied your managerial skills that you brought from the racetrack to make an imprint on Breeders' Cup?
"I think from a managerial standpoint, everybody has different styles. Greg Avioli [Breeders' Cup president from 2006 through 2010] had a different style than mine. Greg's a good friend of mine, but I don't think anybody would pretend we are similar in approach to a lot of things.
"I try to hire good people and let them do their jobs and work. I'm a big believer in teamwork. One of the things I was most proud of at Del Mar when I left was there was such a good team we had put together over the 20 years I was there, they didn't really miss a beat. As a manager, you really do anticipate that your job is to hire good people and really make them work together and create an environment where they can be productive. We certainly did that there, and I think we're moving a long ways down that path with the Breeders' Cup."
How much autonomy do you have and how much is in coordination with the board when you make a decision?
"Well, the Breeders' Cup board is a much more activist board, and we have to be very sensitive to the fact that we're essentially owned by the nominators and participants in the Breeders' Cup. And so certainly involving them in our decision-making and communicating with them what we're up to, why we do what we do, is an important part of the job."
What are your particular goals right now?
"Well, right now, we have our Breeders' Cup Challenge series with NBC, and we need to start talking to NBC about the future direction of the Challenge series and then our partner racetracks. So, I really want to enhance our overall relationship with not just the host tracks we have but with racetracks that aren't currently in rotation but are a big part of our simulcast program and our planning efforts and really incorporate them in the forward-looking approach on that Challenge series and how we go from here to there."
So, what needs to be done with that?
"I think we can continue to evolve it so there's a better connection with the Breeders' Cup itself, so it's clear. We probably can get more focused on the races that are included in [the Challenge series] and continue to take a look at what's in and what should be in, what isn't in that we might want to think about, and also negotiate our deal with NBC, so we know those races are going to be on television."
Does that mean maybe a track adjusting its schedule to feed into the Breeders' Cup races better, or tracks coordinate their stakes schedules with each other?
"There's always a movement of races. One thing, racing doesn't sit still every year. California is a classic case, where we've had [Hollywood Park] close down and the racing schedule change dramatically over the last two years. I think it's probably a little more difficult than it might be with NFL football, for example, where you know you're going to have a playoff start on a certain date. To coordinate racing in that June-to-Breeders' Cup timeframe is probably a larger challenge. So, hopefully, we'll be able to work with tracks that look 10 years down the road and come up with a renewable program every year."
Forgive me for belaboring, but I'm trying to understand. Why is that important? Aren't the horses going to be naturally pointed toward the Breeders' Cup, anyway?
"I think horsemen these days have so many choices and so many options that there's not always a default position, that they're by definition going to go to the Breeders' Cup. That's why we modified the travel supplements and we modified the entry fees, to make sure the incentive to participate is still there. Because people can go to the Melbourne Cup if they want to or they can go run in British Champions Day or they can run in Japan. We want the international world very much focused on the Breeders' Cup on that weekend in November or late October."
Could you ever see not having the term "World Championships" connected to Breeders' Cup anymore?
"I think that's a hot button for some people. I don't lose any sleep over it, and if we call it something different or we brand it slightly differently...I remember when it was just the Breeders' Cup. I remember when it was the Breeders' Cup World Thoroughbred Championships. Now it's the Breeders' Cup World Championships. The one thing I think is important is that we maintain that international focus. We're enhanced and the marketplace is enhanced when horses that are owned by connections overseas and horses that are owned in New York and Florida and California and Kentucky meet on the same playing field at the end of the year."
But why is that international presence so important?
"The international presence is obviously important from the breeding industry side because we want those players interested in U.S. racing. It's a very global environment we live in. When you're talking marketplaces, those things are driven by the amount of dollars and amount of eyeballs on a product. Right now, we have a great interest in changing our international distribution. We're working with Henry Birtles [president of Henry Birtles Associates], who's handling our international simulcast distribution. The more eyeballs we can have on the Breeders' Cup, the better."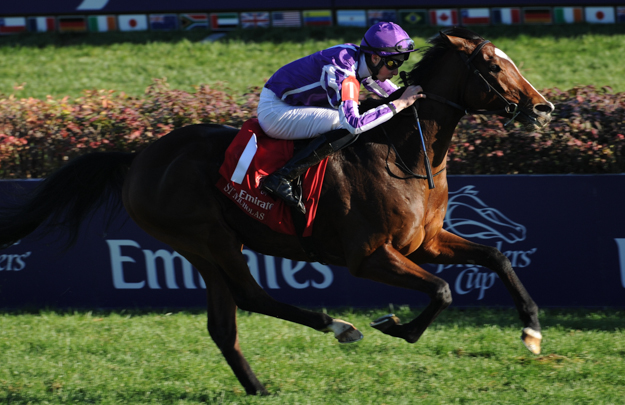 You sent Director of Racing Josh Christian over to Europe last year. How effective was that?
"I can just tell you: Clem Murphy, who's on our board, who works [as a senior aide] with Coolmore – so obviously Clem is very connected with the European side of the equation – he said it was the best money we've spent in the past few years. Sometimes, I think the international worldviews Americans and American activities from a different prism. They read different publications. They have their own preconceptions. Sometimes, the ability to communicate to them is diminished if you're not there face-to-face. I love the fact that the world can communicate through Google and the Internet and email and text messaging, but I don't think there's anything like a sit-down, face-to-face conversation.
"So, having Josh over there spreading the gospel of the Breeders' Cup, making sure the people understand the benefits available to them if they want to come to the Breeders' Cup, and that they're wanted. It's a personal invitation to them, saying that we don't take you for granted. We don't think you're going to come because we're standing here labeling it the World Championships. We want you to come because it's an important event, you're important people, and you're important to us. And Josh has been terrific with that. He's just got a dynamic personality. He's young; he's enthusiastic. I've heard this term earlier, but he bleeds purple. He's a great ambassador for us. And not just Europe – he goes to Asia and Australia."
I always appreciated seeing the [Japan Racing Association] guys because they're at all the major events, and they're doing the best they can to develop relationships and maybe lure some horses to Japan Cup, and they've obviously been successful. It's the same philosophical idea: Get your face out there so people know it's not just paperwork coming in the mail. In terms of international and world championships and things like that – the British championships, the advent of that, that's fairly new. There are Irish championships. You have the Arc. Is there any movement under way at all to coordinate? It might be a completely futile exercise, but to coordinate those to maybe create some kind of series or a definitive championship at all? Do you have these dialogues?
"I wouldn't say there's been any conversation to create what you just labeled a definitive championship because everyone's going to have their own identity, their own objectives. I've thought about it. Sometimes I sit around and think, 'Maybe we should emulate soccer and create the World Cup of horse racing that takes place in December and once every four years it's the Breeders' Cup. I'm not sure that's practical.
"There are so many differentiations amongst and between the various jurisdictions. Some are almost exclusively turf. Others have dirt. Others have synthetic. Some have wagering, some don't. Some have bookmaking. Some have pari-mutuel. It's such a broad dynamic of activities; I just don't see the creation of the single soccer-like World Cup. But we have had conversations with the Irish and the British and the French, on occasion, about better coordinating the schedules of the championships so that horsemen have more opportunities to run in them. Over the next five years, I think we'll make some headway on that. People have to be willing to give up or move from places that they've traditionally been very comfortable. That takes some time and effort.
"The proliferation of events around the world has been nothing but good for horsemen. You can now run for a lot of money on British Champions Day. You can run for a lot of money on Irish Champions Weekend. You can run for a lot of money in Hong Kong. You can run for a lot of money in Australia. You can run for a huge amount of money at the Breeders' Cup. If you're an owner and you're looking to invest in the sport and get involved and have some exciting options, the fact that you have all those options in front of you is a great thing for the sport."
There were 26 "Win and You're In" races overseas last year. Only three of the winners were pre-entered, and two were from South America. On the flip side, there were 38 foreign pre-entries, which was a record. Is there something wrong with the "Win and You're In" program overseas?
"I don't think there's something wrong with it. I think…it's very hard to find races that you might consider firm-ground races in Europe. From a track preparation standpoint, they don't seek to make tracks firm, and so it's not like you can go pick out 26 races and say, 'These are Breeders' Cup Challenge: 'Win and You're In' races and the winner is destined to come to the Breeders' Cup.' Because a lot of times those will be horses that performed on soft ground and yielding ground, and the owners will say, 'The Breeders' Cup is for this other horse that has different action, different preferences.' Is there something wrong with it? It's been a great extension of our brand in Europe. It certainly draws attention. We get calls from racetracks making sure they're in the program. They love the association."
You win the Whitney [Handicap] here, and it's the greatest thing you've ever done. But also you know, 'I'm going to the Breeders' Cup.' And it enters your mind. I've seen people cry in the winner's circle because they've won the Whitney, then that second thing they think is, 'We're in!' But over there, it's like they're probably not even giving it a thought, right? Can you raise that visibility? Is that visibility in their heads?
"I don't think that's the visibility. I go over with Josh and talk to trainers and owners in Europe, and basically they say, 'If I've got a horse that fits and is good enough, I'll bring them.' I think it keeps the Breeders' Cup in front of them and gets their attention. The other side of that coin is the winners that don't come, we're not paying entry fees for those horses. We'll look at whether there's more focus on travel awards, but we're certainly not going to abandon the Challenge program in Europe."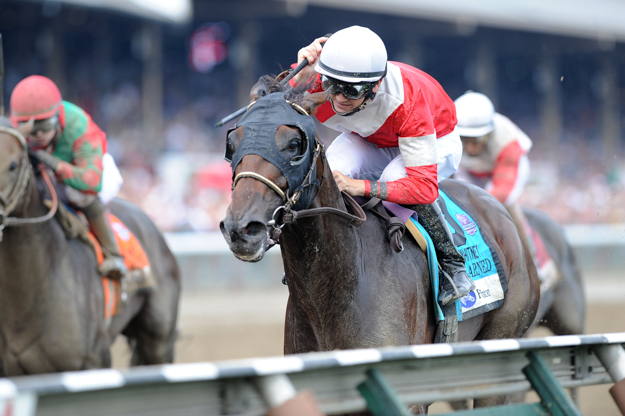 The advent of the $40,000 for participants for travel is a tremendous development. They must love it.
"They do love it. That's one of the great things about sending Josh over there: A lot of guys weren't even aware of it. That's one thing you find out in managing anything. You can send out emails and texts and tell people stuff and send them letters, and sometimes, just because of the proliferation of stuff people get to look at, they're just not seeing some of that. When Josh is standing there in front of somebody and saying, 'We'd love to have you at the Breeders' Cup and, by the way, there's a $40,000 travel allowance,' it gets their attention."
I want to talk about the program a little bit. When you came on, I think you did an interview with Thoroughbred Daily News where you said you thought eight Breeders' Cup races on Saturday and eight on Friday was a good balance. Well you've changed your viewpoint over time on that and gotten rid of some races. As my friend Andy Beyer said, you've gotten back to basics. How did your viewpoint over what a good card and a good two-day card looks like develop over time?
"Well, first of all, Friday is obviously going to be somewhat less viewed on a general basis than Saturday because the eyes of the world are much more available on Saturday because people still have jobs.
"I was always a big believer at Del Mar in: You want to be big? Put on big. Really focus on your big day. And so, I'm not saying there's any diminished focus on Friday. This year I think you're going to find at Keeneland that Friday is going to be just as big a day as Saturday. Maybe not from a wagering standpoint, but in terms of the public participation and excitement and all that. Because it's a very focused marketplace. It's going to have a great amount of life to it.
"One of the things I felt was highly important with the Breeders' Cup was that every race should be of the caliber and quality we expect. The perception of that race should be significant, so the first year we eliminated the Juvenile Sprint – it was taking away from some other races. My review of the first two years of the fields and level of quality in them was just not that great. And so we just wanted to get focused on making sure that whatever number of races we ultimately present were of world quality.
"And the same went for the Marathon. I remember [former vice president of racing at Hollywood Park] Martin Panza, when I was at Del Mar, coming to talk to us about putting on some races in California that would lead in, perhaps, to this new Breeders' Cup race. We hoped it would encourage people to breed horses that showed some stamina. Certainly in the Polytrack era, we had some horses that would run in our prep race that might not have done so on dirt. So we were very interested in doing the Marathon. But you didn't want to make the main reason of the race to be that we made money on it. It was a low purse – a half a million dollars – so we had one of two ways to go, in my mind: You either double down on it and go up to $1 million or $2 million and hope that really moves the needle and gives you a Grade 1, or you move the other way and you get rid of it. So we kicked that around for a while and kept looking at the performance of the race, and at the end of the day, we decided a 2-mile race on the dirt or a 1 ¾ - whatever the track configuration lent itself to – just wasn't moving the needle in terms of the quality of the race. And we didn't see it moving to the quality of a Grade 1. So, to my mind, if you're going to be a championship race and be in the Breeders' Cup, it has to be that quality race and it just wasn't getting there."
I felt like the advent of the Filly & Mare Sprint took away a huge piece of drama that was almost inherent in the event itself, which was fantastically fast fillies taking on the boys in the Breeders' Cup Sprint. Now trainers can cross-enter and shop for spots, but you should have to prove yourself -- maybe even outside of your comfort zone -- to be named a champion, and the Breeders' Cup, the way it has developed, has lost that. I understand that those fillies are still allowed to enter against the boys, but in the past, you would have Safely Kept; you would have Xtra Heat; you would have Meafara; you would have Very Subtle – I could name them all. They're still in your mind because of what they did in the Breeders' Cup. Can Breeders' Cup find a way to do that? Is that something you'd be interested in?
"It's not something that has been discussed. I'm comfortable where we are with the races right now. I think the Filly & Mare Sprint has been a good race. It still meets the quality standard I'm talking about. Otherwise, we would have been talking about that. As long as we're going to be a on a two-day format – and I'm still supportive of that – and I think the fans enjoy the expanding of the footprint of the event, I'm not sure you can do that with many fewer races than we currently have. We look at every one of our races, and sometimes we ask questions – to your point – to force people, and I hate to say force, but encourage them to take a chance; to maybe move into a race that they're not going to be 3-to-5 is not necessarily a bad thing. So, we look at: Is the Dirt Mile taking away from the Classic or Sprint? And those are questions we ask ourselves routinely. And the same kinds of questions pertain to the Filly & Mare Sprint. I don't see anything major, in terms of races, and we're certainly not talking about anything for this year, and we're not talking about eliminating races for next year. But we never say never."
Thinking in terms of the event and what kinds of thing Breeders' Cup ties into, what do you want to surround yourself with?
"You're going to see an interesting example of that when we're at Keeneland this year. I have to start out by saying that our friends at Santa Anita have done an amazing job over the last three years. Really, the change from 2011 to 2014 in the physical structure of the facilities there and the amenities was dramatic. We can't be more highly complimentary of the Stronach Group in terms of what they did in investing in racing. They're a great example of that. But, Santa Anita's community, the greater Los Angeles area, which is a tougher market to motivate – there's so many things to do, and traffic and the like – and this year when we're in Lexington, the community's going to be all about the Breeders' Cup.
"Like I said, there's no other game in town – but there is a [home University of] Kentucky football game that weekend. The community's already rallied around putting on a Breeders' Cup festival. We're going to have not only public events but private events for the participants in the Breeders' Cup. Our hospitality will be amazing, and some of the farms are going to be putting on parties. It'll be a full week of Breeders' Cup only. And even the months leading into that, the Breeders' Cup is going to be in the front of everyone's mind in central Kentucky. We've had lots of interest from people in terms of participating in the event, from Ireland and France and the U.K., so I think, it's just going to bring a different tone to it, and it will be fun."
You don't have to motivate and sell yourself. The whole community is selling the event and celebrating it.
"I think it's going to be a very different feel. The Del Mar event will be very much like that, too. The city of San Diego, the north county of San Diego really turn themselves out for the Del Mar meet, and the Breeders' Cup is going to be that in spades."
I think you need to develop a huge heating system and bring it to Saratoga. Like a huge, wraparound heating system. How terrific would it be to host it at the track?
"People laugh. I've actually suggested that on occasion, and people say it's too cold up there that time of year. I'm open [to it]."
Social media. What kind of strategy does Breeders' Cup need to disseminate information about the Breeders' Cup. Can it develop fans on social media? How deeply have you all thought into social media?
"Well, I think the world is finding its way on social media, and, obviously, one of the things we've tried to do is engage through our ambassador program, for example, with celebrities who have significant followings. We were talking last night about Rob Dyrdek, who's a skateboarding guy. I'm too old now to think about skateboarding, and guys Rob Dyrdek's age, but Rob's a big fan. He's now got some partnerships in horses. Bode Miller is similar. Folks like that are taking interest on social media – there's nothing like word of mouth. I guess Twitter is nothing more than another form of word of mouth. It tends to be written, and it tends to be more visual in some senses, but that's really what it is.
"Again, if we put on a great product and we can get people like that interested and we can get people that have followings – like Jim Rome – that does nothing but good things for horse racing. That's part of the strategy. And, obviously, getting young people and giving them platforms. I don't know if you saw at the Breeders' Cup, we had our Twitter wall and our social media wall. It allowed both visual and social media images of the Breeders' Cup during the two-day event. We'll be building on those kinds of things and bringing in younger aficionados of social media to help us do that."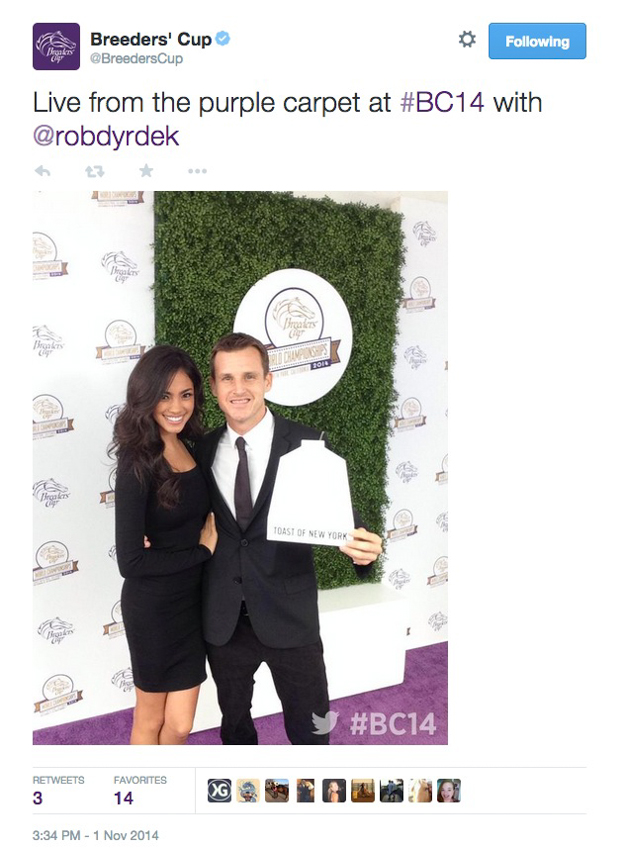 What's the status of Lasix in the Breeders' Cup?
"We continue to believe that running without medication is the appropriate thing over the long haul. We don't want to be flip-flopping back and forth between jurisdictions and one year be without Lasix and one year be with Lasix. I'm hopeful that over time that we can overcome the resistance of horsemen's groups and find a way at least for the Breeders' Cup to be free of medication. If you're going to identify champions, then being without medication on race day is the way to go."
Is it going to be permitted in all classifications for 2015?
"It was last year and there will be no change from last year to this year. We had 2-year-olds [running without Lasix] for two years.
"I think the industry needs to get its arms around this medication issue and come to a consensus, and I hope the consensus ultimately is that we don't have race-day medication."
Does the Breeders' Cup need to be a leader on that or not?
"I think everybody's who's a leader in the industry, if they feel strongly about it, needs to work together to figure out a way to get it done."
A lot of leaders in the industry. That's a problem.
"We'd like to change that. We'd like there to be one all-enlightened and all-powerful body that can make decisions for the industry, but that's not the facts on the ground right now, so we continue to have to work within the various and sundry alphabet soup of industry leadership to try and accomplish things. That's something we'd like to accomplish, but so far...
"When you talk about medication, I think one of the things that gets overlooked is the great things we do in terms of integrity, and I think it's reflected in the wagering interests in the event. We've been a leader in surveillance. We've been a leader in making sure the drug testing and laboratory accreditation for the Breeders' Cup races themselves have been beyond question. So, I think the general public has a high level of confidence from a safety standpoint. I mean, every horse is looked at over and over and over again from a health standpoint for the Breeders' Cup. I don't think there's any other place in the world that's better at that. We're as good as anybody and better than most."
Doug O'Neill was not allowed to run in the Breeders' Cup, but his horses ran. I'm not going to name it because it hasn't done it yet, but I know one jurisdiction moving toward a penalization of ownership when their horses are found to be illegally positive. Would you even consider moving in that direction?
"We did move in that direction after the O'Neill situation came up. You will no longer be able to simply transfer your horses to an assistant under those kinds of conditions and still run your horse.
"You can move it to a different trainer entirely, so there's no ongoing interest. But it's something we will continue to look at. Owners need to be responsible. The thing about that is Goldencents was not the horse that was involved in the medication issue. So, I don't think it's fair to the owners of Goldencents to say they should have been penalized for something that was done with another horse."
Agreed. But if it had been Goldencents, should he have been barred? It's almost like saying A-Rod should be traded to another team and he'd be OK; you know what I'm saying?
"Owners need to be responsible in terms of their decision-making about who trains for them, and part of that responsibility is if there are consequences that affect your horse because of what your trainer did, you're going to have to live with the consequences. I've said that for years that we need to take a look at disqualifying horses as a result of medication violations. We're looking at various things on that."
I wanted to end the interview with this question: Should Bayern have been DQ'd?
"I'll show you the overhead that wasn't shown on the NBC broadcast, and I guess the stewards didn't have it, that shows the actual path of the horses. I would say if you saw that overhead shot, you'd probably think the stewards made the correct decision.
What do you see in the overhead?
"You see the horse come over and Shared Belief shy away from him but not a great deal of contact. There is a lot of contact between Shared Belief and the four horse [Moreno], I believe.
"I also have to say, I've known the stewards in California for many years. Those who cast aspersions on them for playing favorites or other things, I disagree with entirely. Their decision was entirely consistent with things I saw happen every single day in California racing; there's always a lot of contact out of the gate. Sometimes it's easy to figure out who was responsible; sometimes it's not. But I've almost never seen them disqualify a horse for something that happened within 10 strides of the starting gate. And, so, they say consistency is the hobgoblin of small minds, but I do think they were appropriately consistent with their past decision-making."
Breeders' Cup would never think of bringing in their own stewards, would they?
"As long as every state has different racing rules, you would be foolish to try and do that and have unfamiliar people dealing with subjects that require familiarity. I'm hoping that as we get more and more consistent in our rules, I think that's another job, to define the national rulebook for how the game should be played. Somewhere down the road, an event that takes place in California should be treated the same as an event that takes place in New York. But, by the same token, I grew up watching a lot of baseball. The theory is the National League umpires have a different strike zone than the American League umpires, and that doesn't seem to ruin baseball."