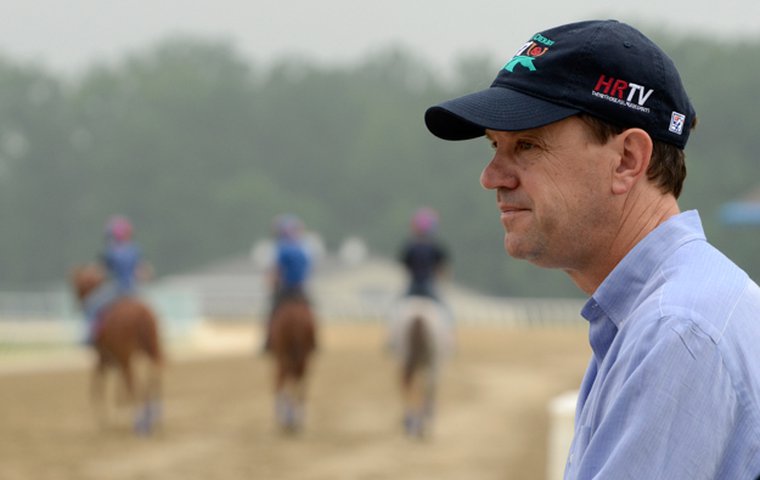 This year's Breeders' Cup will mark the 10th anniversary of trainer Graham Motion's initial appearance, as well as his first win, at the World Championships.

A decade later, the British expat speaks with fondness and gratitude when recalling Better Talk Now's 27-to-1 upset in the 2004 Breeders' Cup Turf. And there is optimism there, too, as Motion has one of the favorites, Main Sequence, for this year's running of the $3 million Turf at Santa Anita.
"Every trainer wants to be in the Breeders' Cup; that's what it's all about," Motion, 50, said recently. "I think the win at the Breeders' Cup at Lone Star Park with Better Talk Now is what put us on the map with the European operations. Winning races like that definitely gets people's attention. We started getting another level of horse after that."
One of those European operations that took notice of Motion is the Niarchos family's Flaxman Holdings Ltd., Main Sequence's breeder and owner.
Main Sequence, under regular rider Rajiv Maragh, won his Breeders' Cup prep in Belmont Park's Joe Hirsch Turf Classic last month. It was the 5-year-old's third consecutive G1 victory following his arrival in the United States from England earlier this year. As part of his undefeated 2014 campaign, the Kentucky-bred also won the United Nations at Monmouth Park and the Sword Dancer at Saratoga Race Course. For the Breeders' Cup, he will have a new pilot, as Hall of Famer John Velazquez replaces the injured Maragh.
"I don't ever recall winning three Grade 1 races in a row with a horse," the soft-spoken Motion said the morning after Main Sequence used his patented closing kick to capture the Joe Hirsch Turf Classic. "It's very hard to win three Grade 1s with [his running style]. You have to realize what an accomplishment it is for the horse . . . it's very remarkable."
Main Sequence was previously trained in England by David Lanigan, who saddled him to a runner-up finish behind Camelot in the 2012 Epsom Derby, and a win the same year in the G3 Betfred Derby Trial at Lingfield Park. After a winless season as a 4-year-old in Europe, Lanigan suggested a change of scenery might do Main Sequence some good, and the gelding was sent to Motion in January of this year.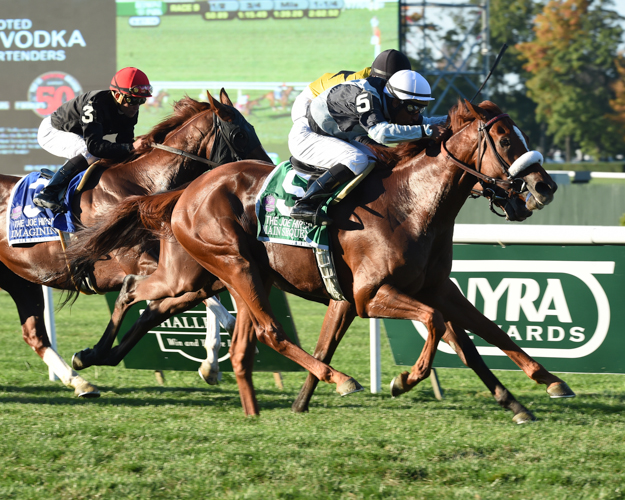 Alan Cooper, the racing manager for the Niarchos family since 1984, said upon the death of Bobby Frankel in 2009, Maria Niarchos-Gouazé, the daughter of the late Starvos Niarchos, and the manager of the family's global racing empire, tabbed Motion to replace the late Hall of Famer as the stable's principal trainer in the U.S.
"Graham brings tremendous knowledge of training on both sides of the Atlantic through his experience working in France and England, and obviously, his experience in the United States," Cooper said.
Main Sequence is the second Breeders' Cup starter Motion will saddle for the Niarchos family. The first, Aruna, finished fifth in the 2011 Filly & Mare Turf. While under Motion's care, Aruna was a multiple graded stakes winner, including a victory in the G1 Spinster in 2011.
Motion's career has soared since Better Talk Now's Breeders' cup win. To follow that initial victory on the world's stage was another in 2010 at Churchill Downs with the 46-to-1 Shared Account in the Filly & Mare Turf. Motion can also claim ownership of a Kentucky Derby triumph in 2011 with Animal Kingdom, who he would win the world's richest horse race, the $10 million Dubai World Cup, with two years later.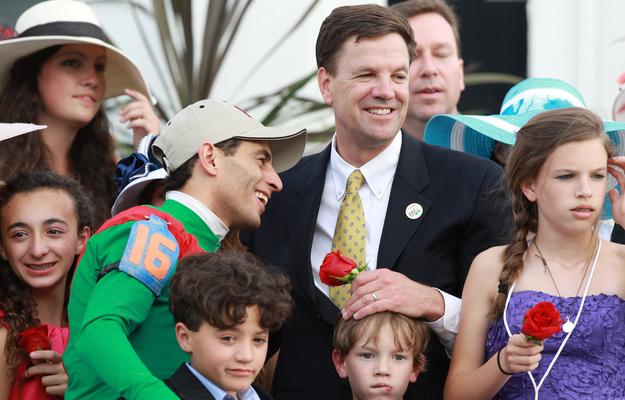 Motion came to America from Cambridge, England, at the age of 16, when his father, Michael, accepted a job as the U.S. representative for the sales company Tattersalls.
Upon finishing high school, Graham returned to Europe and worked on a breeding farm in France, but found the pace too slow. While he was in France, he decided that he wanted to train. Through his father's bloodstock connections, he landed a job in the barn of trainer Jonathan Sheppard in 1985. Working first in a foreman-like capacity for Sheppard at his Unionville, Pennsylvania farm, Motion had the great fortune to observe and learn from a master whose successes came over both hurdles and on the flat.
Hall of Famer Sheppard recalls a young man who wasn't a "totally naturally born horseman" but a "steady, reliable, good worker."
"He had to learn [horsemanship]," Sheppard said. "It wasn't like he grew up in a barn like I pretty much did. Now, of course, Graham is in the position where he has the strongest group of owners in the Mid-Atlantic."
The lessons learned by Motion from Sheppard remain with him today.
"Getting horses relaxed is what we seemed to spend all of our time at Jonathan's doing -- getting horses to settle," Motion said. "Whether it be from turning them out or doing it in workouts, we were trying to get them to settle. That has always been my modus as a trainer. I like to see horses run when they are relaxed. I think they are happier and it is more natural for them.
"I think the most I picked up before I became a trainer, and what I do now, comes from Jonathan," he added. "That is how I base my training philosophy, on Jonathan's."
A Harvard-like education wasn't Motion's only takeaway from the five years spent in Sheppard's shed row. Flatterer, a four-time Eclipse Award winner for Sheppard, was in the barn when Motion was there. When the hurdler journeyed overseas to finish second in both the English Champion Hurdle at the Cheltenham Festival and the French Champion Hurdle at Auteuil -- races not oft-targeted by Americans -- Motion was by his side in the role as head traveling lad for the Sheppard stable.
"That was amazing to travel with Flatterer," Motion said. "When I look back at that now, it is hard to even imagine I did that. Even some of the things I've done [in my career] don't necessarily duplicate what that experience was like for me. I was in my early 20s, and going to the English Champion Hurdle with an American horse . . . that was amazing . . . it was extraordinary."
Motion's studies were not yet complete. From Sheppard's barn, he traveled to France and joined the stable of Jonathan Pease. During his one year with Pease at his Chantilly yard, Motion met his future wife, Anita, who was working for trainer Alain de Royer-Dupré.
"It was a great experience, and great exposure, and a way to see how people do things differently with horses," Motion said of his time at Chantilly.
When Motion returned to the U.S. in 1991, he went to work as an assistant to trainer Bernie Bonds, a longtime fixture on the Maryland racing circuit. When Bond became ill and subsequently died, several of the trainer's clients turned their horses over to Motion and he launched his training career in 1993. That same year, he saddled his first winner, Bounding Daisy, at Laurel Park, and his first graded stakes winner, Gala Spinaway.
Today in retirement, Gala Spinaway shares a paddock with Better Talk Now at the Fair Hill Training Center in Maryland. Fair Hill has been Motion's main base of operation for his public stable since 2002. He currently has 100 horses in his care there.
Better Talk Now is nicknamed "Blacky" not only for his expresso-colored coat but also for his cantankerous nature -- the week of the 2004 Breeders' Cup, Better Talk Now sunk his teeth into the arm of Motion's wife, Anita, turning it into a mosaic of colors.
Motion said the gelding surprised him with his Breeders' Cup win because he had not been training to his satisfaction coming into the race.
"To be honest, Better Talk Now worked really disappointedly before we left to go to Texas," Motion recalled. "I'm not sure if we didn't have other horses to go, that I would have taken him. That's crazy to say now, but it's true.
"They had just installed a new woodchip track at Fair Hill and it was a very fresh surface, and he did not handle it well at all," he explained. "I talked it over with his owner, Brent Johnson, and we decided we didn't have anything to lose, so let's take a shot. Fortunately, we took the shot."
It was Motion's first Breeders' Cup appearance and he came with three horses. Before the $2 million Turf was run, he already had enjoyed a satisfying, albeit frustrating, day. He saddled the 15-to-1 Dance Away Capote to a fifth-place finish in the Juvenile Fillies, and the 16-to-1 Film Maker finished a game second to odds-on Ouija Board in the Filly & Mare Turf.
"By the time we got to the Breeders' Cup Turf, we had already had an amazing day," Motion said. "There was no pressure. Better Talk Now was close to 28-to-1. After the race, there was this [stewards'] inquiry, which felt like it took 10 minutes. We were very worried during the inquiry [which involved contact with third-place finisher Powerscourt in the stretch]. There was merit. I think in some jurisdictions, it possibly could have come down. It was a roller-coaster day."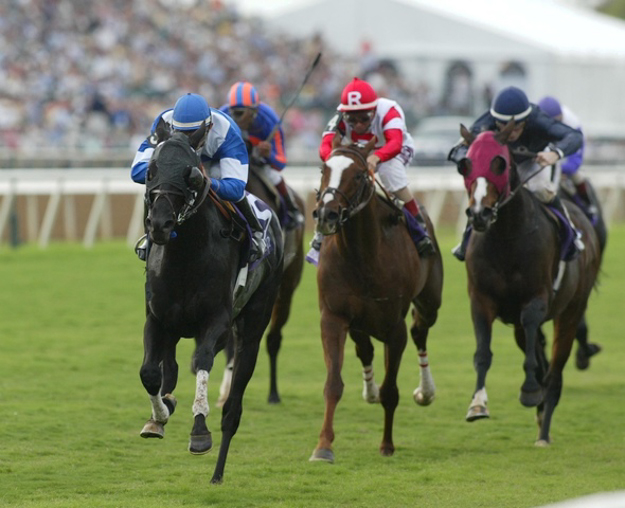 Like Motion, Better Talk Now's rider, Ramon Dominguez, now retired, was making his initial appearance at the Breeders' Cup in 2004. Dominguez said in a recent interview that the stewards' review of the films felt like it took "five hours," but he was confident the order of finish would remain unchanged and he would leave Texas with his first Breeders' Cup win.
"It was excruciating waiting for [the stewards' review] but I felt like it added to the moment," Dominguez said. "First winning the race and the emotions you have as you cross the wire, and then [surviving the inquiry] . . . such a great relief."
The victory was particularly meaningful for Dominguez because it came aboard a Motion-trained horse. Dominguez said he felt a bond with the trainer who was very supportive of him during the several years he rode at Delaware Park where he won five titles, 2003-06 and 2008.
"When I first rode at Delaware Park [in 1998], I was winning some races but I wasn't riding very good horses," Dominguez said. "Graham was the person who put me on the map, so to speak. I starting winning some races for him and that led me to winning the Breeders' Cup Turf. It was absolutely fulfilling to win the race with Graham because we came from the same background in Delaware."
Better Talk Now would run in the Breeders' Cup Turf a total of five times -- a record for a horse at the World Championships -- with his best finish following his win, a second in 2006 at Churchill Downs. Upon his retirement at age 10 in 2009, Better Talk Now had bankrolled $4.3 million from 47 starts in grass races, earnings at the time that ranked him second among North American turf runners, and just behind two-time Horse of the Year John Henry.
"It's [odd] to me that Better Talk Now doesn't go down as one of the great turf horses of all time," Motion said. "I think he was one of the great mile-and-a-half horses of our generation, but I don't think he got that type of respect. I think if he had won the Breeders' Cup twice, he would have gone down in the record books."
But losing races, or having a horse who holds so much real estate in his heart not receive the respect he believed is due, are small disappointments when compared to the bigger picture, Motion said.
"My biggest disappointments . . . I think what sticks in my mind is when a horse and rider get hurt. A couple years ago, a horse of mine broke his leg very badly at Churchill and Johnny [Velazquez] was riding him. To see Johnny get hurt [broken collarbone and injury to his kidney] on one of my horses . . . not that it would have mattered who he was riding for . . . but to have that connection is very unsettling. I think you have a responsibility to the horses and jockeys because you put them out there."
The welfare of the horse is very much on Motion's mind when he speaks about the ongoing discussions among industry leaders in this country regarding medication reform.
This past August, Motion was among more than two-dozen North American trainers to pledge their support for the gradual elimination of the race-day medication furosemide (Lasix, Salix). But Motion says he is less concerned about furosemide, which is intended to treat exercise-induced pulmonary hemorrhage, than he is non-steroidal anti-inflammatory drugs [NSAIDS], which can be used therapeutically, but are not permitted to be administered on race day.
"I'm not a huge proponent for doing away with Lasix," Motion remarked. "I would much rather, before we dealt with Lasix, deal with bute and other anti-inflammatories. I think that is much more important at this point. Lasix could be the end game, but I think before we get there, there are other things we should be dealing with.
"I don't see why horses need to run on bute," he continued. "The argument I get, that I really don't like, is that at the [minor racing circuits], we couldn't operate without Lasix and bute. That is baloney. If horses need medication that badly, they shouldn't be running."
Motion is also an advocate for enhanced track security.
"In this day and age, there is no excuse that we don't have more of a [security] presence, that we don't have more cameras," Motion commented. "We're very fortunate to be running for these amazing purses in New York. But where is the security? With the extra money we are running for, surely the stakes are much higher, and the security should be much better than it is. I think it's shameful, really. When you're running for hundred-thousand-dollar purses every day, there is a temptation to cheat."
The conversation returns to Motion's most immediate concern: Winning the Breeders' Cup Turf with Main Sequence, who will carry the silks of a family who has five victories at the World Championships, including back-to-back runnings of the Mile in 1987-88 with homebred Miesque, the first repeat winner at the Breeders' Cup.
"When you grow up watching the Niarchos family's horses on the track, and you know how big of a name it is . . . it was very gratifying when I began to get the first horses from the family in my barn," Motion said. "When you're training for people like that, it puts you on a different level, internationally, and certainly in this country."