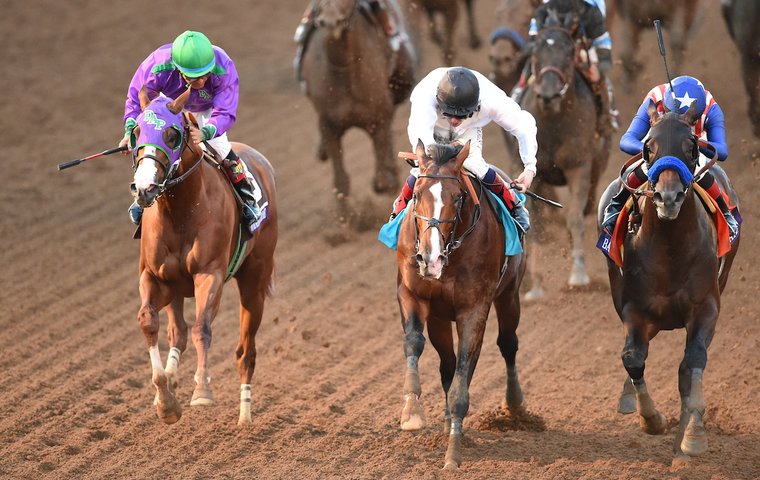 "Eighteen months ago, did we think we would be where we are today? No, probably not," said a slightly incredulous Jimmy McCarthy, assistant to trainer Jamie Osborne, about the soap opera plotline of Toast Of New York's past year and a half, culminating with a return to one of racing's biggest stage productions. "Obviously, a whole lot of answers will depend on the result of this."

So, where were we 18 months ago?
Toast Of New York's brief stint at stud had proven a bit of a flop. His remarkable race record was something of a hazy memory – he hadn't set hoof on a racetrack for well over two years, his career curtailed with injury. And, if you'd asked connections the odds of the 6-year-old making it back to peak performance, they'd surely have recommended a far less risky betting proposition – a game of Russian Roulette, perhaps.
And where are we today?
Well, Toast Of New York has made it back to the track, though his 1-for-3 strike rate tells anything but the whole story. His brightest days on the racecourse still appear something of a hazy memory (though connections argue that he's very much the force of old). And there's absolutely no question of him returning to stud – he lost two little body parts earlier this year that are essential for success in the breeding shed.
As to his immediate future, the original plan had been to "roll the dice", as McCarthy put it, and point Toast Of New York towards a second ever start in the Breeders' Cup Classic. It's now four years since his first appearance in the race, when he was nosed out of it by the Bob Baffert trained Bayern in a thriller — and jaw-dropper — at Santa Anita (more on that later).
But the Classic this year is more popular than a free buffet at the Ritz —19 pre-entries for a maximum 14 runners — and the 1¾ mile G2 Marathon Stakes, run on the Friday undercard, is now a hastily re-arranged plan A.
"Obviously a bit disappointed," said McCarthy, the day after the pre-entries were made. "You'd have liked a shot at the other one. But, we weren't selected for it and that's that. It's out of our control so there's nothing we can do about it."
'He'll definitely improve for it'
Whatever the race, connections had long anticipated an improved showing his next start. Last time out in the G3 Lukas Classic at Churchill Downs, Toast Of New York was beaten nearly five lengths by the Chad Summers-trained Mind Your Biscuits.
But whereas G1 Golden Shaheen winner Mind Your Biscuits was locked and loaded for the race — having already run a couple of decent seconds this summer in the G1 Metropolitan Handicap and the G1 Whitney Stakes — Toast Of New York was a much rustier customer, his last race having come in the G1 Pegasus Gold Cup at the end of January.
"He'll definitely improve for it," said McCarthy. "How much he'll improve, I don't know."
As for Toast Of New York's performance in the Pegasus, well, the less said about that the better.
On the eve of the race, his prospects seemed surprisingly rosy. The previous month, he had returned to racecourse action on a drab Tuesday afternoon at Lingfield Park after more than three years away, recording a comfortable victory on the all-weather.
A hopeless romantic
Nothing flashy. Workmanlike at best. But considering what had gone on during the prior three years — tendon injury, numerous dates with the ladies, a long, gut-busting process back to fighting fitness — there was much to like. And there was much more to come, it seemed.
When it came to the Pegasus itself, however, Toast Of New York proved a hopeless romantic, his thoughts lost among those hot and sweaty amorous days of yesteryear.
"He was pretty aroused on the way down to the start in the Pegasus," said Osborne. "Once we saw that, I kind of realized we were in trouble."
Osborne admits that "we were biting off more than we could chew anyway" in terms of pitching the colt into a race like the Pegasus "at that time". Nevertheless, the old spark appeared to be there still, and so, "for me, the only option to continue with him as a racehorse was to castrate him," he said.
'He'll give it to you and let you know it'
It's easy to underestimate the process involved with bringing a horse back to race after so long away — especially one expected to perform on the world's biggest stages. Who of us march back to work with a spring in our step after the summer holidays?
After a short stint at Sheikh Fahad's stud in Newmarket, "just doing a little early work to get back in shape," Toast Of New York was then transferred back to Osborne's Lambourn yard, where the hard work began in no particular hurry, the trainer said.
"All it took was patience by everybody … there was no pressure to bring him back in a certain time frame," said Osborne. "Without sounding too sentimental, he's very dear to us, and he's got very supportive owners in Al Shaqab."
It helped, Osborne added, that the horse was so familiar to them. "You've got to remember, we know the horse very well – he's been with us since he was a yearling," said Osborne.
And no one knows Toast Of New York better than McCarthy, who has ridden him since his 2-year-old days, back when the horse was starting to tear up not only the gallops, but the arms from the sockets of his poor riders.
"For him to still have the appetite to go through the work, go through the regime, go through all that, and to still be as hungry for it as he was when he was a 3-year-old, it's a huge credit to him rather than any of us," said a magnanimous McCarthy.
"He has an unbelievable mind – a great mind," McCarthy added. "To get a horse with the mind that he has is extremely rare."
His mind, as we've ascertained, is razor sharp - as are his teeth.
"He's bit a few people, stuff like that. But, look, he's probably like any one of us, really," said McCarthy. "There are those times when you could put a child in with him, but then, if he doesn't want you in his space, he'll give it to you and let you know it."
'I'm probably the only one who really knows how good he really was'
Stoking dreams of further big paydays are memories of those glorious performances during the annus mirabilis of 2014.
That was the year, under the vast desert sky, he romped away with the $2 million G2 UAE Derby at Meydan (little more than four months after clinching a Class 5 race at Wolverhampton, worth an awe-inspiring £2,587, it should be noted).
That was the year he rocked up at the G1 Pacific Classic and handed a beating to all but one of the California boys on their very own doorstep at Del Mar (Shared Belief being the one that scampered away unbruised).
That was the year he then turned up at Santa Anita for the G1 Breeders' Cup Classic and very nearly blew the lids off the door, only just failing to reel in the all-the-way winner, Bayern, after a thrilling three-way duel to the wire, California Chrome coming off worst of the triptych.
Bayern's win came with healthy lashings of controversy. Out of the gate, he body-slammed the diminutive Shared Belief, and the Baffert runner only kept the race after a stewards' enquiry that lasted longer than a live reading of War and Peace.
Sentiments evidently run deep in some quarters.
"A lot of people even say to me on the track now that the winner should have been taken down," said McCarthy. "But we never felt hard done by, as he didn't interfere with us. Yes, we would have got it by default. Yes, we would have taken it. But at the same time, we didn't walk away bitterly thinking we'd been done."
If there are any regrets, they lie in the fact that, soon after that race, Toast Of New York suffered a tendon injury that prevented him from showing his bona fides as a 4-year-old.
"When you look at what California Chrome went on to do, you would have thought we wouldn't have been too far away from him, and he went onto become an unbelievable horse the next year," said McCarthy.
'There's nothing like a race to bring them forward'
Like Toast Of New York, the Marathon Stakes has had its own tumultuous journey over the past few years.
Back in 2008, it was a shiny new exhibit under the Breeders' Cup banner. But the race lost its Breeder's Cup imprimatur in 2014, and is now a $200,000 contest run on the Friday after the main fireworks have disappeared into the darkening Kentucky skies.
Does McCarthy worry about the no-man's-land of the Marathon (the farthest Toast has run is 1¼ miles)?
"I'd be 100 percent certain he'd get a mile and a half," he replied. "There's obviously a bit of a question mark for the other two furlongs, but that's probably the same for everybody as the American horses don't run over those sorts of trips very often either."
One thing's for sure, with a solid race under Toast Of New York's belt, Osborne is expecting a sharper showing next time. "He'd done plenty of work [before the Lukas Classic] but we were highly unlikely to see him at his best under those circumstances," said Osborne. "There's nothing like a race to bring them forward."
Fitter? Yes. In an easier spot than the Classic? Undoubtedly. And if there are any lingering question marks concerning the trip, McCarthy's hoping that old boy's class will tell when it's time to deliver answers. "If he's there at the top of the lane, we'll see what happens."