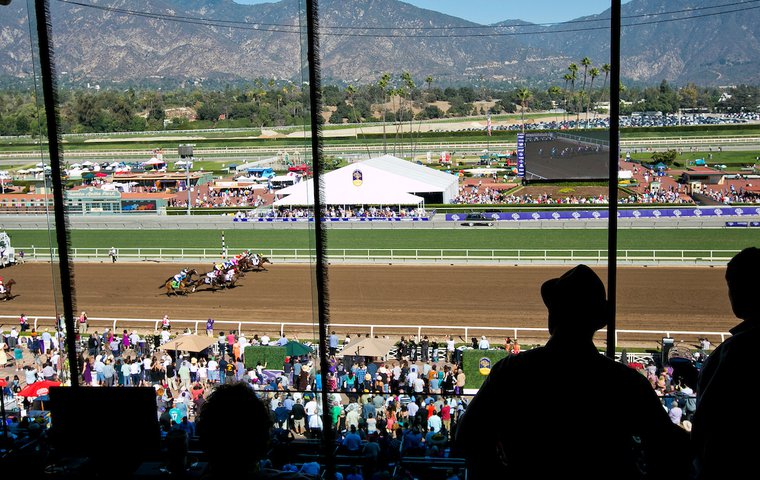 Last weekend's Breeders' Cup at Santa Anita was a triumph of sport and spectacle. The Distaff was a nail-biter between fan favorites Beholder and Songbird; the Saturday races offered storylines and close finishes, with both Tepin and Lady Eli in action, along with a headlining showdown between California Chrome and Arrogate. The spectacular backdrop of the San Gabriel Mountains provided no shortage of breathtaking landscape shots.

But in the middle of North American horse racing's biggest day, the Breeders' Cup got some uninvited attention, for showing a landscape of quite a different sort.
Bram Weinstein is a sports journalist who since 2014 has been featured in dozens of videos produced by America's Best Racing, the closest thing U.S. horse racing has to an official PR machine. In the days before the Breeders' Cup, he wrote at length on the Classic and populated his timeline with occasional retweets about the weekend's event.
On Breeders' Cup Saturday, Weinstein tweeted sparingly, mostly selfies, but sometime that afternoon, he came across a group of women sitting on a Breeders' Cup logo-bedecked wall, their backs to him, and found fodder for his 13,500 followers.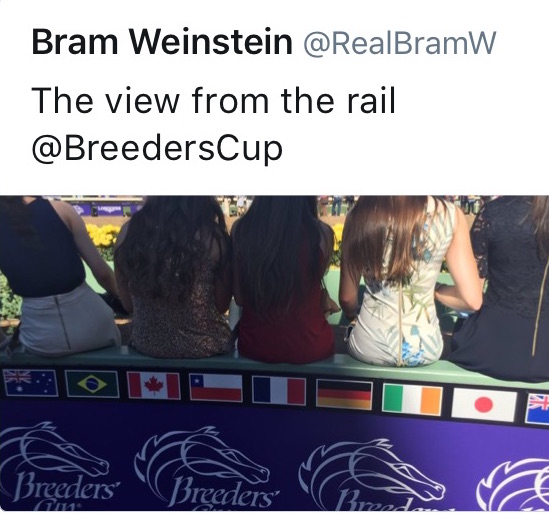 The tweet itself was bad enough, a person with a prominent role in promoting Thoroughbred racing deciding that a shot of women's bodies from the perspective of his leering eye would be a good idea.
But then it got worse.
The official Breeders' Cup account retweeted Weinstein, adding a note of approval for its nearly 70,000 followers, along with a wink and the official Breeders' Cup hashtag.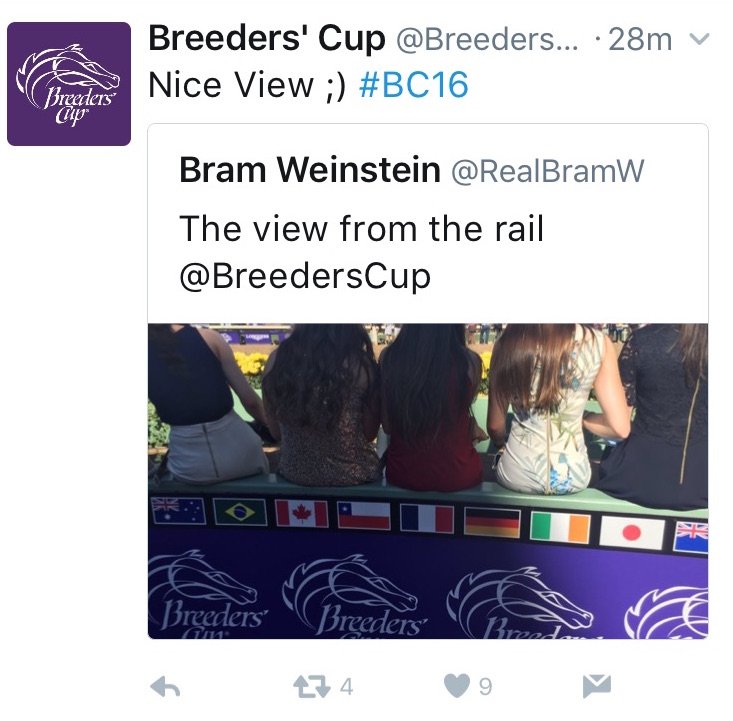 Reaction was swift, with well-known turf writers of both sexes offering scathing commentary directed to the Breeders' Cup.
"You DO realize … that getting harassed by creepy dudes is what keeps a lot of girls away from the track?" asked Natalie Voss.
"Unprofessional, unacceptable, and disrespectful. Did you ask permission before posting? #creeper," tweeted Claire Novak.
"Has Trump taken hold of the BC Twitter feed?!" wrote Geoffrey Riddle.
Regardless of where one stands on the political spectrum, being equated with the United States president-elect on the subject of women — and consent — is unlikely to be considered a social media win at this juncture.
Several weeks before he was elected, Donald Trump had been forced to respond to multiple allegations of sexual assault. Audacious and on defense, he attacked his accusers, then threw a gratuitous insult at his rival, Democrat nominee Hillary Clinton.
"I'm standing at my podium, and she walks in front of me," said Trump at a campaign rally, referring to one of the presidential debates. "And when she walked in front of me, believe me, I wasn't impressed."
Trump's comments drew cheers, and women were reminded that at any moment, even in professional circumstances, even on the biggest stage in our country, their bodies could be grabbed — literally or figuratively — without their permission or knowledge.
Last Saturday at the Breeders' Cup, women who follow horse racing were reminded of the same thing.
It didn't take long for both tweets, Weinstein's and the Breeders' Cup's, to disappear, as such tweets often do, without apology or explanation. But like many such tweets, the damage is done. The screenshots are saved, and the impressions aren't as ephemeral as the tweets themselves are.
Objectifying women is nothing new in racetrack marketing. Not that long ago, Churchill Downs invited male customers to stalk women with binoculars in one of their ads, and women are not uncommonly depicted in racetrack ads as objects for the male gaze rather than as customers, with the now-defunct Calder Race Course simulcast ads the most extreme example.
The New York Times recently reported that nearly half of 332 girls the paper surveyed, ages 14-17, said that Trump's comments about women have affected the way they view their own bodies. This week, the Harvard women's soccer team responded publicly for the first time to the news that their male counterparts had kept spreadsheets rating the women's looks, with sexually explicit commentary.
"More than anything, we are frustrated that this is a reality that all women have faced in the past and will continue to face throughout their lives," said the letter, published in the Harvard Crimson. "We are distraught that mothers having daughters almost a half century after getting equal rights have to worry about men's entitlement to bodies that aren't theirs."

Weinstein's tweet suggested that he felt entitled to the bodies of the women whose photo he took. They are nameless and they are faceless, their identities reduced to the parts of their bodies that he wanted to objectify, with the explicit endorsement of one of horse racing's most important organizations. It is possible, though unlikely, that Weinstein had the women's permission to post the photograph of their bodies; the Breeders' Cup almost certainly did not.
A month ago, Trump was seen in an 11-year-old video boasting about touching women without their permission. He attempted to dismiss his remarks as nothing more than 'locker room talk', as if that, even if true, somehow made his remarks acceptable. The Harvard women rebuke that notion, pointing out a distressing reality.
"'Locker room talk' is not an excuse because this is not limited to athletic teams," they wrote. "The whole world is the locker room."
Including, apparently, the Breeders' Cup.