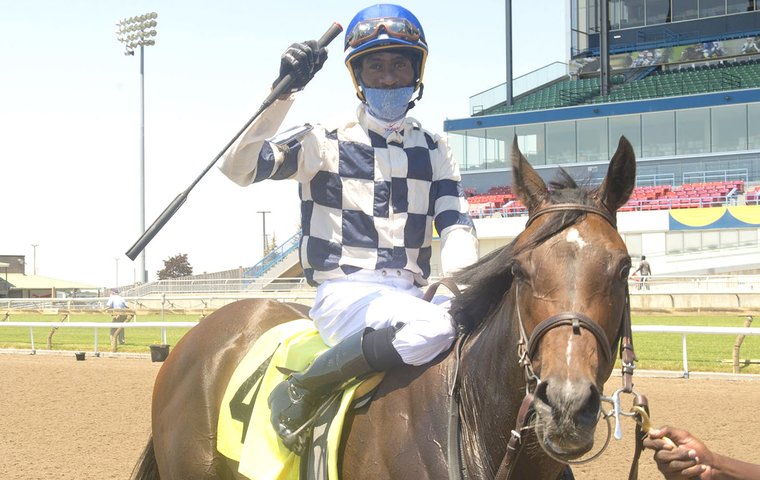 As memorable days go, yesterday (Sunday) was right up there with some of the best for Jason Hoyte, long one of the most respected exercise riders at Woodbine racetrack in Toronto.

When the Barbadian rode 3-year-old filly French Charm to a maiden-breaking score, it was the first win of his career as a jockey in Canada, even though he has been riding racehorses there for the past 16 years.
For Hoyte, 34, only returned to racecourse action this year - and French Charm was only his 13th ride in Canada in a racing career that he began at the age of 15 back home in Barbados.
See the video below to watch how French Charm, a daughter of Commissioner, held off Anita Grigio at the end of the 5½-furlong contest to win in 1:06.18 for trainer Ricky Griffith and owners Steve Duffield and Racing Canada Inc.
"It means so much to me. It's just a blessing come true. Hard work does pay off," Hoyte said of his first Woodbine win.
Hoyte, who was inspired by his friend and fellow jockey Keveh Nicholls to return to racing action, began riding in Barbados as a young teenager. In 2000, aged 15, he got his exercise rider's license at Garrison Savannah racetrack. He finished third in his first race and soon after was in the winner's circle there on the Bill Marshall trainee Tikashar.
He arrived in Canada in 2004 and started galloping horses for Steve Owens, then became the go-to morning rider for Hall of Fame trainer Mark Casse for 16 years, breezing some of the biggest stars of the sport in preparation for the biggest races including the likes of Hall of Famers Tepin and Sealy Hill.
Casse once told Canadian Thoroughbred, "If Jason says he wasn't quite happy with [a horse], I'll go and see if I can find something that might be bothering the horse. But, if he comes back, smiles big, and says 'Good, boss' we know we have something. He's a man of few words."
Casse's son Norm added, "He's always been the guy that gets on the rogue horses. He got on Seaside Retreat when he was a 3-year-old and the horse refused to work. He got on Hailstone for us, which was another horse that never wanted to train. Jason was the only one that would get him to go for us. When we have problems with horses, it's nice to have a guy on the team who can handle that. Especially when the horses are this talented."
Now Hoyte is putting those much-admired talents to further use on the racetrack in the afternoons, and the odds are that his career in that direction will go from strength to strength.