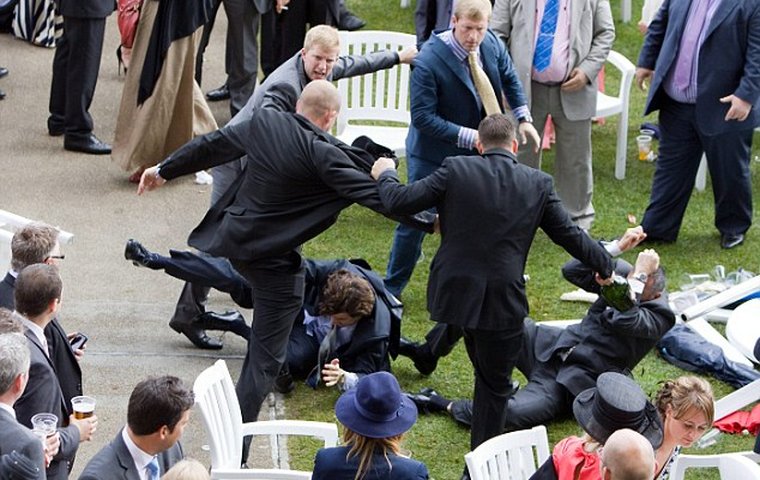 Recent incidents at Goodwood and Ascot have seen the BHA (British Horseracing Authority) issue an apparently stern message regarding alcohol-fuelled brawling and how these fights may "cast the sport in a poor light".

The BHA should not have been surprised in the slightest by the violence, or reports of dishevelled, and in some cases semi-conscious, racegoers at the recent Aintree meeting. British racing's ruling body has received multiple reports regarding this exact issue over the past seven years.
The response to those reports showed the same lack of leadership that we have become accustomed to seeing from the regulatory authority. Put in a nutshell, a representative of the BHA stated privately that such problems were unrelated to integrity and were issues for the racecourses to deal with.
Anyone who goes racing regularly in Britain will have seen a dramatic increase in the number of racegoers attending Friday night meetings, weekend meetings, and high-profile fixtures, intent on consuming so much alcohol that they are unable to stand. Racecourses are complicit with this behaviour by encouraging racegoers to buy large amounts of alcohol, with special promotions, half-price champagne and two-for-one offers for those who arrive early.
​
Drinking alcohol can take a heavy toll on every aspect of racing

Twenty years ago it was against the rules to take any drink into the betting ring, and security personnel would direct punters back towards the bars and cafes if they attempted to flout the rules. Nowadays, it is commonplace to see punters having their drinks filled up by staff with barrels on their backs, while the betting ring is a sea of discarded plastic. One look at the ITV coverage reveals numerous jeering, alcohol-sodden buffoons standing behind presenter Matt Chapman, only too keen to show off the multiple drinks they are holding and are ready to consume.
This is the modern racegoer. They wear suits, or nice dresses, but that does not mean that they will be well behaved.
Racecourses do not appear to want to attract the racegoer who is interested solely in watching racing. The alcohol sales form such a large part of the courses' revenue streams, there is little, if any, benefit to the racecourse in attracting punters who do not want ten pints of ale and a very expensive pork roll.
If we add into the mix the (not totally) anecdotal evidence regarding cocaine use on racecourses, and in training yards, then it is not difficult to reach a conclusion that racing has a major problem. The BHA ought to get to grips with this as a matter of urgency if it wants to retain what remains of the sport's integrity.